When I recently put together a list of the best food cities in the world I knew right away I wanted to do a separate post for Africa's best food cities. So often people overlook the diversity and complexity of the continent and lump everything together. This couldn't be more wrong! Africa is HUGE and there are hundreds if not thousands of different cultures and food traditions. You could spend your entire life traveling the continent and having culinary travel adventures still not uncover everything.
I asked other bloggers to share their favorite food cities and here's a few of the selections we came up with.
Tangier, Morocco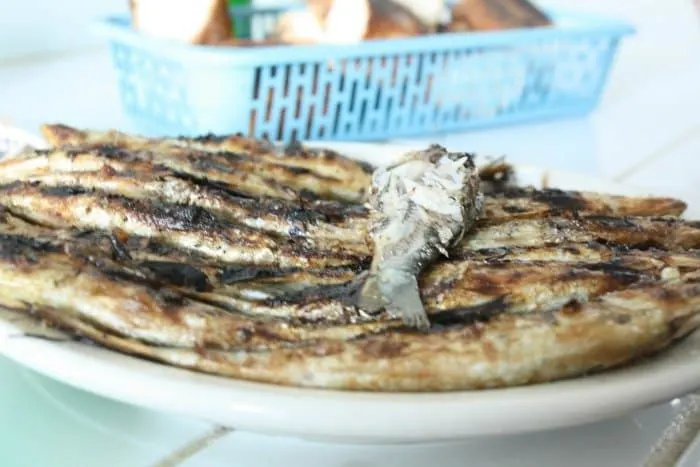 After traveling through the interior of Morocco for almost two weeks, I admit I was tiring of the ubiquitous meat tagines, skewers, and couscous. Tangier, with its prime location on the Mediterranean Sea, was my savior. I ate one of the most delicious meals of my life at Saveur de Poisson. There are no menus or choices at this restaurant — what they say goes. Trust in it, and you'll be duly rewarded. First, we were served olives, homemade harissa, and an assortment of breads, followed by a subtly delicious fish soup. After that came a gorgeous tagine of spinach, baby shark, calamari, and mussels. The spotlight of the night? Baby shark skewers and a whole sole for two, cooked to perfection.
Allison of Eternal Arrival
Nairobi, Kenya
The food scene in Nairobi has been growing over the last five years and we have seen so many new restaurants springing up everywhere. I love Nairobi because you can chose from a variety of cuisines. Whether you want traditional cuisine that reminds you of home cooked meals or continental food from all over the world, this is the spot. Some of the things that a visitor must indulge in when they visit is the staple foods like ugali (maize meal) and nyama choma (bbq meat) with kachumbari on the side (salsa).
Even though other staples are affordable, you can also wine and dine in the city's most glamorous restaurants. The diversity of choices is making Nairobi to be a top spot for amazing food. Some of the restaurants worth mentioning are Amber Hotel, Soi at Dusit D2, Tokyo Japanese Restaurant, Talisman and Jiko at the Tribe among others. So many restaurants are online and you can make your reservation and read reviews on the innumerable food blogs before making a decision. However, my best advice would be to tell a local to show you the best spots in town.
Jean of The Food and Wine Review
Swakopmund, Namibia
I didn't know what to expect on the menu in Namibia, one of the least densely populated countries in the world, a place perhaps with more wild game then people. Would the cuisine be filled with indigenous influences or perhaps highlight its colonial roots to Europe specifically Germany. And although both types of food were served, I discovered something different when taking the trip to the coastal city of Swakopmund.
For starters, en route across endless horizons I ordered a slice of, Africa's best apple pie in the "one store" town of Solitaire. Apple pie here? Where did the apples even come from? Or how did any ingredients get there? Either way, we fueled up and filled up to continue to the Atlantic coast.
The next day, on a boat tour of Walvis Bay outside the city, I learned first hand about the countless oysters available straight from the waters. We turned off the engine to drift, watched the seals surf and dined on plate after plate of brilliantly sparkling bivalves. Oysters, freshly served just hours after being harvested from the sea delighted and surprised us all.
Sure, I tasted other dishes and delicacies during my stay in the Namibia, but the stop for a slice of apple pie and then the oysters feast of Walvis Bay made my journey to Swakopmund a surprising and memorable culinary experience.
Craig of Stay Adventurous

Stone Town, Zanzibar
Stone Town, the capital of Zanzibar garners our vote for a great food city in Africa. From fresh seafood seasoned and grilled right in front of you, to the most succulent Kenyan beef served in 5 star fashion…your mouth, mind, and stomach will give thanks! Stone Town is hotbed of cultural influences. Sniff, and you will discover that this wonderful city's food culture story can be found in its spices.
When visiting Stone Town, make sure head to Forodhani Gardens to explore the vendor stalls; where they proudly display their delicious seafood skewers ready for onsite grilling.
Omo + Eulanda of HDYTI
Cape Town, South Africa
Cape Town, South Africa is one of those incredible food cities for a couple of reasons. We have a myriad of various cultures, languages and people within one country. Each culture brings its unique and fresh dishes and flavours To the mix. Afrikaans and Dutch influences gave us sweet delights such as milktart and koeksisters, Cape Malay traditional dishes include babotie, curries, butter chicken. And a dish all South Africans love is a good ol Braai- boerewors ( sausage), lamb chops cooked slowly over a fire. Plus being a seaside city we have some of the world's best seaside- hake and snoek fish as well as calamari and crayfish. Too much goodness.
Shane and Lauren Vaughn of The Travel Manuel
Tunis, Tunisia
With influences from Africa, Europe, the Ottoman Empire and the Middle East, Tunis is truly a crossroads of culture and cuisine. You'll find unique foods here that don't exist anywhere else in North Africa or the Middle East. Tunis, the capital is home to people from all over the country who have brought their local dishes and variations of traditional Tunisian foods. Don't be tricked into thinking everything is spicy. While harissa is THE condiment of the country, it's not doused on everything, rather served on the side to be added as you desire.
Amanda (that's me!) Why You Should Visit Tunisia Right Now!
Marrakech, Morocco
From your first sip of freshly squeezed orange juice at the main square to the smell of grilled meat along its winding alley ways, Marrakech is a feast for the senses. While shopping along its markets can be exhausting, dining in Marrakech was a delight. Once the buzzing medina gets a bit too much, retire to a street side cafe or rooftop restaurant and relax with some tasty Moroccan food. Our favourite was definitely tajine – make sure you try the chicken with lemon and olive variety – we ate it almost every day for 2 weeks and never got sick of it.
Gia of Mismatched Passports
We admit we're biased to Marrakech too as it's our home! Come take a food tour with us when you visit to find all of our hidden secret food spots!
Lagos, Nigeria
If there's one thing Nigerians are protective of it is jollof rice. In this great article and interview African Bites talks to Ozoz the author of The Kitchen Butterfly, perhaps the best known Nigerian food blog. Jollof rice is cooked across Africa but it's something you must try in Nigeria. It's just one reason this city is a great foodie city!
Anna of African Bite
Looking for more? Check out these!
Accra, Ghana from Backpacker Lee
Maputo, Mozambique from AFK Travel
Harare, Zimbabwe from A Taste of Zimbabwe
This is barely the tip of the iceberg when it comes to great food cities in Africa. But these also highlight just how little most people know about African food culture. The image that comes to mine when someone says African food is basic foodstuffs; bread, porridge, rice. But, the reality is far from this. There are 54 countries in Africa and hundreds of different regions, tribes, and ethnic groups. Each one has something special and unique. This sampling is meant to showcase just some of these great food cities!
Have a favorite? Leave a comment below for others!