Fun fact #2384 about Morocco: Gas stations serve surprisingly good food. It makes sense as this is usually where your everyday Moroccan stops when they're traveling. They expect tajine to taste like tajine not watered-down, boiled chicken with molting olives. Don't worry I too was suspicious the first time we pulled up and I was told we were going to have lunch at the gas station. I shut up when the bread arrived at the table.
It was here that I first encountered tafernout – or better known to me as the best bread in Morocco. It's your basic tandoori bread, very similar (if not the same) as tandoor bread in India and I'm sure other places around the world. You'll rarely find it in bakeries or restaurants because it's just a basic bread made at home. I have now been known to hunt down houses with tafernout ovens in their yards to ask if we can buy bread from them. Most often it's Berber families in the High Atlas Mountains who make tafernout but stop by many Afriquia gas stations with restaurants attached and they have it on their menu too.
After I made sand bread in the Sahara I decided I really wanted to get hands on with local breads wherever I go around Morocco. So it made sense that when we were in Imlil, a village high up in the Atlas Mountains, I would ask about making tafernout.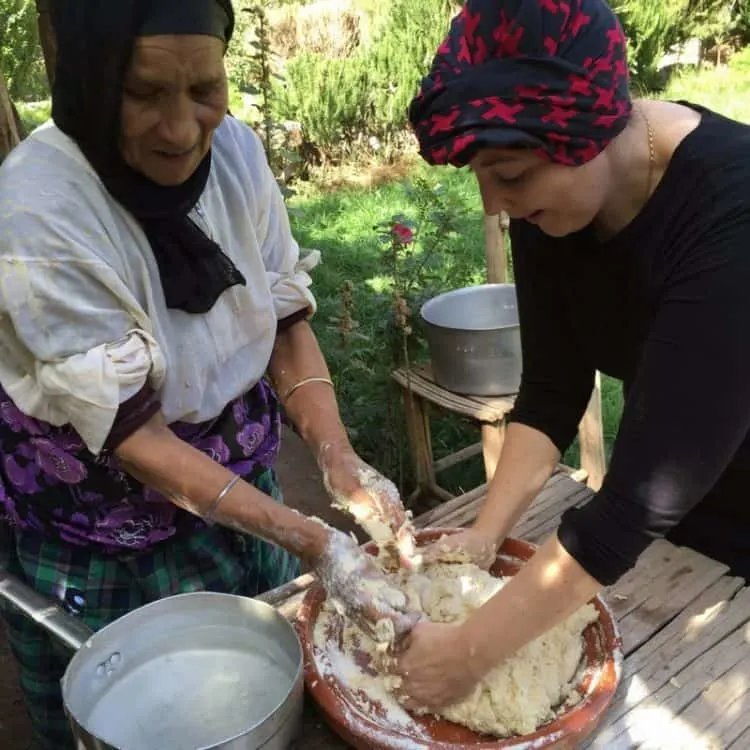 This is Fadma teaching me how to make the dough and bread. We had about equal Arabic skills (she speaks Tashelheit the local Amazigh/Berber language) and kept asking me why I didn't speak Tashelheit. It wasn't my first time making bread dough but it was clear I hadn't been making it every day of my life like she had. We combined everything in a big plate (also called a kassariyat) and started adding water and kneading…and kneading…and kneading until it was silky smooth and no longer sticky.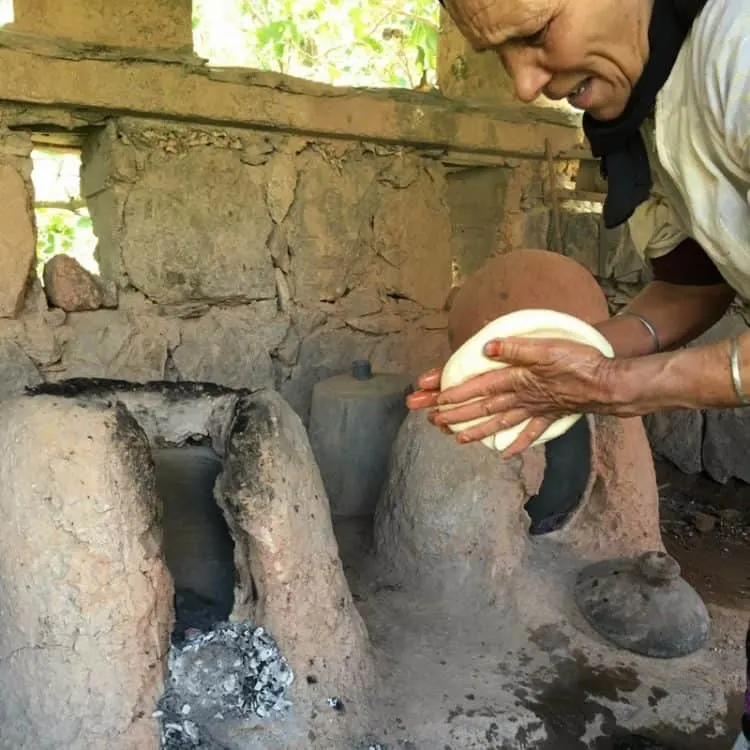 The dough made for tafernout is the same as almost every other bread recipe in Morocco; flour (a mix of soft wheat and a course wheat) + yeast + salt + water. There's no measuring or fussing with this dough. She just knows how much to add. So that's what she does.
I didn't catch a picture of her starting the fire but inside the dome she lit a small wooden fire and let it burn down to charcoal. After the dough sat for about 15 minutes she pulled off a big chunk, flattened it down and then wiped down one side of the oven. Time to bake the bread!
This was the part of the process I wasn't allowed to assist with. After the fire burned down inside the oven and the sidewalls were good and hot, Fadma slapped the dough onto the wall and spread it out a little bit more. I have no idea how she kept her hand in there, but I'm guessing decades of doing this have made her hands used to the heat.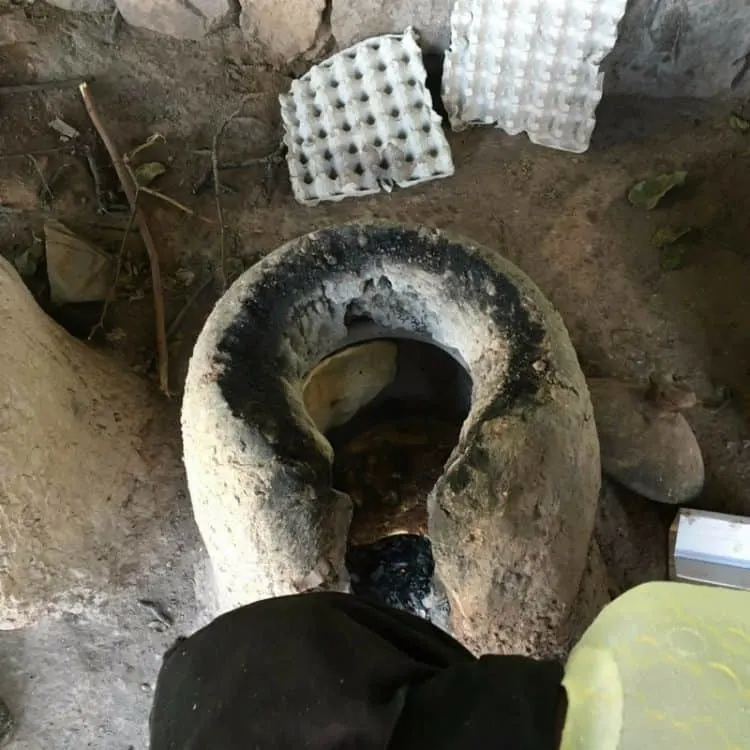 Once the bread on the side of the wall cooked it would start to separate and she finally removed it and placed the exterior side (the one that wasn't on the wall) on top of the coals. The wall makes the bread into a concave shape so just the edges of the bread sit on the coals to finish cooking.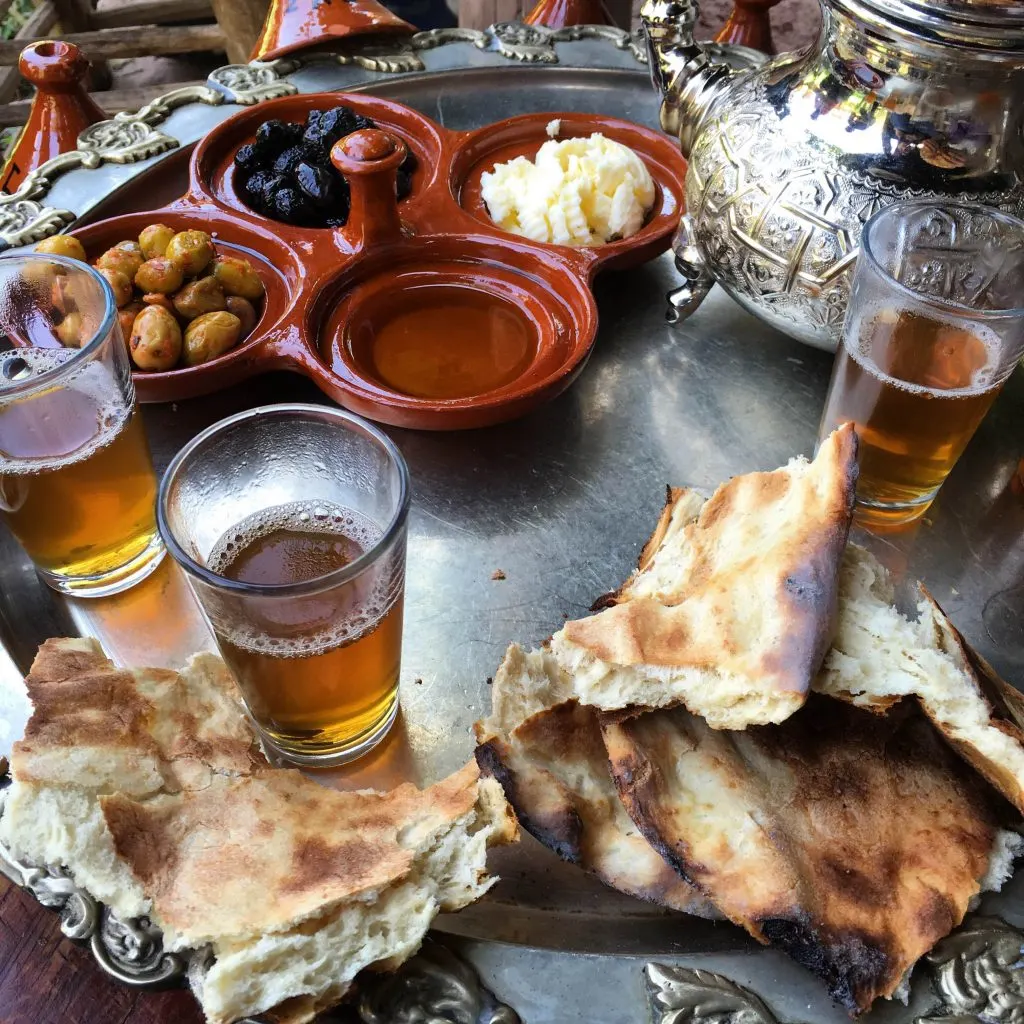 There was just one way to enjoy our fresh bread – a truly Moroccan breakfast. Bread with mint tea, olives, olive oil, argan oil and a bit of salty homemade butter. Swoon. This is the stuff of memories!
In case you're wondering, you can expect to see many more posts on the breads of Morocco as I travel and explore them, getting hands on experience and practice with locals!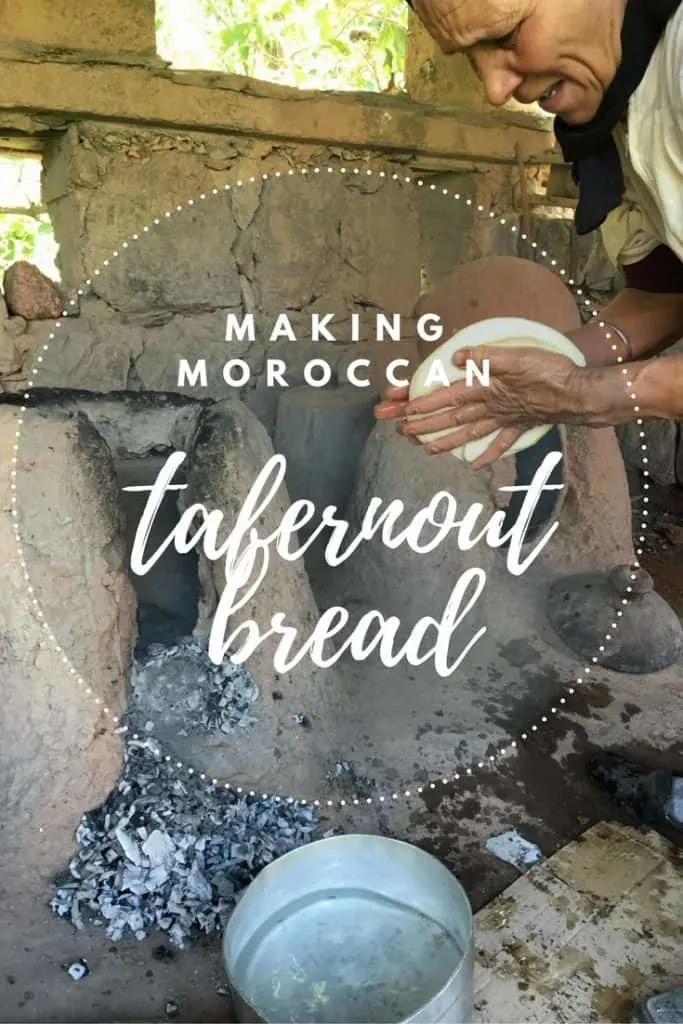 We stayed at Kasbah Toubkal in Imlil where we also made this bread. The local staff was amazing you can read more about our time at the kasbah in this post.