Artichokes were not something I grew up eating – save for perhaps an artichoke dip that graced the table for a tailgate party. But, in Morocco, I really learned to love them. One of my favorite tajines is beef with artichokes and peas so this recipe seemed like it would be another hit.
You can use fresh artichokes or buy frozen artichokes but for this recipe, I highly suggest buying them already cleaned and frozen because it will save you a LOT of time.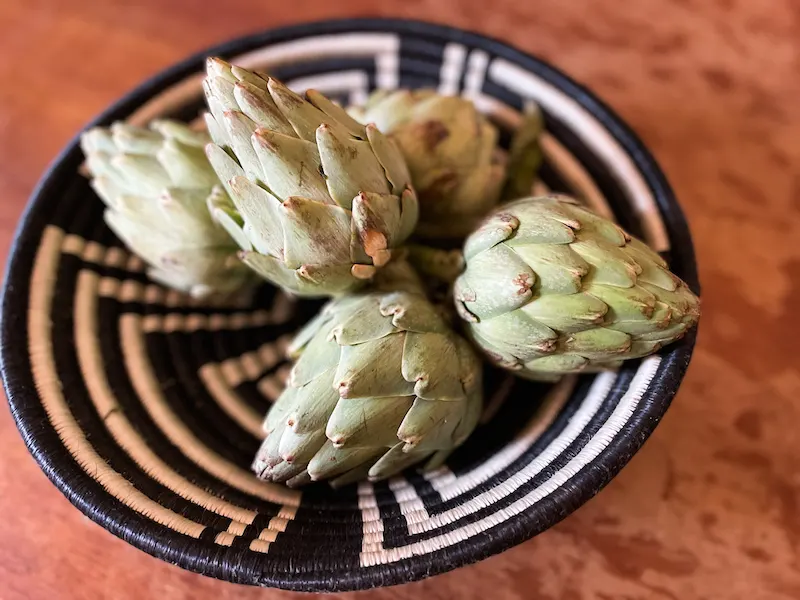 Traditionally this is a Moroccan Passover recipe. You can make it anytime and while it uses matzo meal feel free to use breadcrumbs or even crushed crackers. I experimented with using finely ground almonds as well which was a nice taste.
When I was making this I was reminded of some fried artichokes we ate in Rome, the albondigas (meatballs) we had in Cordoba and the giant lemons we picked in Sicily. It really hit that this is a Mediterranean dish even if it's slated as a Moroccan Jewish recipe.
Do I need to use saffron in this recipe?
I know that saffron is an expensive ingredient and so it can be tempting to omit it. Normally, I'm all about that. But, trust me when I say you DO want to use saffron in this recipe and try to get as high quality as possible. If you're looking for a Kosher saffron, the Badia brand is one suggestion as is Frontier Co-op.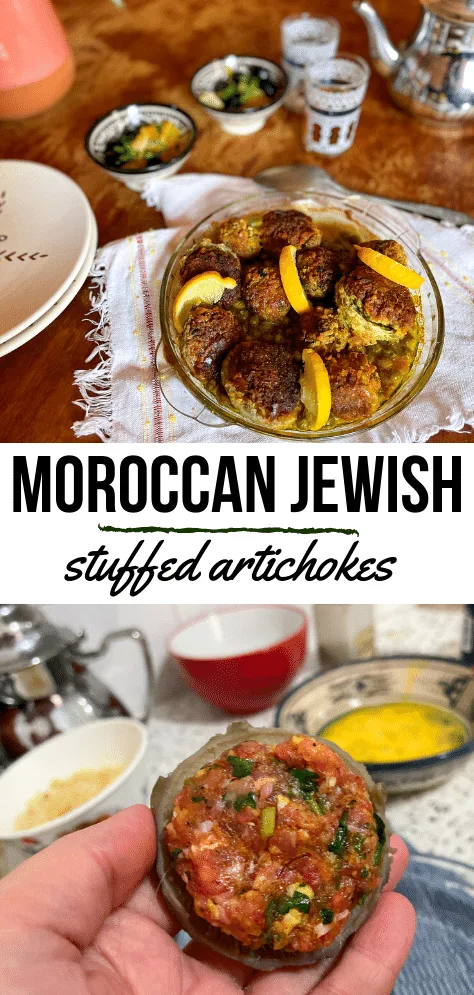 Can I use bottled lemon juice?
Yes but I can't guarantee it's going to taste great. You really want to use fresh squeezed lemon juice if at all possible. Bottled lemon juice is going to be far more acidic and sour than fresh squeezed juice. Any lemon can work however Meyer lemons may be slightly sweeter and more mellow in the sauce.
Recipe Crossover in Morocco
One additional interesting point. A lot of recipes from the Jewish community crossed over to the Muslim cooking repertoire however, this recipe no one in my husbands' family had seen or tasted. This may not be the case for everyone, and maybe it's because this is special for a holiday where there might not have been as much intermixing. But, I found that interesting.
My verision of this artichoke recipe was adapted from a recipe I found in Too Good to Passover by Jennifer Abadi one of the go-to experts on Sephardic cuisine. I'm certain every home has their own variation of this dish and so mine is no different and I hope you'll adjust based on your own traditions and tastes.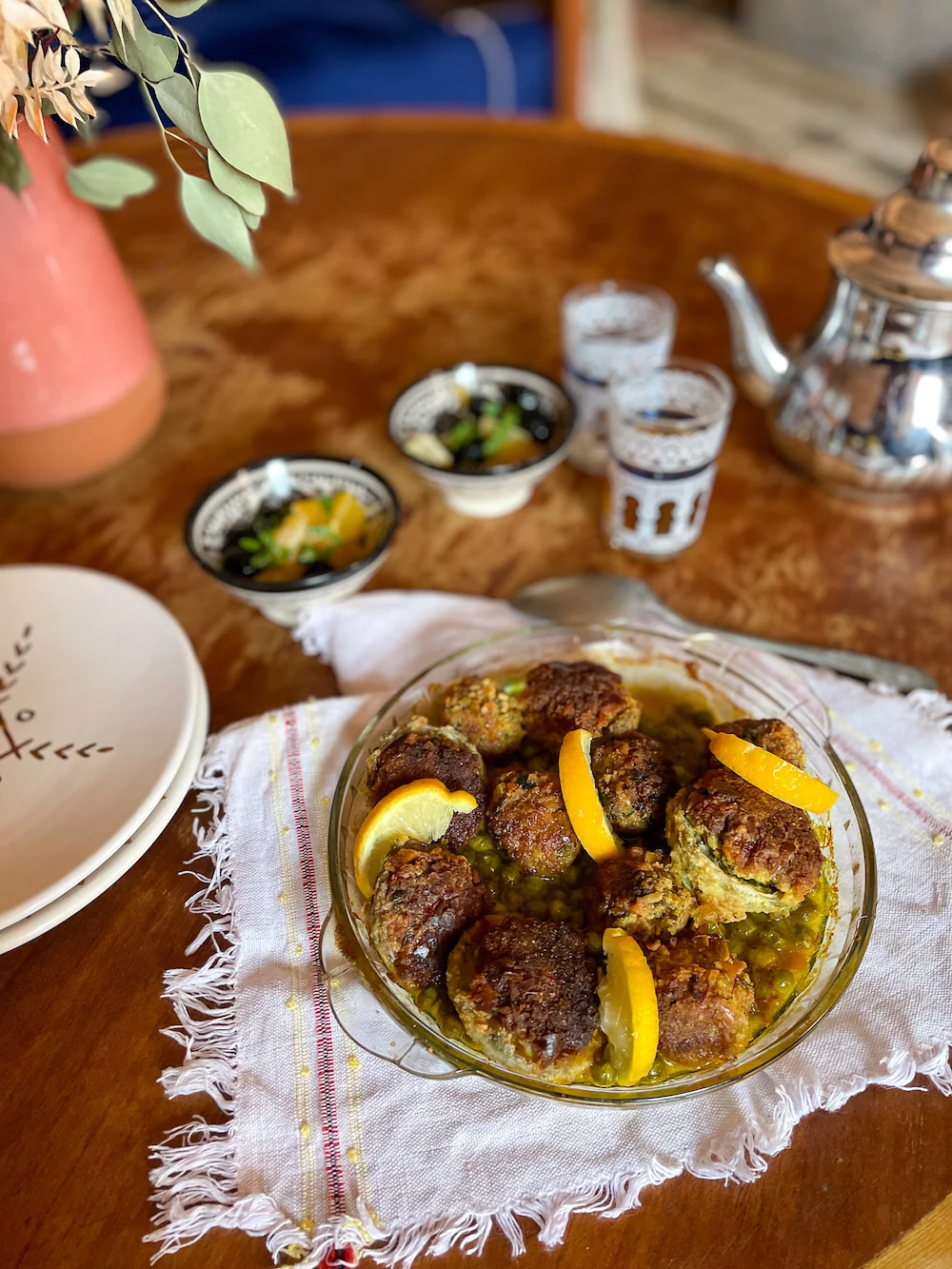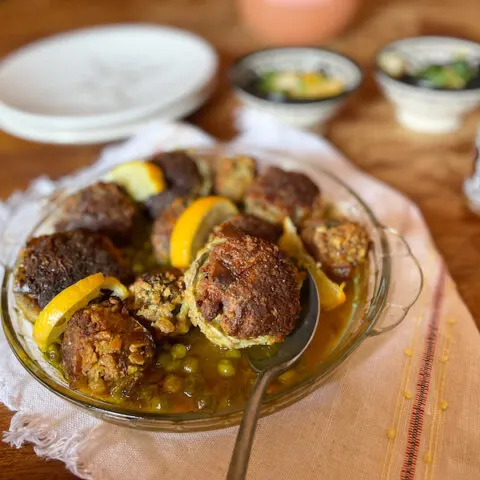 Yield:

4 servings
Moroccan Stuffed Artichokes
This recipe looks complex however by taking a few shortcuts, like using frozen artichoke bottoms it can easily become a weeknight dish. It's most popular during Passover. Please read through the full recipe before starting as the time required varies depending on which type of artichoke you are using.
Ingredients
Meatball Ingredients
1 lb (500 grams) ground turkey
2 Tbsp vegetable oil
1/4c chopped, parsley and cilantro (mixed)
1/2 small, finely diced onion
1/4 tsp ground cloves
1/4 tsp ground nutmeg
1/4 tsp ground cinnamon
1/4 tsp pepper
1/4 tsp turmeric
1/2 tsp salt
2 Tbsp crushed matzo or crackers (like Saltines)
Lemon Saffron Sauce
1/2 c lemon juice
1 tsp saffron threads
1/4 cup boiling water
1/4 tsp pepper
1/4 tsp salt
1/4 cup non-flavored oil like vegetable oil
1 tsp honey (optional)
10-12 artichoke bottoms
1/2 cup green peas
2 eggs
1/4c crushed matzo or crackers
Vegetable oil for frying
Instructions
If you are using frozen artichokes, remove them from the freezer and thaw a few hours in advance. Place on a towel to suck out as much additional moisture as possible.
If you are using fresh artichokes. Wash and rinse. Place whole artichokes into the top of a double boiler. Allow to steam for about 20-25 minutes. Cool and remove the outer leaves until you get to the artichoke heart. Remove the fuzz leaving just the bottom. Set aside.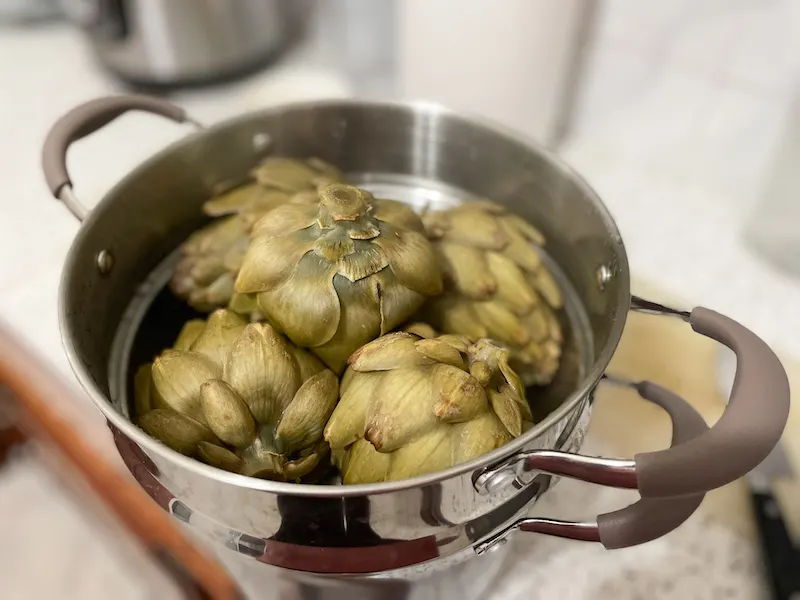 Making the Meatballs

In a bowl mix the ground turkey, oil, chopped onions, finely chopped parsley and cilantro, cinnamon, nutmeg, cloves, salt, and pepper. Use your hands to mix really well so that everything is combined. Add 1 Tbsp of matzo meal at a time to thicken the mixture.
Roll into balls that are a bit smaller than your artichoke bottoms. Set aside.
Whisk eggs in a shallow bowl.
Add the 1/4 cup crushed matzo meal or crackers to a different shallow bowl or plate.
In a large skillet heat 1/4c vegetable oil on medium heat.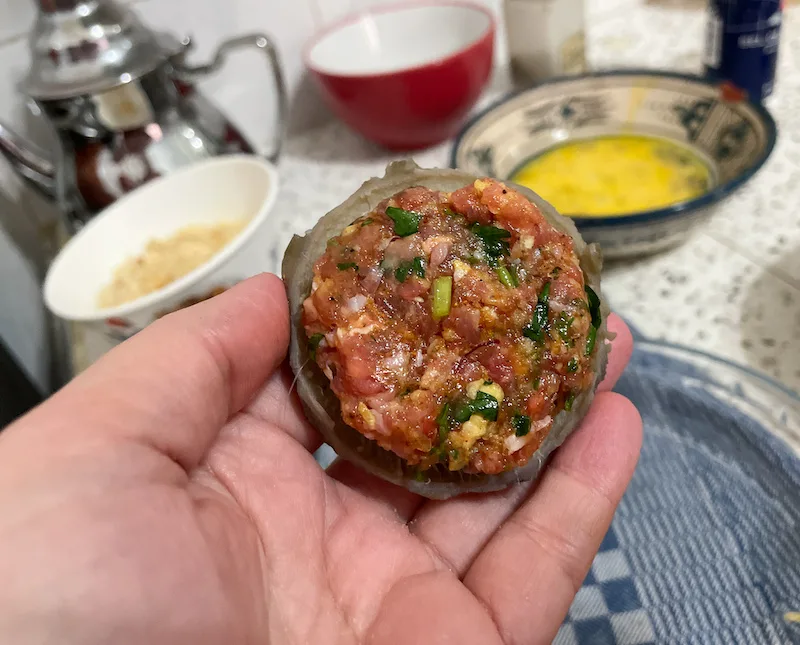 Frying the Artichokes

Place one of the meatballs on the top of the artichoke heart and press down slightly. Coat with the eggwash and coat with the crushed matzo. Transfer to the heated oil with the meat side down.
Cook on both sides until browned about 4 minutes on each side.
Transfer to a baking dish.
If you have more meatballs than artichokes you can coat the meatballs with the egg and matzo mix and fry the same as the artichokes.
Lemon Saffron Sauce
Crush 1 tsp of saffron between your fingers and put in a small bowl. Top with 1/4c boiling water.
In a separate bowl whisk together oil, pepper, salt, and 1/2c lemon juice. Add 1 tsp honey.
Add in the hot saffron water and mix until well combined.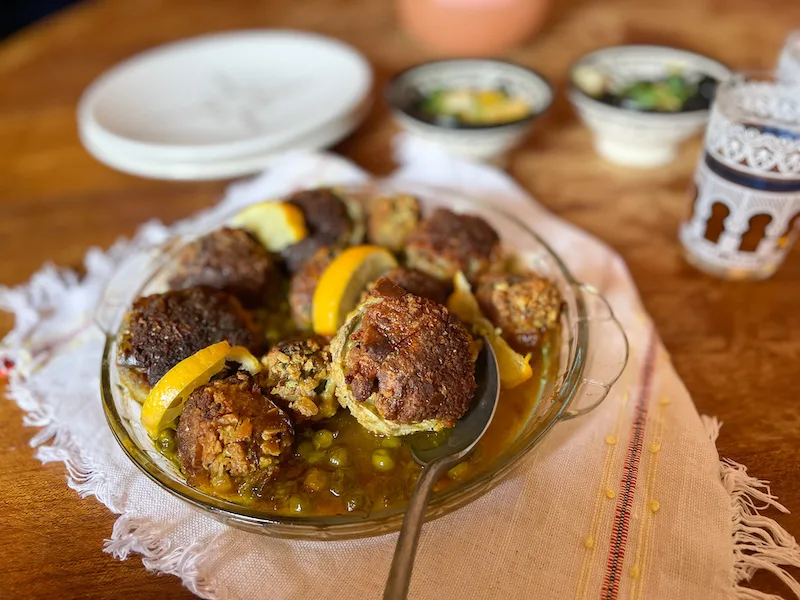 Assembling the Dish

In the baking dish arrange the artichokes and meatballs. Sprinkle in the peas around the emty spaces of the dish.
Pour the lemon saffron sauce over the top (try to avoid directly pouring on the meat but around the open edges.
Place into the oven and bake at 175C/355F about 30 minutes until the sauce is thickens a bit.
Garnish with lemon slices to serve!
Notes
The preparation time for this recipe is for the time needed when your artichokes are prepared (either thawed or completely cooked) if they need to be prepared the time will vary.