If I said I do a little bit of research on where to eat when I travel that would be a lie. I do a LOT of research on where to eat when I travel. I create entire maps of places based on the time of day. I have been known to spend entire days just eating in different restaurants.
To me, exploring and experiencing a place is done through food so it is a top priority. Cordoba was no different.
This post is focused all on eating in Cordoba but if you'd like more insights on the city check out my post on what to do in Cordoba.
Breakfast in Cordoba
Cafe Don Pepe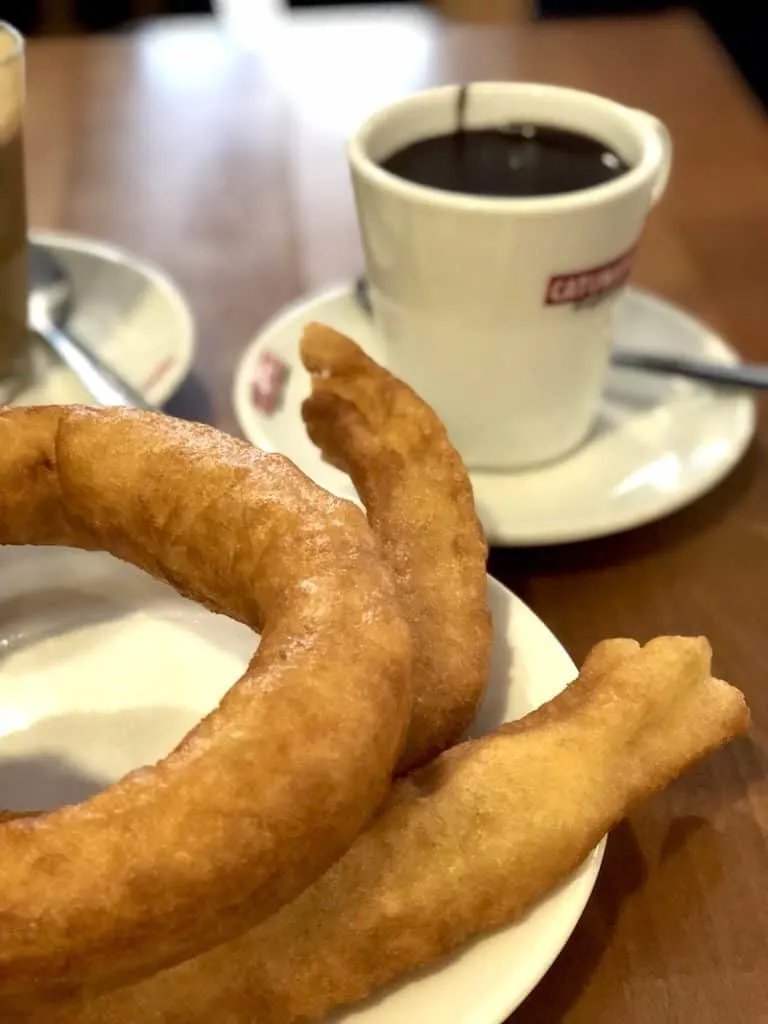 A small cafe full of locals and zero tourists! They have more things on the menu but come for the churros and chocolate. You'll find tables of older men and women talking and sipping cafe con leche with churros. This is one of those local spots you just happen into. Spanish is certainly a plus and the turn over is fast but a good, inexpensive breakfast.
Laquentra
Tortillas! This is one of my favorite Spanish foods and this is all you'll find at this place. There are a handful of chairs but it's mostly for take away. Behind the counter you'll find a variety of potato tortillas with all kinds of fillings. You can buy by the piece or the entire thing if you'er feeding a crowd. Get it in bread or not.
Maddow Coffee Shop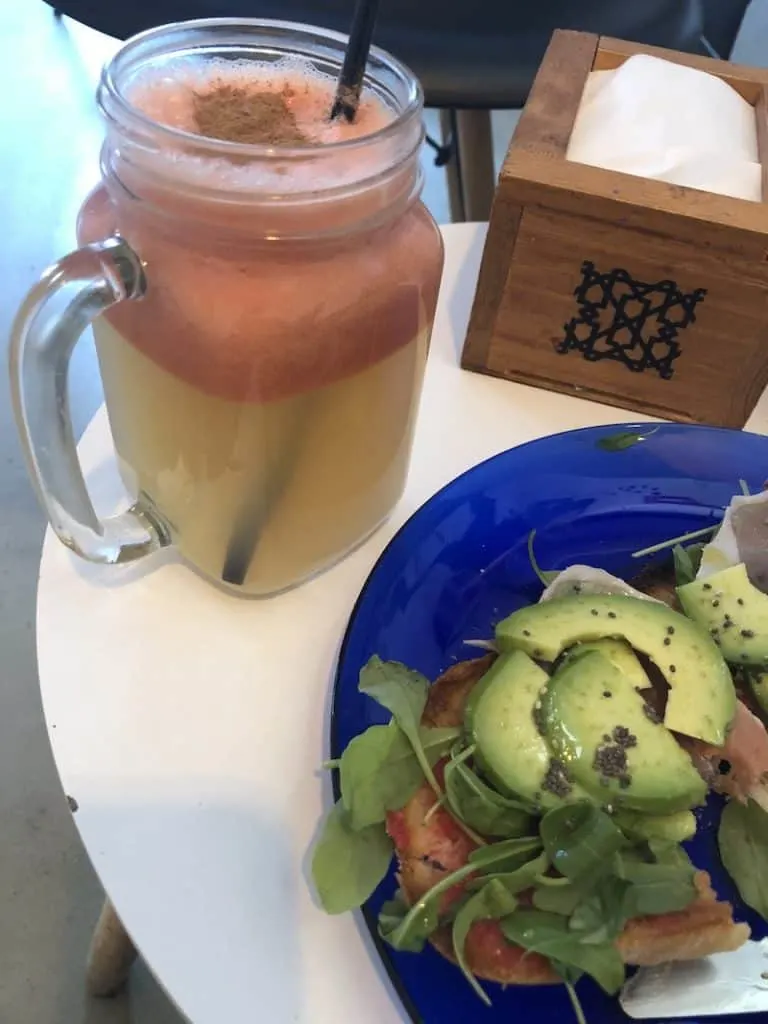 Closer to the more touristic sites this is a juice and coffee bar that serves some tasty food too. They have toasts with different toppings, yogurt bowls and pastries. The juices are a bit on the expensive side but for fresh juice pressed on site I feel ok getting in some good vitamins to start the day!
La Bicicleta
I loved all the bike theme and decor here. They have breakfast, coffee and juices to start your day. Try one of the toasts that you can customize or a slice of cake- no judgment here.
Lunch, Snacks and Tapas
I'm grouping all of the afternoon and early evening eating together depending on when you might be out and about. Keep in mind many places in Spain close in the mid afternoon and Cordoba is no different.
Montecelio Bakery
A traditional Cordoba bakery with local treats and a variety of other sweets like doughnuts and pastel cordobés, the traditional pie/tart/pastry from here. I struggle to give it a name because it resembles all of them. There are a few seats and you can order coffee as well.
La Tarterie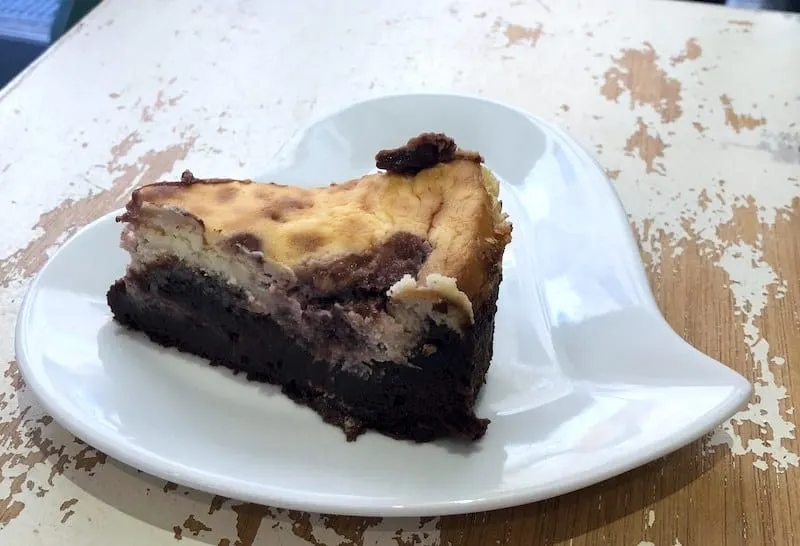 If you really want cake then I would suggest visiting this bakery. It's small and very near to the Roman temple. What's available each day changes. I tried the oreo cheesecake but there were many other options as well. They do have vegan cakes (though sadly no gluten free options).
Mercado Victoria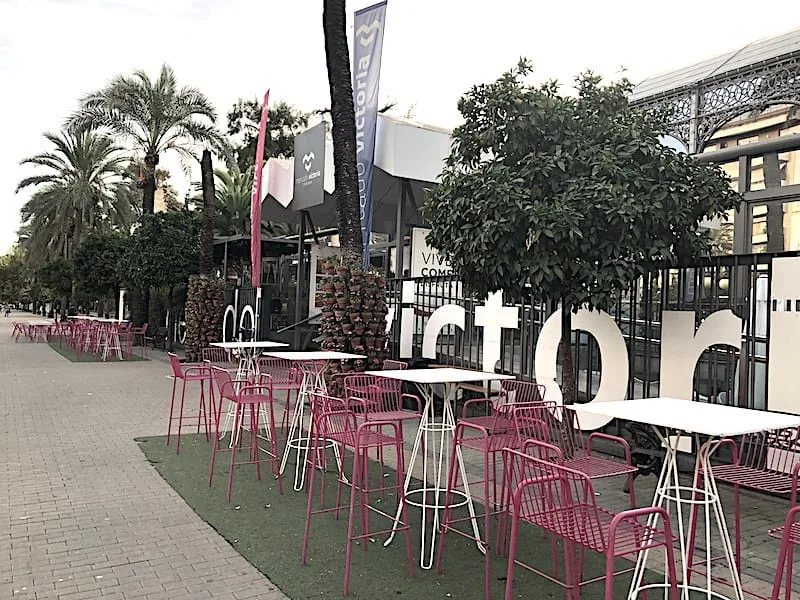 This market has both fresh products (meats/cheeses/produce) as well as stalls that are selling prepared food and drinks. We went in the early evening around 6pm and there were people that were beginning to come for a drink and something to eat but it wasn't too full. It's open most of the day so if you're stuck in an in-between eating time it might be a good time to visit.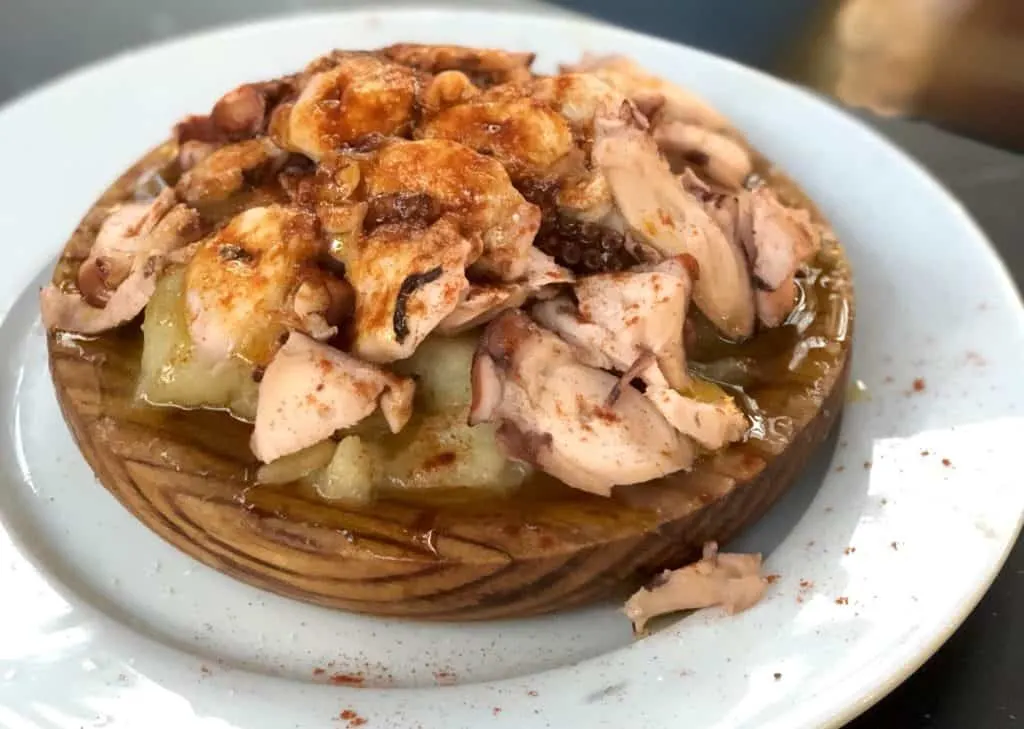 We ate at O'Pulpino and it was ok. Not exceptional but we were hungry. Nearby was also an olive vendor and a cheese and meat tapas spot. There's also a bar that sells 100% alcohol-free beer which was a nice treat for me!
Bodegas Mezquitas
This restaurant has a few locations but we ate at the one near the mosque. The menu is quite long and in some ways it did feel like it focused heavily on tourists however there were quite a few Spanish people also sitting and eating.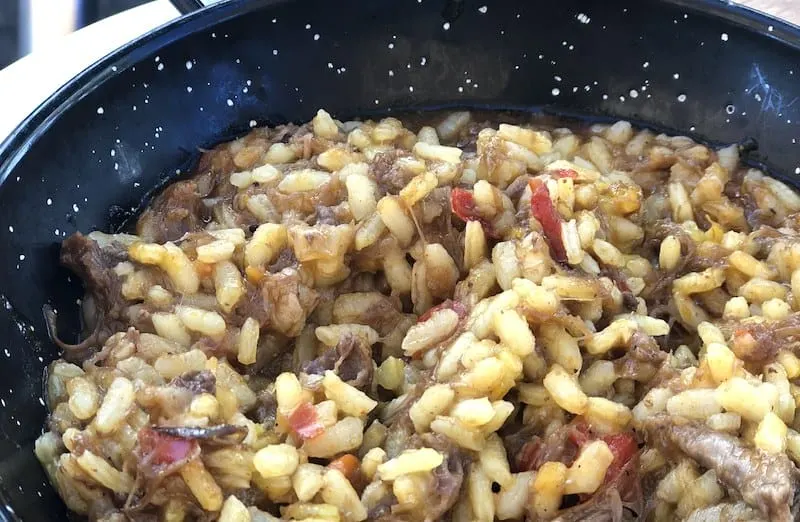 I liked that the menu featured dishes that are Christian, Jewish, and Muslim influenced and we tried some of each. We opted to do small plates (tapas) size dishes just so we could eat more. Overall, it was decent. I didn't need to come back again but it was good. I especially liked the paella with oxtail instead of seafood.
Dinner in Cordoba
It's important to remember in Spain meals are eaten late. The one night I had a dinner reservation for the earliest seating time was 8:30pm. We are used to this living in Morocco but if you're coming from another part of the world (like the US) this might be a big adjustment. Growing up we always ate dinner at 5:30pm!
There are a LOT of restaurants in Cordoba so I've just broken down a few of my favorites to share here.
Noor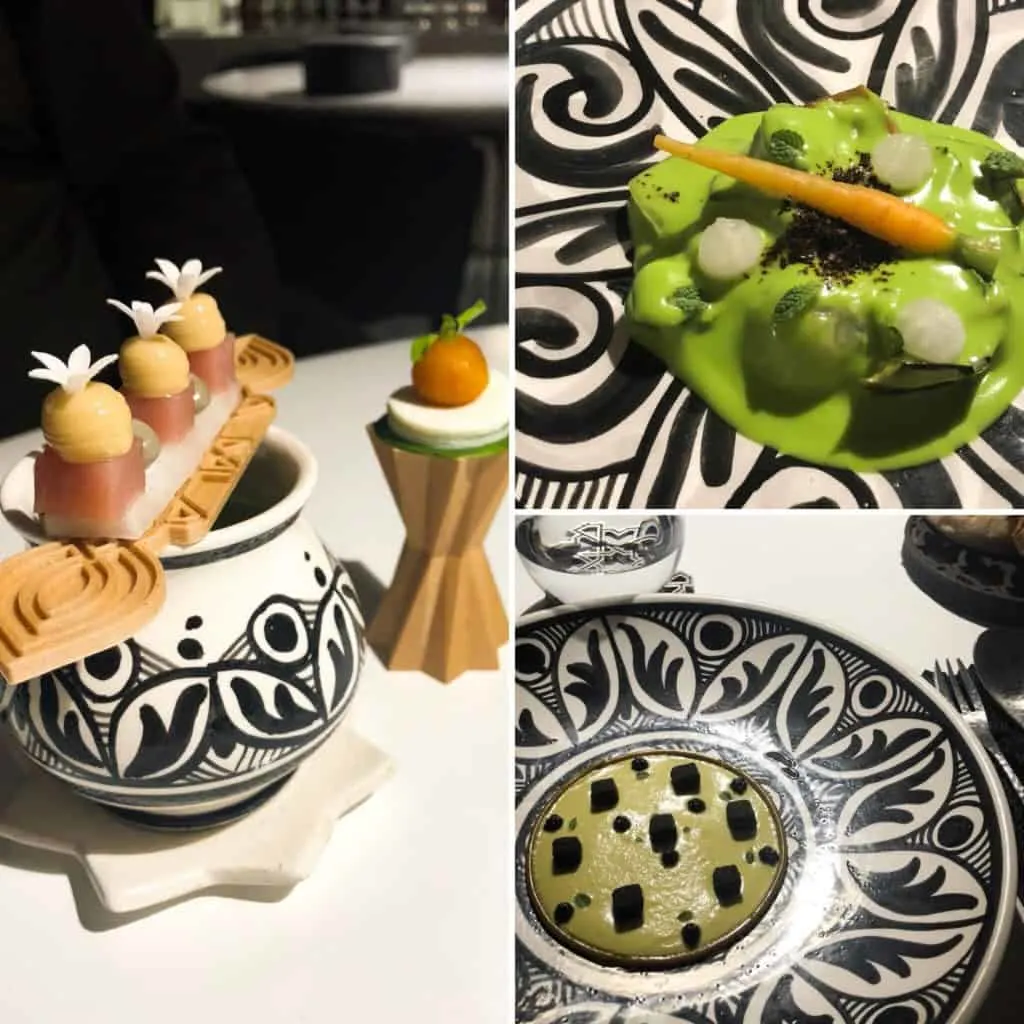 This was by far our splurge meal. This is a Michelin star restaurant located well outside the city center. We took a taxi and they called a taxi to take us back making things easy. There are only 8 tables and you must have a reservation. The concept is a recreation of foods that existed during 13/14th centuries using only the ingredients that would have been available – so no ingredients introduced from North or South America.
This is not just a meal but theatre. Each course is presented differently with completely new silverware and dishes. There are 3 meal lengths and prices with wine pairings if desired. I chose the short menu for us because I know MarocBaba has limited patience with this type of food.
The truth is we didn't LOVE all the dishes, there's 2 specifically that I really disliked but overall it was a special experience. If you're someone who is adventurous and open to unique pairings and styles go for it. If you're more picky than I'd probably say don't try it.
(additional side note they can accommodate allergies – MarocBaba's meal was 100% gluten free)
Al Abanico
This is a small local bar that is open at lunch or later in the evening for tapas and dinner. The food is all traditional dishes from Cordoba and they also have drinks available. The service seems to be hit or miss but I think it depends on what you expect.
El Astronauta
Expect a heavily Mediterranean menu full of tasty dishes. There are vegetarian and even some vegan options on the menu as well as an English menu and most staff speak at least some English if communication is a concern. They also have a few gluten free options as well.
Regadera
Modern Mediterranean dishes like the traditional Cordoba oxtail and paella dishes. Croquettes and ceviche as well as several delicious desserts all play off traditional Andalusian flavors.
Eating Gluten Free in Cordoba
Eating gluten free when traveling can be a big challenge. MarocBaba is celiac and so when we are traveling together I always have to be a bit more aware of what our options are.
Spain today has a LOT of gluten free options. Way more than even two years ago. Most all restaurants have gluten free items and do clearly list on their menu what is and isn't gluten free.
Sensibles
A little shop off one of the main streets I just stumbled across it. They offer gluten-free crepes in the morning. They are 100% gluten free as well as offering vegan options. They also make other gluten-free treats so certainly worth a safe try!
Restaurante Sociedad Plateros María Auxiliadora
If you want to eat more traditional cuisine from this part of Spain this restaurant is worth a try. They have adapted the menu for several years now and offer a gluten-free menu of most of the traditional regional dishes. Reservations suggested.
Eating halal in Cordoba
There are a lot of Muslims that visit Cordoba (and Andalusia in general) to see the sites of Moorish Spain. You would expect there to be quite a few halal restaurants offering food for these visitors.
The good news? There are.
The bad news? There are not many.
Bocaito Andalusi was one place that we stumbled on in the Victoria market. The dishes were very Moroccan looking however not everything was something you'd find in Morocco so there was certainly some Andalusian influence.
Restaurante Qurtubah
This spot is not far from the mosque and has a menu that is Mediterranean/Moroccan/Middle Eastern with a variety of dishes. It gets good reviews but honestly we didn't eat here so I can't say how good or authentic it is.
If having halal only meat is very important to you, than you may want to stick to fish, seafood and vegetarian dishes. Luckily you'll find quite a bit of all those.