From beautiful architecture, incredible villas, and poolsides set in Moorish gardens to sumptuous spas and camel rides in the desert. You'll be spoiled by the incredible experiences this Moroccan city has to offer.
Marrakech, also known as the "Red City," is a spectacular, historic metropolis sprinkled with exquisite palaces, mosques, markets, and more. It's a glorious place to relax and drink in the beauty of this African gem. Walk through friendly courtyards and zigzag alleyways in the world-famous Medina of Marrakech or spend the night dancing away in one of Marrakech's incredible clubs.
The city boasts plenty of exotic charm that would need to be experienced in order to fully understand how spectacular it truly is. So, where will you decide to stay on your Moroccan adventure? Let's take a look at the top luxury hotels in Marrakech, Morocco, for an unforgettable vacation.
Five-Star Hotels in Marrakech
Selman Marrakech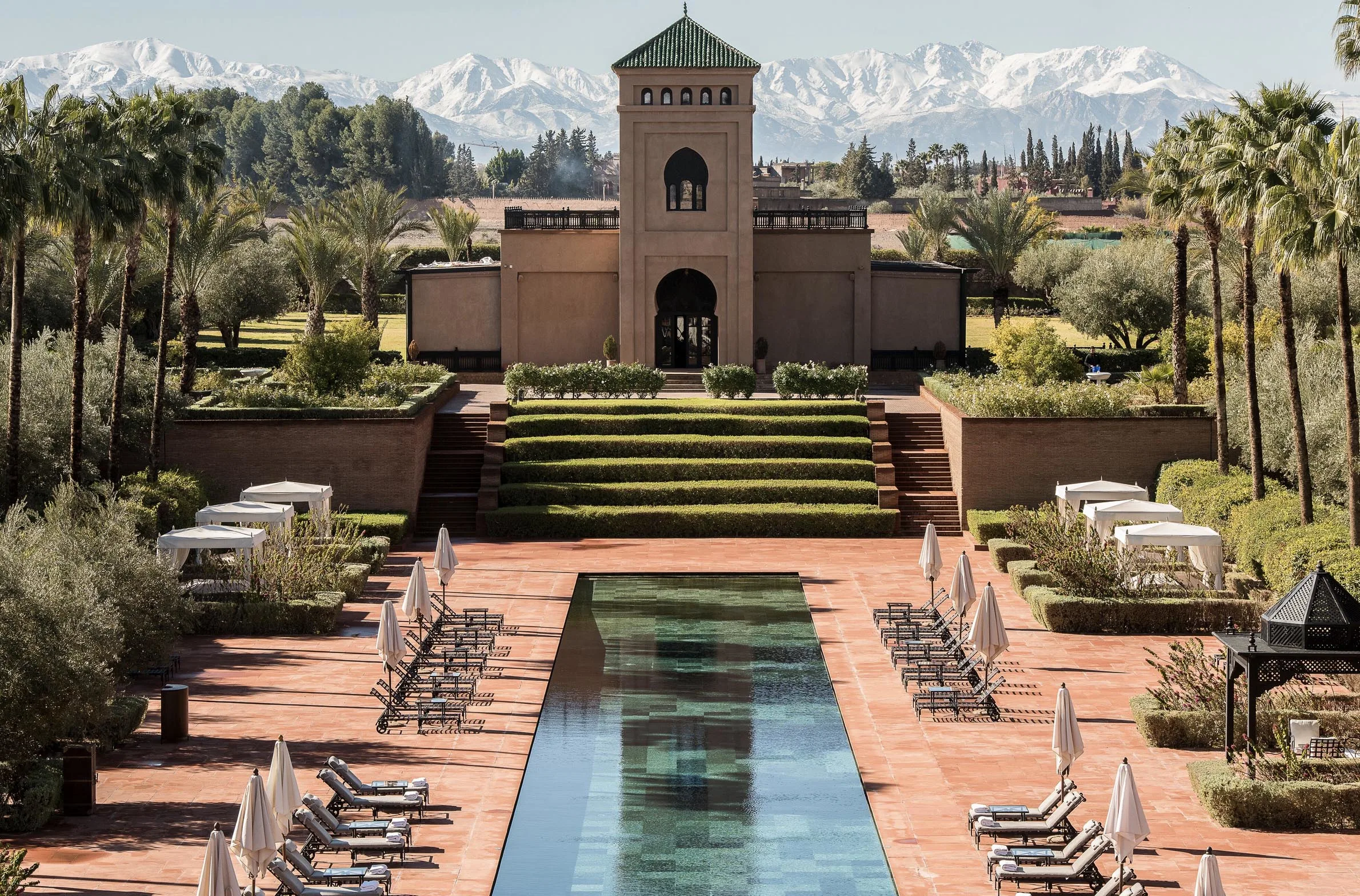 Located a mere 10-minute drive from the city center, Selman Marrakech boasts exquisite opulence. From the purebred Arabian horses stabled on the property to its three outdoor swimming pools and luxurious spa, visitors are in for a relaxing retreat at one of the top hotels in Marrakech, Morocco.
The spacious rooms are tastefully decorated with Arab-Andalusian style. Each includes a private bathroom fitted with a hot tub and shower and provides a large terrace with sweeping views of the swimming pools.
This luxury hotel in Marrakech also features two bars and three restaurants. Sit down to have a continental breakfast, choose a delicious Mediterranean cuisine for lunch and test your tastebuds with some international dishes for dinner. It's an exquisite hotel for families, solo travelers, couples, or anyone looking for luxurious spoils.
Four Seasons Resort Marrakech
Just a hop, skip, and a jump from the Menara Gardens, the Four Seasons Resort is rated one of the best luxury hotels in Marrakech.
Situated in Gueliz, the accommodation provides the ideal location for quick and easy access to excursions and points of interest in Marrakech. While you're here, visit the Canal Forme, Théâtre Royal, Menara Gardens and Pavilion, and more.
The opulent resort provides its guests with a wealth of unrivaled services and facilities. Guests can access the indoor or poolside bar, a restaurant, and 24-hour room service and security.
Every guestroom is equipped with free Wi-Fi, an LCD/plasma screen, a separate living space, and a private pool. If you're looking to keep fit during your vacation, you'll have a top-class workout area, including a yoga room, a hot tub and sauna, a spa, and a fitness center.
Mandarin Oriental, Marrakech
As one of the best five-star hotels in Marrakech, the Mandarin Oriental boasts an array of world-class facilities and palatial design. It features a gorgeous spa, an outdoor swimming pool surrounded by towering palm trees, and private villas with their own private pools.
Each spacious room and private living area is tastefully decorated with elegant, modern furniture and opens onto a private deck area. Guests are well-equipped with a mini-bar, TV, Wi-Fi, and other amenities.
The hotel is a near the Royal Golf course and only about 10 minutes drive from the medina of Marrakech. Once you've worked up an appetite from a day of excursions, sit down for a delicious meal at one of their signature restaurants or order a meal to your room.
Tigmiza Boutique Hotel & Spa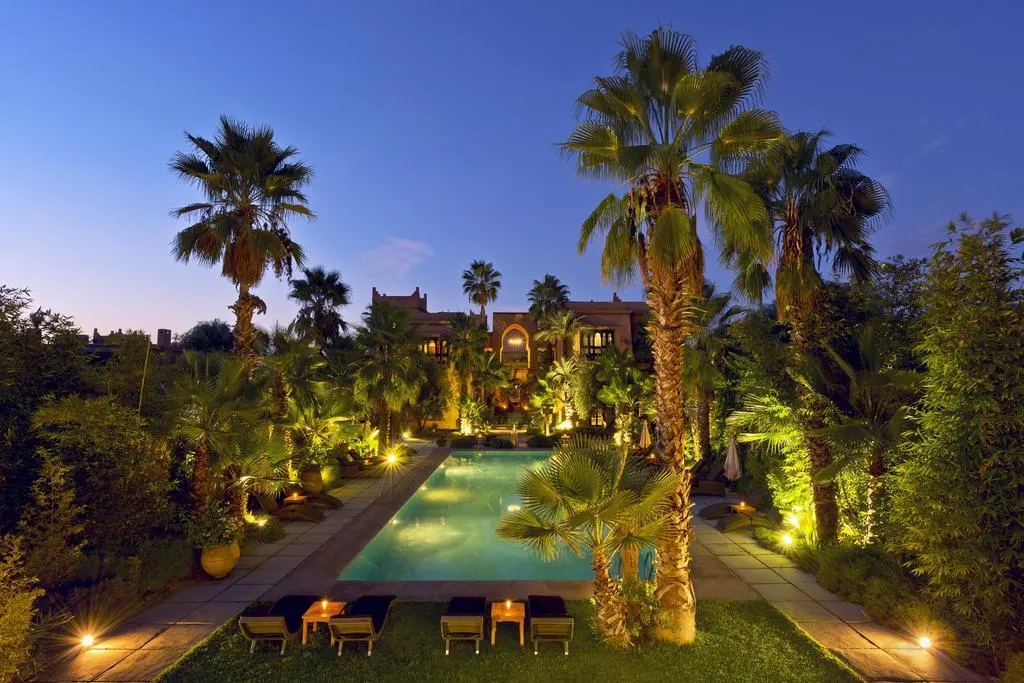 For hotels in Marrakech with 5-star ratings, the Tigmiza Boutique Hotel & Spa takes center stage as one of the most oh la luxury places to stay. It's a mere 15-minutes drive from Marrakech's Medina and the famous Jamaâ El Fna Square and is situated overlooking the Atlas Mountains.
Each suite is individually decorated, depicting a lavish Moroccan-themed interior. Every air-conditioned room is provided with free Wi-Fi and a flat-screen TV, a private bathroom, a lounge, and panoramic views of the surrounding area.
Spend your afternoon sipping on tea and sampling some divine Moroccan pastries. In the morning, enjoy a continental breakfast in bed or on the terrace. The on-site restaurant serves Moroccan and French cuisine. There are also four bars to choose from, including the Moroccan lounge for the afternoons and a poolside bar for those balmy days.
Relax in the world-class spa and fitness area. Or, perhaps you're keen on exploring or heading on an excursion? In that case, you'll be within close distance to PalmGolf Marrakech Palmeraie, The Orientalist Museum of Marrakech, Medersa Ben Youssef, and much, much more.
Palais Ronsard Relais & Châteaux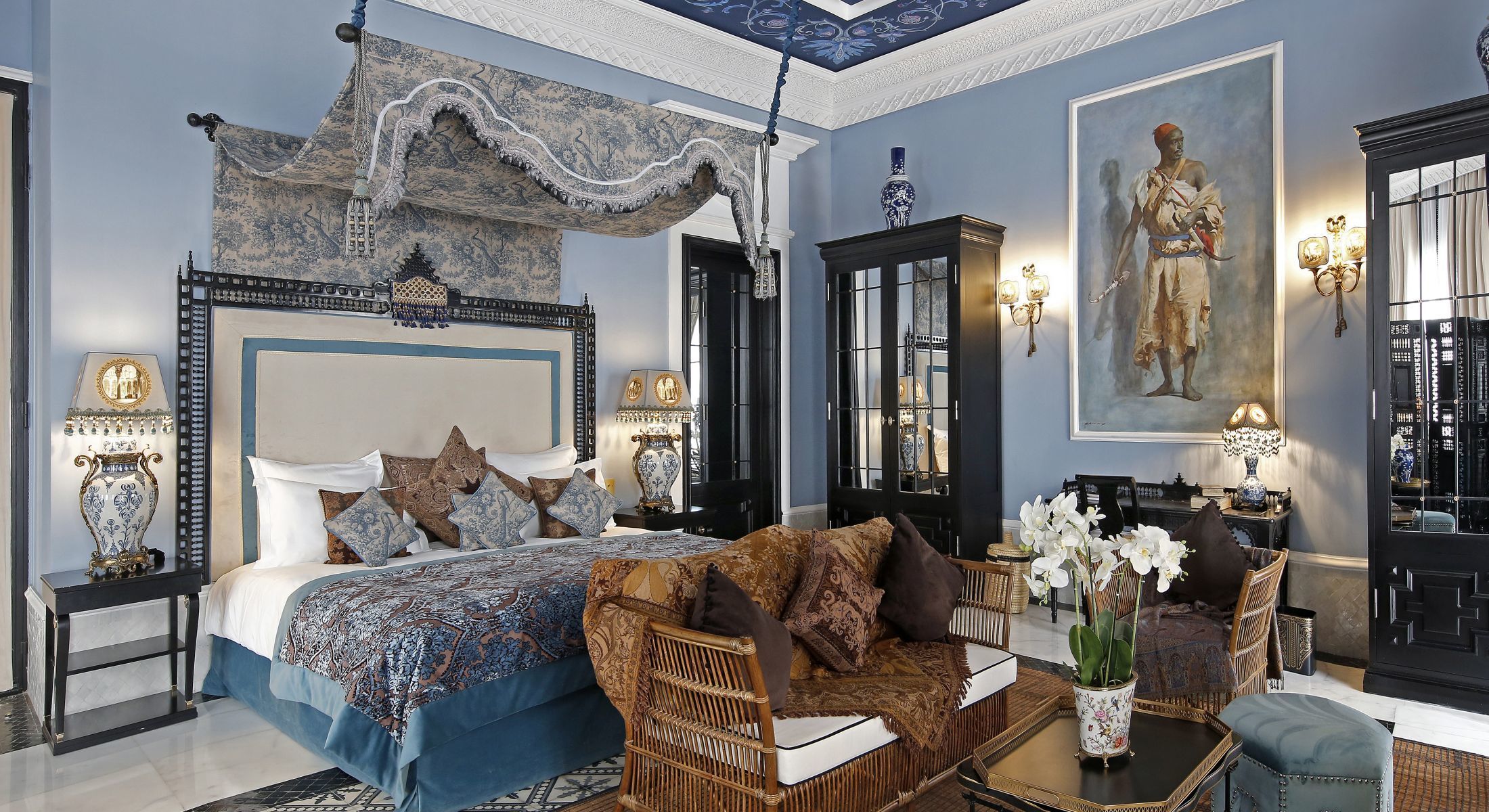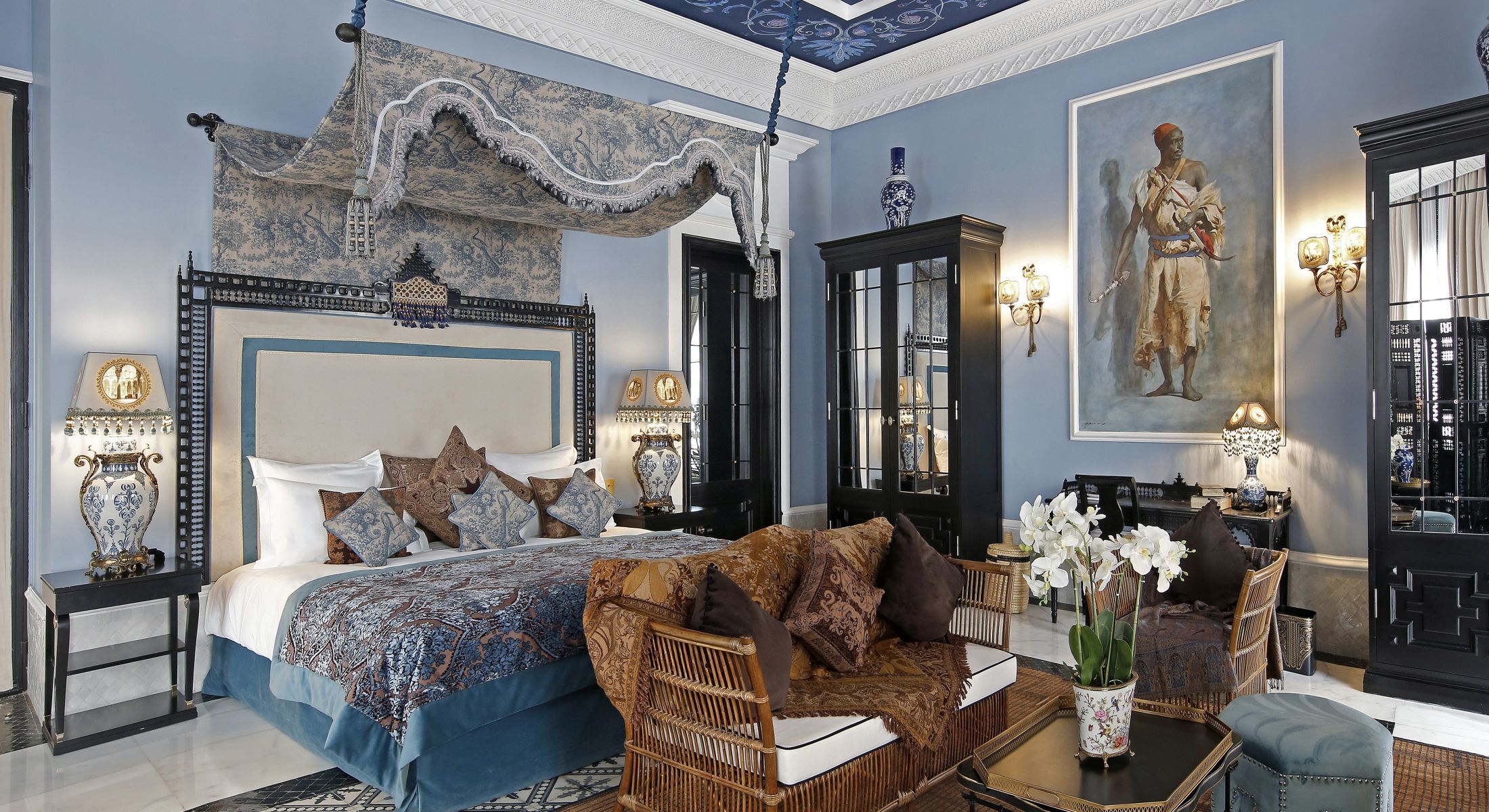 As part of Morocco's luxury hotels, Palais Ronsard Relais & Chateaux takes the cake with all-around excellence.
Guests are provided with a large outdoor swimming pool, fitness center and spa, bar, and manicured gardens. There is also a 24-hour front desk, room service, and currency exchange available. If you're an avid cycler, the area around the hotel is popular for cycling, and the accommodation offers bike (and car) hire.
Each suite is air-conditioned and is equipped with a flat-screen TV, private bathroom, a tea and coffee maker, and free toiletries. It's one of the top luxury hotels in Marrakech for romantic couples and solo travelers looking to have a memorable vacation in Morocco.
La Villa des Orangers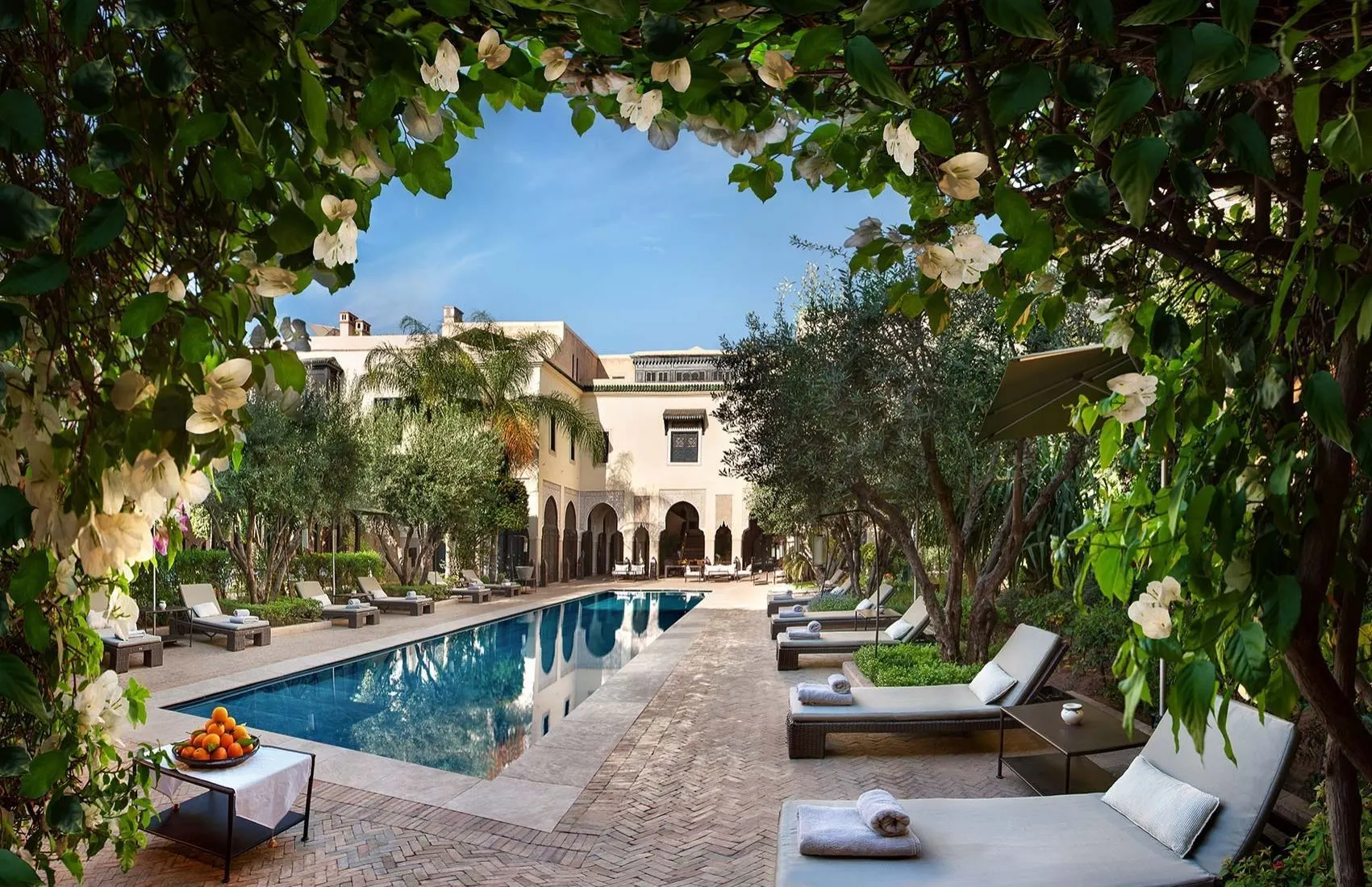 Located on the edge of the Medina is one of the top luxury hotels in Marrakech, La Villa des Orangers. It's decorated from top to bottom in beautiful and tasteful Moroccan design.
The hotel offers free Wi-Fi in all rooms, an on-site restaurant, and a swimming pool. There's also an airport shuttle and 24-hour desk service. Each room features a private bathroom and shower, a mini-bar fridge, air-conditioning, LCD/plasma TVs, and more.
If you're keen on exploring outside, the hotel is steps away from Djemaa El Fna, the Souk of the Medina, and has easy access to parking and taxis so you don't need to stress about getting around.
A Footnote: Best Hotels in Marrakech, Morocco
Marrakech luxury hotels with 5-star ratings are in no short supply. From Arab-Andalusian style interiors to chic, modern amenities and world-class services. The city has become an ever more popular destination for its exquisite hotels and raids. So, now that we've gone through the very best hotels Marrakech has to offer, which will you choose?