I am so excited about this recipe! This weeks' theme for #SundaySupper is Holiday Music and Movie Inspired Dishes. I thought, and thought, and thought some more about what I could make. I knew which movie I was going to use, because it's a family favorite.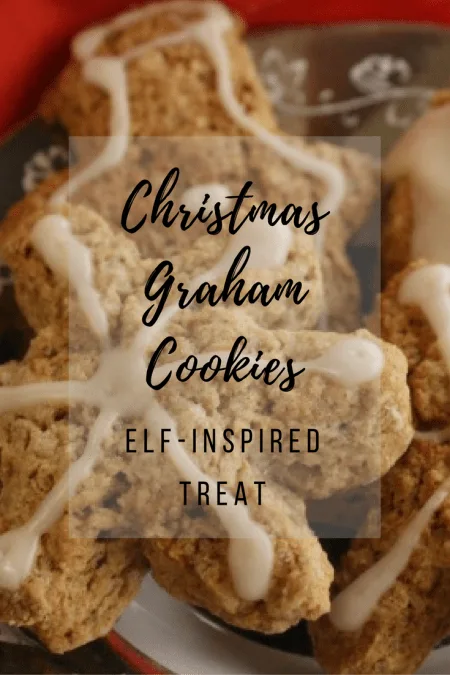 But what to make… There was of course the obvious answers – food directly out of the movie -but I wasn't feeling inspired. Then when re-watching the movie it came to me….Christmas "grams".
You remember this scene;
So this brings us to Christmas Grahams!!! Homemade graham cracker/cookies. I thought Buddy would totally approve of these for a few reasons.
First, I used maple syrup in them. Which is one of the 4 elf food groups.
Second, they're in Christmas shapes.
Third, they have sugar in them.
A Buddy approved snack.
I had never made graham crackers, and we can't buy them in Morocco so this was going to be a treat no matter what. I had hoped these would come out a little thinner but I don't have a rolling pin here and could only get them so thin without one.
Truthfully, they still have a graham cracker texture but are a little bit softer – so a graham cookie? What I like the best is that they aren't overly sweet. My boys liked them better once they were frosted but that's up to you. No matter what – you'll enjoy these. Don't forget a big glass of milk.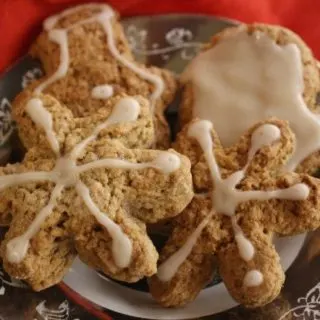 Yield:

12-14 cookies
Elf-Inspired Christmas "Grams"
Elf is one of our favorite Christmas movies so why not make some cookies inspired by this great film?
Ingredients
2 1 /2 cups all purpose flour
1/2 cup brown cane sugar
1/2 tsp salt
1 1/2 tsp cinnamon
1 tsp baking soda
1/2 cup cold butter
1/3 cup maple syrup
1/2 cup water
1/2 tsp vanilla
Icing
1/2 tsp vanilla
1-2 tsp water
1 1/2 cups powdered sugar
Instructions
In a large bowl mix together flour, sugar, salt, cinnamon and baking soda.
Add cold, cubed butter and mix into the dry ingredients using your fingers, a pastry cutter, or pulse in a food processor.
In another bowl whisk together syrup, water, and vanilla.
Slowly add wet ingredients to the dry ingredients until a dough forms.
Between two sheets of parchment paper, roll out 1/4 of the dough as thin as possible. For more of a cookie 1/4" thickness is good. For a cracker roll even thinner.
Use cookie cutters to cut out shapes and place onto a cookie sheet lined with silpat or parchment paper.
Repeat until you've used all of the dough.
Preheat your oven to 350F. While the oven is heating pop the cookie sheets into your freezer. This will help them from spreading.
Place into the oven as soon as preheated and cook 15-20 minutes until golden brown.
Remove from the oven and transfer to a cooling rack,
To Make Icing
In a bowl whisk together powdered sugar with vanilla and water until a thick icing is formed.
Transfer to a piping bag or plastic bag with a decorators dip on the end.
Once the cookies are completely cool pipe onto cookies as you would like.
Once you have your cookies whipped up you'll need something to celebrate with so why not throw a Moroccan inspired Christmas party? I've created this awesome guide with recipes, games and printables – basically everything you need to make it happen!