Sure, Christmas isn't a widely celebrated holiday in Morocco but the love of Morocco has extended well beyond the borders. Today many people are looking for Moroccan Christmas ornaments and holiday decorations for their own celebrations.
If you can't make it to Morocco this Christmas you can bring some pieces home with you instead.
Below you'll find several different ideas for ornaments and tree skirts that can give your home a feel of Morocco from far away.
Better yet – if you're planning a holiday get together, why not throw a Moroccan Christmas party? I've got a full guide with recipes, printables and more. Make use of all those pretty decorations and make it even more memorable this year.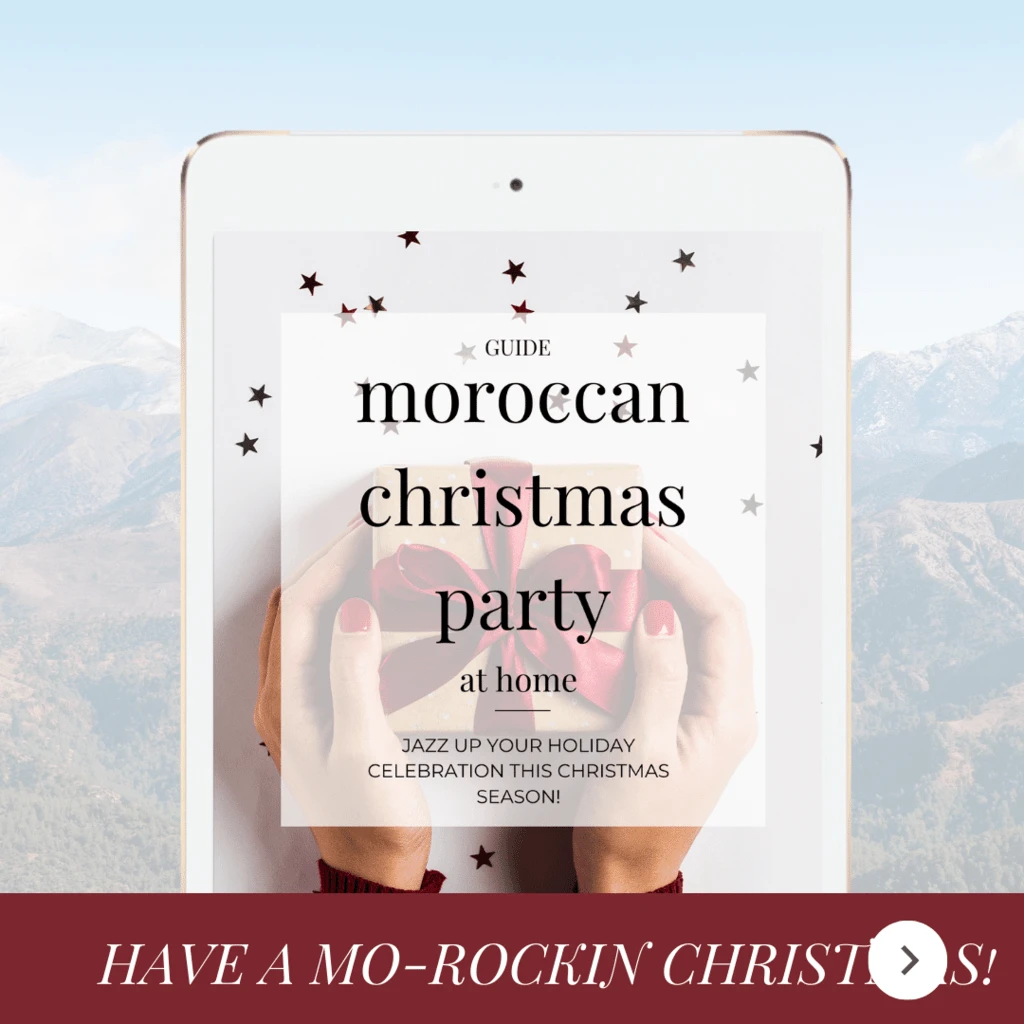 Moroccan Christmas Tree Ornaments
Mix and match these ornaments with your existing tree decorations to give it a more diverse feel. Many of these can also be used to hang elsewhere, meaning they can be used year round.
Set of 3 Felt Hand Embroidered Ornaments
An adorable trio of three different ornaments that would be very cute on your tree or hanging on a mantle. They are lightweight so they would work on a small tree as well without weighing it down.
Laser cut Wooden Camel Ornaments
Multicolored camel ornaments – you can choose the color or go with a random selection. They are cute for a tree or to decorate your home elsewhere.
Made with cedarwood this ornament measures at 3.5 inches in length. It's handmade from cedar so each ornament is slightly different. It's a lovely addition to a tree or to hang in a holiday arrangement.
A "Ceramic Bauble hand painted with an intricate design of two camels in the Moroccan desert with decorative blankets, surrounded by palm trees and gold stars in the sky. This design is inspired by many trips to magical Morocco." A lovely unique, one of a kind piece.
A simple ornament in a geometric design (pattern is just on one side), it will look great on any tree with its distinctive Moroccan-vintage look.
https://ii.worldmarket.com/fcgi-bin/iipsrv.fcgi?FIF=/images/worldmarket/source/97003_XXX_v1.tif&wid=2000&cvt=jpeg
These ornaments aren't specifically about Morocco but will be a great addition for anyone's tree that loves the world. The globes are paper wrapped and come in 4 different antique colors.
https://ii.worldmarket.com/fcgi-bin/iipsrv.fcgi?FIF=/images/worldmarket/source/96932_XXX_v1.tif&wid=2000&cvt=jpeg
A modern take on a peacock, these feather and glass blown ornaments are special and evoke Morocco without being direct or over the top.
Share your love of Morocco – or someone in Morocco – with this special tree ornament with a hanging pendant that says Morocco. It's available in this gold design and also in silver.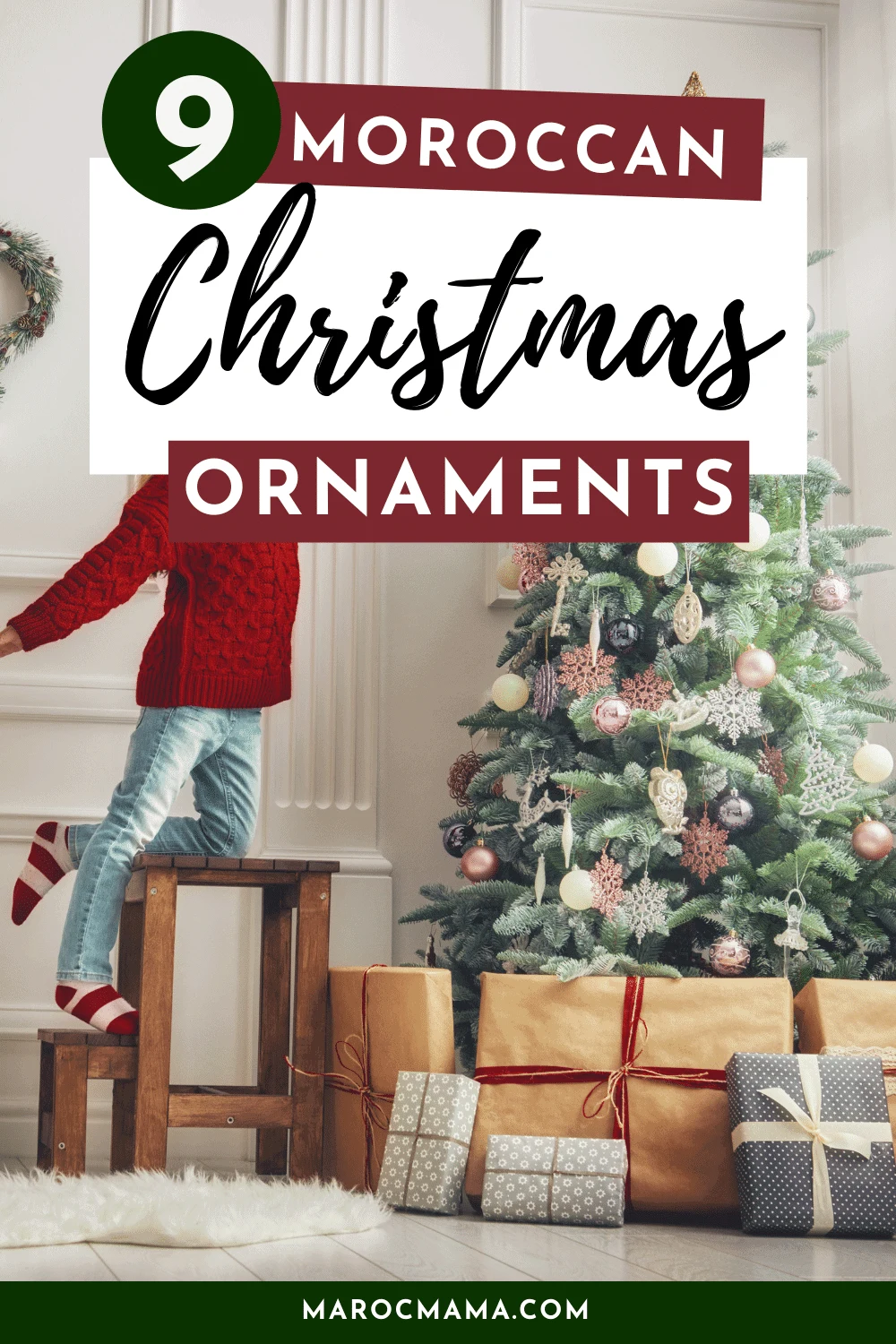 Moroccan Christmas Tree Skirts
Once your tree is up what will you put the presents on? Choose a fun tree skirt that brings up the feel of Morocco!
Teal Tree Skirt in Geometric Pattern
A soft, plush fleece tree skirt that has this pattern on one side and a cream color on the other. It's a great way to add a pop of color and global flare to your Christmas design.
Pink Tree Skirt with Geometric Design
If pink and gold is more your style, than this is the tree skirt for you. With a Moroccan geometric design but muted pink colors it's great if you're going for a more pastel color scheme.
Red and White Moroccan Tree Skirt
Mix this in with classic Christmas colors for something a little different. It measures 44″ in diameter making it a find option for a full size tree. The material is fleece with a printed on design.