Are you dreaming of camping beneath the stars in Morocco? Whether you want to sleep without a tent in the High Atlas Mountains, spend a night in a Sahara desert camp, or backpack along the beaches, there are some things you should know.
Read on to find out where to camp for your Morocco outdoor adventure, the essential gear you will need, and what time of year is best for your adventure.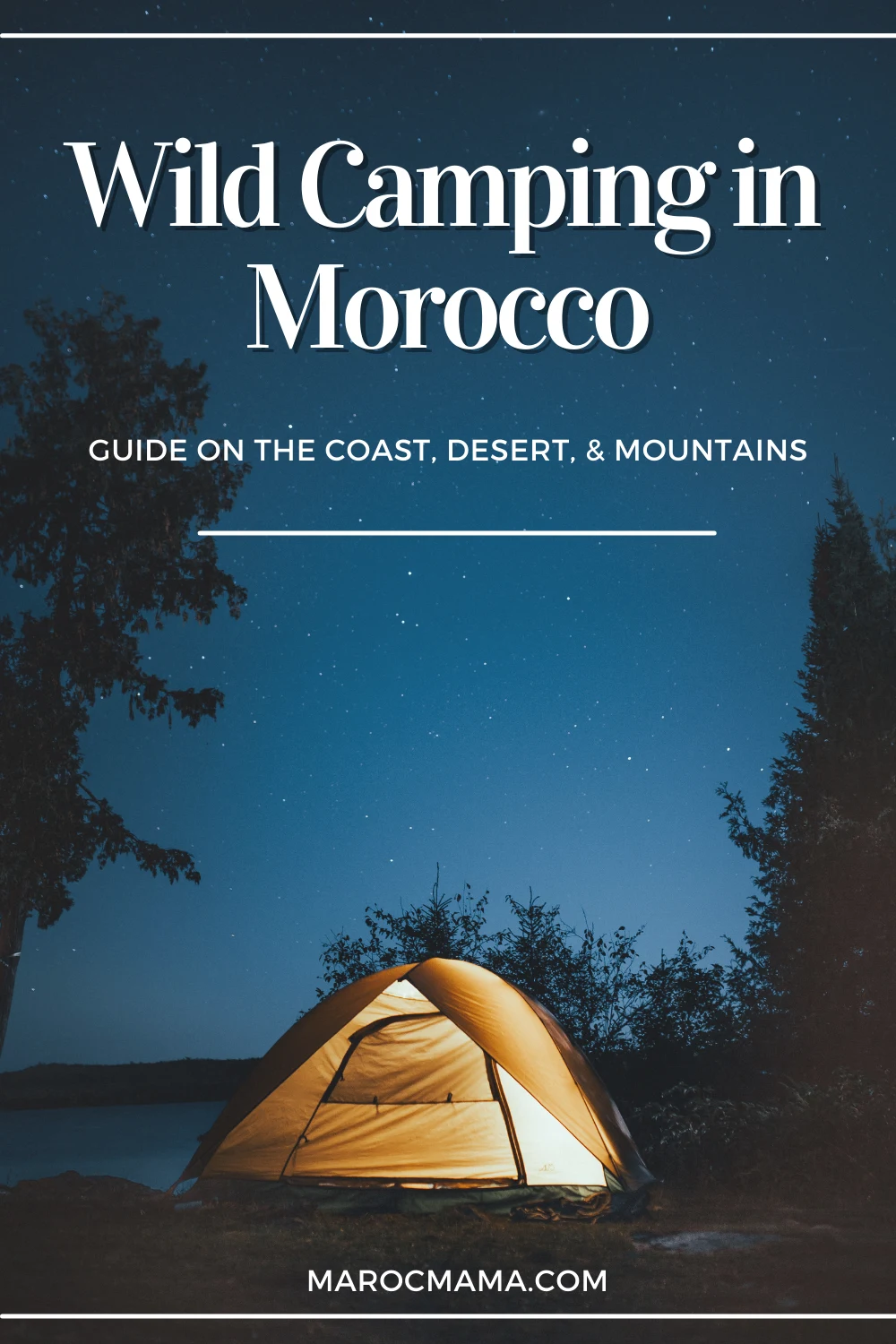 Tent Camping in Morocco
While luxury camping in Morocco offers more than just views of the stars, there is something to be said about wild camping. By traveling away from the busy streets of Marrakech and Casablanca towards the desert, you have the chance to experience the hospitality of remote villages and the quiet of uninhabited areas.
Heading into the High Atlas Mountains to hike Mount Toubkal? A guided hike in Morocco's mountain range offers you the ideal conditions to sleep outside at night (provided you have a suitable sleeping bag).
Morocco's Atlantic coastline from Essaouira to Agadir offers the perfect location for a night of calm camping in the sand dunes. If you intend to stay in the city, there are suitable campsites that are affordable and well-positioned.
Camping in the High Atlas Mountains
While your first night will likely be spent in the small village of Imlil, the Atlas Mountains are the ideal wild camping location. The high altitude experienced during your hike means there are very few insects and wild animals to bother you.
When taking on the highest peak in Northern Africa, you will be laden with gear. However, a tent won't need to be one of them if you decide to sleep under the stars. Enjoy drinking lots of Moroccan tea and watching some of the most incredible sunsets.
Do note that to camp in the mountain regions you must be accompanied by a licensed mountain guide. This is something that is monitored and is done for your safety.
Backpacking Along the Beach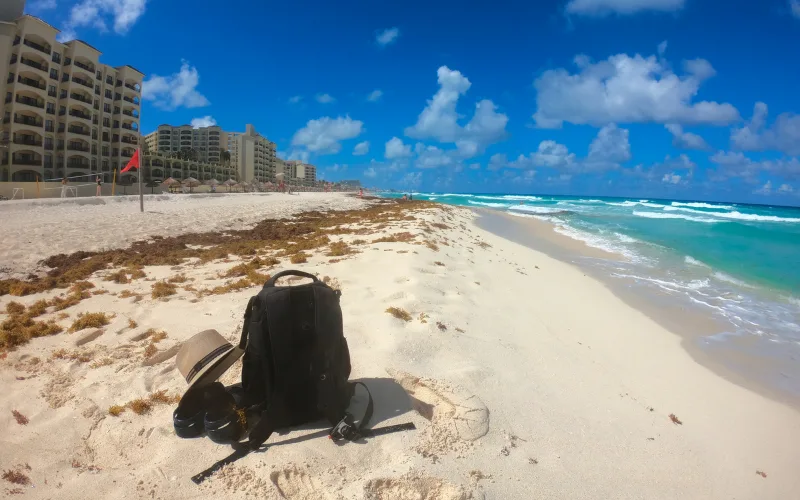 Consider starting in Imsouane and backpacking down the coast to the towns of Oualidia, Mirleft, and Legriza. Most of the beaches are easily accessed by public transportation. Taghazout is considered one of the best destinations in the world to learn surfing.
Imsouane is also a great location to experience surfing, offering the longest right break in the country. Luckily, it is affordable and easy to rent a board and wetsuit for the day. Feeling intimidated to catch a wave? Hire a surf coach to help you wax your stand-up technique.
Is Wild Camping Legal?
While wild camping is permitted in Morocco, it is advisable to do so without trespassing and in areas outside of the main cities. When setting up camp in an isolated area, it is still likely that nomads, locals, or even police will come to say hello. The locals, however, consider the behavior of camping in the middle of nowhere as suspicious or odd.
When wild camping it is important to avoid making fires, leave no trace, and create as little noise as possible. These simple rules, if followed, can ensure future free campers are welcomed to the area.
Desert Camping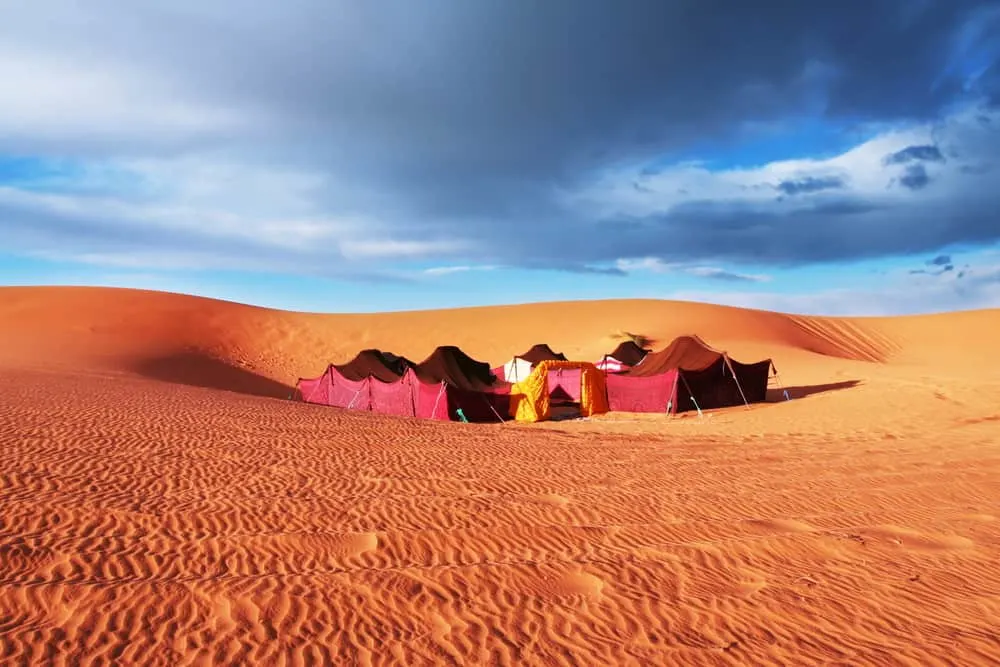 Travel to Merzouga and gain access to the desert with a 4×4 vehicle, on foot, or by camel. While many of Morocco's desert camps in Erg Chebbi offer luxurious services, it can be most exciting to find your own dune to call home for the night.
Morocco Desert Camping – What to Know
While the deserts near Marrakech are the easiest to access, the landscapes of Erg Chebbi and Erg Chegaga are the most spectacular. If you are considering Morocco's desert camping, it is advisable to hire a guide who can elevate your experience and communicate in the local languages as well as English.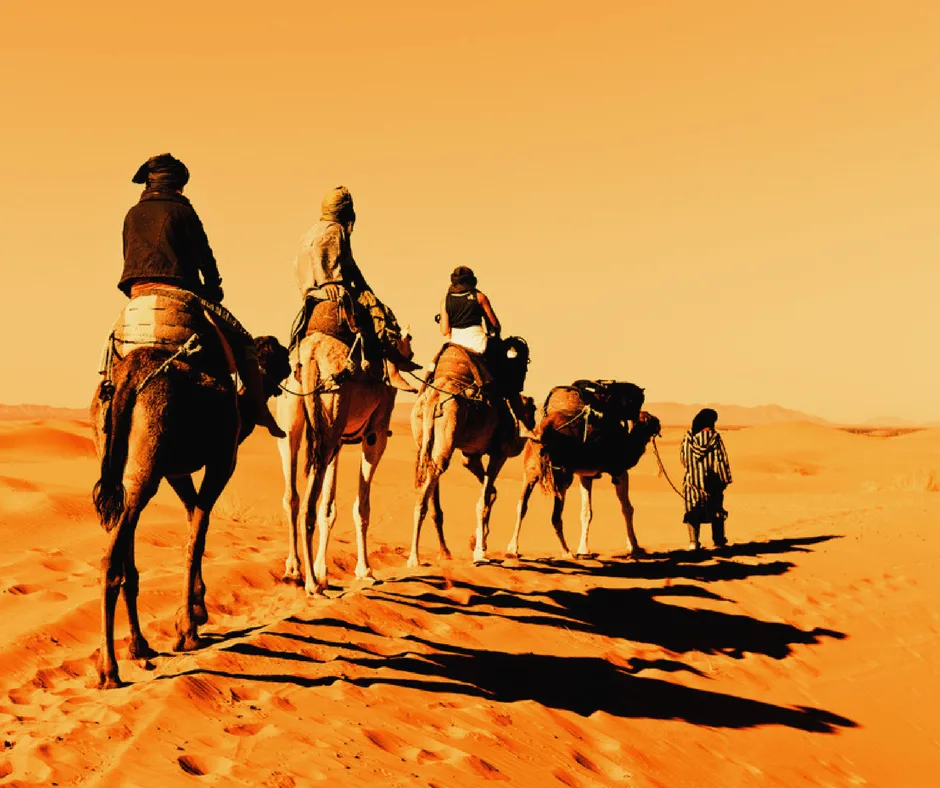 Wild Camp in Erg Chegaga
Travel to M'hamid to be surrounded by desert landscapes before heading into Erg Chegaga (Also known as Erg Chigaga). Guides offer three-day trips from Marrakech, with each night spent camping in the golden dunes of the desert.
Enlist the services of a guide, or pack your own gear and use a GPS to navigate this terrain.
Where is there Desert Camping near Marrakech?
While Erg Chegaga is located 9 hours from Marrakech, the Agafay Desert can be reached within one hour and offers white dunes similar to those found in the Sahara desert. The terrain here is a lot more rocky than the Sahara so you will probably want to have a sleeping mat or something to make you more comfortable. Also the land here is wide open and not all public lands (privately owned) so wild camping may not be the best idea.
If you're searching for the best desert camp near Marrakech check out my post on the Agafay desert.
Essential Gear for Camping in the Wild in Morocco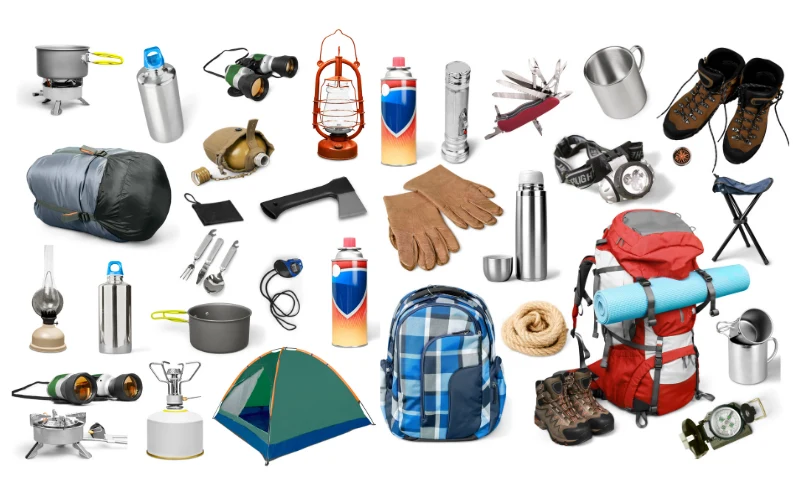 If you are traveling in Morocco on foot, bicycle, or in a car, the following gear should appear on your packing list. A reliable flashlight, mattress, pillow, sleeping bag, tent, and towel.
While less essential, you can also include the following gear to make the journey a touch more comfortable. Bring a small gas adaptor (you can buy small bottles of gas everywhere in Morocco), a travel kettle, and cups just to name a few items.
What Time of Year is Best for Wild Camping in Morocco?
Camping near Erg Chebbi offers temperatures slightly over 10°C (50°F) in winter and between 25°C and 30°C (77°F and 86°F) in spring from February until April. The summer months of July and August can reach rather unpleasant temperatures of 50°C (122°F) and it's not advisable to do this in summer.
You will want warm conditions when spending a night beneath the stars during a hike in the High Atlas Mountains. You can expect an average of 17°C (64°F) at elevations of 1800m above sea level in summer. However, temperatures in winter can reach lows of -2.5 °C (27.5°F) making camping less desirable.
The coastline experiences a cooler wind and maintains temperatures of 31℃ (88℉) during summer. Winter has cooler average temperatures of 25°C (77°F) but reaches lows of 5°C (41°F).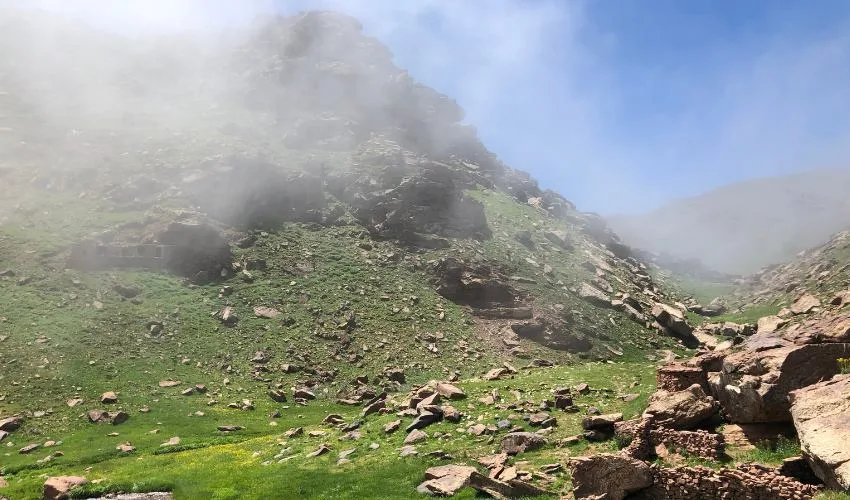 Can I Leave my Valuables Unattended in Morocco?
While tourists and travelers report being well received in Morocco, especially by remote communities, it is not advisable to leave your camp set up and unattended. The temptation for individuals living a nomadic existence to take your 'abandoned' gear is too high.
If you are backpacking or traveling by bicycle, visit one of the many hostels or backpackers to safely secure your gear if you wish to go on a hike or spend the day on the beach.
Morocco's extensive coastline, dramatic atlas mountains, and isolated deserts serve as the ideal location for a night of wild camping. By following the guide above on when to visit and what to bring, you can return home with unforgettable memories of your North African trip.