If you're hoping to do some surfing while on your vacation in Morocco, you need to know about these great places to stay in Taghazout!
Places to Stay in Taghazout, Morocco
Taghazout is a peaceful fishing village on the Atlantic coast of southwestern Morocco. Located 15-minutes to the north of Agadir, Taghazout is best known for surfing. This lovely little village is laid-back – even "sleepy". But for people who love to surf (or want to learn), it has become a popular dream destination.
For this reason, a number of surf houses and hotels have opened in recent years. If you are dreaming of doing some surfing while exploring Morocco, here are some great ideas for places to stay in Taghazout!
Lespot Surf Camps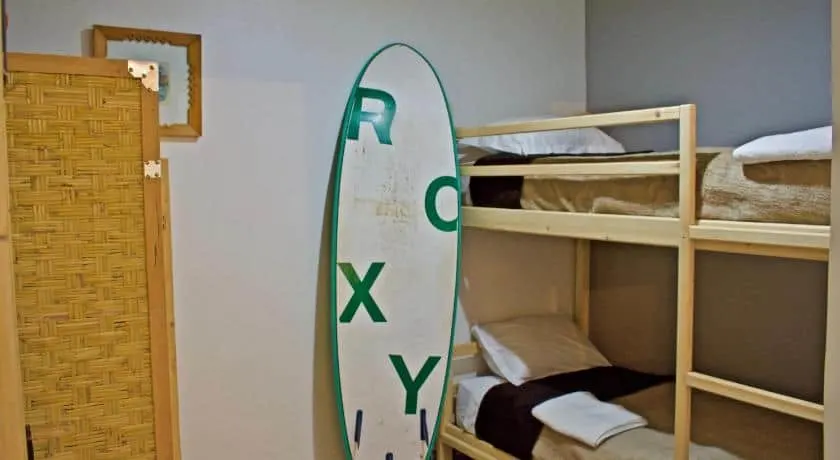 If you are dreaming of hitting the surf and looking to save money on your accommodations, Lespot Surf Camps is a great choice. This friendly and clean hostel is located on the beachfront and within minutes of all the action.

There aren't a lot of frills offered with Lespot Surf Camps. After all, you'll be spending most of your time on the beach. But when you are on the property, you will enjoy clean rooms, comfortable beds, and clean bathrooms with shower.
There is also an amazing rooftop terrace that offers incredible views of the ocean and the village. And when you want to keep up with your friends back home, their free Wi-Fi comes in handy. You'll also enjoy a nice breakfast in the morning to start your day off right.

And if you do find time for something other than surfing, the staff at Lespot Surf Camps can help you with tours of the local area, cooking classes, bike rentals, and more. They also provide a handy shuttle to and from the airport and offer free parking if you are doing the driving!
Tayought Surf House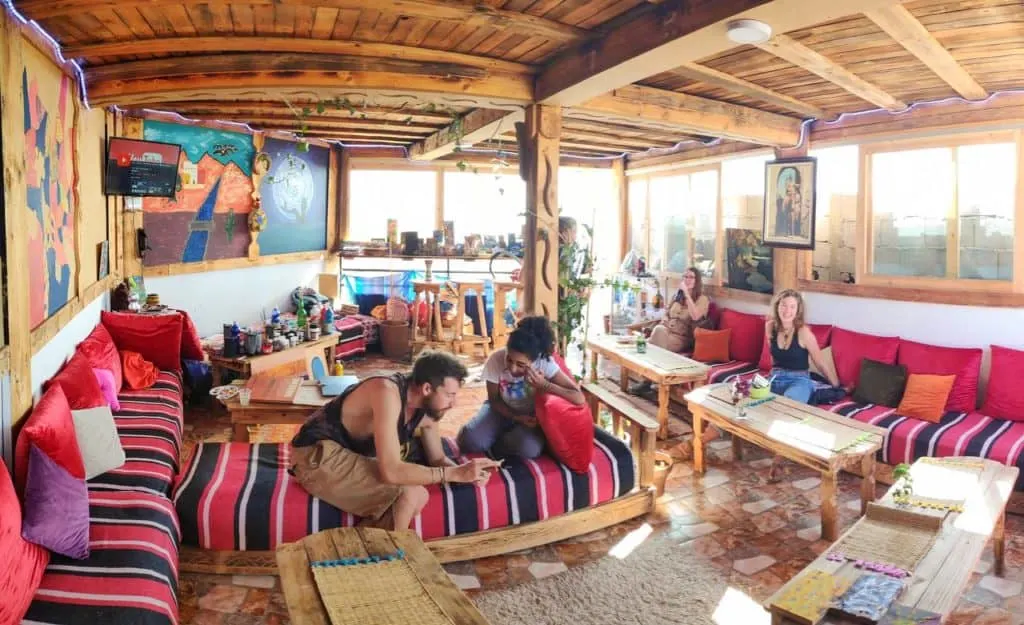 The Tayought Surf House is a beautiful 6-bedroom house you share with other travelers. Couples are welcome to choose from one of the two private rooms with either a full or queen-size bed. If traveling alone or with friends, the dormitory-style rooms may be a better choice. These shared rooms sleep up to four or six people on twin or bunk beds, for an inexpensive, comfortable, and wonderfully communal place to stay.
When not in your room, spend time in the rest of this stunning and comfortably decorated home. You are welcome to relax in the lounge, use the kitchen, and enjoy the views from the terrace. And no matter where you go, you have free WiFi to help you keep in touch with the world.
Enjoy a delicious breakfast each morning before heading out for a day filled with activities. Although most visitors come here to surf and swim, there are many other activities available when you are looking for something different. The staff at the Tayought Surf House can help you with bike rentals, horseback riding, and more. There are even cooking classes and themed dinners available, and if you love to enjoy some live music, they can help you with that, too.
And if you decide you want to just stay on-site and relax, they have chairs for lounging, yoga classes, a steam bath, and they can even help you out with an amazing massage.
If you are looking for a unique and inexpensive home away from home, the Tayought Surf House may be one of the best places to stay in Taghazout.
Kekai Surf House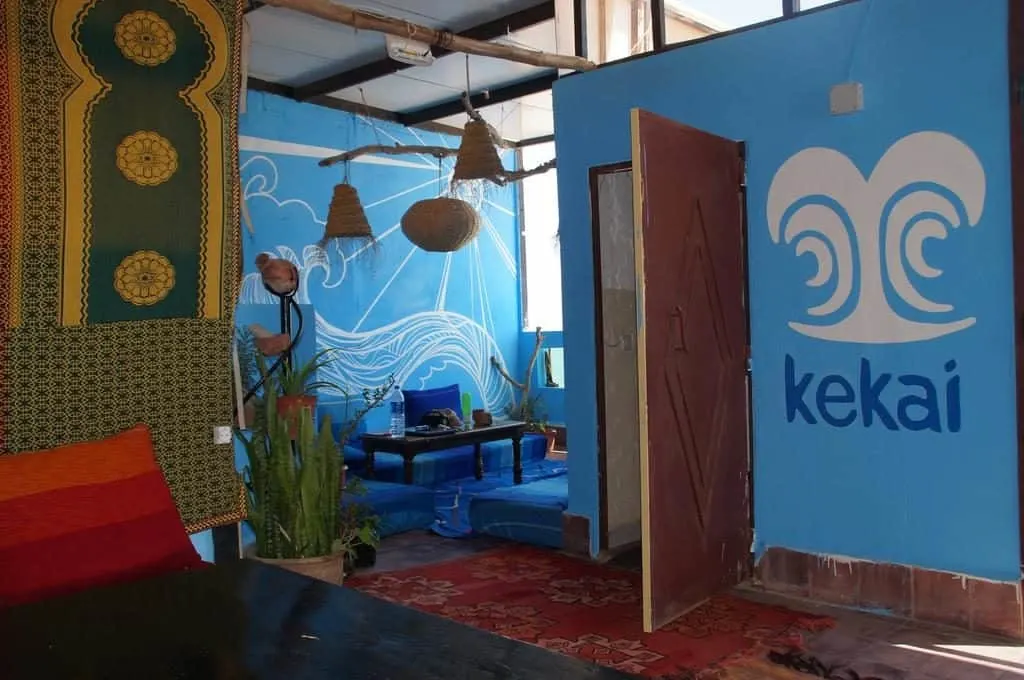 Located near the beach within a mile of two prime surfing spots, the Kekai Surf House is a comfortable and friendly hostel in Taghazout. You'll enjoy a comfortable shared lounge and kitchen, a rooftop terrace with incredible views of the ocean, and a relaxing atmosphere with free WiFi through the property.
There are six rooms available, each with shared bathrooms and showers. Two rooms are perfect for couples, offering either a Queen or King size bed. And four rooms are dormitory-style, with either single or bunk beds.
Enjoy a delicious breakfast each morning before heading out for a day of surfing or other activities. The friendly, multi-lingual staff is happy to help you find your way, whether you want to learn about windsurfing, go fishing, or take a nice long hike. And if you want to relax for the day, the sun terrace and BBQ facilities are there to help you feel right at home.
Sol House Taghazout Bay
Modern, clean, and comfortable, the Sol House Taghazout Bay is a lovely beachfront hotel in Taghazout. Amenities include an outdoor pool, spa center with massage, sauna, and a traditional hammam, and water sports facilities on site. Free WiFi is available throughout the property, as well.

Choose from a number of modern, comfortable rooms, bungalows, and cabanas. All units feature air-conditioning, big-screen televisions with satellite channels, and a minibar. The bungalows and cabanas offer extra privacy and personal space, along with a private terrace. All units are comfortable and attractively decorated, for a welcoming space that makes you feel right at home.
Enjoy a nice breakfast each morning before heading off to surf, hang out on the beach, take a yoga class, or enjoy a full body massage. There is also a kids' club to keep your younger family members busy. And when you get hungry later in the day, there is a snack bar, restaurant, and even a bar where you can enjoy a refreshing cocktail.

If you love to stay in a modern facility with more perks than you can imagine, the Sol House Taghhazout Bay Surf hotel is one of the best places to stay in Taghazout.
Paradis Plage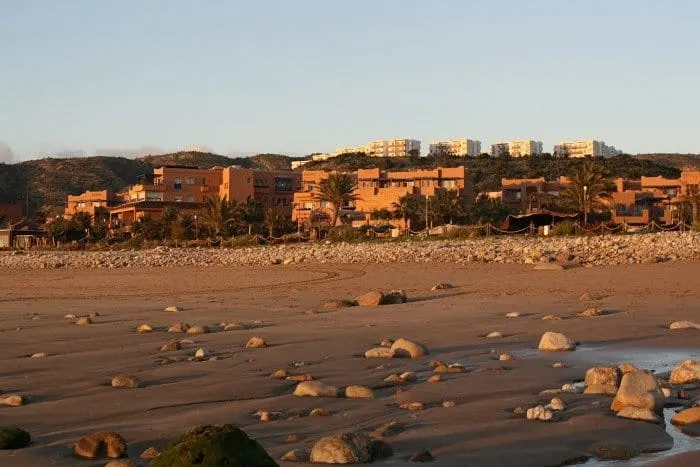 The Paradis Plage Surf Yoga and Spa is a beautiful and luxurious beachfront hotel with a private beach. Attractively decorated with Moroccan-inspired modern decor, this hotel features a beauty center and spa, an outdoor swimming pool, and a beautiful garden.
During your stay, you'll enjoy a beautiful air-conditioned suite with comfortable beds, sofa, flat-screen TV with satellite channels, minibar, private terrace, and a kitchen area with a microwave. Your private bathroom includes a shower, toiletries, and lovely extras like slippers, a bathrobe, and a hairdryer.
If you are traveling with family, you'll enjoy the atmosphere at this comfortable hotel. There are play areas both outside and inside, a game room with a ping-pong table and even some fun board games you can play. And if you need some time away from the kids, they have babysitting available upon request.

The Paradis Plage Surf Yoga and Spa is an incredible place to relax. And when you feel rested and ready, the helpful staff can help you with any adventures you would like to enjoy. Whether you want to surf, hike, rent a bike, or go canoeing, they've got you covered. Check out their listing to read reviews and learn more about all the great things this hotel has to offer!
Hyatt Place Taghazout Bay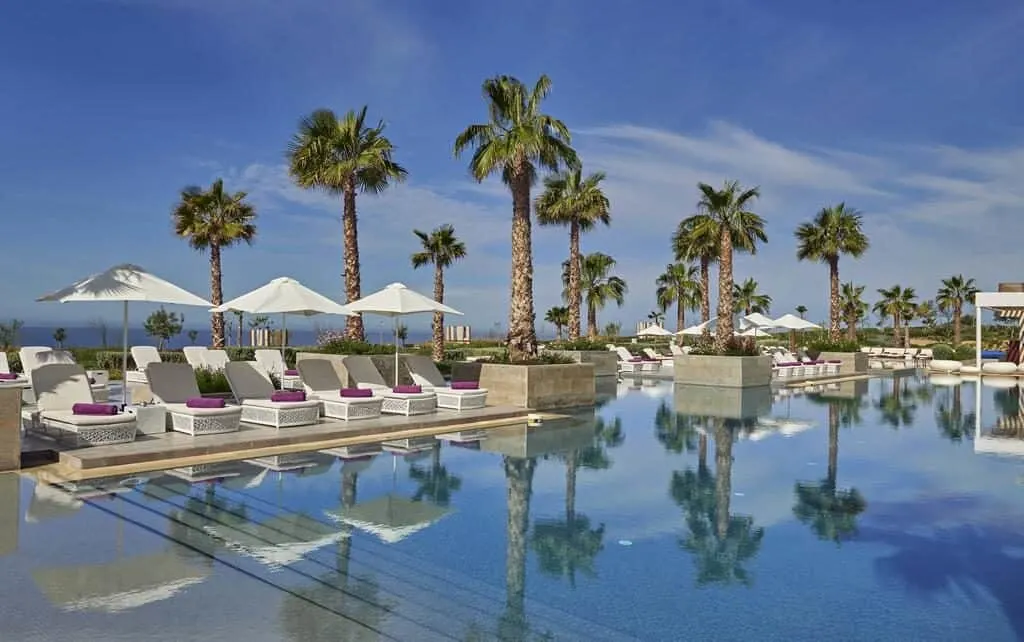 When you expect the very best, the Hyatt Place Taghazout Bay could be on your list of best places to stay in Taghazout. This stunning, modern hotel is elegant, tasteful, and spacious. Amenities include two outdoor pools, one of which is heated. There's a nice spa where you can enjoy a massage, body scrub, steam room, and more. Work out in the gym or take a yoga class. And if you'd prefer to catch a few rays, you can relax on the terrace or spend time on Hyatt's private section of the beach.
Hyatt Place offers a wide variety of rooms, suites, and villas. Even the most basic rooms feature a balcony, iPod dock, minibar, flatscreen TV with satellite channels, and many other amenities to ensure that your every need is met. Suites offer the addition of a luxurious seating area and a handy kitchenette with a dining area. And if you choose a private villa, you'll enjoy all the privacy of home with up to three bedrooms and your own private pool.
If you are the type of traveler who prefers to enjoy every modern convenience imaginable, the Hyatt Place Taghazout Bay is the place for you!
Munga Guest House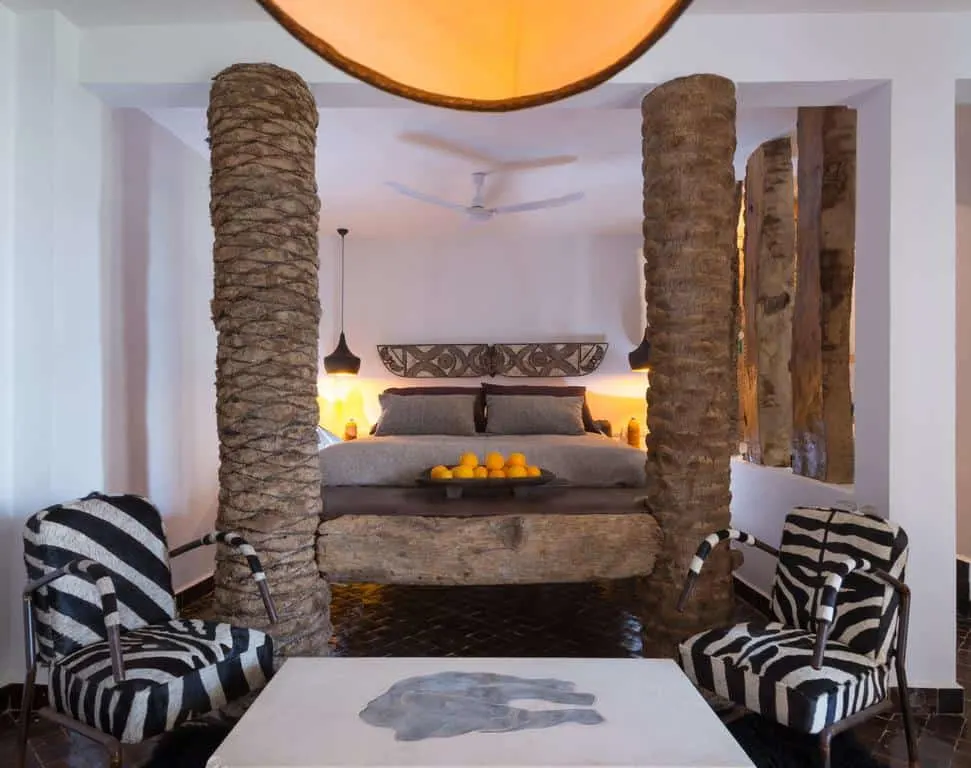 For a truly enchanting place to rest after a day of exploring the beaches and surf of Taghazout, the Munga Guest House is worth a look. This beautiful bed & breakfast features Moroccan decor with a "back to the islands" sort of vibe. Decorations are rustic, eclectic, and stunning – a restful feast for the eyes.
Choose from a variety of private rooms and suites. Each room features a balcony, seating area, private bathrooms with bath or shower and free toiletries, and plenty of extra features to make you feel right at home.
When not in your room, there is a wonderful terrace with an outdoor fireplace, a garden, and if you need some refreshments, the on-site bar and restaurant are happy to help. When you are ready for adventures, the friendly staff is happy to help you make arrangements for fun activities from surfing to cooking classes to heading off for a lively game of golf. There's also a spa and wellness center available with a nice pool to keep the kids busy while you spend time with a personal trainer or take a yoga class.
The Munga Guesthouse really does have it all. The biggest danger, in fact, is that you may find that you never want to leave!
The beautiful and peaceful fishing village of Taghazout is not to be missed – especially if you dream of catching the next big wave. I hope this list of great places to stay in Taghazout helps you find your best Moroccan "home away from home".