The second port stop for our week long Mediterranean cruise was Rome, or more precisely Civitavecchia. Knowing the difference is really important because the city you dock in is nowhere near Rome. The last time we were here we did a food tour and as tempting as it was to do this, we opted for something a bit more educational.
I was torn between a Coliseum tour and the Vatican and ultimately decided on the Vatican as I wanted the kids to learn something about another religion and see this important historical and religious site. Travelling in Rome can be tricky, dodging hordes of tourists plus those that call Rome home means tough skin and flexibility.
We booked an afternoon tour with Pinocchio Tours, knowing it would take us time to get to Rome. If you're planning to go into Rome on this port stop here's the how-to. The cruise line had buses that went to a bus depot in Civitavecchia where we had to line up to purchase tickets (.80€ each) for a city bus that would take us to the train station.
At the train station we purchased tickets to get to Rome itself. (Why the cruise line couldn't offer direct buses to the train station I'm not sure). It will cost 12€ per adult for a round trip ticket to Rome, the price includes 24 hour access to public transportation in Rome. Kids' tickets are 5€.
We had thought we would go and see the outside of the Coliseum first, then use public transit to get back to the Vatican for our tour. After realizing how long it was going to take we scratched the Coliseum plan. My advice, if you're going to see a single site, just buy the basic Trentalia ticket instead of the combo ticket that includes public transportation.
If you're unsure opt for the combo ticket. The train ride is one hour to Rome departing hourly and quarter to the hour. You'll want to get off the cruise ship early to catch a train. It goes to Rome's central station, Termini, but it stops sooner at St. Pieter Square. If you're going to the Vatican, get off at this stop and save yourself a lot of time.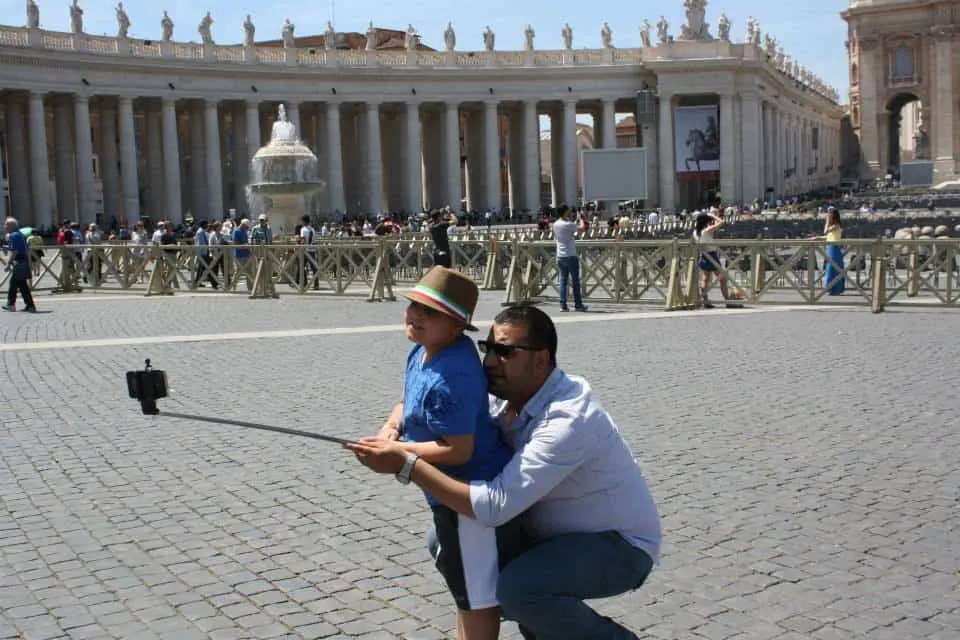 We met at the Vatican Museum (which is on the opposite side of St. Peter's square). If you're visiting keep in mind the Pope gives a public address on Wednesday mornings and the Vatican itself isn't open at that time. But, you are able to listen to the address.
We're not Catholic but it would have been cool to have seen this! Getting to the museum to the square takes at least 15 minutes so plan accordingly. We met Marta our guide and entered the museum immediately. We had to purchase tickets ahead of time online so that we were ready to start. The tickets are timed so you need to make sure you are at the spot to start at the designated time.
Instead of giving a play-by-play here are the things we did and didn't like.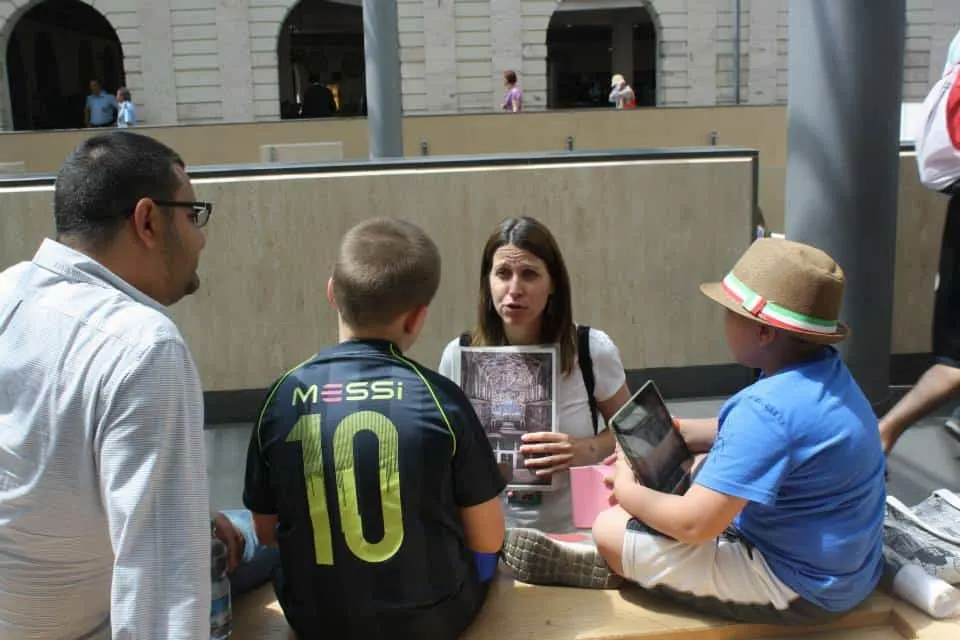 What we liked
The meeting point was easy to find.
Marta had many pictures and resources on hand (K especially loved the iPad interaction) to show the kids supporting information about what they were seeing. For things that would be hard to see because it was too far away or too small, she had a picture in her binder or on the iPad.
The tour attempted to cover as much as possible in a short time. This was both positive and negative. It was nice to try and see many things but we realized quickly that wasn't realistic.
There was a scavenger hunt for the kids through part of the tour. This was great and kept them interested in finding and seeing things. One suggestion would be to spread it out even longer for older kids. It really was only a few rooms that had items, but if it were spread over the entire tour they would have been more engaged.
Marta helped us finish in time and get to the train in time, even checking to see when the last train would be and that we would reach it after the tour.
The company was very helpful setting up the tour and with question we had prior to our tour. They responded very quickly and let me know exactly what I need to do.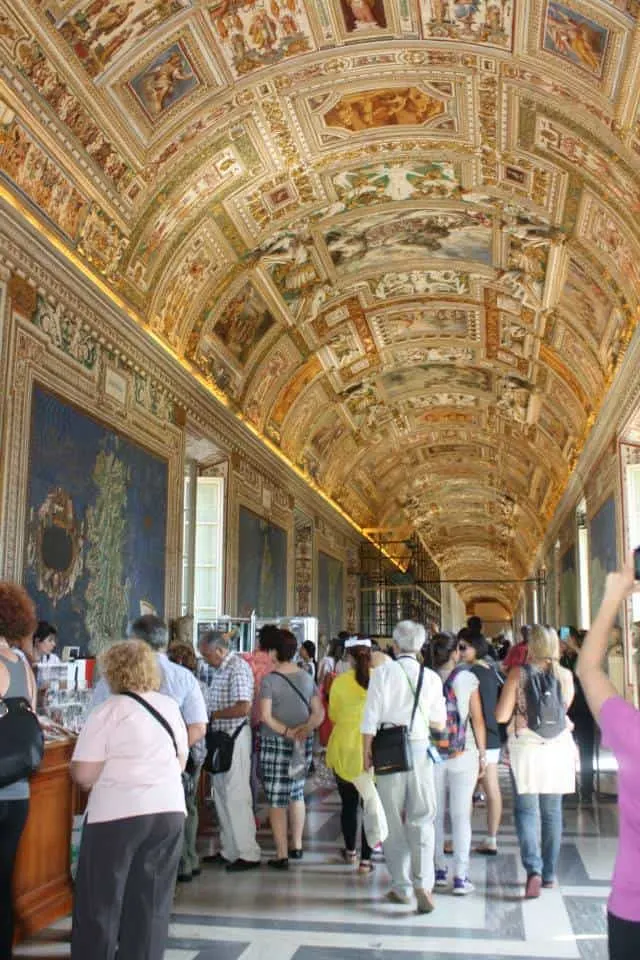 What Could Have Been Different
It was just too long – the kids lost interest and we had to really push them to get through the rest of the tour. There's no way to really skip ahead which isn't the fault of the tour, just the way the Vatican is set up.
There were too many people. Again, not the guide or company's' fault at all, but was a big drawback. I don't know if there's any time of the year when this isn't an issue but it was hard to see anything and hear Marta when there were so many people around.
The information was at too high of a level. Our kids are 8 and 11 but in many instances, the explanations were over their heads. A lot of focus was put on various artists/sculptors etc. and this really meant nothing to them. Perhaps focusing on just one or two artists and pointing out a few unique pieces would have been better and moved the tour faster.
I had hoped my kids would learn a bit about Christianity by doing this, but I should have done a better job preparing them. (My fault!) They really didn't know what they were seeing ahead of time. This goes for my husband too. I spent a lot of time explaining to the three of them the backstory of things and why it was important, what historical events led to it, and the religious significance.
It felt too scripted. I know with all guided tours there's always a plan in place. There has to be. But when guests express interest in certain things, plans should be adjusted. K was super interested in the ceiling paintings and the stories depicted in the panels. He always was asking what the story was telling. At first this was indulged but later I found myself telling him "we'll get some books or videos about that when we go home" as it felt like he was bothering Marta – this could have been my own internalizing. In some ways I felt like she was trying to appeal to us adults and we would have been more than happy for her to just focus all her attention on them.
My biggest letdown wasn't the tour but it was seeing the Sistine Chapel. I think I can equate my thoughts with it the same as I do with Paris. It's something that is so hyped up that when you actually see it you're kind of left wondering, "Really, is that it?"
Yes, the paintings are impressive but the room is small and dark. There's hundreds of people pushing while a voice every 10 minutes or so reminds people to be quiet. I love art and have studied it, but the wow factor was missing. I think this may be one of those famous sites tourism is ruining. To end the tour we went into St. Peters Cathedral and it WAS amazing. Sadly we had to rush as we had to make it back to the train and weren't able to spend much time here.
We managed to catch the train but it was really close!
Would I recommend this tour to someone else visiting Rome with kids.
Probably not.
The exception would be if your children are a bit older than ours and interested in art history. In the end this might have been a bad choice on my part knowing my boys but you live and learn! Next time we'll try gladiator school!
| | |
| --- | --- |
| | Vatican for Kids Private Tour – $421.46With this 3-hour private tour of the Vatican museums, Sistine Chapel and St Peter's Basilica, the whole family will be captivated by stunning works of art and learn about mythology. Touring at your own pace, your child-friendly guide will use visual aids to bring to life the world's smallest State and the huge collection of art housed inside it. Interactive, fun and educational this tour is the perfect choice for anybody looking to visit the Vatican with kids. |