If you want to learn how to buy a Moroccan rug but find there's so much to know, you're not alone. Even if you really want to bring a rug home from Morocco, the process can be difficult to understand and overwhelming when you are in the thick of things.
When it comes to shopping for Moroccan rugs, there are a few things you need to be aware of before making your purchase. In order to ensure you get the best rug for your money and avoid making any costly mistakes, here are 10 mistakes to avoid when buying Moroccan rugs.
10 Mistakes to Avoid When Buying a Rug in Morocco
1. Not Bargaining for the Rug
The listed price of something in a shop isn't always the final price. There is usually room to negotiate a lower price with the store owner. This is especially true for big-ticket items. So, if you're ever feeling unsure about a listed price, don't be afraid to haggle a bit and see what you can get!
If you're not comfortable bargaining, start with a smaller item to get some practice and confidence. It might not be the best idea to cut your teeth on a major purchase like a rug.
2. Taking the Process Too Seriously
It's important to enjoy the process and have fun! If you're too serious, you may miss out on some great opportunities. One of the biggest mistakes I see people making is getting frustrated and turning to anger. This isn't to say there aren't sticky situations in rug buying but your overall attitude will have an impact on how the experience goes.
Think of it like a game. The more you play, the better you'll get. You can always quit, you can always walk away, and know that no matter what you're the one in control of the situation.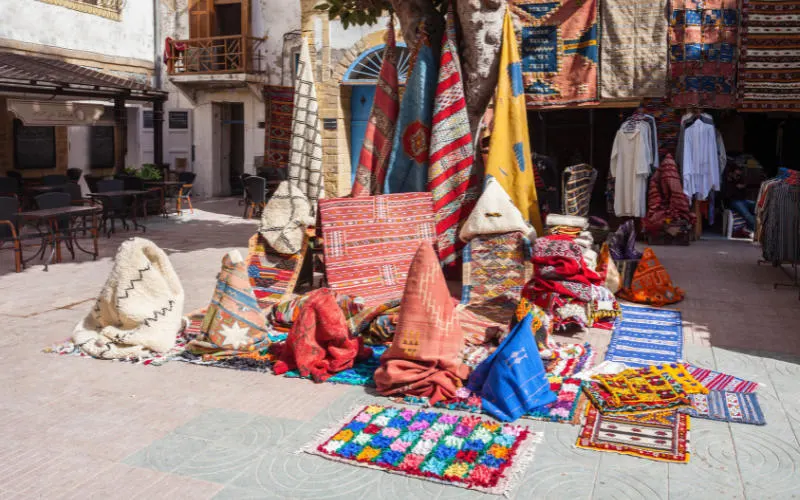 3. Not Knowing What You Want
There are a million choices when it comes to buying a rug. Not having any idea what you want will make the process a lot more difficult. Of course, there's always room for an impulse buy if you see something you love but if you think you might make a purchase, do a little bit of searching in advance to get an idea of what you like.
4. Not Knowing the Size of the Rug You Need
Make sure you know the dimensions of the space you're buying the rug for. You don't want to end up with a rug that's too small or too large! Again, even if you're not sure you'll buy a rug before visiting, have the room sizes in hand just in case.
5. Not Having a Budget
It's easy to get caught up in the moment and spend more than you intended. Knowing how much you're willing to spend before you start shopping and sticking to that number will make you much happier when you return home.
Having a budget will also help you decide what is or is not in your price range and how you need to adjust. Keep in mind that the price of rugs isn't just based on size. It's based on style, age, and how in demand that style is. So just because you can't afford a specific style, doesn't mean there aren't others.
Of course, if you truly don't have a budget for your rug, the shopping will be even more interesting!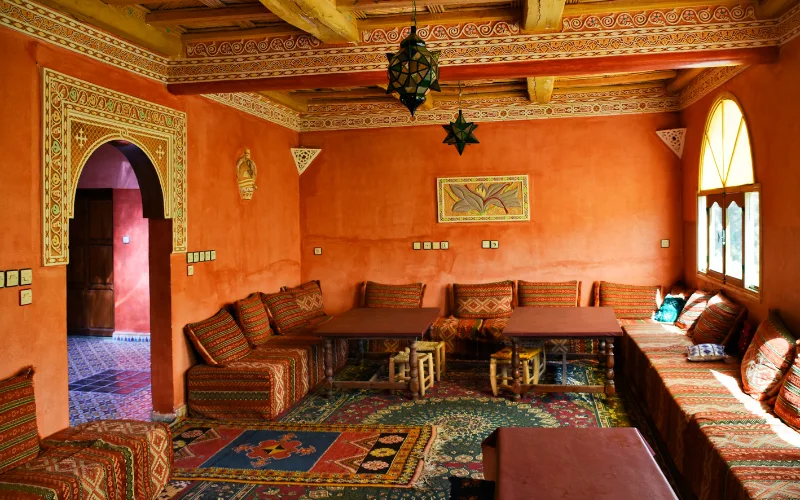 6. Buying a Rug That Looks Great in Morocco But Not in Pittsburgh
The lighting and atmosphere in Morocco are different than what is at home, so what looks good there may not look as good in your home. Keep that in mind when making your purchase.
This is one of the biggest mistakes people make. The style really needs to work with your home aesthetic and not just how it looks on the floor of a Moroccan living room.
7. Choosing a rug that doesn't work for your lifestyle.
If you have pets or children, make sure to choose a rug that can withstand some wear and tear! You don't want to have to replace it soon after bringing it home. Some things you may want to consider are how easy is the rug to clean, is bleeding of the colors is an issue, is it too big/heavy to easily be cleaned? Really take into consideration all of the factors of your life.
8. Not Buying The Rug You Fall in Love With
If you see a rug that you truly love, do not assume you will ever see it again. Get it then and there. This is one of my top tips. There's a rug I saw over 10 years ago that I still think about and haven't seen another one even similar since.
9. Falling for The Co-op Ploy
When people hear a shop is part of a cooperative it has a certain meaning. It's supposed to be a group of artists working together to help support each other. But in reality, it's not always like that. There are a few shops that are actually co-ops, but most have adapted the term to use it as a way to drive up prices.
This isn't just the case when it comes to rugs but other products as well. There is no official commission that monitors the use of the term. The best advice is to take any claims of a cooperative with a healthy dose of skepticism and assume it's not truly a cooperative.
Pay the price that is fair for the product but don't pay extra on the assumption that the makers will be getting more, in most cases they don't.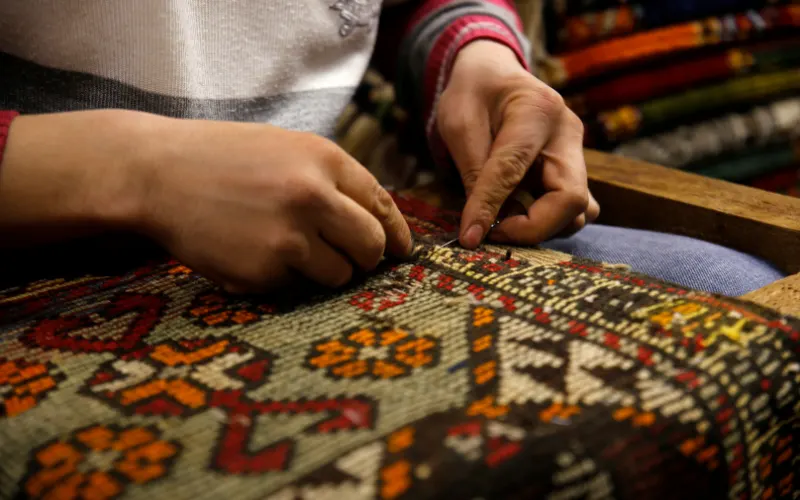 10. Not Having All the Information
Before you finalize your purchase you want to know the full, total price. If there is shipping you want to know the total cost with shipping and credit card fees. While you can get a better deal with cash, if you plan to ship your rug, paying with a card that has purchase protection is the better way to go.
Once this is completed, you want the full information for the shop. Name, contact information and address if possible. Take a picture of the outside of the shop and even things nearby. Take a picture of the receipt. If your rug doesn't show up for some reason you have as much proof as possible to back you up.
Buying a rug in Morocco can be a really fun and unique experience and I hope these tips help you navigate any pitfalls you may face.
More Advice on Buying a Rug in Morocco
How to Keep Your Moroccan Rugs Lasting Longer
6 Things to Know About Moroccan Rug Shopping
Be a part of the MarocMama family!
Do you want access to all things MarocMama? Join our community of readers to get updates on new posts, inside information that won't go on the blog and so much more!
Sound good? Pop your email below and you're in!