Quince paste, while difficult to make is super easy to buy and makes a showstopper on your cheese board spread. If you are in search of an easy quince fruit recipe, this doesn't get any easier – all you have to do is buy the items, cut them and arrange them!
When I make a cheese board I try to mix a variety of textures and flavors of cheeses; some hard, some soft, ripe, mellow – you get the idea. Having variety is nice! Quince paste is soft and slices or spreads like a soft cheese. Go with a few soft and a few hard options, add in some other elements like nuts or fresh fruit and some bread and crackers. That's it!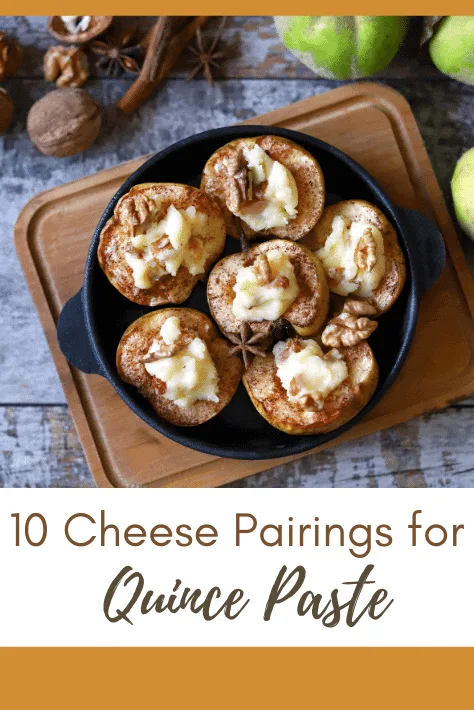 I LOVE cheese, it's something I have adored from the time I was very young and as I've grown and traveled, I seek out local cheeses everywhere I go. Seriously, I once spent nearly $100 on cheese and my husband was ready to throw me out! (No, he'd never do that).
I've chosen a mixture of specialty cheeses and some of the more common and easy to find cheeses no matter where you are so that this is approachable and budget friendly. How many you choose is completely up to you.
Need some inspiration? Check out my Moroccan inspired cheeseboard.
Hard Cheeses to Pair with Quince Paste
Manchego – This is the original quince pairing. Manchego is a mild, Spanish cheese. It is slightly nutty and delicious. If you want to go with the original this is it!
Parmigiano Reggiano – Serve a chunk of this to crumble off and top your quince paste or cut into squares for poppable bites!
Sharp Cheddar – I prefer a nice, white aged cheddar that has a bite as it goes will with the sweet notes of the quince. But any cheddar you like will work.
Aged Comte – Comte comes with varied aging and gets stronger the older it is. Go with one that is at least 24 months for this pairing. The cheese will form delicious cheese crystals (it's the proteins in the cheese breaking down) that add an extra texture to the pairing.
Tomme de Brebis – This is a semi-soft sheeps' milk cheese. If you're looking for something that isn't spreadable but is softer in texture, go with this! It has a nice smooth taste that isn't over powering in any way.
Soft Cheese to Pair with Quince Paste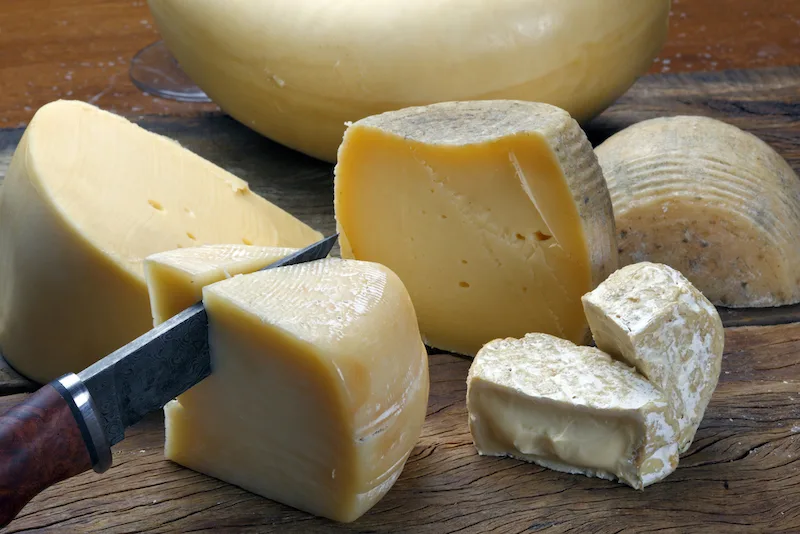 Brie or Camembert – Easy to get these two cheese options are good choices for a quince paste pairing. I find brie a little stronger than camembert so depending on what you like best, this is worth keeping in mind. Camembert also tends to be slightly less expensive.
Brillat Savarin – This is a triple cream cow's milk cheese that I fell in love with in France. It's sometimes got a ribbon of truffles through the middle that is even better. The taste is very smooth and spread with the quince on a cracker or bread is excellent.
Chevre (goat cheese) – Chevre cheese can be very basic or quite fancy (ever heard of chevre rolled in ash?) so the options are endless and completely up to what you like. If you're not sure go with a basic chevre. You can also dress it up by making my harissa chevre by rolling a log in harissa paste and then crushed almonds.
Feta – I really like the salty/sweet/sour combination that goes on with this pairing. You can get low salt feta too if this is a concern for you.
Grilled or Fried Halloumi – Halloumi is a greek style cheese that can be eaten as is but is better when warmed up. Serve hot or warm slathered on some toast and you've got a grown up grilled cheese!