Charcuterie boards are all over the place lately. Not familiar with this idea?
A charcuterie board is basically a large platter of food that is meant for sharing and snacking. However, most boards that you will see have a lot of meat – a lot of pork to be exact. It's ideal for something like a party or a Moroccan Thanksgiving celebration.
This doesn't work well for a Moroccan-inspired board!
First, traditionally there isn't any pork in Moroccan food – being a Muslim country pork isn't eaten. Second, unlike Turkey that has other cured meats Morocco doesn't have this.
The next component is the cheese.
This is also a challenge when it comes to Morocco as there are few kinds of cheese that are regularly eaten. Jben is the most common; most often found in northern Morocco. It's a soft fresh goat's milk cheese that is sometimes mixed with cow milk. It doesn't have a lot of flavor. The closest thing outside of Morocco is ricotta cheese.
The remaining components
What you add next will depend on what you're going for.
Sweet or savory?
Crunchy?
Fresh?
There are so many combinations! Here is how I put together mine.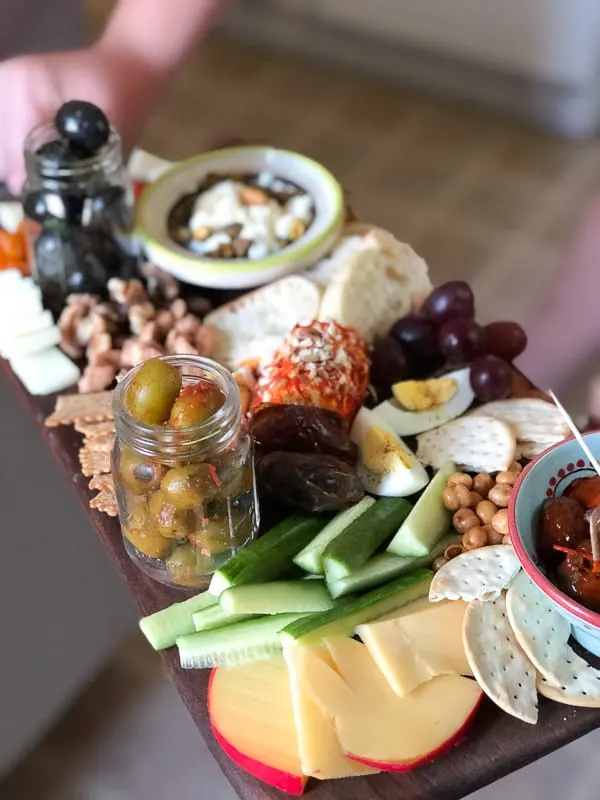 Meat Component
I kept this very simple. I only included one meat item and that was a harissa honey glazed meatball that I created for this board. You can make them small, use a toothpick to make them easy to pick up.
Cheese Component
I added 4 cheeses to this board because I love cheese. You can use any combination you like but I think having a hard cheese, soft cheese and flavored cheese works well.
Gouda cheese. This is not a Moroccan cheese BUT if Moroccans buy any kind of cheese it's the red ball of gouda or edam cheese.
Soft goat cheese. I rolled mine in harissa paste and then crushed almonds. It gave the board a different feel, look and taste.
Cubes of cheddar goat cheese. I wanted to add a hard cheese in and found this goat cheese, seemed a perfect fit.
Ricotta with honey and pistachios. For this I went with a sweet flavor and it worked well with the ricotta.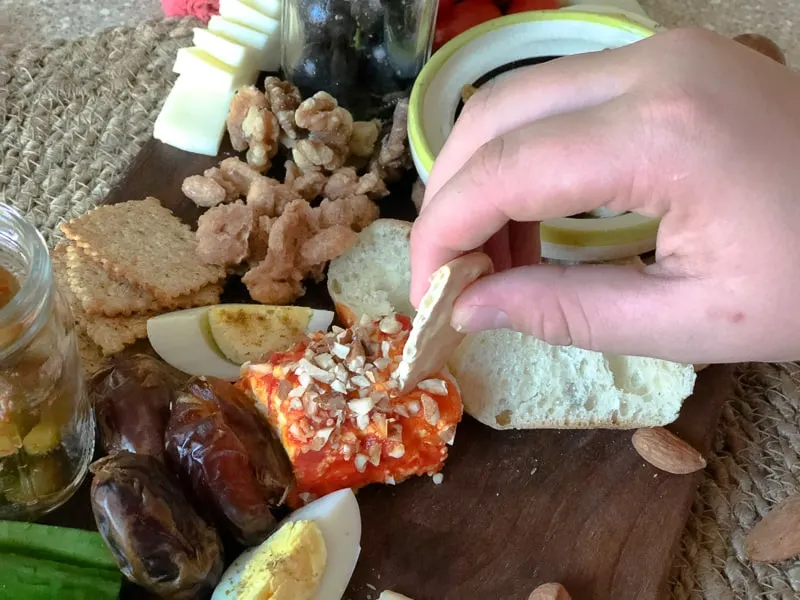 Extras to Fill Out the Board
There are SO many options here but this is what I added;
hard boiled eggs with cumin on top
"souk" peanuts (recipe coming)
walnuts
almonds
sliced cucumbers
grapes
cherry tomatoes
sliced baguettes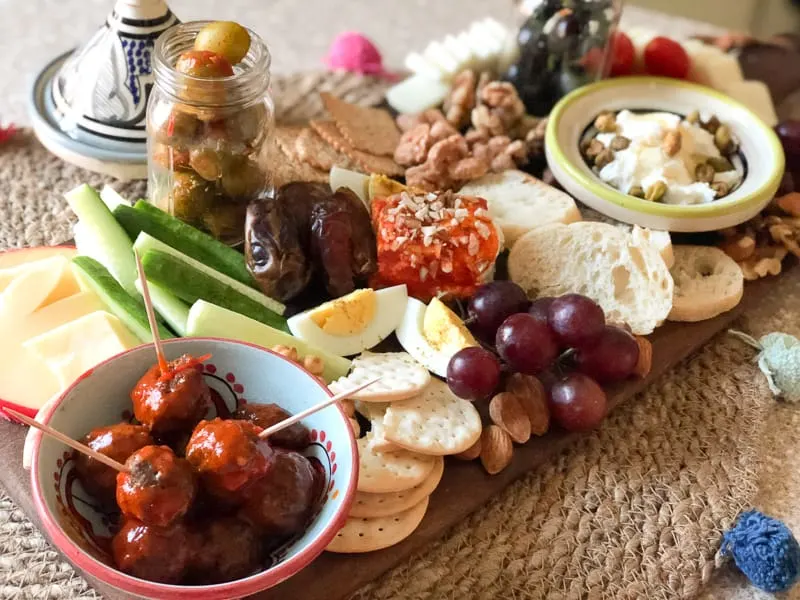 This was really just the tip of my brainstorm for what could be included here. Make it your own! Just keep in mind it should be things that are easy to pick up, that aren't really messy and that the flavors work together.
Then have fun with it!