If you're searching for a Moroccan party dress, or Moroccan inspired dress for a Moroccan party, I've rounded up a few that you can choose from. Normally traditional Moroccan dresses, known as takshitas or kaftans are custom made for the woman wearing them.
But this doesn't mean you have to go with these styles. Bright and vibrant colors along flow-y styles are synonymous with Moroccan dresses. However you'll want to pay attention to the type of event you're attending. Some traditional Moroccan events may call for more modest attire.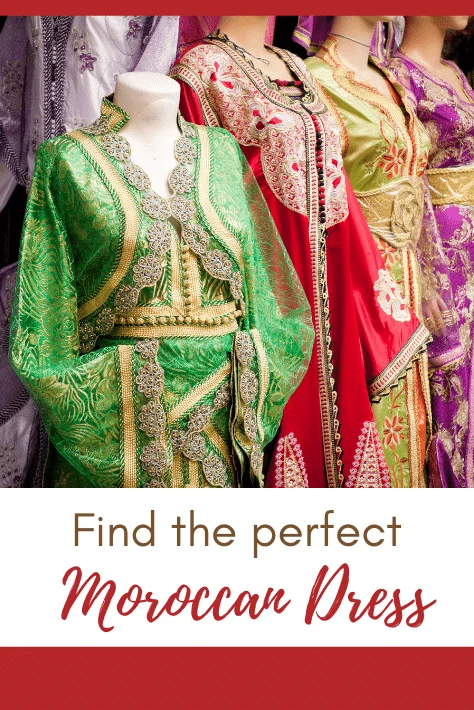 What is a Traditional Moroccan Dress?
As mentioned above there are two types of traditional Moroccan dresses; takshitas and kaftans.
Takshita
A takshita or takchita is a two piece dress. The bottom layer is typically simple, often a satin or more silky fabric. The edging may have designs but usually the rest of the garment is plain. The top dress is much more ornate with embroidery, beading and/or sequins. These dresses are reserved for special occasions like weddings.
Kaftan
Kaftans are not unique to Morocco and can be found in various interpretations throughout North Africa and the Middle East. Kaftans in Morocco today can be either elaborate and dressy or simple and casual. They are long and flow-y and are amazing for wearing to a party…or to the beach!
What Do You Wear to a Moroccan Party?
It depends what the party occasion is! If you have a Moroccan themed party but it isn't actually happening in Morocco or with Moroccan guests then anything can go. However, if you're attending a Moroccan wedding for example you'll want to go with a more traditional dress as that's what the guests will be wearing.
If you're unsure, it's a good idea to ask the host what kinds of clothes people will be wearing. Don't be too shy to really ask for clarification. If you're in doubt, go with something that's you but you may want to wear a more conservative outfit (such as longer sleeves or a longer dress cut).
Moroccan Dresses to Inspire You
This is a simple kaftan with 9 different color options and several different sizes. It is a good choice if you don't want to invest a lot of money and also want something that you can wear again.
If you are wanting something Moroccan but also still a bit modern, this is a good choice. It features the caftan style but with the ruffles and single color palette it doesn't look totally Moroccan. It's also made with linen for a super light feel – great for outdoor events in warm weather.
Looking for something soft and flowing? This is it! This kaftan not only is beautiful for an occasion like a baby shower but it is a great choice for a woman that wants something light but also with some coverage for a more modest look.
Modest and modern in style this caftan fits the bill! The black and gold pattern is lovely and perfect for any evening event. It also is belted if you prefer something a little more fitted vs. loose.
Green Beaded and Embroidered Kaftan
An elegant boat-neck designed kaftan that is comfortable and works for a day or evening event. This dress comes in numerous color options so you can choose whichever suits you best. It also comes in sizes up to a 6x so there truly is something for everyone.
If you're attending a Moroccan wedding or a formal Moroccan event this is the style of dress to consider. It is customizable based on size and height. Do keep in mind it can take several weeks to arrive so this isn't something to order if you need it rushed.
A good choice for a casual event, this caftan can be worn for event and then used again for a beach cover up or a casual dress for other events. It is available in 6 other color options with slightly different style to the designs.
Admittedly this dress is not visually Moroccan at first glance however it does have a similar style. It is available in 4 different color patterns and is a different choice if you want something that looks different.
A fun dress for a Moroccan themed baby shower or bridal shower this option doesn't fit the modest category thanks to the split front however for casual events it's a fun choice. There are over 3 dozen different patterns and designs available in this style so you'll be sure to find one you love.