Wherever I go my first priority is to research and find out what is best to eat. It's my way of learning and exploring a place and its culture. My trip to Trentino, Italy snuck up on me and I didn't have a lot of time to do my own research of what not to miss. But, I also knew that the Trentino Tourism team would make sure that we experienced the best the region had to offer. I also knew that it's almost impossible not to eat well in Italy.

So keeping this in mind, I set out to eat as much as I could and I was not let down. Italian breakfast isn't my favorite (there's a lot of bread and sweets which is hard for me in the morning) but the coffee makes up for it. Italian lunch and dinner? That's a different story. Meals are meant to be enjoyed. It's an experience not something to check off your to do list. But, most of all people love to feed you, and feed you well. What's not to love about that?

Here are my food highlights and food you shouldn't miss!

Gelato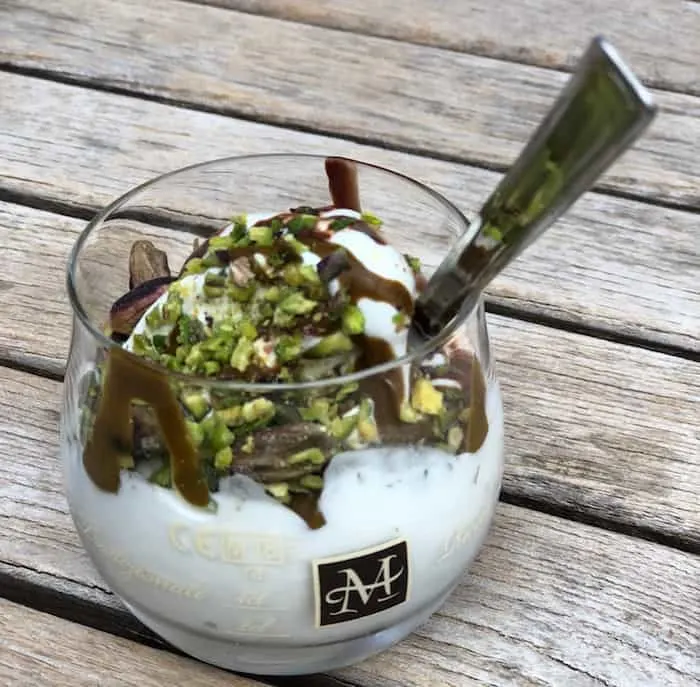 It shouldn't be a huge surprise that any list of things to eat in Italy includes gelato. I made it my mission to eat a gelato a day while I was in Italy. I missed a few days but don't worry, that just meant other days I had it more than once. But, the best gelato I ate was at Fattoria Le Mandre. I can not even begin to explain to you just how good this was. Silky smooth, not too hard, not too soft. The taste was so creamy with natural sweetness and topped with some chocolate in pistachios, I'm still licking my lips remembering it.
Polenta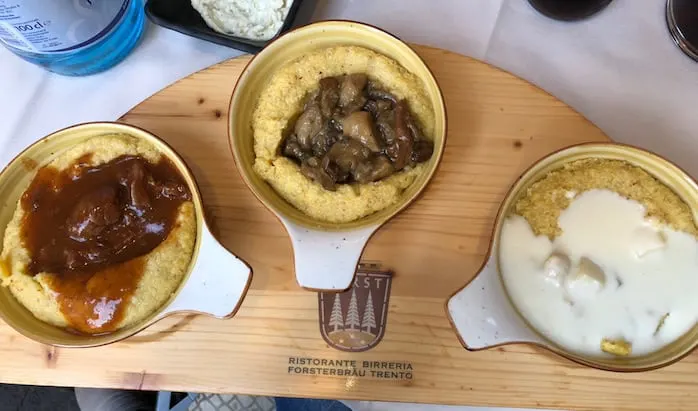 This was not everyone's favorite food but I love it. Honestly, I have no problem eating this for every meal. Blame it on my Midwestern genes that just cling to foods like this. In northern Italy you'll find polenta, lots and lots of polenta. If you're not familiar with this item, it is boiled cornmeal. A bit like grits from the American south. A good polenta is creamy and accented with other foods. Whether it's served with cheese and sausages, topped with a beef stew or dotted with fresh mushrooms, enjoy it when you're here!
Bread Dumplings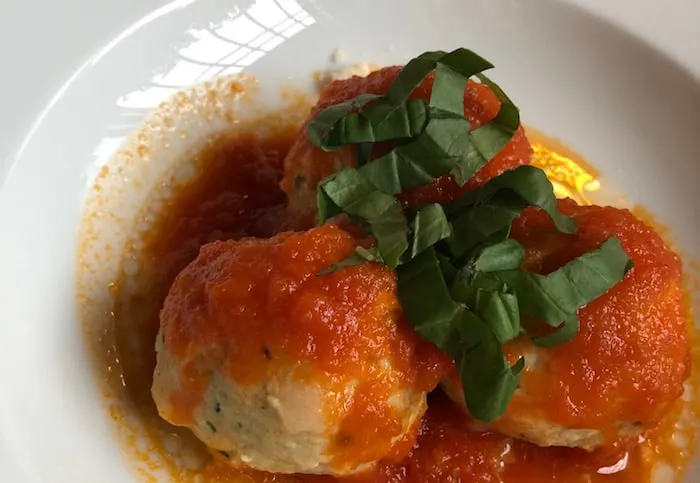 I've never met a dumpling I didn't like and these were no exception. I had an amazing meal at Il Cappello in Trento where I chose to try the dumplings with cheese and tomato sauce. Yes, it was a very simple meal but one second after my first bite I was back in my grandma's kitchen. I also ate spinach dumplings (gnocchi) made with ricotta and bread crumbs that are a lot lighter but equally as tasty.
Meats
I joked with my oldest son that on this trip I ate just about every animal found on a farm or in the forest, and that wasn't such a stretch. While I skipped the pork options if you eat pork and are visiting you should try the lucanica sausage that is made in this region. Other meats served (and mostly all eaten!) included donkey, llama, beef, venison, chicken, rabbit, fish, and wild boar. People are resourceful. They have built a culinary tradition based on what they have and what they raise.
Cheeses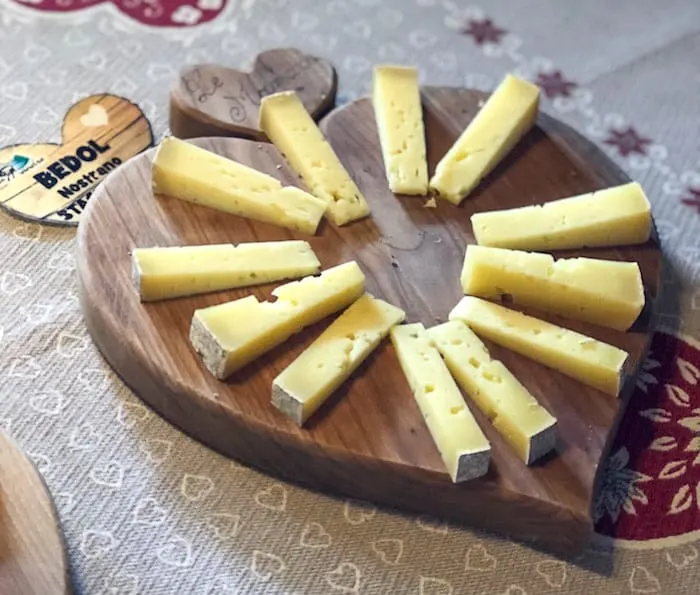 No shortage of cheese here either and I was certainly not complaining. Trentingrana, Spressa delle Giudicarie and Vezzena are three varieties of cheeses that are popular here. But there's also lots of small dairies that are making their own cheeses like Le Mandre and Mas La Grisota. I could plan an entire trip around this region just based on cheese alone!

Wine and Grappa
For anyone that chooses to imbibe there are several local options in Trentino. Trento DOC is the regional sparkling wine made from Chardonnay grapes of which many of my traveling companions enjoyed. The distinction of DOC means Denominazione di Origine Controllata – and is a guarantee of where the product comes from. Grappa is another locally made liqueur that continues to be made using the bain-marie craft method. There are no shortage of wineries in the area and most restaurants are proud to stock a variety of local products and offer them first.
Pasta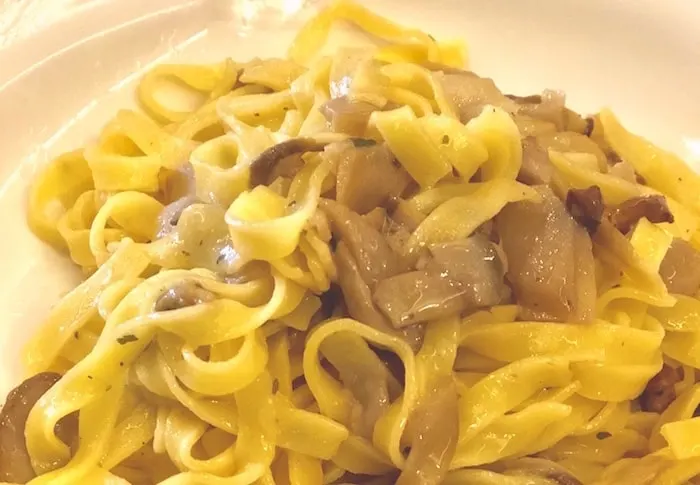 You didn't think I'd create this list and leave pasta off did you? Of course not! I adore pasta and enjoyed it immensely while in Trentino. Whether it was a pasta made with bread crumbs and parmesan with a pesto sauce or hand rolled linguine with mountain mushrooms, or how could I forget the gnocchi with a beetroot sauce, I was one happy eater.
There are so many other products that were simply delicious like strawberries (we had both cultivated and wild ones that we picked as we hiked). Honey and beekeeping has a long tradition here and thanks to the variety of wildflowers an extra tasty honey is created. Elderflower is also commonly used – we were offered it several times as it's made into an extract that is then used to flavor water and other items.
So what were my favorite dishes? Here they are – and where you can eat them too!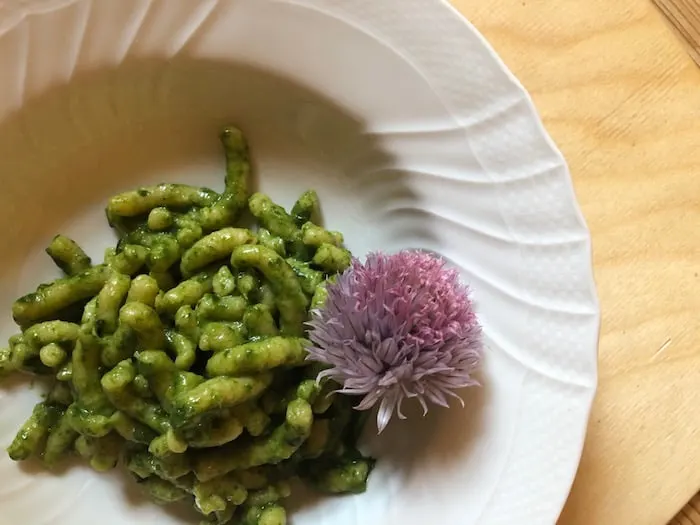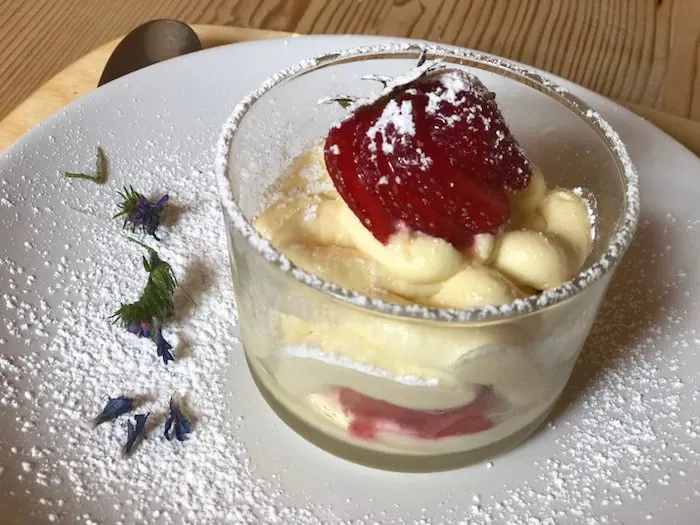 This pasta made from bread crumbs and parmesan cheese and then topped with a pesto sauce of fresh mountain herbs. It's so simple but with perfectly cooked pasta the taste was truly divine! For dessert we also had a strawberry tiramisu. Again simple but spectacular. Mas del Saro was my favorite restaurant of this trip – everything was memorable!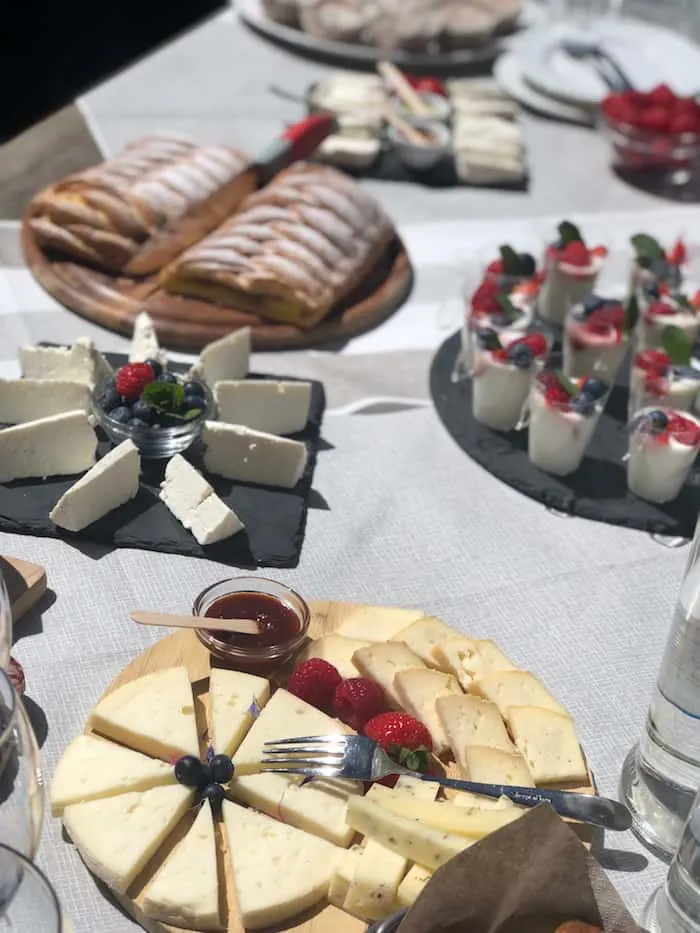 This "snack" spread prepared by the proprietors of Van Spitz Restaurant. With fresh local cheeses, berries, treccia mochena (the braided strudel) which was by far my favorite dessert in the region and something you MUST seek out, sbrisolona muffins made with chestnut flour, and drizzles of local honey. This was a feast and I'm only sad I had to share it!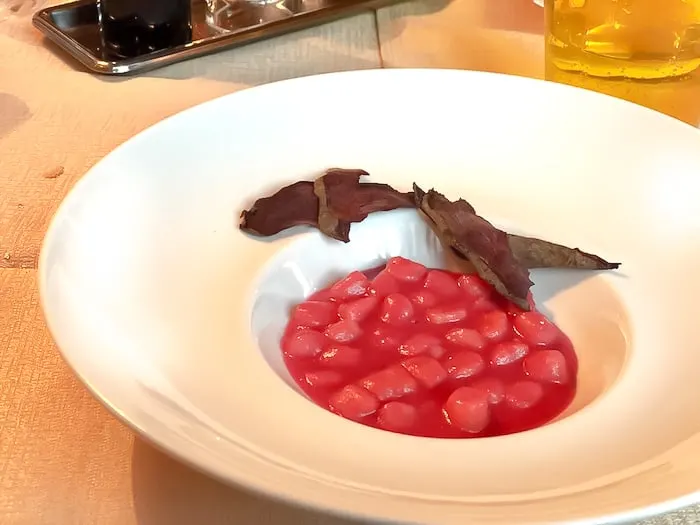 I've never met a gnocchi I didn't like but when I saw that gnocchi with beet sauce was on the menu at Ristorante El Filò I wasn't convinced. Beets are a hard sell for me. They too often taste like dirt and I was crying inside thinking these poor little gnocchi would taste like dirt. But, my worrying was all for naught. Instead I was treated to a lovely little bowl of perfect gnocchi morsels in a smooth and delicious beet sauce.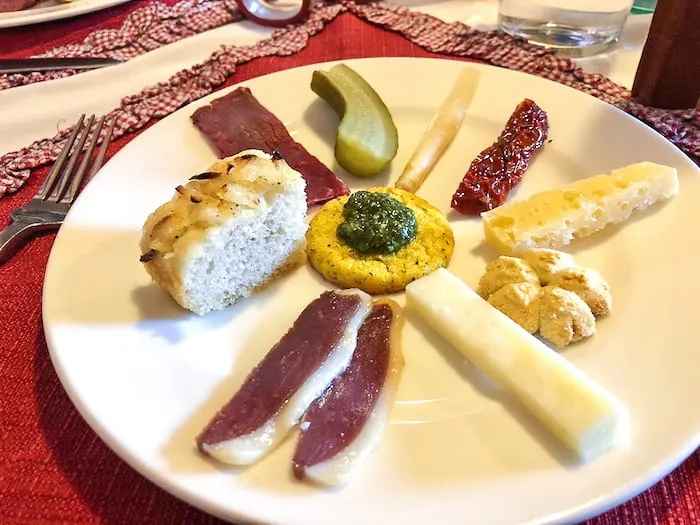 After this trip I also decided I need to make more snacking platters in my future. While this was served as a starter there's no reason I couldn't make an entire meal out of little bits and bobs combined. Agritur Klophof is a working farm that you can stay on or you can stop in for a meal. Here I tried smoked duck, smoked donkey (yes really), pickled asparagus and cucumbers, a preserved sun dried tomato, two cheeses, and homemade bread and crackers.
I shared some of the single images above that were great meals but in case you're looking for them, here's where you can find them.
Bread Dumplings filled with cheese – Osteria Il Cappello
Linguine Pasta with Mountain Mushrooms – Passo del Redebus
Meat and Polenta Feast (the rabbit is a must) – Aquila Nera
When you visit this area of Italy you're going to experience food that is different to what the normal perception of "Italian" food is – and that's a good thing! Go with what's local and always ask what they suggest because chances are you'll be pleasantly surprised.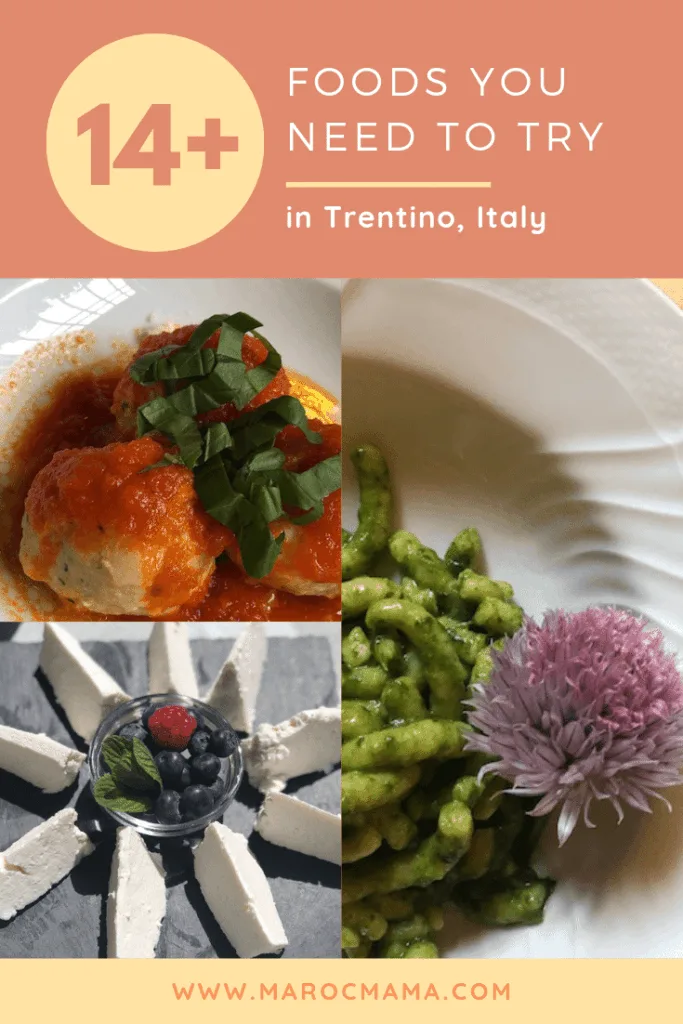 Thank you to Visit Trentino and Traverse19 for making this trip possible. Read about the rest of my experience in this guide on how to get away from the crowds in northern Italy.