Having visited Marrakech for the better part of 10 years I'm very familiar with the different room options for visitors. One of the most popular here and in Fez is to stay in a riad. I've had the good fortune of visiting and staying in several and overall think they are the most wonderful way to experience Morocco.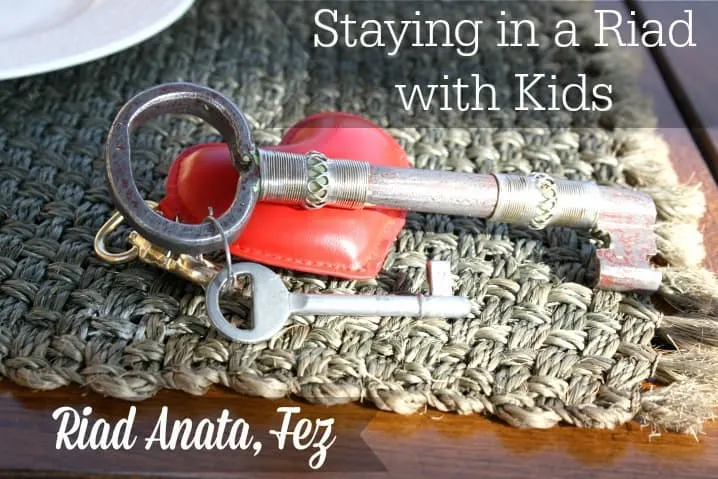 What is a riad?
In Morocco, the term refers to a traditional home or palace with an interior garden or courtyard. The first signs of riads in Morocco can be dated as far back as the Roman empire (2nd century AD) and has been discovered in the ruins at Volubilis outside of Fez. On the exterior riads are indistinguishable. In fact most of the time there is nothing but a solid colored wall. Once you step in however, there is much to be discovered. Interior balconies, gardens, and beautiful ornamentation completely change the feel. Our current home is designed in the style of a traditional riad, sadly we have no interior courtyard garden.
When we decided to visit Fez, I immediately thought why not stay in a riad? I wondered if this would be a good idea with the kids, as I remembered the riads I had stayed at in the past were quiet escapes but, I knew my boys and my husband would enjoy the experience and so we pushed ahead. Riad Anata gladly accepted my request and we were soon on our way to enjoying a real Moroccan getaway.
We arrived in Fez after 7pm on Thursday night after a long drive up the tollway from Marrakech. It's sometimes easy to forget just how large Morocco is but this trip was a good reminder. It was a beautiful drive but I'd be lying if I didn't say we were thrilled to finally arrive. Just like in Marrakech, parking in Fez can be tricky. One of the perks of staying at Riad Anata was that there is guarded parking just a short distance from the riad. We had no problem and always found an open space whenever we returned from going out with the car. If you were arriving in Fez via train or bus you'll have few problems. It's close enough that you can walk to almost everything, and as the old medina is car-free anyway you will be able to easily walk and access the sights.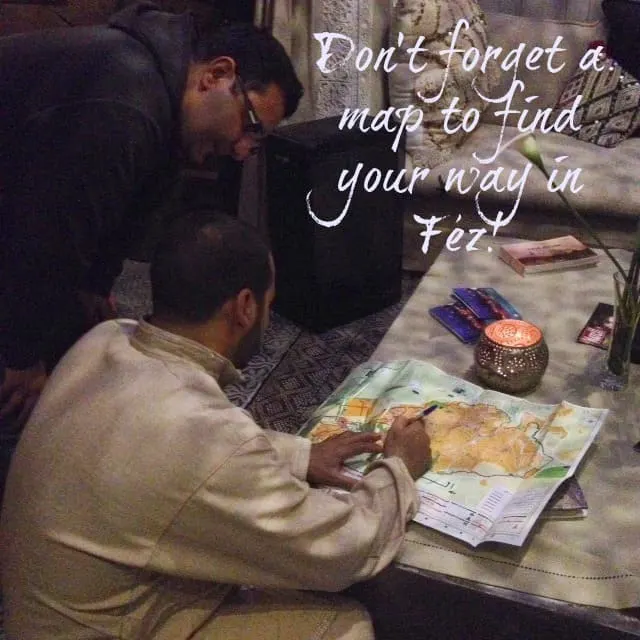 Once we checked in to the riad we decided to head out and find something to eat before falling into bed. Just a short walk away we found many open air restaurants serving the traditional Moroccan tourist fare in the shadow of Bab Beljeloud (the blue gate). We settled for some grilled chicken skewers and fries. The food was good and about 1/2 of what it would have cost in Marrakech. We were happy to find Fez was much more affordable! We didn't spend much time exploring, and instead opted to head back and call it a night. The boys were happy to have a big bed that we could all lay together and watch Frozen!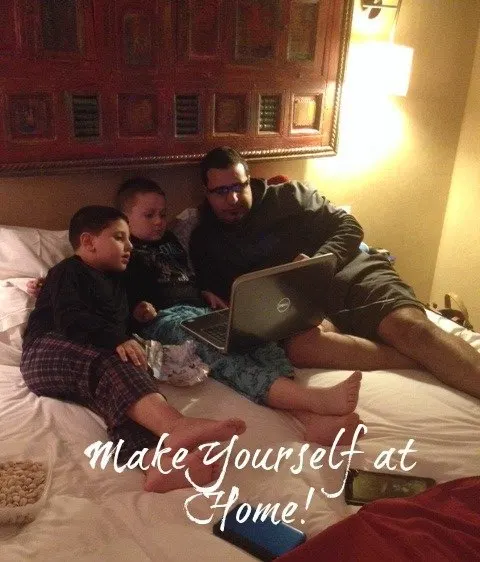 Many riads include breakfast in their offerings and Riad Anata was no exception. Every morning we went to the rooftop overlooking the city to enjoy the days' offerings. I wasn't sure what to expect. At the other riad I had stayed in many years ago in Marrakech our breakfast was a bit rustic – good but rustic. Here everything was laid out before we arrived and as soon as we sat tea, coffee, and other treats began arriving.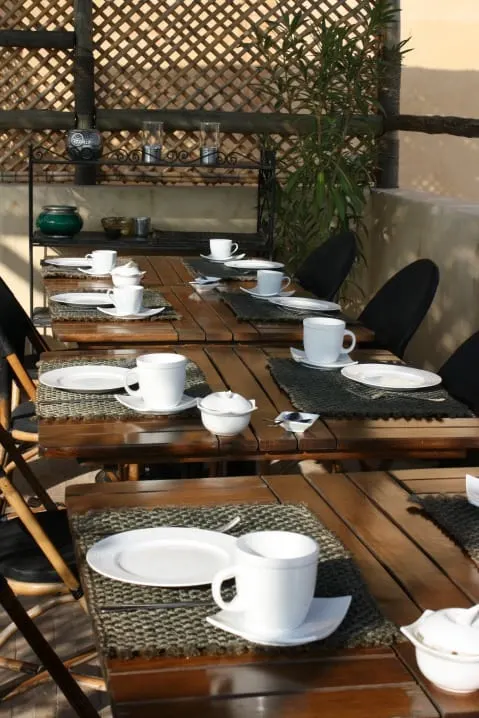 Plenty of coffee and tea was always available followed by a varying selection depending on the day. Bread, jam, olive oil, and butter were always present. We also were treated to a sweet bread with candied oranges on top (me and K couldn't get enough of this!), beghrir, msemmen, yogurts, eggs, fresh fruit, and harsha on different days. There was always plenty of food and we were happy to fill our stomachs before heading out for the day. I can honestly say I readily looked forward to what we'd find in the morning!
Some days we were gone all of the day and didn't spend much time at the riad. While others we relaxed and enjoyed ourselves. For me, one of the most relaxing afternoons was when the boys all took a nap and I laid on the roof reading and writing. With a view like this who wouldn't enjoy themselves?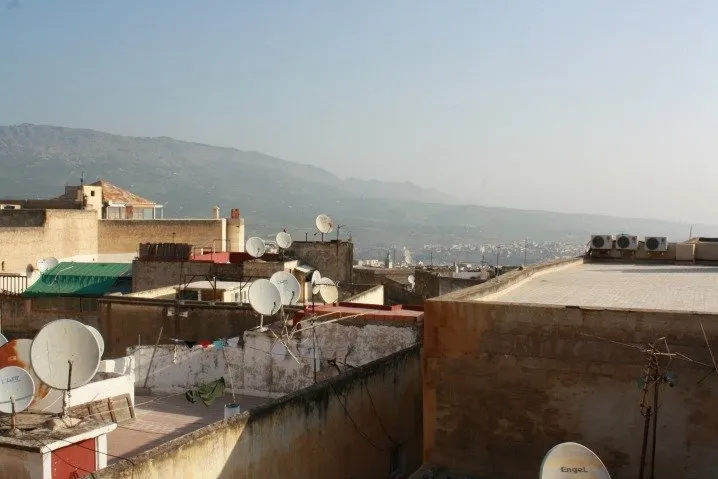 When we finally checked out I can honestly say we walked having had a wonderful experience and being pampered. Small touches like having a variety of toiletries in the bathroom went a long way! We were able to store cheeses that we had purchased in the refrigerator and we had one amazing dinner in the riad. After having several touchy meals this was savored. It helps that my kids both enjoy Moroccan food and were happy with what was presented. Our beds were comfortable and everyone loved the warm comforters and extra hot showers – small comforts that we took for granted before moving to Morocco.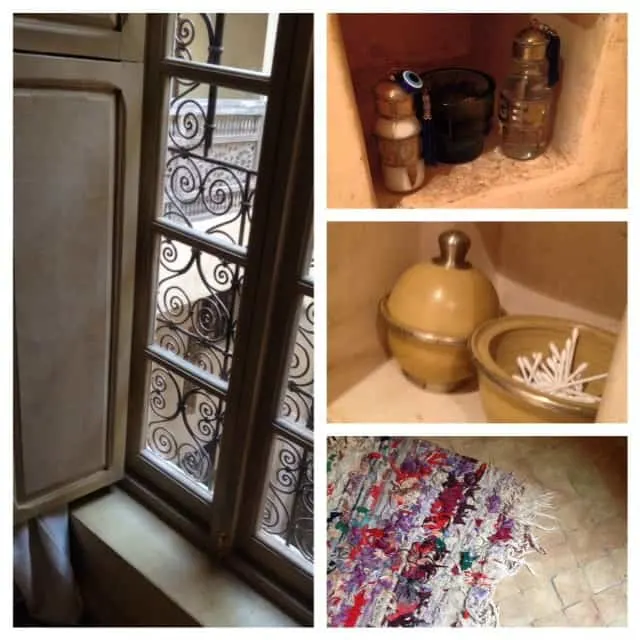 Why should you stay in a riad?
you'll form more personal relationships with real people. The staff are here to help you but they also become more like family. They live in the area and can tell you what to do and see. They want to make you comfortable and see that you enjoy your time.
they're beautiful examples of architecture and traditional living.
the food! Treat yourself to a meal in a riad and you won't regret it. The women (and sometimes men) who prepare food in the kitchens of riads are preparing the type and quality of food you'd eat in a Moroccan home. Not to be missed!
It's a unique experience. Staying in a hotel means room after carbon copy room. They're largely impersonal. In a riad each room has it's own personality and small touches.
If you want the feel of an apartment without having to go through the work of cooking and cleaning up than a riad is the next best thing.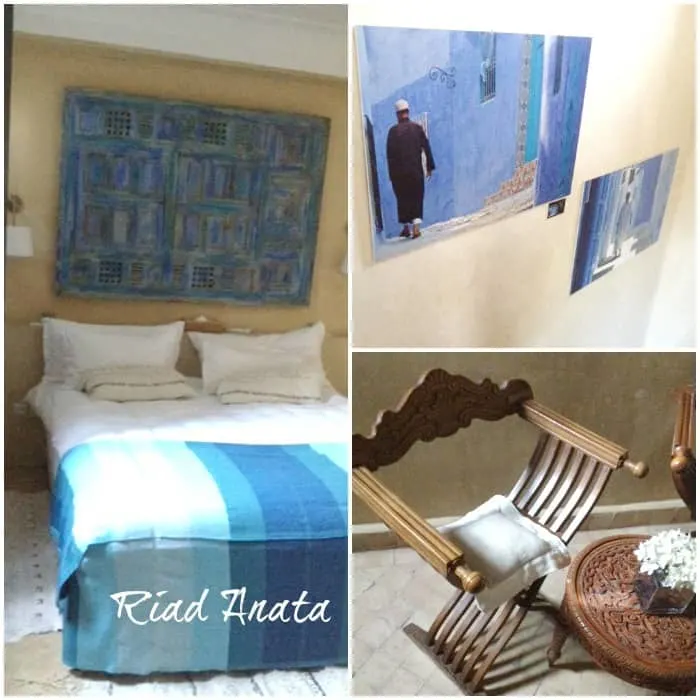 Tips for staying in a riad with kids;
if you know your kids are loud, rambunctious, and difficult to get to sleep this may not be the best option. I don't think I would have chosen to stay in a riad if my kids were still young toddlers or babies. It would have been stressful for me and other people.
Ask ahead of time about the space available. Many riads and even hotels in Morocco have space for 3 people, but finding room for 4 is more difficult. Discuss this ahead of time as you may need to book 2 rooms.
Prepare ahead of time. Many riads do not have in room TV's or other entertainment. If your kids aren't use to unplugging, this may be a point of contention!
Talk to the staff about any dietary needs or preferances. They generally will be more than happy to find a solution and accomodate you!
Remember, a riad is essentially a big house that you will be sharing with other people. Keep this in mind and explain this concept ahead of time to your children. Being respectful to other guests is important.
At the same time this can be a great opportunity to get to know other people from different parts of the world on a more personal level. Enjoy!
Don't forget to take care of the staff. While tipping in Morocco is generally a small amount here and there, leaving a tip for the cleaning staff and others is a welcome and appreciated gesture. Often tips are split but if you're unsure it wouldn't be rude to ask when making your reservation how tips are handled.
If you're visiting Fez, this is a great riad that we recommend and give two thumbs up! Be sure to enjoy at least one meal here, it might be your favorite of the visit (it was ours!) Let the staff know in the morning what you'd like to have for lunch or dinner and the time.
Riad Anata Derb El-Hamia Fes, Morocco