Palm Sunday and reed strings. The first time my husband brought home sfinge I was shocked thinking, "what it's Palm Sunday and they celebrate it here?" Except wait they get doughnuts with their palms?? Weird! But no it wasn't that because it was August.
These tasty, delicious doughnuts are sometimes made at home but are often bought from street vendors. Fried dough must be a staple in every culture but just thinking about these doughnuts makes my mouth water. I make them at home now on cold winter nights with a big mug of hot chocolate. Yum!
These are the cousin of sfinge, a smaller denser doughnut known as kringo. Sfinge are bigger and lighter.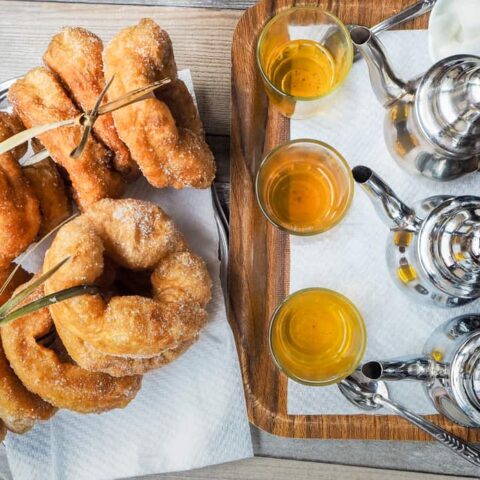 Yield:

6-10 depending on size
Sfinge – Moroccan doughnuts!
Sfinge are a popular street food treat in Morocco eaten in the mornings or afternoons.
Ingredients
3 cups of flour
2 tsp yeast
1 tsp salt
1 1/4 c warm water
vegetable oil for frying
sugar for dusting
Instructions
1. In a small bowl dissolve the yeast in the warm water. In a large bowl mix the flour and salt. Add the water and yeast mixture, and stir vigorously with your hand or a spoon until smooth. The dough should be too sticky to knead or shape.
2. Cover the bowl, and leave the dough to rise for one to two hours, until double or triple in bulk.In a wide pot heat at least an inch of vegetable oil until hot.
3. Fill another bowl with water and set to the side. You should have three bowls ready. One with your dough, one with water, and a third with sugar.
4. Cover a large plate with paper toweling or a towel. To begin dip your hand in the water and pull off a piece of dough about the size of a plum.
5. Using your fingers make a hole in the dough and stretch into a ring.
6.Place into the oil. Repeat with the remaining dough. Be careful not to crowd the pan.
7. Depending on the size you may only be able to do 2 or 3 at a time. Fry them until golden brown, flipping a few times to make sure both sides are cooked well.
8. Remove from oil and set on plate to drain.
9. Once the extra oil has been absorbed, roll them in the sugar mixture before they cool off.
10. Place on a clean plate.
Notes
In Morocco they're rarely rolled in sugar and instead could be dipped in honey.