In  Morocco it's almost unheard of to throw away old bread. Even though it is consumed at least three times a day and there inevitably is bread leftover, it is saved, reused if possible and if not, put into the garbage in a separate bag.  It's then often fed to animals. Instead of letting these day-old pieces go to waste, why not give them a second life?
Now, want my recipe for an easy chocolate chip bread pudding?  It's a great dessert or sweet breakfast for a special occasion.  You might want to double this recipe because everyone at my house was fighting for the last few bites!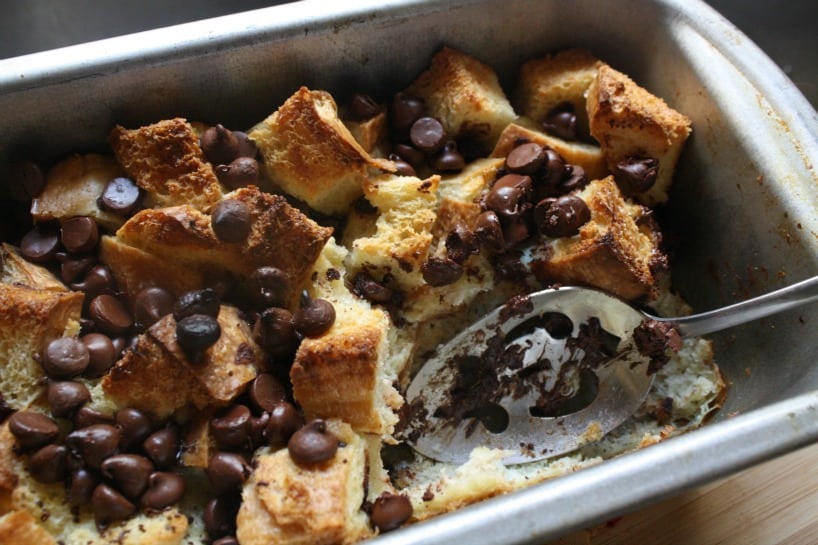 Chocolate Chip Bread Pudding
---
Scale
Ingredients
4 cup

s of cubed day old bread

1 1/2 cup

s whole milk

1/2 cup

heavy cream

3

eggs

4 Tbsp

sugar

1 Tbsp

vanilla

1/4 cup

– 1/2 cup of semisweet chocolate chips
cooking spray or butter for baking tin
Loaf pan or 8×8 baking pan
---
Instructions
Preheat oven to 375F.
In a large mixing bowl combine whole milk, cream, and eggs. Whisk until blended.
Beat in sugar and vanilla.
Add cubed bread to the liquid mixture. Mix bread and press into liquid to make sure the bread absorbs as much liquid as possible.
Spray or butter baking pan.
Pour saturated bread into the baking dish and add chocolate chips to the top. (You may want to stir the bread, but be careful as the chocolate chips tend to fall to the bottom).
Bake for 30-45 minutes until the top of the bread is crispy. The bread pudding will remain dense but all of the liquid should be cooked through.
Day Old Bread Recipes
Croutons
Italian Seasoned Croutons from Aimee of Like Mother Like Daughter
Homemade Croutons from Modern Christian Homemaker
Bread Pudding
Sweet Potato Bread Pudding 
Toffee Bread Pudding from Crumbs and Chaos
Croissant Bread Pudding from The Culinary Life
–  Gluten-Free Orange Almond Bread Pudding 
Slow Cooker Spiced Pear Bread Pudding from Snappy Gourmet
Leek Bread Pudding from Fifteen Spatulas
Cranberry Pistachio Bread Pudding from Taste, Love, and Nourish
Mushroom and Leek Savory Bread Pudding from Confident Cook Hesitant Baker
Other Great Ideas
Israeli Panzanella Salad from What Jew Wanna Cook
Panade with Swiss Chard and Onion from Farm Fresh Feasts
Bread Patties a la India Style – Fusion Bread Dumplings from Masala Herb
– Austrian Beef Bread Dumplings
What's your favorite way to use up day-old bread?