Morocco is filled to the brim with stunning landscapes and bustling city centers. Traveling between these beautiful destinations is half the fun as you'll get to see more of the country. Renting a car in Morocco is undoubtedly the best way of taking in these incredible vistas at your own pace.
Whether you want to enjoy the coastal scenery between Essaouira and Agadir, or plan an immersive experience in the Valley of a Thousand Kasbahs, traveling by car is a rewarding experience. Although you should be aware of a few Morocco travel quirks, the road system is generally easy to use. This means that it's super convenient to get around by car.
For a positive experience with rental cars, it's best to be prepared with some of my handy tips.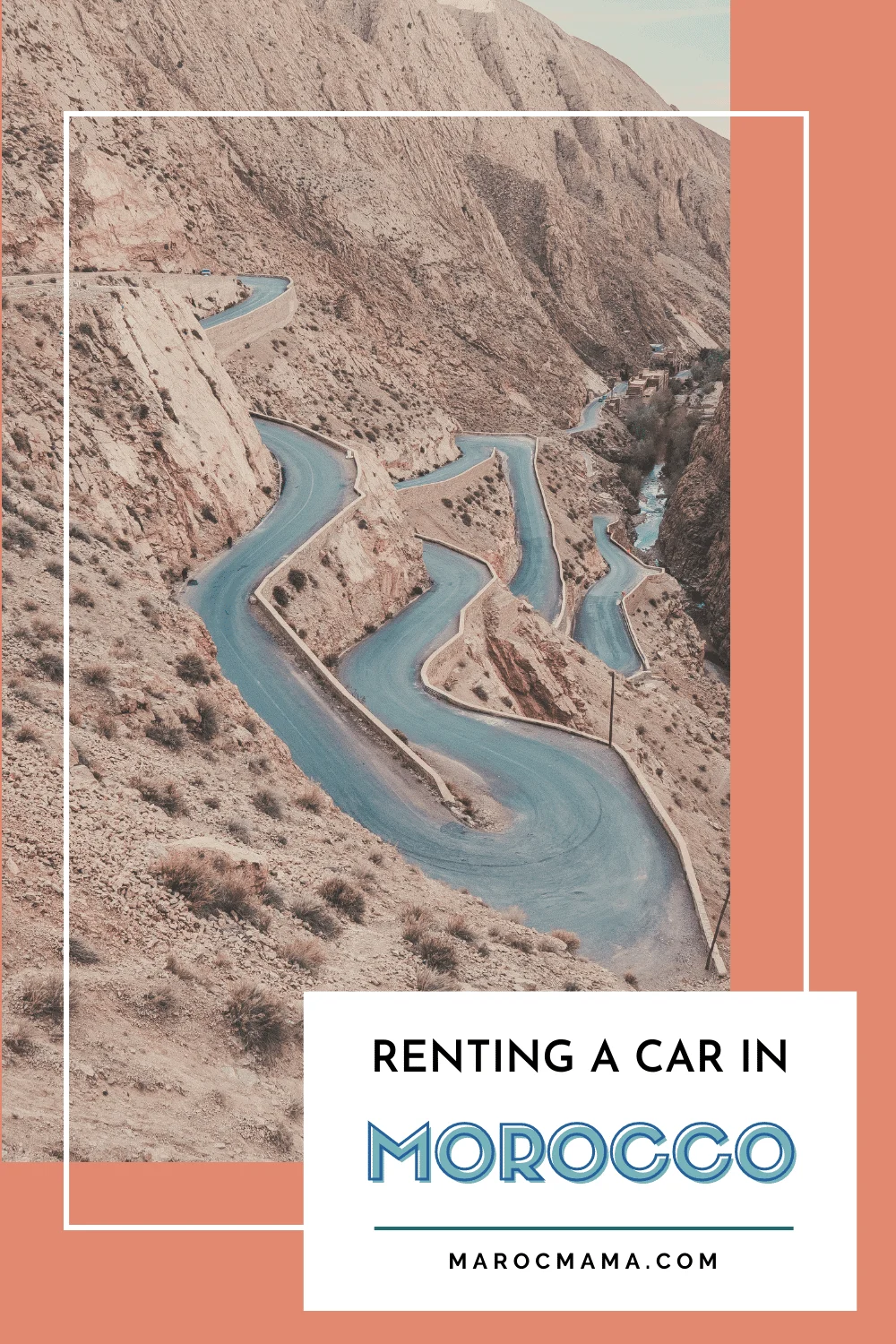 Why Should You Get a Rental Car in Morocco?
Although the country has a good public transport system, the benefits of car rentals in Morocco make this an excellent option for getting around.
From the orange sands of the Sahara to the magical Valley of Roses, Morocco boasts awe-inspiring landscapes that beg to be explored. Having your own car means getting the freedom to go off the beaten track and to stop for those panoramic views whenever you want.
Renting a car is also the best option if you're pressed for time and trying to see as much as possible. No need to rely on buses that only come twice a day and take forever to get to your destination. No need to first travel to the main town to change buses. Having your own car means goodbye to waiting around and hello to seeing more of the destination.
A car rental is also hands-down the most convenient way of getting around Morocco. You don't need to drag your luggage to the station. You can easily leave your things in the boot while you stop at a restaurant carrying just a small backpack. There's also none of that worry about missing the bus or train.
What Is It Like Driving Rental Cars in Morocco?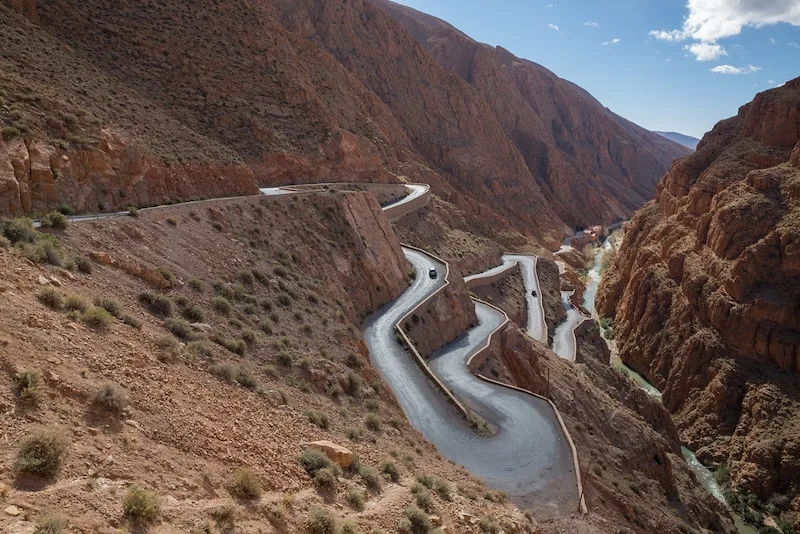 Taking your seat at the driver's wheel in Morocco is a bit of a mixed bag when it comes to safety and ease. If you're cautious, the benefits of exploring at your own pace will easily outweigh the difficulties of driving on Morocco's roads.
The roads in the country are generally in good condition, making using a rental car in Morocco a lot easier. If you're on your way to Merzouga in the south or driving around Toubkal, though, you'll want to pay extra attention since the roads are more run-down.
Choose your route carefully and go over it ahead of time so you know what to expect. The Atlas Mountains may be beautiful but, they also deliver some crazy hairpin bends. So it's best to be well-rested and prepared.
Following traffic regulations isn't that much of a priority for many Moroccan road-users. Accident rates are fairly high, with pedestrians crossing at any point and drivers routinely foregoing the need to indicate.
The roads are particularly chaotic in the larger cities. You need to be offensive and defensive in your driving. Avoid driving at night since it's not illegal to drive without your lights on. Also, be prepared for haphazard parking that isn't always clearly marked.
Another tip you should know about if renting a car is that in most parking situations – especially street parking – there is a man known as a guardian who will guide your car in and then also should be paid when you leave. Usually this is a few dirham (10 maximum). Keep change on hand for this!
Where Can You Rent a Car in Morocco?
The major cities are the easiest places to rent a car in Morocco. Marrakech, Rabat, Casablanca, Tangier, Essaouira, and Agadir also offer a variety of rental firms. The easiest place to pick up a car is at the airport though there are in city rental firms as well. In rural areas of the country, options are more limited. It's best to rent a car in a city.
You can get both automatic and manual rental cars in Morocco, but make sure you ask for what you want specifically when booking. Manual cars are FAR more common and you will be quite a bit more for automatic cars as they are typically higher-end models.
The car rental industry in Morocco is competitive and firms are striving to offer the best deal. Check out online reviews and read the contract carefully to avoid scams or misunderstandings. Make sure there's gas in the vehicle, or you'll have to fill up at the nearest gas station, which may be overpriced.
It's advisable that when you pick up your rental car take photos and videos of especially the exterior but also the interior if there is any damage. Make sure to have a time stamp on your images if possible. This is to avoid any issues when you return the vehicle and so you aren't charged for damage you didn't do.
The Best Place to Book Your Car Rental in Morocco
You can either book ahead of time online or wait until you arrive to find a car. The latter is the best way of finding a cheap car rental in Morocco but can be a risk especially in busy seasons.
However, you'll have to put in the work: smaller local agencies are open to negotiation, but Moroccans are tough salespeople and you'll do best to speak Arabic. To avoid this hassle book in advance.
For convenience, you should book online. Many airlines offer partnership deals with big companies, so you may even save a bit of money this way. Sixt, Hertz, Budget, and Europcar all operate in Morocco and, with offices at the airports, you'll soon be on your way.
How Much Do Car Rentals in Morocco Cost?
Expect to pay around $25-$40 USD per day for a car rental. Gas costs around $4 USD per gallon, and diesel is slightly less. For around an additional $40-$50 USD a day, you could also hire a driver that would take you where you'd like to go.
If you're traveling with friends and split the bill, renting a car is probably the cheapest option for getting around Morocco.
Who Can Rent Cars in Morocco?
You need to be 21 and older to drive. Depending on the company, you need to be at least 23 or 25 years old to be able to rent cars in Morocco.
You need three things to get a car rental in Morocco.
First, you need a credit card with enough money not only for the rental but also for the up-front insurance deductible of around $1000 USD.
You'll also need to bring along your passport and, of course, you need a driver's license. Make sure you have all three handy as well as the insurance for the vehicle as you will encounter police checks along the road.
Morocco has an agreement with many nations, so, depending on where you come from, you may be able to use your own driver's license to rent a car in Morocco. This is true for American and EU citizens.
Even so, you may want to invest in an international driver's permit, particularly if your license doesn't have a photo of you (something Moroccan police often find odd). Make sure it has a French translation.
Tips for Renting Cars in Morocco
Using rental cars in Morocco may be a fantastic way of getting from place to place, but there are some things you need to consider before hitting the road.
Inspect the Car Thoroughly
It's common for rental firms to charge you for damage that was already in the car when you hired it. That's why you must inspect the vehicle thoroughly before you sign it out. In fact, it's best you take photos or a video. Don't forget to examine the interior, too — being charged for cigarette burns is a common issue.
There's also the notorious issue of the "cleaning fee" that many rental companies charge when you've returned the car. If it's not in your agreement, you don't have to pay it. Bottom line, read your contract carefully.
Look For the Traffic Signs
Traffic lights and signs are often on the far right-hand side of the road, so you may miss them if you don't know where to look. It's not unusual for them to be hidden behind a tree, so keep checking. This is also true with speed signs. They can change quickly and can be hard to see – keep alert at all times.
Ask the Police
Developing countries often have the reputation of corrupt police officials; however, this is largely untrue in Morocco. Police and traffic officials are helpful, so don't hesitate to approach them for help. While 10-15 years ago you may have been met with grumpy officials, things have largely changed and they are often happy to help. If you speak French or Arabic you'll be far better off as English is not always spoken.
Have a Toolkit
Towns are few and far between in the countryside, so you need to have some basic tools with you at all times. A toolkit and a spare tire should be provided with every car hire but make sure to check this before you take the car.
Knowing how to sort out small problems, such as changing a tire, will go a long way, especially if you're in the middle of nowhere.
Get Insurance
Those who rent cars in Morocco should get insurance that offers full coverage. Bumps and scratches will be charged for, so it's best to be prepared with insurance.
Also, remember that most companies prohibit driving off-tarmac. Keep the documentation with you at all times.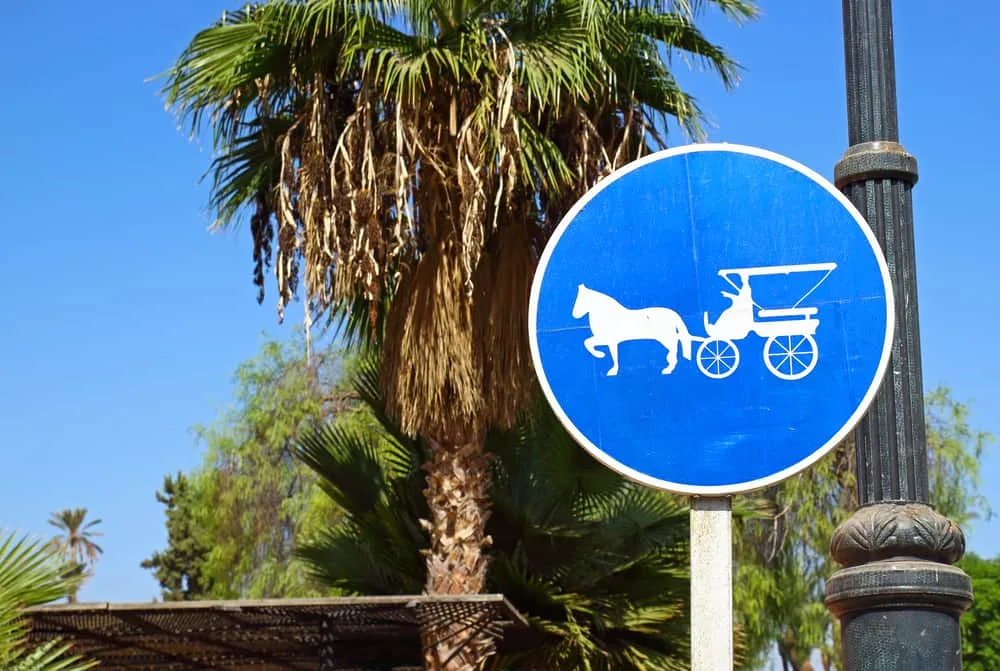 Know the Road Rules
Although Morocco is primarily an Arabic-speaking country, there are easy-to-read road signs. Illiteracy is still an issue in Morocco, so many road signs use symbols to explain. It also helps that the signs are in Roman letters, as well as Arabic.
Moroccans drive on the right of the road and give priority to traffic from the right. Wearing a seatbelt is an absolute must, both in terms of law and safety.
Car seats for children are required on interstates however within cities they are a more a rarity. You can rent car seats from some car rental agencies however if you'd like your babies or toddlers to be buckled up correctly bringing your own car seat is highly advisable.
If you are stopped by the police for a violation you will be required to pay the fine on the spot in cash. Make sure you carry at least 1000dh in cash when you are traveling for instances like this. Some examples of costs are 300dh for seat belt violations and 300dh per 10km over the speed limit you are traveling. Talking on the phone while driving is also a 300dh fine.
Pros and Cons of Renting a Car in Morocco
Pros
If you want to cover a lot of ground in a short time, on your own schedule a rental car is a good option.
For families or larger friend groups together, a rental car is a more cost effective way to see the country.
You can get to more remote locations, far more easily.
It gives you freedom you might not have with other modes of transportation.
Cons
Driving in Morocco can be exhausting! Few road rules are consistently followed and it can be hard to know what the rules even are.
When covering long distances you won't be able to relax. If driving is stressful for you this might not be the best vacation plan.
Parking can be hard to find and a headache especially in urban areas.
While the car itself may not be expensive, the price of fuel and unintended costs like being stopped to pay a ticket can certainly add up.
Final Thoughts on Morocco Car Rentals
When it comes to any road trip, the old saying "it's the journey that counts" is 100% true. Moroccan road trips are like this on steroids since having your own car allows you so much freedom to explore and really get to know the country's incredible landscapes.
No matter where you rent your car from, you need to know precisely what you're getting yourself into. Read the contract carefully, so there are no disappointments or disagreements when you're done with your Morocco road trip. If you keep at least some of my advice in mind, you're all set for renting a car in Morocco!
Compare Rates for Car Rentals
Car rentals at the time of publish (January 2021) are down almost 60% from where they were a year ago. Many companies are also offering free change or cancellation to your reservations. Consider this when making your plan. Click the company name or image to get more information on your trip.
In Morocco Budget has a large range of car sizes available. Depending on where your plans take you, the size of your vehicle will really matter. If mostly in the city a small car is perfectly fine (and probably preferable!) but if you will be going to rural areas something with a higher clearance and better tires is more advisable.
Sixt offers a lot of different car sizes for your rental needs. They have automatic and manual transmissions depending on what you're comfortable with.
While the Hertz car rental rates can appear to be more expensive than other options, most all of their rentals have unlimited mileage. This is really worth considering as going over the allotted mileage with a rental can result in high surcharges.