If you don't eat pork and are planning to visit Tokyo you'll soon discover it's a bit more complicated than you may have anticipated. We visited along with our teenage children who also don't eat fish or seafood adding an extra layer of complication.
But, the best news that we discovered was the number of restaurants that are halal that are traditional Japanese food. Typically when we have found halal food while in another country it's limited to kebabs, or other typically foods from Muslim countries like curries. You can certainly find this too but if you want Japanese food – it's here!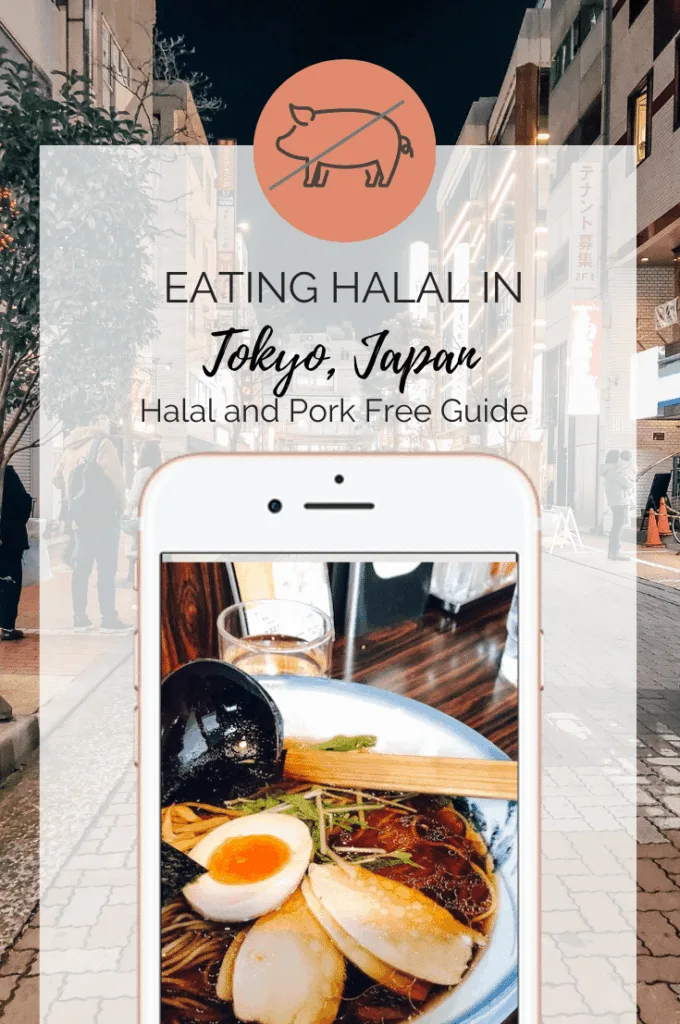 One more thought on this. We found that in Japan people really did listen to our dietary needs. They were very accommodating whenever possible and helped us as much as possible. I have never felt more welcome in a country as a Muslim person as I felt in Japan.
We are not strict about eating only halal food, especially when we travel. While we don't eat pork, we do eat chicken or beef that isn't specifically slaughtered halal. I have noted below for each restaurant with a * if they are halal.
Japanese Food Tour in Tokyo
We own a food tour company in Morocco and we know that one of the best ways to get to know local food is through a food tour. So when we were in Japan we took a food tour with Magical Trip. They were able to do a vegetarian tour which would make it totally possible if you were seeking out pork-free options. This was one of our BEST experiences in Tokyo and we completely recommend it!
Asakusa Cultural Walk and Lunch
Ueno/Asakusa
I really just happened to pick this area of Tokyo to stay in a bit by chance and discovered it's also one of the more Muslim-friendly areas. That being said we found pretty much all of Tokyo was fine.
I highly recommend checking out the YouTube channel connected to the video above for good insights into halal Japan.
When we asked at our hotel for places nearby that had gyoza that weren't pork they pulled up this brochure and I was blown away. I've never been given an actual guide to halal restaurants in a non-Muslim country. That this even exists was amazing to us.
Japanese Yakinku (Grill) Restaurants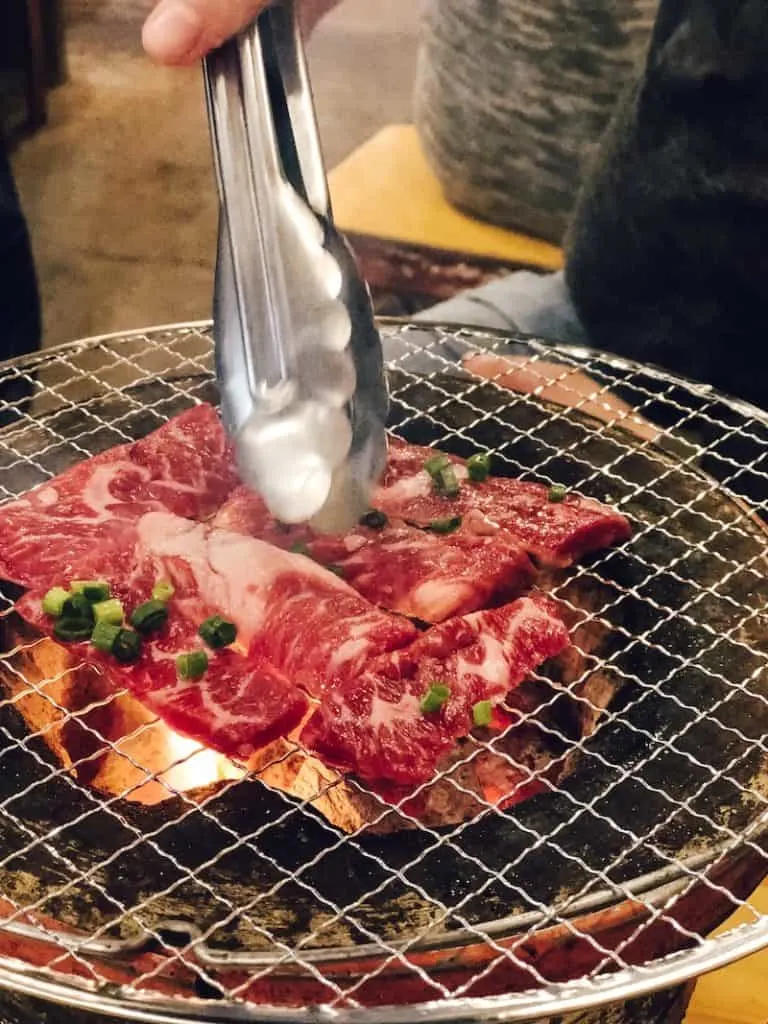 We stumbled into one of these in the Ueno night market by chance but there were a lot of them to be found. I am suggesting trying these places because while the menu isn't halal there is both meat and seafood available that you can grill yourself.
At this restaurant we could choose a soy base or salt base marinade (we went with salt). The price will depend entirely on what you choose from the menu. We spent approximately 4500 yen for both of us and ordered 6 pieces of beef, an order of squid, 2 royal prawns, rice, an order of onions and two soft drinks.
Shabu-Shabu Asakusa Nagomi*
This restaurant serves the Japanese dish shabu-shabu which is thinly sliced beef cooked in a hot pot style then dipped in sauces before eating. The restaurant serves wagyu beef so it's a good chance to try this beef if you only eat halal. The restaurant also offers vegetarian items for non-meat eaters.
Naritaya Halal Ramen*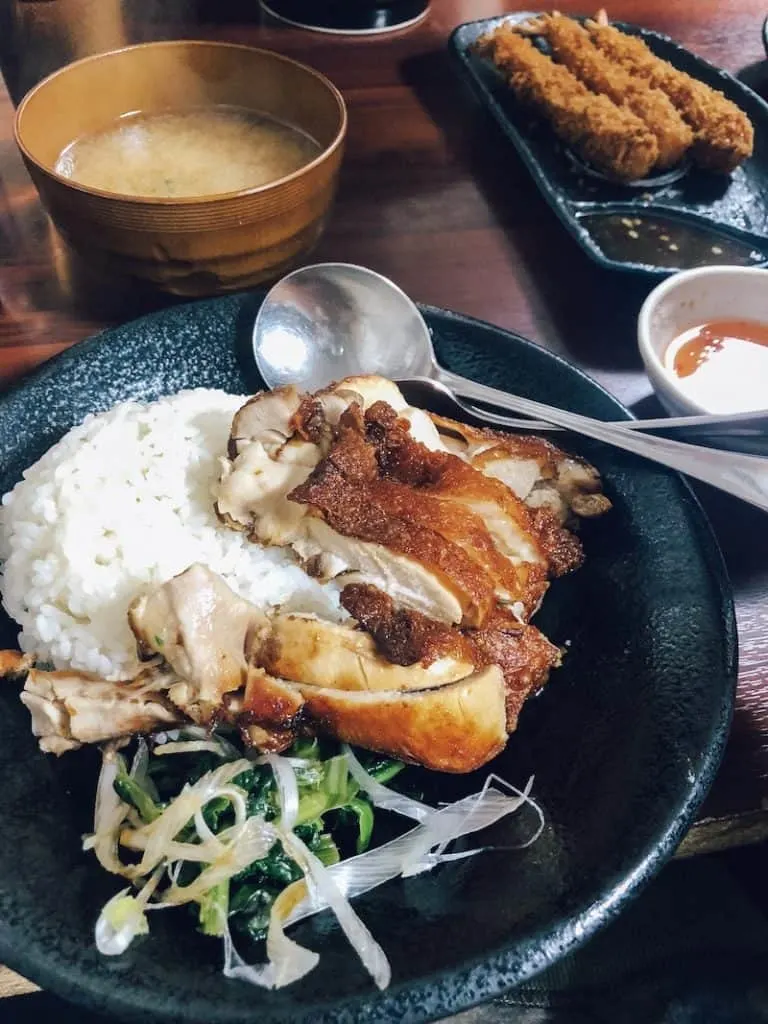 Many ramen restaurants also serve gyoza, however Japanese gyoza dumplings are nearly always made with pork. This place has a good ramen, as well as different rice bowls, tempura shrimp AND fried gyoza dumplings. The staff is kind, speaks English and they have a very small prayer room upstairs. Near the Senso-ji Temple. Approximately 800yen per person.
Ayam-Ya Okachimachi *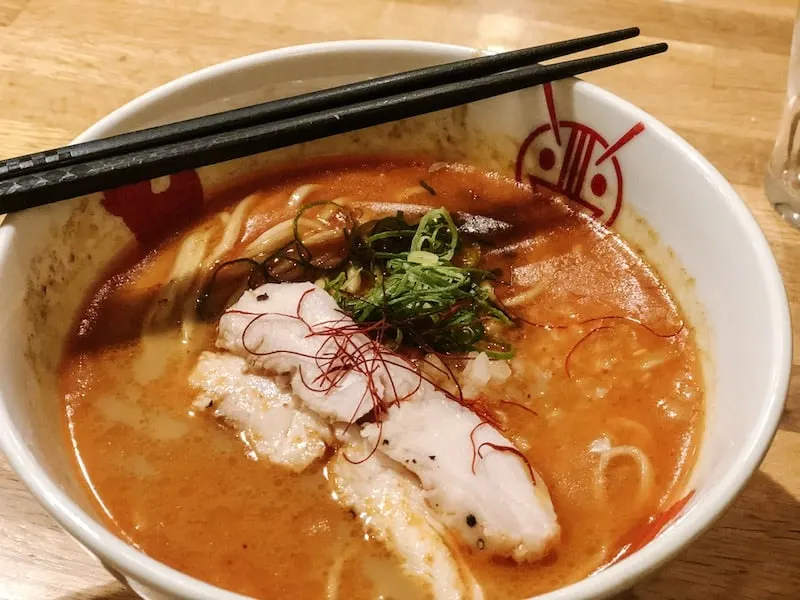 When we stopped in this restaurant (it's also near a mosque) the full menu wasn't available but I did try the spicy ramen. It was really good but yes very spicy! Well worth going if you're in the area and especially if you want something with a little more kick. Approximately 900 yen per person.
Akihabara
CoCoICHIBANYA *
This is a Japanese chain restaurant that has regular and halal branches. There are two halal branches in Tokyo. The other is in Shinjuku. Halal branches are notated by the green signs for the restaurant. They offer Japanese style curry using chicken, curry sauce and rice. Approximately 600 yen per person.
Tempura Hisago
Tempura, or tendon as it's known in Japan is a very popular meal. This restaurant sells the deep-fried shrimp or vegetables as well as a variety of rice bowls and a mixed tempura plate too. They have staff who are very wiling to assist non-Japanese speakers. While the restaurant is a little hidden it's worth the effort. Near the Akihabara metro station. From 1400 yen per person lunch and 4,000 yen for dinner.
Gaba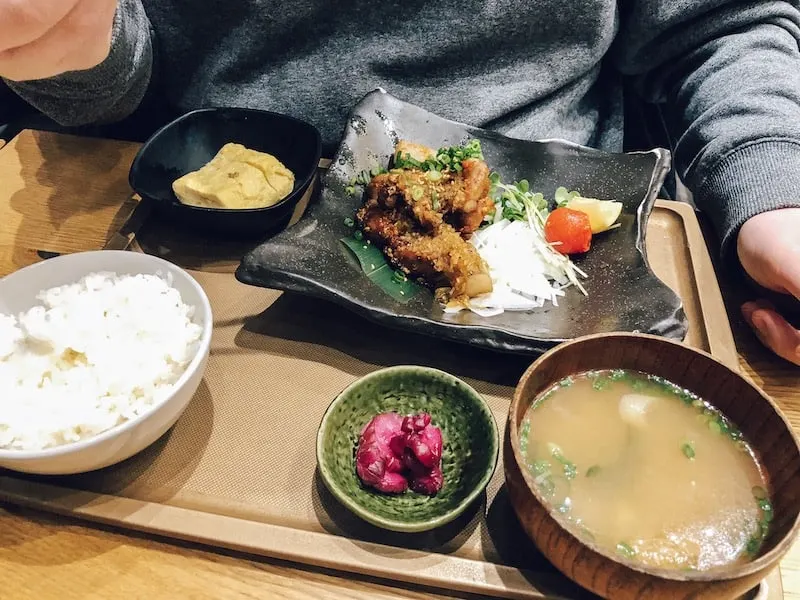 We stumbled into this restaurant purely by chance. They have a limited menu however nothing on the menu had pork allowing you to choose anything. The clientele was entirely Japanese when we went in and it was an affordable lunch. The set comes with a main dish (we liked the chicken with Chinese yams), rice, miso soup and pickles. Near Akihabara metro – approximately 700 yen per person.
Shinjuku
CoCoICHIBANYA*
There are two halal versions of this restaurant in Tokyo (the other is in Akihabara). The halal versions of this restaurant are notated by a green sign (the regular shops are yellow). Japanese curry is different from Indian curry and the meat of choice here is chicken. Japanese fried chicken is DELICIOUS! You can choose the level of spiciness you'd like as well. They have take away boxes too! If you're looking to pray there's a mosque just 3 minutes away from this location. Approximately 600 yen per person
Halal Ramen Ouka*
This might be one of the more expensive options but if you're really strict, they'll make sure your bases are covered. The menu has both a traditional ramen and a spicy ramen. The toppings can be vegan, chicken, or wagyu beef. The regular ramen has a yuzu-based meringue on top and sea bream base. You'll also get a bowl of rice on the side to eat after your ramen with the remaining broth. Lunch starts at around 1200 yen per person while the set dinner (that includes an appetizer, ramen, and drink) is about 2,200 yen per person.
Ichiran Raman (Muslim Friendly)
This is perhaps the most well-known ramen restaurant in Japan. Most of their ramen is pork-based however at this location they have a pork-free menu. It is NOT however halal. Those that have eaten both versions argue you can hardly tell the difference.
Shibuya
Menya Honolu Ebisu*
This restaurant has more than one branch but their Ebisu store menu has a halal menu. There are several different types of halal ramen and they also have halal fried gyoza with vegetable filling. A small prayer area is available upstairs. Near the Ebisu Station. Approximately 900 yen per person
Harajuku
Afuri Ramen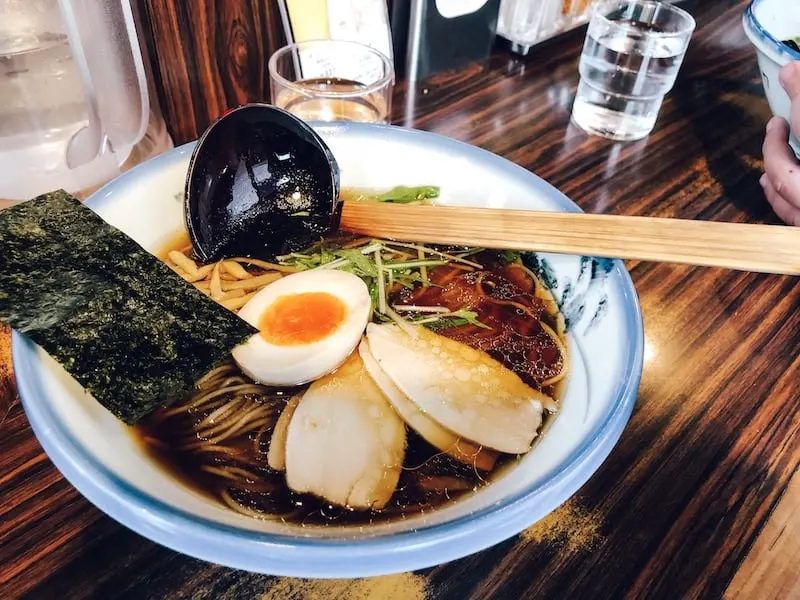 This small restaurant does specialty ramen using a chicken base. You can top it with pork or sous vide chicken. We tried both the miso ramen and soy ramen and it was one of our favorite meals the entire trip. Do expect you may have to wait as there are limited places. Near the Harajuku metro station. Approximately 1000yen per person
Convenience Stores
I really can't do a post about food in Japan without mentioning this. There are convenience stores everywhere. 7/11, Lawsons, and Family Mart are just a few of them. My kids were ready to fall asleep by 6pm almost every night and I'm not ashamed to say many times dinner (and breakfast) came from a convenience store.
Not only do that have hot foods but they have salads and other things that were simple. The food is a lot different than what you'd find in a western convenience store with a lot of variety and it's made fresh. I'm not saying skip dinner every night and eat at 7/11 for the best Japanese food of your life but it's out there as an option.
You'll also find not a lot of restaurants in Japan offer take away meals. So if you don't plan to sit down and eat, this might be all you're going to find. Some of the easy options we found in convenience stores that were pork free;
fried chicken popcorn bites with cooked rice on the side
egg salad sandwiches
tuna salad sandwiches
onigiri (rice balls)
instant ramen bowls (this took effort as a lot have pork)
soba noodle salads
breakfast breads and muffins or doughnuts
Foods to look for that are pork free
Fried chicken (Karaage)
There's a lot of fried chicken that you can find in Japan, but our favorite was honestly from convenience stores. It's also pretty cheap. The popcorn chicken size is the best. If I miss one thing from Japan it's this.
Rice triangles with fillings (Onigiri)
This is an extremely simple dish that Japanese often eat as snacks. They come plain or with fillings like tuna mayonnaise or bonito flakes. Personally I felt like it was just too much carbs in my mouth and it always felt dry but the rest of my family disagrees!
Okonimiyake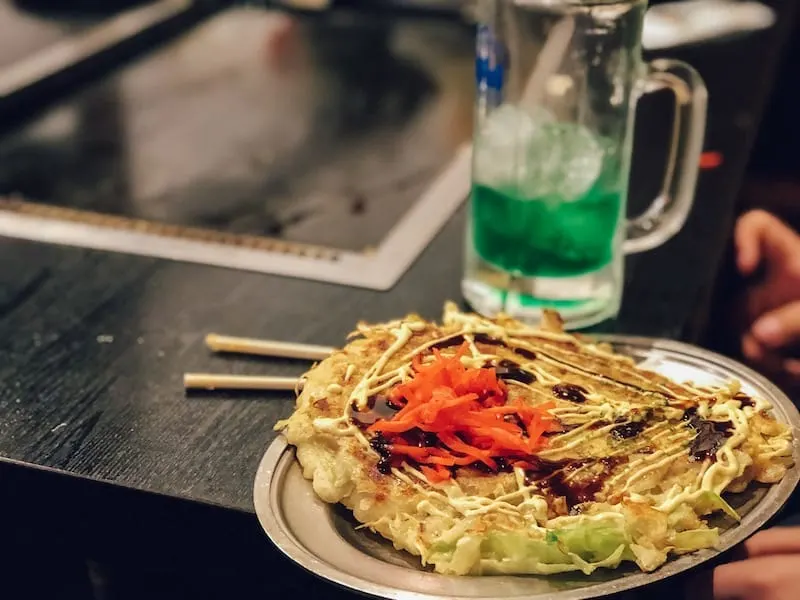 We ate this on our last day when we did a tour with Magical Trip and I'm so sad we didn't have it sooner. This dish isn't from Tokyo traditionally but you can find it. The ingredients are simple; tempura batter, shredded cabbage, an egg and then whatever add-ins you'd like. I had all kinds of vegetables, the kids had cheese and my husband had seafood.
Grilled Beef
See above! I'm a little sad we only ate this once. Japanese barbecued beef is out of this world. These restaurants do offer Waygu beef if you want to go all out but we ordered one of the cheaper cuts and it was still exceptional.
Sushi
I'd be remiss if I didn't add sushi even though it feels like the obvious answer. I do know that some Muslims don't eat it because of the rice wine vinegar in the rice so that's up to you. But sushi is a safe pork-free bet!
Taiyaki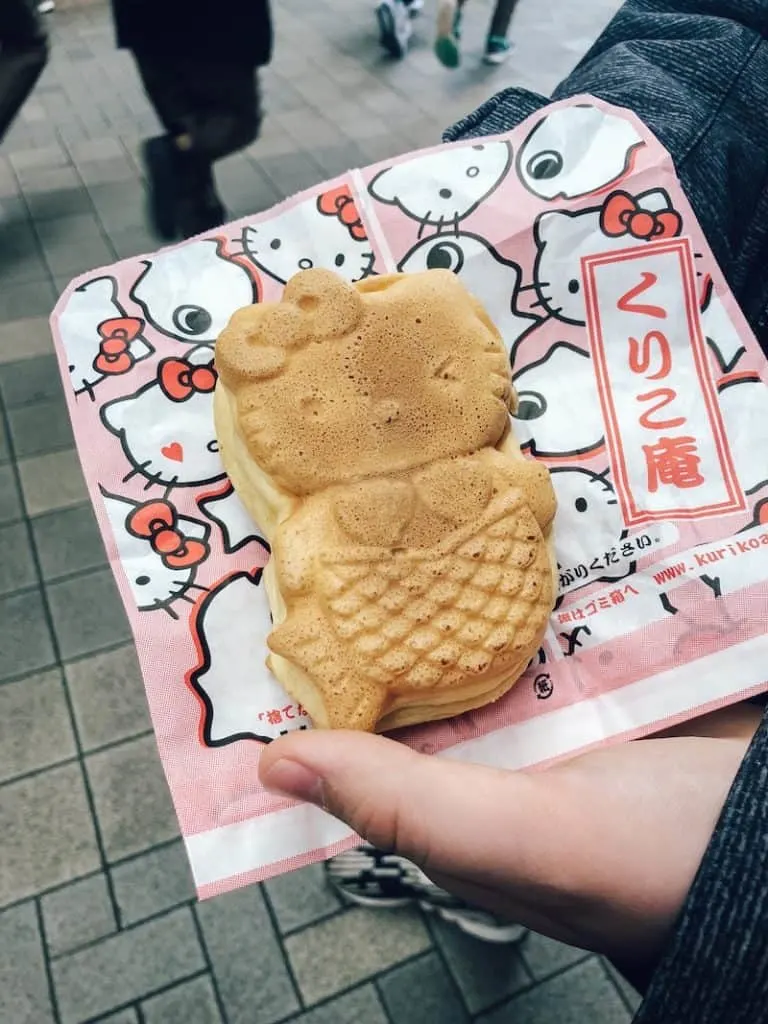 You may have seen these in the shape of a fish which is how they're most often presented. This shop just happened to have a Hello Kitty mermaid too that we couldn't pass up. Taiyaki is a cake that is usually filled with red bean paste however you can get them with other fillings like chocolate and custard. It tastes like a cake batter pancake and is really delicious. We skipped the bean filling but give custard and chocolate a thumbs up.
Egg sandwiches
I am sure this is a head scratcher but egg salad sandwiches from Japanese convenience stores are really pretty good. They're not AS good as I was made to believe before we went but they're certainly worthy – and cheap!
Soba Noodles
I'll admit I was a little surprised to learn soba noodles are usually eaten cold – it's a popular meal in summer. They're also a good option for people that are celiac because they're made with buckwheat which is naturally gluten-free (though check because sometimes regular flour is mixed in). The sauce is known as tsuyu.
Mochi and Dango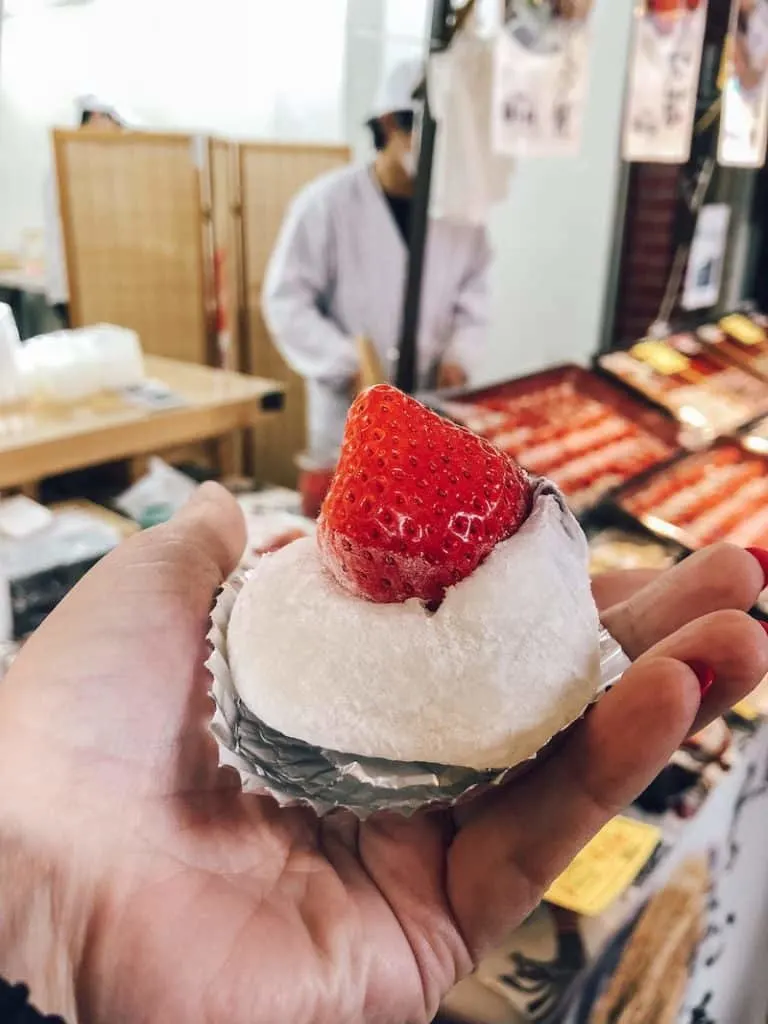 The texture might lead you to believe otherwise but mochi are free of gelatin which is often made from pork. These are meant to be sweet and some people really love it. There is this version and there's also a deep fried version. The deep fried mochi I did like. This was not something I really liked but it's something you should at least try!
Melonpan
I have heard people rave about this bread so when we came across it being baked fresh near the Senso-ji temple we dug into our pockets for yen right away. It's really just a type of bread that tastes like a sweet and slightly crunchy cookie on the outside. Where we bought ours you could also get it with ice cream and we tried a matcha soft serve. We've decided we're not big matcha fans but the bread was good!