Traveling with toddlers can be a great experience if you are well prepared.
Now I am not talking about all the stuff you need to bring with them, I'm talking about keeping them entertained for long periods of time while traveling and during wait times on your trip.
Whether your family is flying to a long-awaited vacation, excitingly riding a train to visit grandparents, or just taking a long drive, you are going to need to keep your toddlers occupied.
Thankfully, there are many easy travel crafts for toddlers to entertain them on the go.
Providing these distractions to your young travelers is a must!
Here are several activities to get your child ready for the trip and craft projects you can do while traveling to keep them entertained.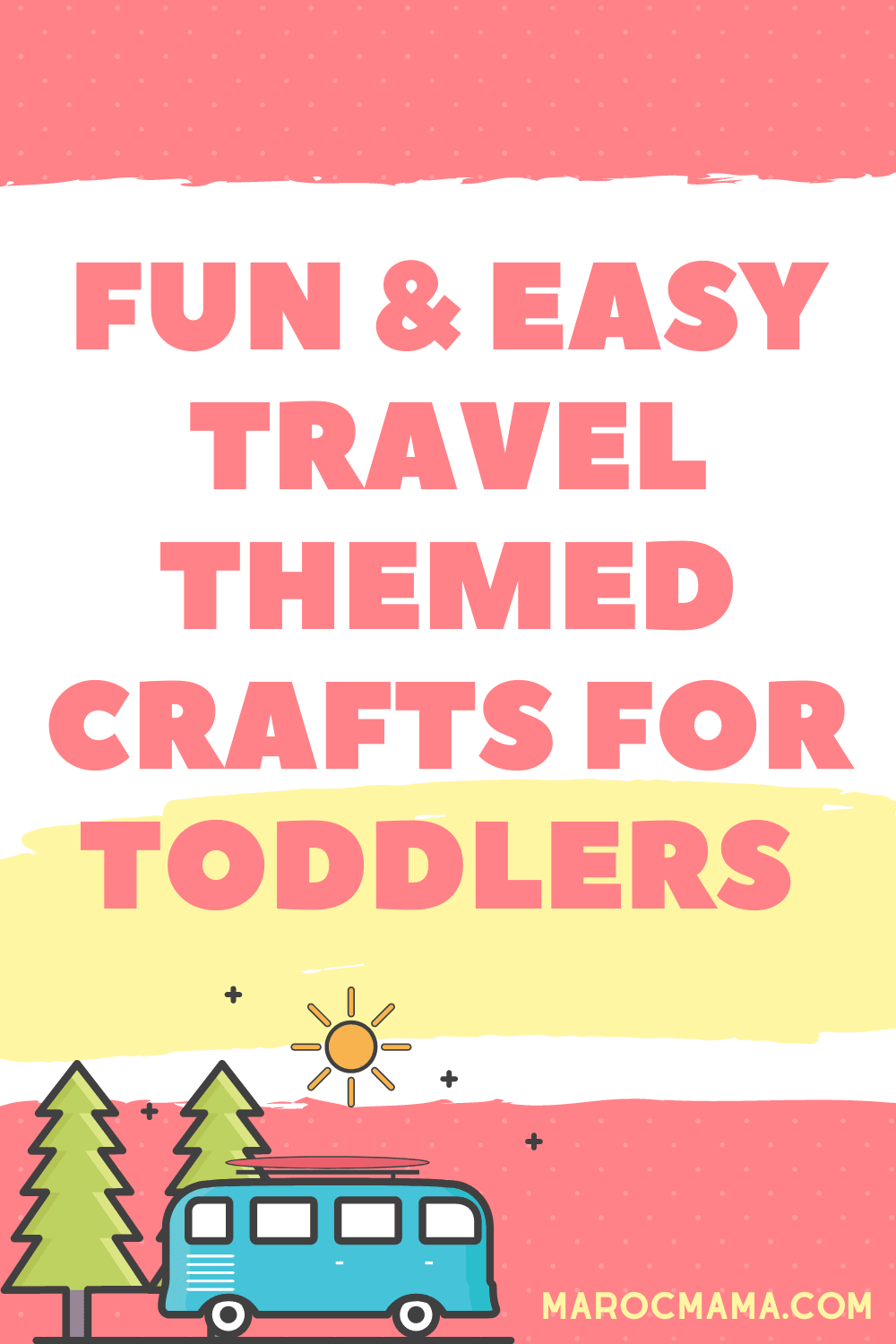 Things to Make Before your Trip
This fun travel tube activity is easy to make, and your toddlers are going to love it.
You can make this with your toddlers to have fun and spend time with them before your trip.
You can cut out different shapes based on your toddler's interests, for example, animals, princesses, cars, numbers, and letters.
Not only is it a great way to occupy and entertain them on long road trips, but it is also an excellent way to help them learn different shapes and colors.
Another good thing about it is that it is such a cheap activity to make and takes up almost no room if you are taking it in a carrier.
Your toddler will absolutely love to have their own little world inside a box!
You make this super cute traveling playset with an old suitcase. This toddler playset holds all the little toys inside so they stay neatly contained.
I love how customizable this can be. You could make it a tiny Jurassic park for your dino-loving toddler, or a traveling dollhouse, or even a race track for on-the-go races.
You can also make a travel playset with a smaller box to be lighter and easier for your toddler to carry.
This playset is an excellent activity for early hotel mornings.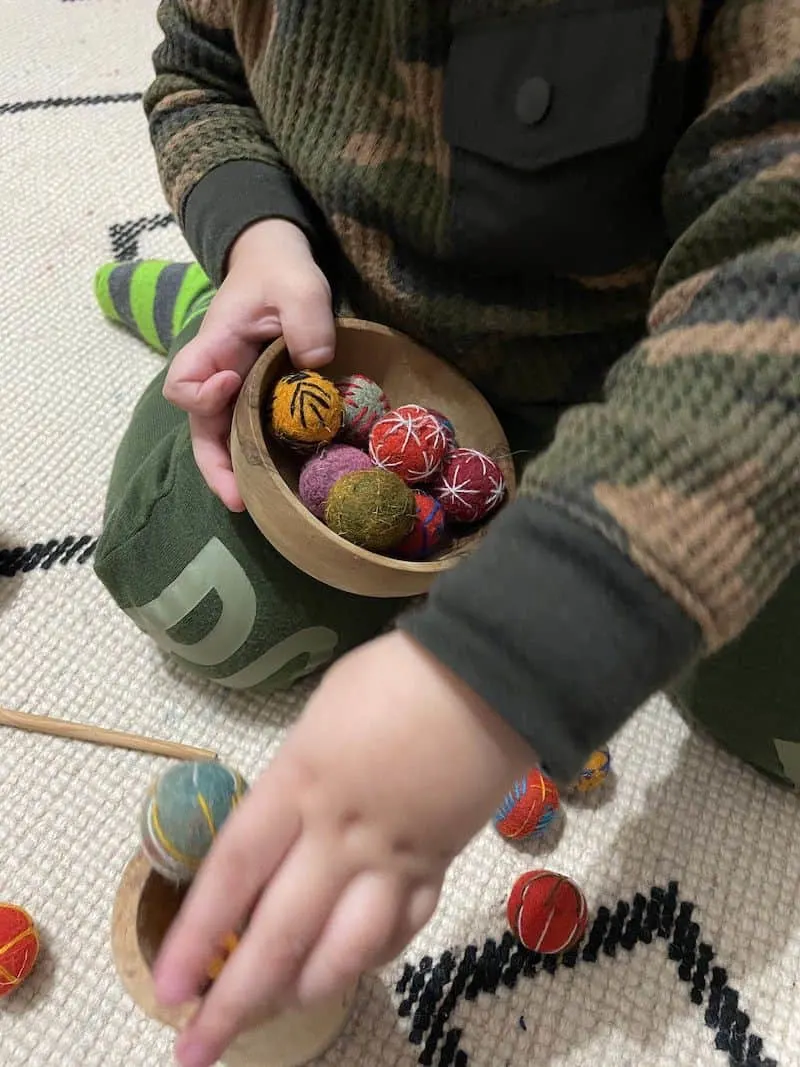 Travel Crafts Your Toddler Can Do While they Travel
Stickers are as close to a no-mess craft activity and they make the perfect craft for traveling.
In this fun pack, toddlers get to choose what facial features and accessories to give each animal.
Do not expect anything that looks anything like a real animal from your toddler, but they will have lots of fun giving these safari animals all kinds of silly features.
Pro Mom Tip: If you can't get these stickers in time for your trip, any sheet of stickers will work you just need to supply them with a little notebook to put the stickers.
Not only will this keep your child occupied but it also promotes fine motor skills and focus as they use the scraping tool to scrape away the black to reveal the beautiful vibrant colors underneath.
This one is even fun for all ages, even adults! So if you are trying to occupy more than just your toddler with a fun craft while you are traveling.
Traveling isn't just about getting to your destination, a lot of time while traveling with toddlers you will find down times when they will get bored. From downtime in the hotel to waits at restaurants, this jumbo tub of craft materials will challenge you and your child to unleash your creativity to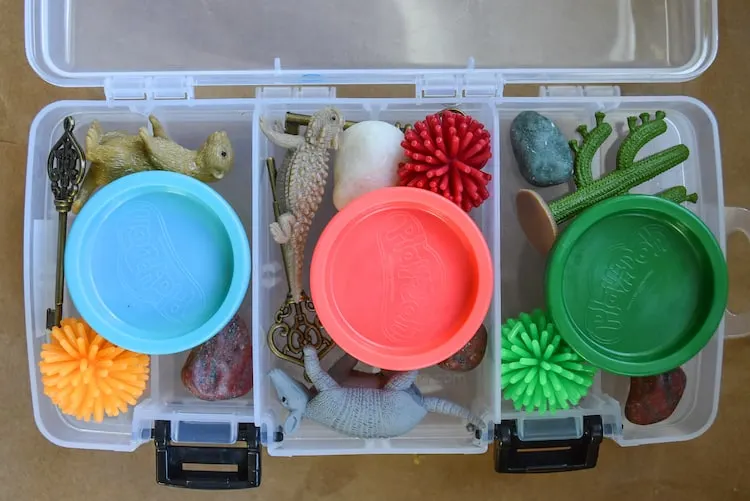 Playdoh
Playing with playdoh is a great activity for fine motor skills and strengthening little hands, and it can make a fun travel craft too. Your toddler can use playdough to make all kinds of things.
If you are looking for playdoh but you still have a toddler who puts everything in their mouth then this taste-safe playdough is a great playdoh alternative.
Grab the recipe and directions for Lemon Playdough.
It will give them hours of fun. Playdough is the perfect waiting craft while sitting at restaurants. You can show your toddler how to make letters, shapes, and numbers with playdoh. I even have a Morocco inspired playdough activity pack for you!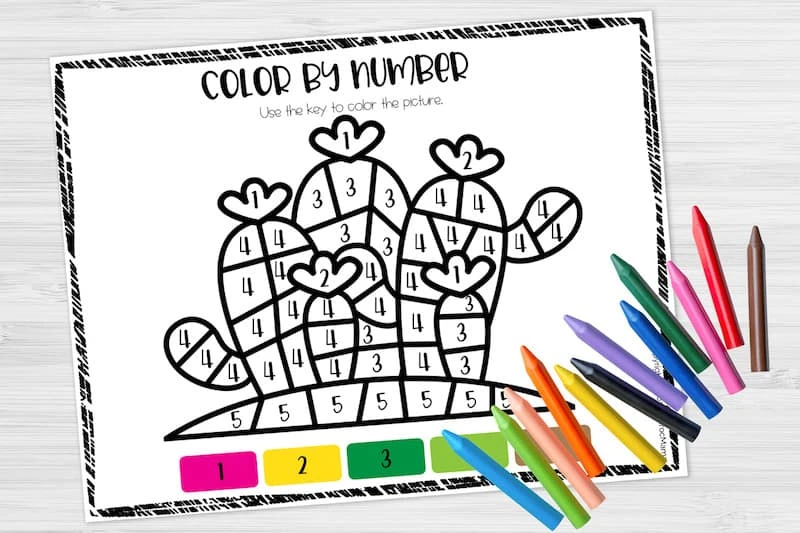 Fun Travel Themed Printables for Toddlers
Printables are a no fuss way to keep your toddlers entertained on your travels. Pop over to this post if you'd like some printable Moroccan color by number sheets!
If you are looking for some fun printable games to play as a family on a road trip, these are so much fun over at Made with Happy.
Make your road trip go a lot faster by by playing together as a family as you spot cars of different colors, play road trip bingo and more.
There are so many things that they can do with these road trip activities! All you have to do is print them out before you leave to keep them entertained!
Your toddlers are going to love having their own little plane tickets!
Not only will this let them play pretend, but it is also perfect for toddlers who like to be a big kid.
You can simply give your toddler these printable plane tickets and baggage claim forms and they can be just like Mommy and Daddy at the airport.
These made my toddlers so proud and helped them forget about how nervous they were for flying for the first time.
When you are getting read to travel with your little one there are so many things to think about, but crafts to keep them busy and entertained on your long journey. I made sure to include crafts that wouldn't only be great for plane trips and long car rides but things that will keep them occupied during down times and wait times at your destination.
You may even find that you start using these for whenever you need to have a long wait like at restaurants, doctor's offices and even visiting family or friends who don't have children or playthings around.