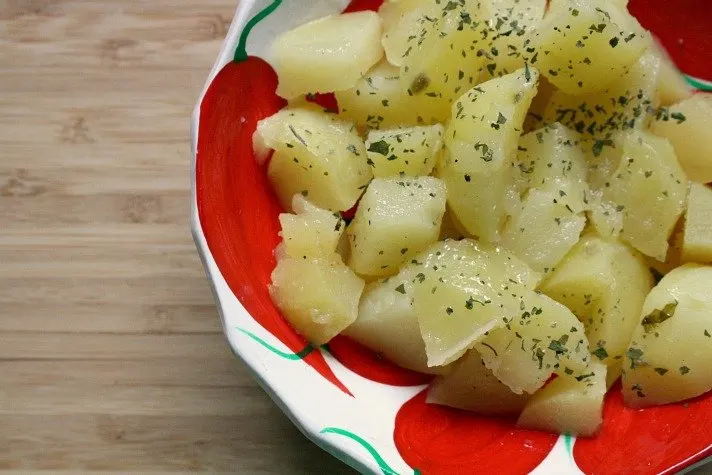 My favorite part of a Moroccan meal isn't the main dish. I have never really loved meat and, at least with my mother-in-law, most of the meals are pretty heavy in that department. No, my favorite part of the meal is the salad assortment that comes out first. I think my love of tapas in Spain and cicchetti in Italy inspire my love of the salad offerings.
Truthfully, I'd be happy to just eat these and nothing else. I used to think that there was a specific salad served with each main dish, and while this can be true, often times salads are prepared based on what is on hand. I once made an orange and salty black olive salad, and while it was delicious, I learned that simply wasn't done. So let's just say traditionally speaking there are a lot of unspoken "rules" about what can go together and what doesn't.
This salad is super simple and it's a good break from the traditionally heavy, mayo-based American potato salads. I really like to use a good yellow potato like Yukon Gold as they seem to cook quicker and not turn to mush as easily. I would serve this salad with a savory tajine like one of these;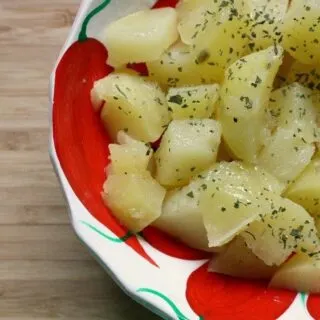 Yield:

4-6 small servings
Moroccan Potato Salad
Ingredients
1 pound yellow potatoes, peeled
1/4 cup vinegar (any kind will work)
1/2 cup olive oil
1/2 tsp salt
1/2 tsp pepper
1/8 tsp cumin
several stalks of chopped fresh cilantro
Instructions
1) Place a large pot, half-full of boiling water on the stovetop and boil.
2) Peel and place potatoes in the water whole.
3) Boil until the potatoes are tender but don't fall apart when you poke them with a fork.
4) Drain the water and allow the potatoes to cool. Once you can handle them, cut them in half horizontally and in half again so that you have 4 slices. Cut into strips, and then cube in 1/4" size chunks,
5) To make the vinaigrette, whisk together the vinegar and oil, as well salt, pepper, and cumin.
6) Gently toss the potatoes with the vinaigrette using 3-4 Tbsp of the mixture. You will want to coat the potatoes but don't want them to be swimming in it.
7) Finally, top the potatoes with the chopped cilantro.
This salad can be served cold or at room temperature.
Notes
The dressing made for this salad will be much more than you need to dress the salad. I make this as a base vinaigrette and save it to use for other salads.