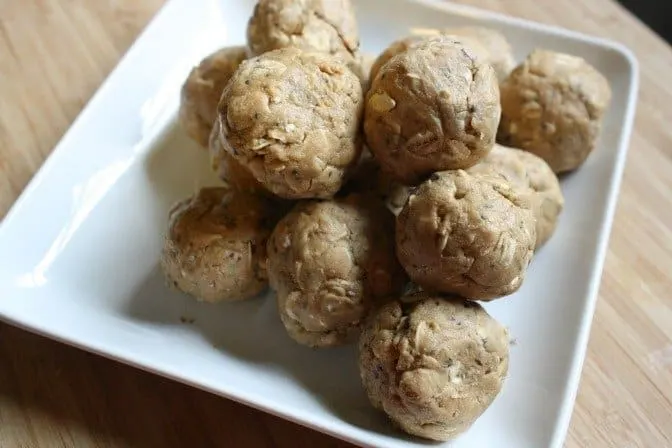 I can't believe how fast April is flying by! We've been busy and I have to say I haven't been cooking a lot. It's been easy things that I can pull together fast or relying on meals I've prepped and stored in the freezer. Speaking of which, I'll be sharing a post next week to fill you in on freezer cooking.
It's part of my real food on a budget series and I have to tell you, this has been revolutionary for me. I have another batch of meals to prep this weekend so I'll be taking you with from beginning to end. Make sure you're following me on Instagram as I post pictures through the process. If you're not on Instagram, don't worry I'll be posting pictures in the post Wednesday too.
In the chaos that has been our life lately, breakfast has been really hard for me to squeeze in. I've never really liked to eat breakfast so it's a stretch for me to get anything in. As weird as this may sound, I also struggle with eating regularly in general.
After having my weight loss surgery, I also lost most of appetite. I have to force myself to eat. It might sound like a great problem to have but I assure you – it's not. My sister always gives me a hard time about not eating and/or drinking protein shakes. I admit if eating doesn't sound good, drinking is even harder.
She shared this recipe with me for protein balls to help me boost the amount of protein I get, and to have something around that I can just pick up and eat when I walk by the fridge. We affectionately refer to them as mommy balls. (It's a long story!) They feel like a snack and with the addition of protein power I can get some extra nutrients too.
Really, these are perfect for anyone who needs a breakfast or snack to grab and go.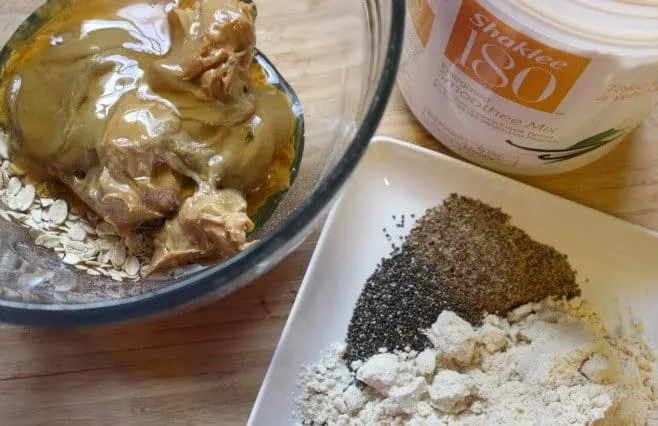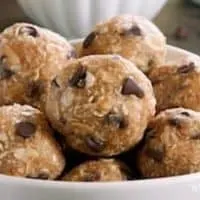 Yield:

16 balls
Peanut Butter Protein Balls
This is a simple recipe to make a snack using protein powder and other simple ingredients.
Ingredients
Protein Ball Ingredients
1 cup protein powder of choice (plain or vanilla works best)
1/2 c quick cook oats
1 Tbsp flax seed meal
1 Tbsp chia seeds
Instructions
In a bowl, mix the PB2 powder with water until a paste is formed. It will look like regular peanut butter
Add to the bowl the nut butter, protein powder, quick cook oats, flax seed meal, chia seeds, and honey.
Mix all of the ingredients together, you can use a spatula but your hands will probably work the best. You may need to adjust the honey and/or add a little water. If it feels too wet, add a little more oats, if it feels to dry add a bit more honey or water.
Roll into balls, whatever size you like.
Notes
You can mix anything you'd like into these. Sometimes I add mini chocolate chips or baby mnm's.
Using this recipe, I rolled 16 balls and each ball has about 5g of protein. Not bad! You could increase the amount of PB2 and decrease the actual nut butter amount to lower the fat content.
The total protein will vary depending on the brands that you use and the size of each. To store, keep in an air tight container or a ziploc bag in the refrigerator. I really love these and I hope you will too!