Mhncha means "snake" in Arabic but there is no snake meat in these cookies. They are named for the shape. Typically this cookie is made in a very large size, enough to feed several dozen people. It's very popular for weddings and other special occasions. A few months ago when I took a cookie class at the Amal Center, we made a smaller version of this popular sweet. They're more manageable than their big "sister" and perfect for serving or gifting during Ramadan.
These are a bit time consuming to make so be sure you have a comfortable work space. You can make your own warka or buy pre-made phyllo dough. I suggest buying phyllo as this is the most difficult and time consuming step.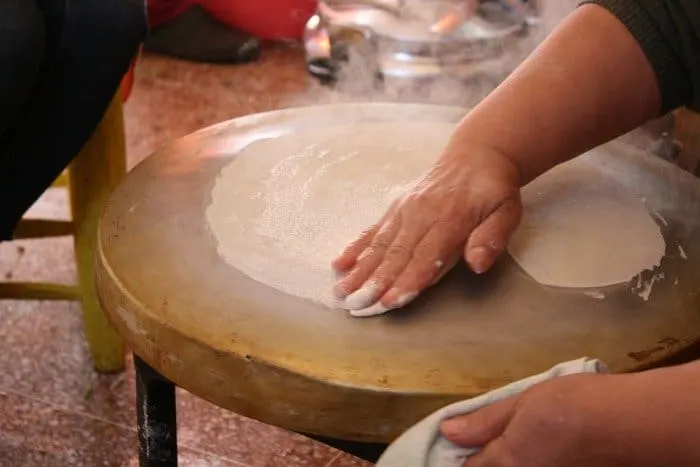 Malika, who showed us how to make Moroccan pastries is an expert warka maker, and believe me this truly is an art. A towa (slightly curved metal pan) is placed over an open flame and is heated until very hot. The warka dough is very wet. Carefully but quickly it is smoothed onto the towa to create a thin, flat sheet of dough. It cooks very quickly. As soon as the edges start to pull up, it's removed from the heat and brushed with oil. It's important that the warka is not cooked completely through as it needs to remain pliable to use.
Want an easier way? Check out my gluten-free version that's cooked in a skillet and applied using a clean paintbrush.
Once the sheets are ready it's time to start making the cookies.
Ingredients
1 kg almond flour
150g butter
250g powdered sugar
1 tsp cinnamon
pinch of grated nutmeg
1/2 tsp orange blossom water
1 package phyllo dough
1 egg (eggwash)
Directions
Mix all of the ingredients together (except for the phyllo) and form into a paste. It shouldn't crumble. If it does, add more butter so that it holds together.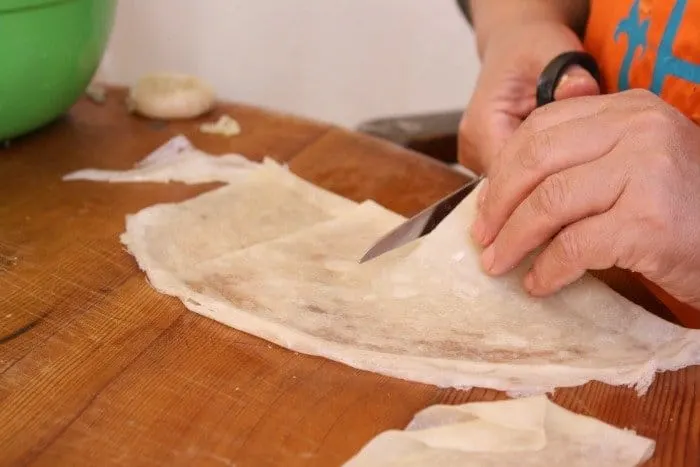 Fold a sheet of warka or phyllo in half and cut into strips about 2 inches wide. You will need to move very quickly once you start to make the cookies so don't cut all of the dough at one time. Cut the sheets as you go so that it doesn't dry out.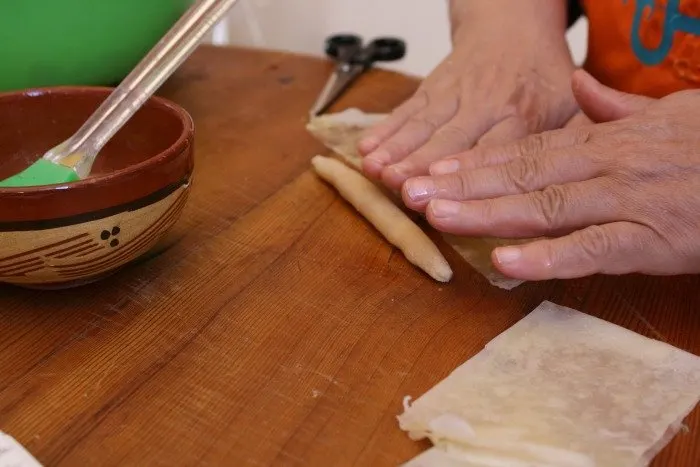 For the cookies, one strip of dough should be enough. Roll a tube of the filling paste so that it is slightly smaller than the warka. You need to have space on the ends of the cookie so that you can seal it properly. Begin by placing the tube of filling at the bottom of the rectangle of warka and tightly (but carefully) wrapping the filling into the warka. Don't pull it so tight that the warka breaks. If it does, discard the warka and start over.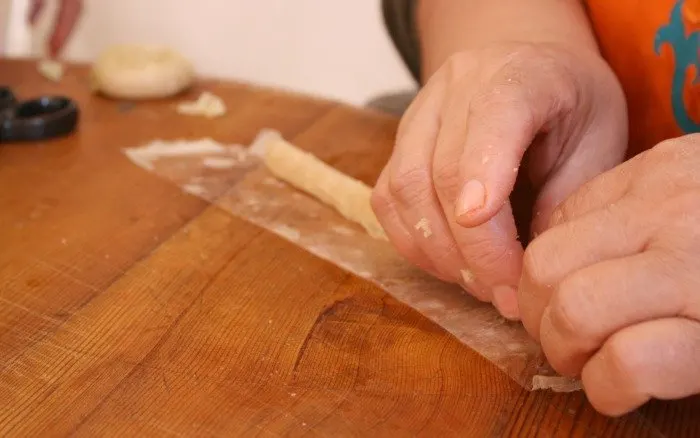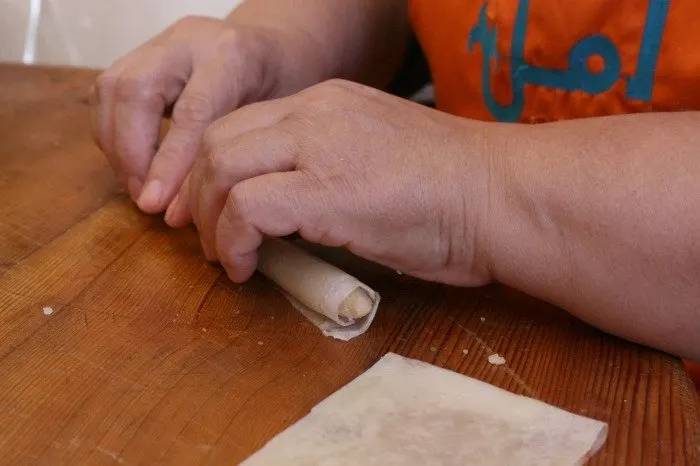 You can see from this picture that the cookies are wrapped securely but there's still a little wiggle room. Once this is done it's time to make the shape. Start with the end that has the least amount of warka hanging over the edge and fold in. Keep winding to form a coil.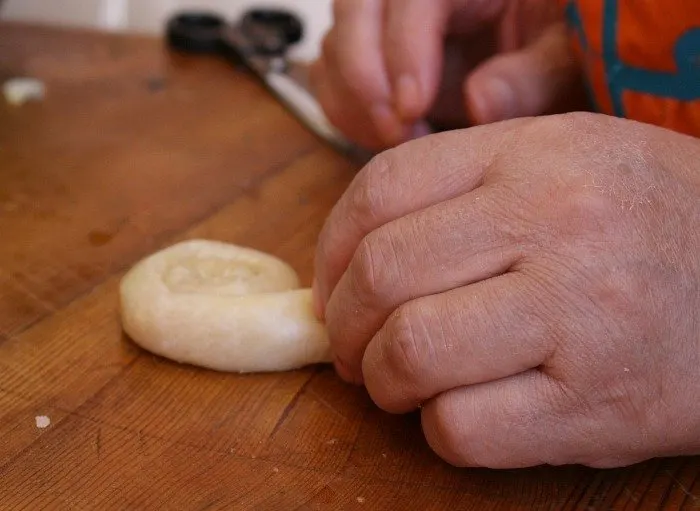 This step also must be done tightly but carefully. The exterior shouldn't crack. If it does, start over. When you reach the end, take the tail of warka and brush onto the cookie with an egg wash to seal. Set onto a baking pan and finish the rest of the cookies.
Preheat oven to 400F. Brush all of the cookies with an eggwash and bake until just golden brown on top, approximately 8-10 minutes. Mhncha can be dusted with powdered sugar and crushed almonds or glazed with a thin layer of honey.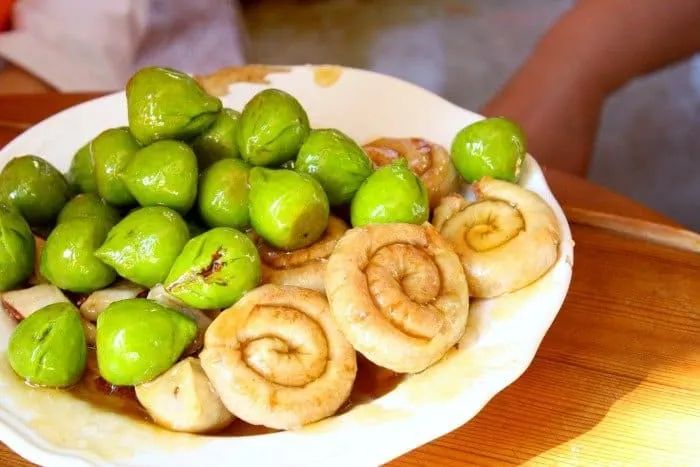 They are delicious warm out of the oven but also good at room temperature. Bss'ha!
Want to make other classic Moroccan cookies?