These cookies are really typical to find in Morocco and I've found they're either something you like or you don't like. Ghriba are a dry cookie, ideal for dunking in a coffee or drinking alongside tea. But, they have a sandy texture that some people just don't like.
I never made authentic ghriba because MarocBaba couldn't eat them (he has celiac disease) so instead I made a few different kinds of ghriba that were similar to the real deal but were all gluten free.
They are not difficult to make, however in Morocco they're made on an inverted half-circle pan. The cookies sort of melt over the circles to form a small indent on the bottom side. You don't have to have this pan but it does help make the shapes. If you can't get to Morocco to get one, I found this pan that should also do the trick though you'll need to make your cookies a bit smaller to fit.
I asked my sister in law if we could make these cookies using a mixer and she insists they need to be kneaded by hand. But, feel free to experiment!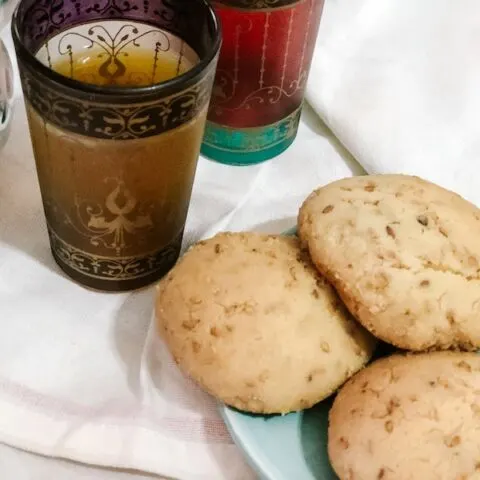 Yield:

50 cookies
Moroccan Ghriba Cookies
Additional Time:
10 minutes
Total Time:
1 hour
5 minutes
A simple cookie that is often served alongside a glass of mint tea in Morocco.
Ingredients
8 cups all purpose flour (1 kg)
2 cups powdered sugar (250g)
1 cup toasted sesame seeds (150 g)
2 tsp salt
1 Tbsp orange blossom water
1 Tbsp baking soda
1 cup unflavored oil (like vegetable oil) - you may need more.
Instructions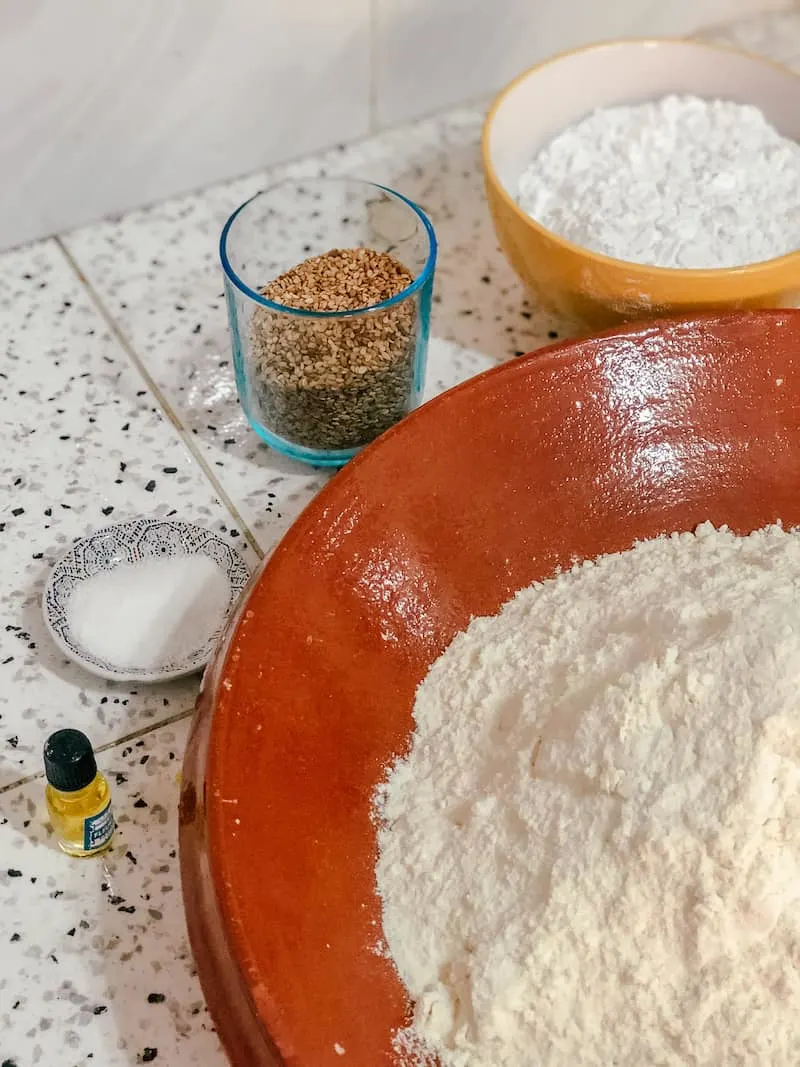 Gather all of your ingredients as well as a very large bowl or use your countertop as a work surface. This will make it a lot easier.
Start by mixing the dry ingredients and forming a well in the middle of the mixture. Pour in the orange blossom water and 1/2 cup oil.
Begin kneading the dough. You truly need to do this part by hand and it will take some time (approximately 10 minutes of kneading.)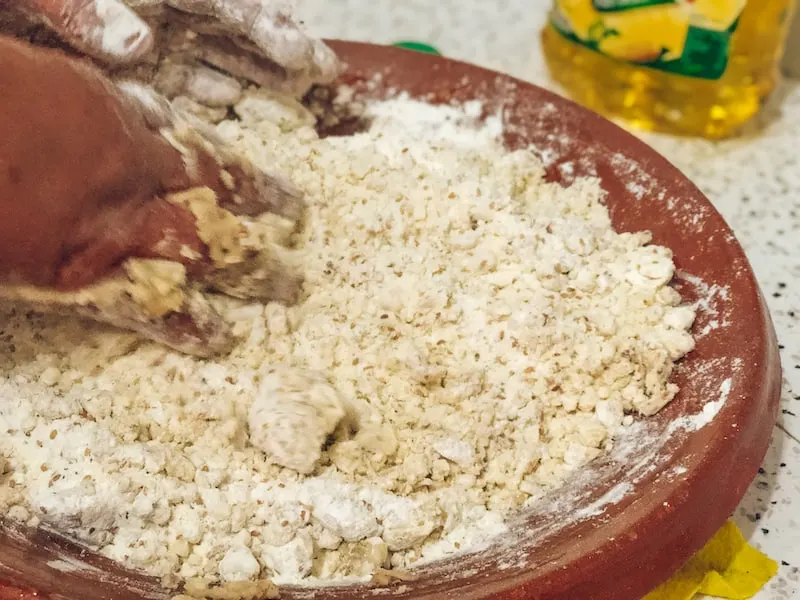 Continue to add oil as you go until the dough sticks together when you press it into a ball. If it is still crumbly add more oil, a little at a time. You want the dough to feel slightly wet and oily to the touch but still be soft.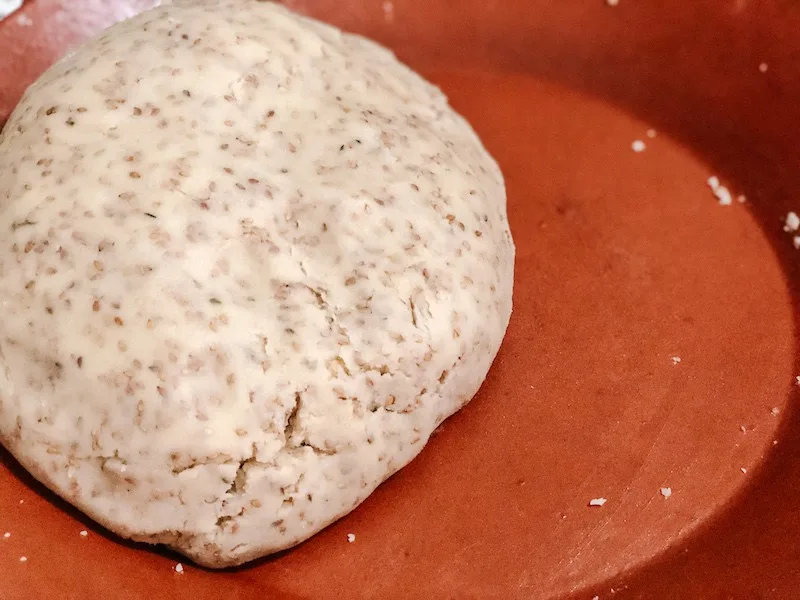 Leave the dough alone to rest for 10-15 minutes.
Meanwhile preheat the oven to 325F (160C). Clean the tray you will be using to bake your cookies and lightly grease to avoid sticking. If you are not using the special cookie, sheet prepare a large baking pan and line with parchment paper.
Once the dough has rested take off pieces about the size of a ping pong ball (about 2 inches or 5cm across) and form into a small disc. The edges should not crack. If they do, re-roll the ball.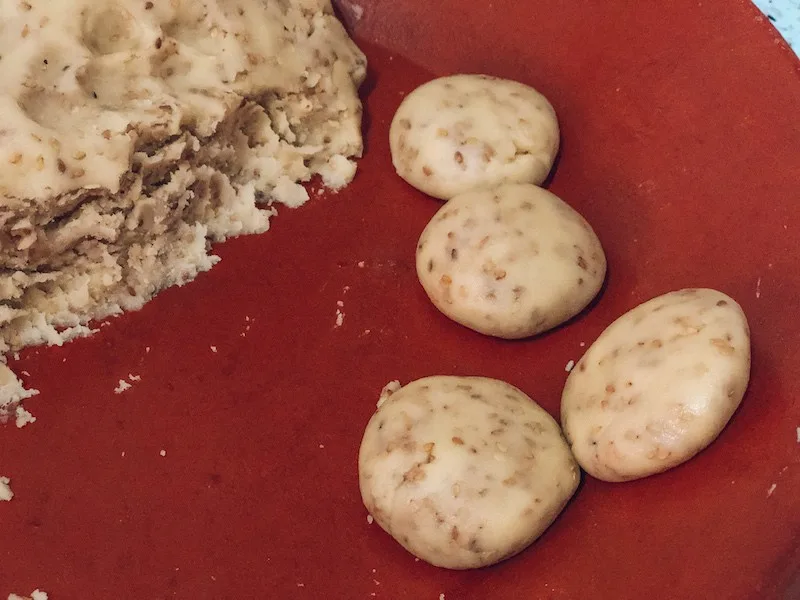 Place the discs onto the baking pan. If using the specialty pan for this the cookies will naturally form around the circle. If using a baking pan you can set them down as they are.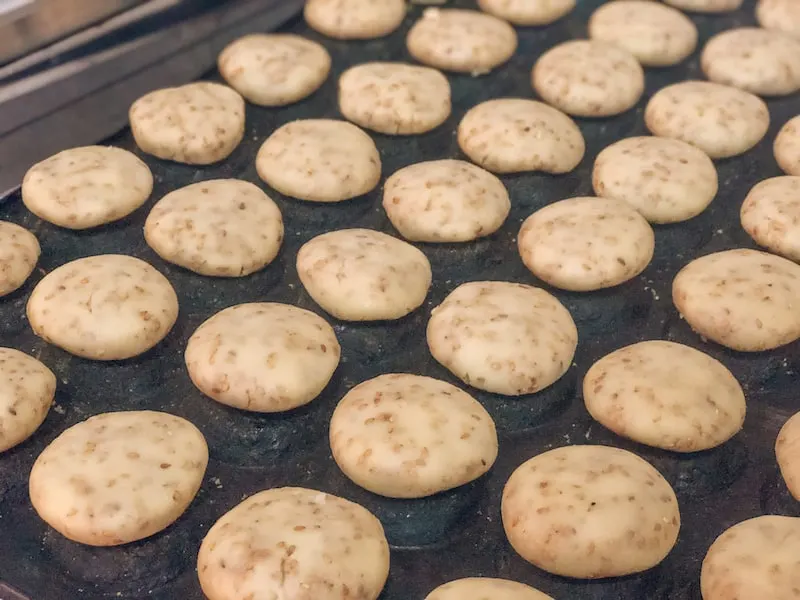 Continue until all of the dough has been used.
Cookies should bake for about 20 minutes but it's important to watch. They should be cooked through but only a very light brown color. The tops will crack, so don't worry if you see this.
After baking remove from the oven and allow to cool 5 minutes and transfer to a cooling rack to complete the cooling process.
Notes
If you don't have orange blossom water it can be omitted. I also think you could add any flavor extract you'd like to get a different but lovely flavor.
Cookies should be stored in an air tight container and can last several weeks. If not using right away I place in the freezer and thaw when needed.
Recommended Products
As an Amazon Associate and member of other affiliate programs, I earn from qualifying purchases.