By now you've probably seen the viral video of the hot chocolate ball with marshmallows inside, that collapses when hot milk is poured on top. All those cute little marshmallows just float right up and a delicious cup of hot cocoa is waiting.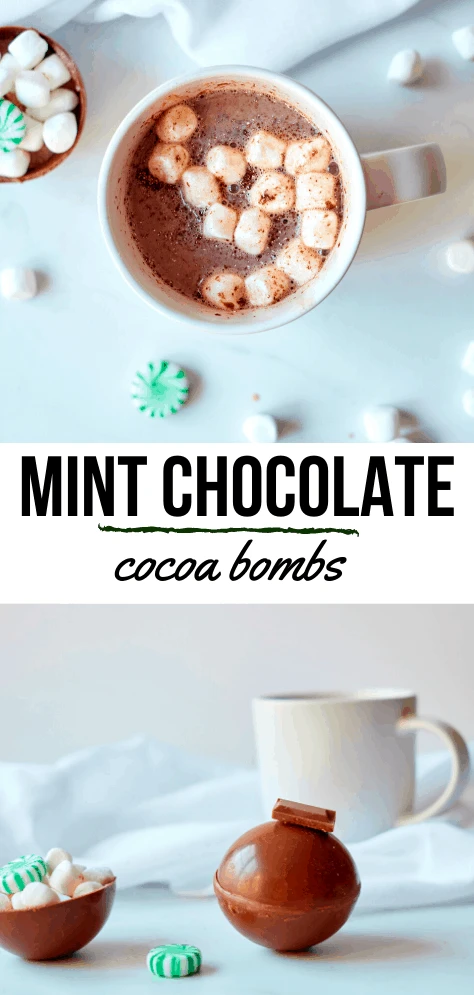 Sure you can pick them up online but they're actually a lot easier to make than you might think. Mint chocolate desserts are seriously my favorite flavor and I think you'll love them too.
What is a hot chocolate bomb?
They're really a very simple way to make hot chocolate. This recipe uses instant hot cocoa mix encased inside a chocolate shell. When hot milk is poured over the ball it melts, breaking apart and letting the interior contents combine with the milk.
You can also use hot water or any other type of nut milk to make your hot chocolate. This is not really any different to normal hot chocolate – it's just delivered in a much more fun way!
Do I need special equipment to make these?
The only thing you really need is a silicone circle mold. These are inexpensive and can be used for other things as well. From there, let your imagination guide you. Start with these but don't be afraid to create with other flavors as well.
I used spearmint candies in these for an added punch of flavor. You can omit or you can add a different type of mint candy (chunks of Ande's Candies anyone??)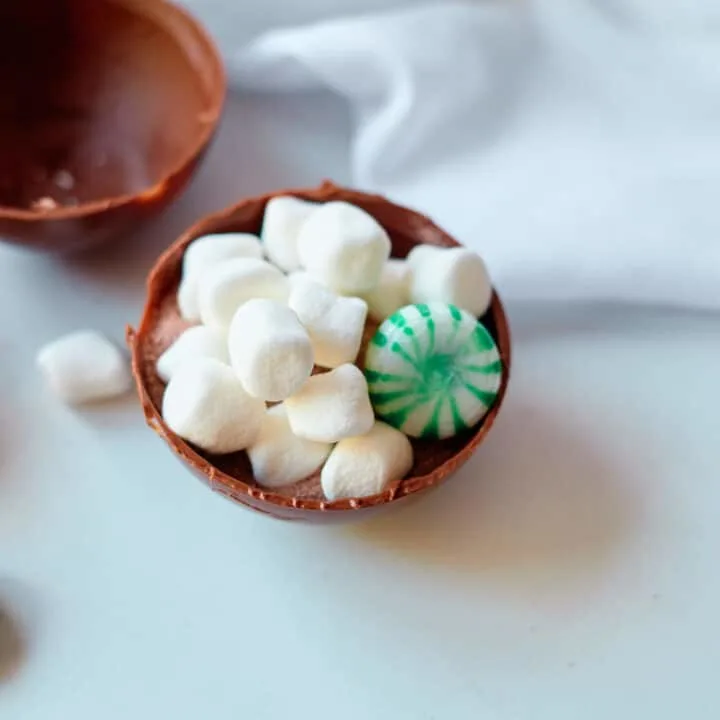 Yield:

6 balls
Mint Hot Chocolate Bombs
Additional Time:
40 minutes
Hot cocoa bombs are hot hot hot this year. You don't have to break the bank buying them when you can easily make them yourself!
Ingredients
2 cups of milk or dark chocolate chips
½ tsp of peppermint extract
6 green mint candies
1 cup of hot chocolate mix
1 cup of mini marshmallows
Instructions
Melt the chocolate chips, extract and stir. Using a spoon or small spatula scoop a small amount into the silicone molds.
Drag the chocolate up the sides and place in the freezer for 10-15
minutes. Try not to spread the chocolate on too thick, but make sure that you get the entire mold covered. Remove and fill in any spots you missed.
Place back into the freezer to set for 5-10 minutes. If the chocolate doesn't seem to be set, place back into the freezer for 5 more minutes.
Remove molds from the freezer. Even out the half circle on a warm pan so that the tops are not ragged.
In one side of the sphere, place in two tbsp of hot chocolate mix top with mini marshmallows. You can "overfill" the sphere a bit. The marshmallows can come up about an inch above the mold.
Place a mint candy on top of the marshmallows.
Warm the other half of the sphere by holding it over a fire or touching to a hot skillet until it melts a bit. The edges should be a bit melty. Place the ball immediately onto the other half of the sphere.
Press gently and hold the sphere there for about 15 seconds so that it can seal.
Place back into the freezer for 5 minutes. If you find that your mold isn't sticking you can run your finger along the sides with some melted chocolate.
When you are ready to use place it in a mug and pour hot milk on top and watch the marshmallows pop out! Stir and enjoy.
Notes
You can save and store these in an air tight bag or container in the refrigerator. They make great gifts!
Recommended Products
As an Amazon Associate and member of other affiliate programs, I earn from qualifying purchases.