Marrakech is an incredibly vibrant city in Morocco. One of the items at the top of people's lists of things to do in Marrakech is visiting the labyrinth lanes of the Medina with the amazing souks and doing a lot of shopping!
Be ready to bargain your way through the souks to get back home with the best souvenirs from Marrakech.
Keep reading to know what to buy in Marrakech and the price range for each item – so you can have an idea of how much you will need to negotiate!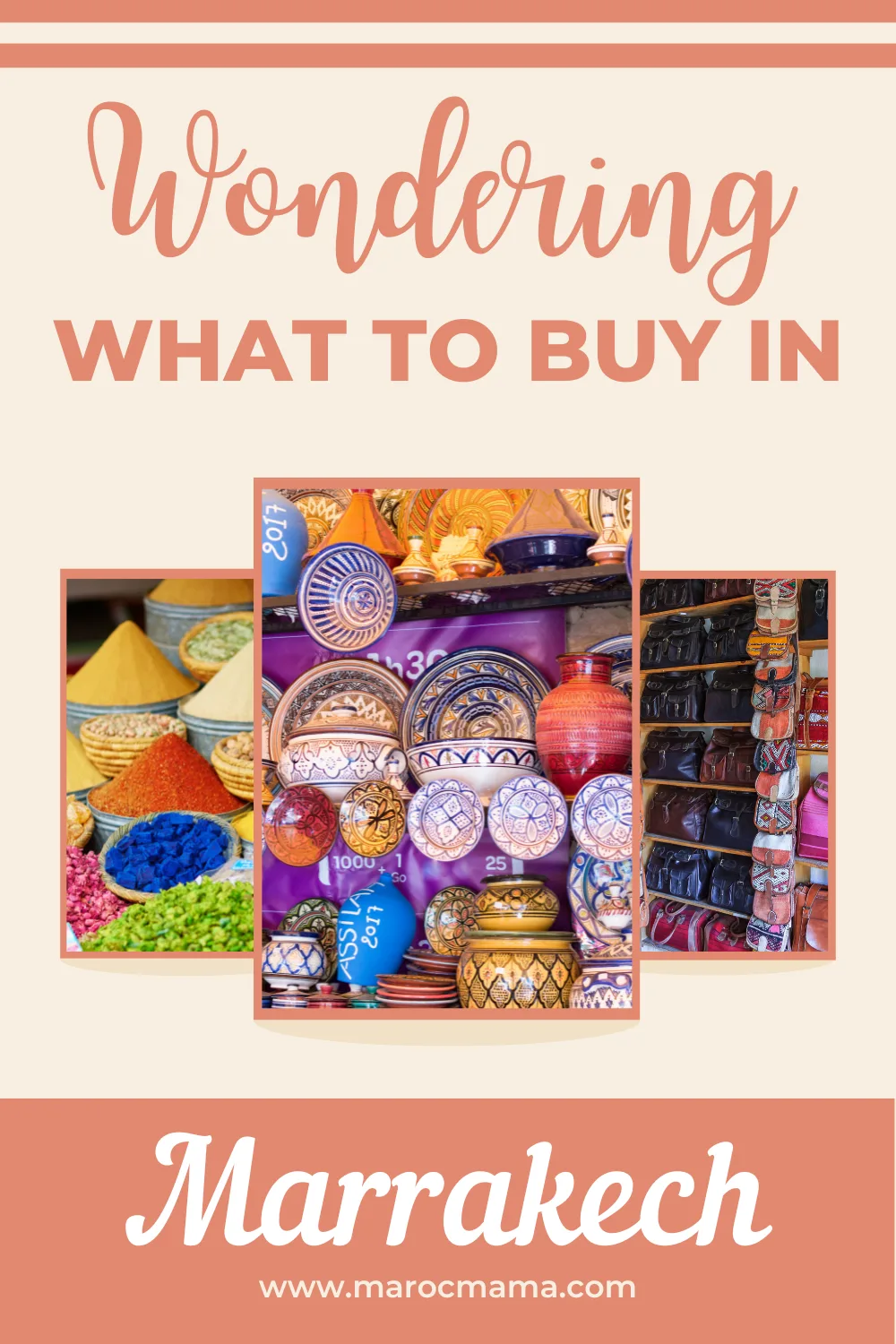 Rugs and carpets
One of the best items you can buy in Morocco is a rug! Moroccan carpets are gorgeous pieces of art traditionally made by Amazigh women. There are dozens of options for carpets, and you can find unique embroideries in Marrakech markets.
One of the best rug shops in Marrakech isn't in the Medina. The Bazar du Sud, a family-run shop founded in 1940, is located in Rue Sidi Ghanem. The shop works with a team of more than 200 artisanal women weavers in the High Atlas Mountains.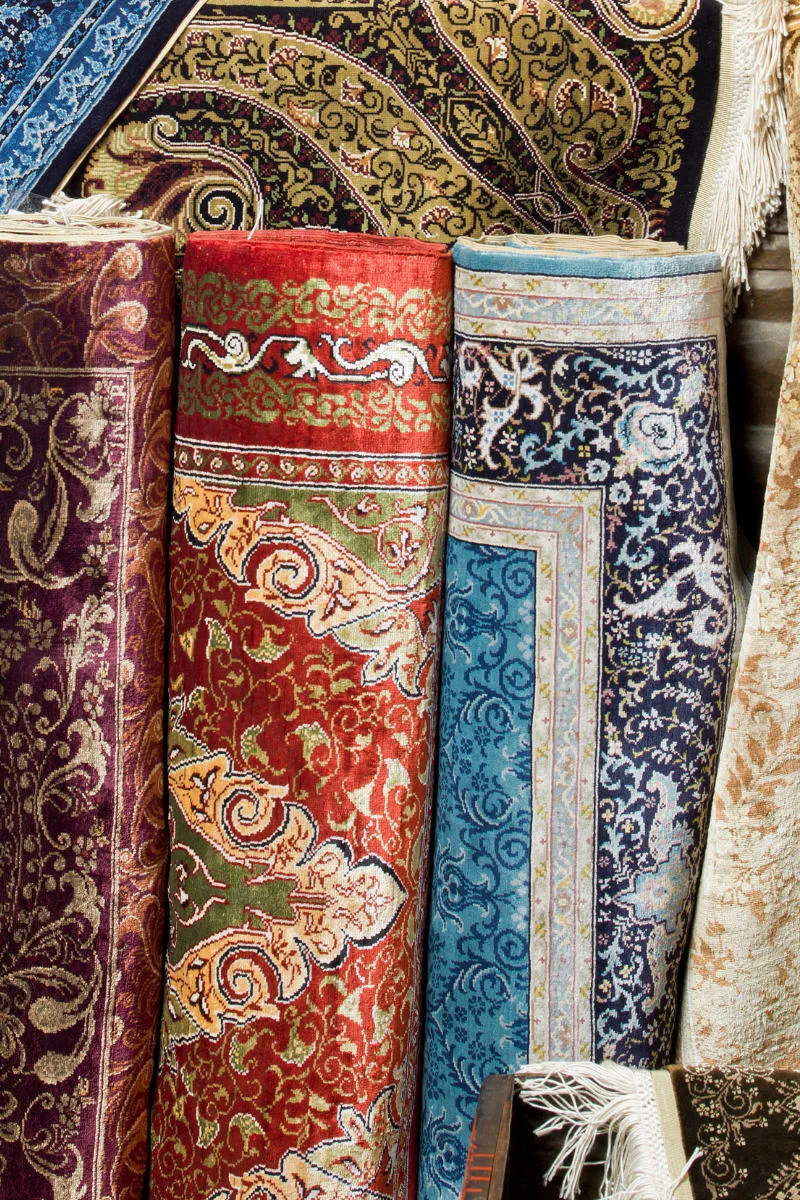 If you prefer to purchase a rug while walking around the Medina, make sure to visit the Souk Zrabia.
Once you have found a carpet you like, be prepared to bargain hard! Prices vary with size, and a 3 x 4-meter carpet typically costs 1500-3500dh, though more ornate carpets can fetch 2-4 times as much.
Lanterns
The first thing you'll notice in Marrakech is the fantastic array of beautiful lanterns you can find everywhere inside the bustling Medina. Lanterns are among the best souvenirs from Marrakech because they will instantly transport you back to Morocco each time you look at them.
Make sure to purchase lanterns in heavier and higher-quality metal as they have greater durability.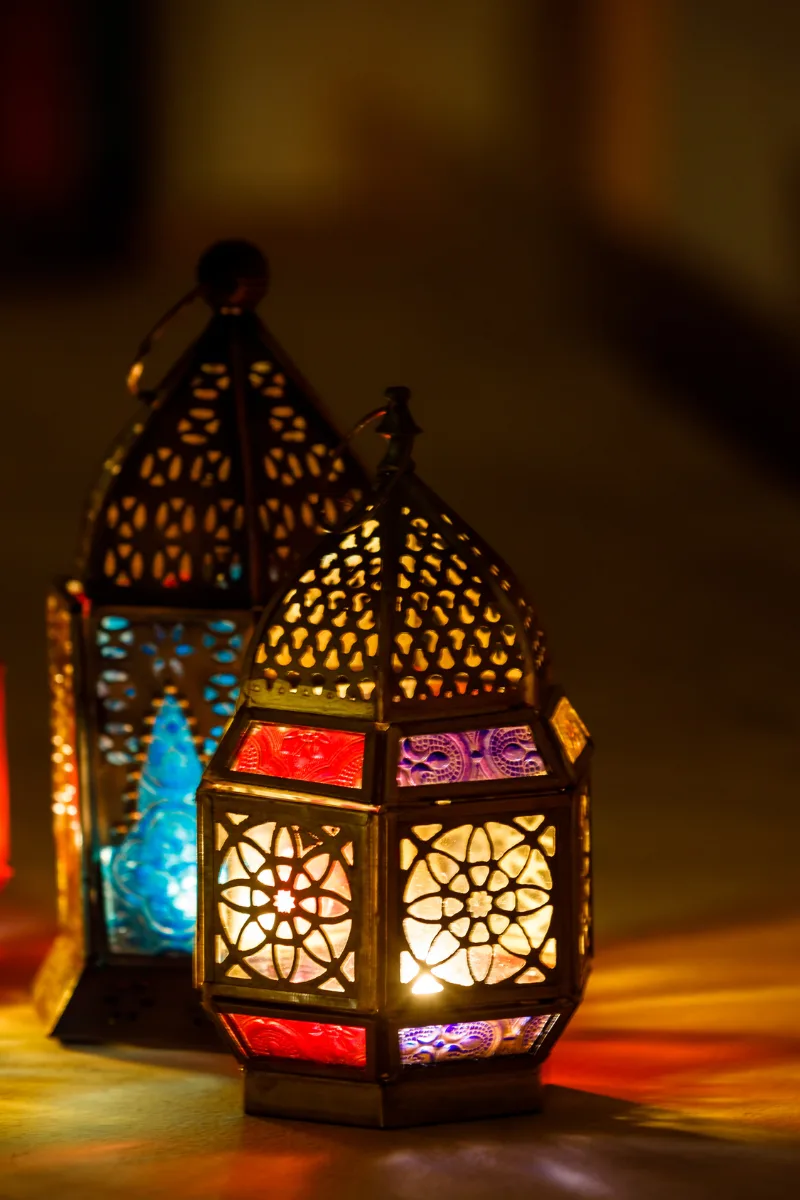 If you want to buy a lantern, head to Souk Haddadine, Marrakech's blacksmiths' souk, an enchanting place with a massive number of ornate lanterns. When buying a lightweight lantern, you can expect to pay 100dh- 500dh (depending on size and craftsmanship). For heavier lanterns, prices start from 300dh for small pieces and go up to 1000-2000dh for larger ones.
Spices
Fragrant aromas and bright colors are what characterize Moroccan spices. Saffron, turmeric, cumin, and ras al hanout are among the best spices you can buy in Marrakech souks. Spices make an inexpensive and easy gift to transport, and you can buy them both whole or ground.
The choices you have when it comes to purchasing spices in Marrakech are endless! Just make sure to avoid shops that appear only to sell to tourists as their products are overpriced.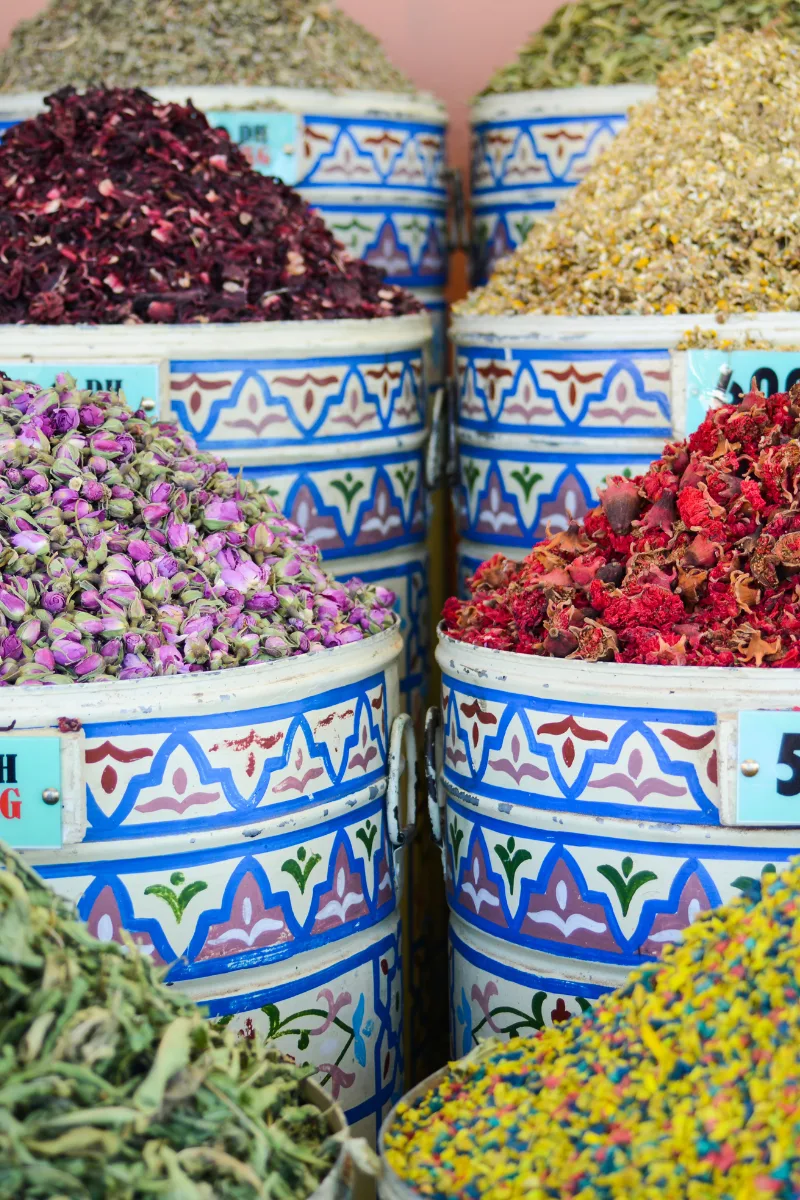 The best locations to buy spices in Marrakech are Rahba Kedima, the apothecaries square surrounded by multi-colored spice stalls, and Souk El Attarine, which used to be the famous spice and perfume souk. Today, only a few stalls remain, but they still sell top-quality spices.
Saffron is the priciest spice, as 1g costs 50-70dh. For Ras al hanout, you will pay 30dh per gram. Cumin, paprika, and turmeric are sold for 20dh, while pepper, ginger, and cinnamon are for 15dh. Lastly, dry mint can be bought for 10dh for 1g.
Ceramics
If you are wondering what else to buy in Marrakech, you cannot miss handmade ceramics! Plates, tajine dishes, bowls, and candleholders in bright colors and different styles are everywhere in Marrakech markets. Each item of ceramics is hand-decorated by a craftsman.
Make sure to ask the vendor to wrap the ceramic you have bought so you can bring it home without damage.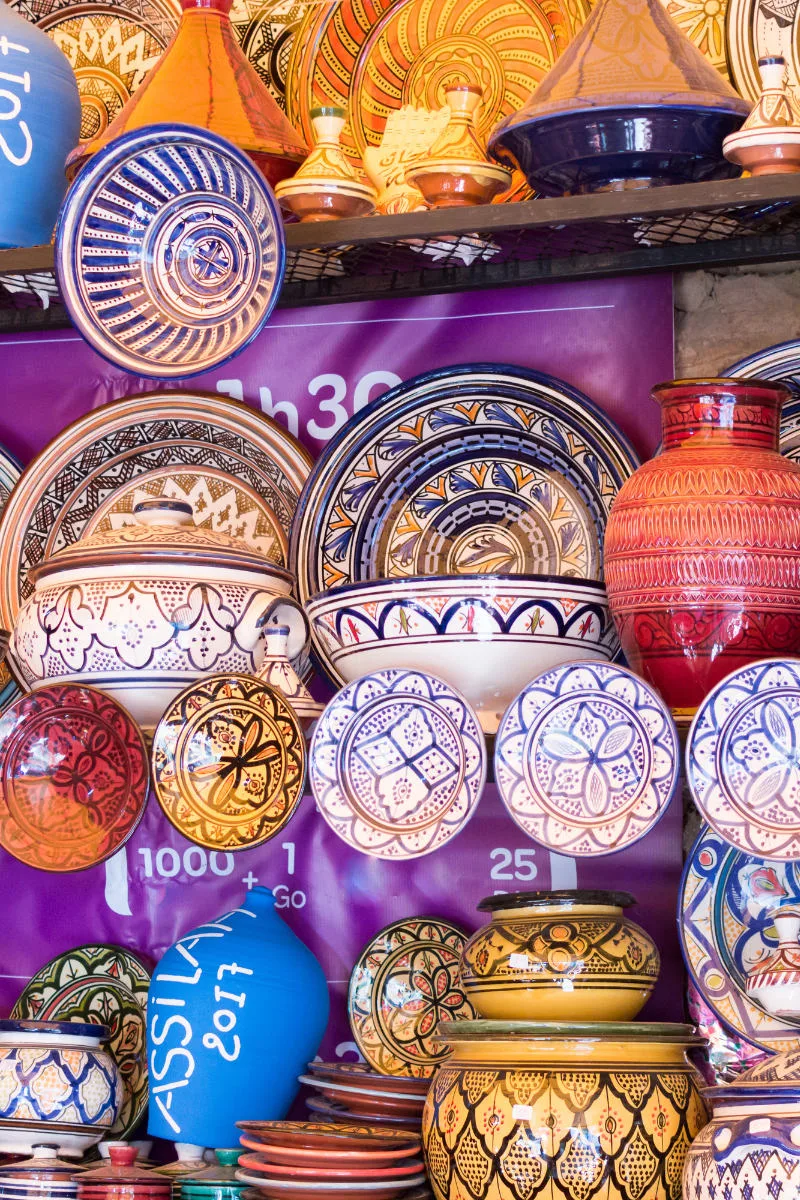 The best place to buy ceramics in Marrakech is Souk Fekharine.
Small items can cost as little as 20dh, while for larger pieces, you can expect to pay up to 200-300dh. The price for a Moroccan tajine, without decoration, ranges from 20dh to 100dh, depending on size.
Leather
Another great souvenir from Marrakech is leather products. Leather is used to make any number of items, from bags to boots. You will find many different qualities of leather made with different types of skin, including camel and goat.
To buy a leather piece, you can either go to a shop that only sells leather or to a workshop making leather goods, which will likely offer the best prices.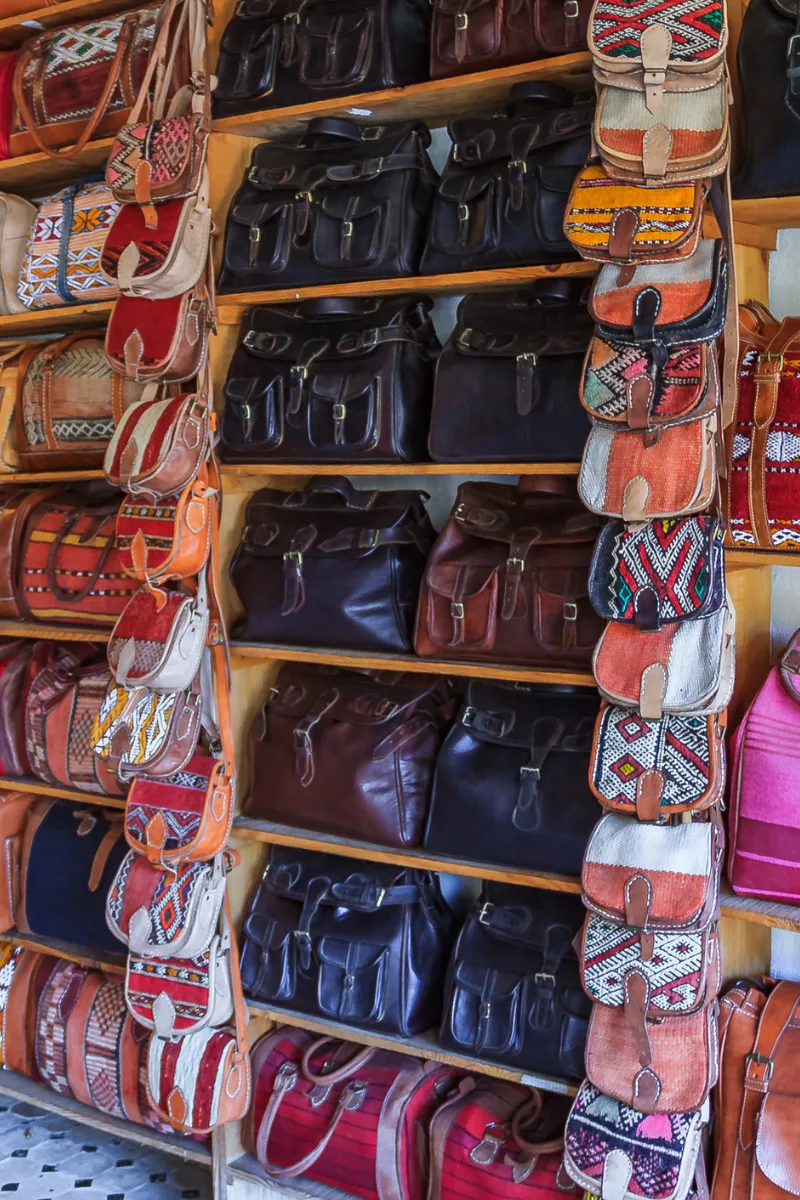 If you want to bring home something really special, you can ask for a custom-made item. The best souks for buying lather in Marrakech are Souk Btana and Souk Cherratin.
The price of the leather products depends on the type of leather, the quality of the work, and the item itself. So you can end up spending from 500dh for a medium bag up to 2500dh for a leather jacket.
Musical Instruments
Marrakech is a great place in Morocco to buy traditional musical instruments. In shops and markets, you'll find both Arab and indigenous-inspired instruments.
You can purchase drums, rababs (fiddles), qanuns (zithers), taarijas (tambourines), and ouds (the traditional Arabic guitars). They all make fantastic souvenirs!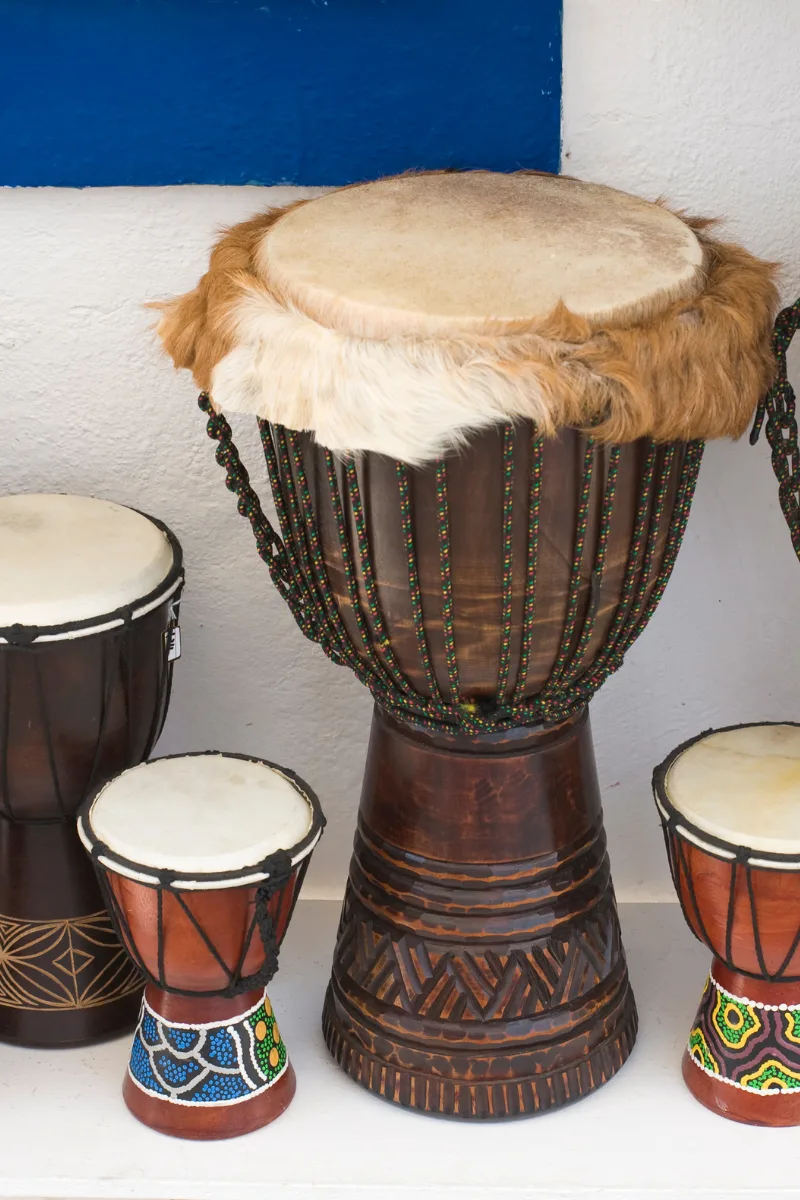 To buy a musical instrument in Marrakech, head to the melodic Souk Kimakhnine, known for producing traditional Maghrebi musical instruments.
Prices vary depending on the instrument type and the object's quality and age. A small drum will cost you about 100dh.
Argan
A very special item to buy in Marrakech is argan, a plant grown in Morocco's southern regions. There are two types of argan: cosmetic and culinary, so you need to be careful when purchasing it as cosmetic argan has an unpleasantly bitter taste. True argan oil is thick and golden-yellow and has a distinct smell of nuts.
As argan is made only in Morocco, it's one of the best souvenirs from Marrakech to bring home with you!
The best shop to buy argan oil is Assouss Argan, located in the heart of Marrakech's Medina. In this store, you can find argan oil for both cosmetic and culinary use.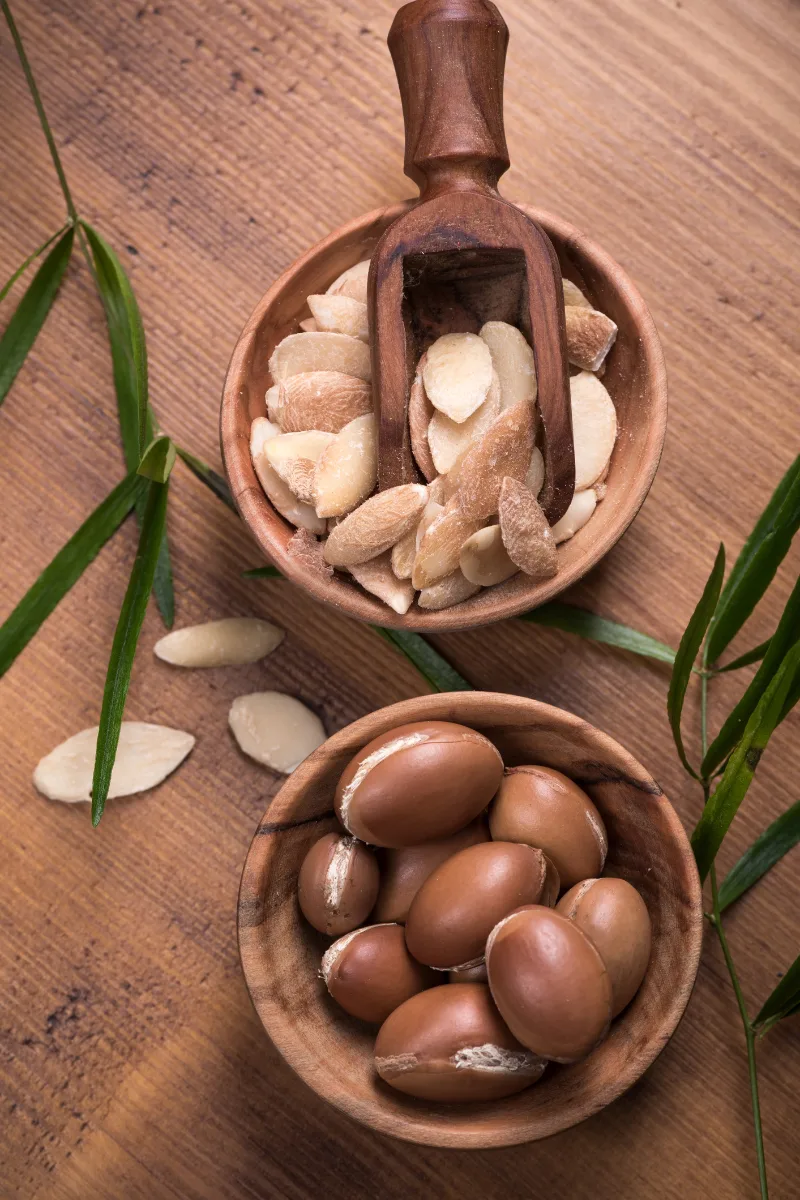 As for the price, it varies widely depending on argan production that year. For 100mL of cosmetic oil, you will pay from 50 to 150dh. Culinary argan is a little more expensive.
After a fun-filled, shopping weekend in Marrakech, you'll definitely want to show off your purchases back home. Whether you're hitting up the shops with an idea of what you're looking for or amassing goodies on a whim, visiting Marrakech is sure to yield souvenirs you will love for years.