This turkey breast roast is an absolute flavor bomb filled with Mediterranean and Moroccan flavors. Every year I make a "Moroccan Thanksgiving" dinner for my in-laws. It's one of my favorite food holidays and I really look forward to it. But, every year I adjust and make changes. I can't get all the ingredients, and my in-laws frankly prefer the flavors they're used to. Hence the inspiration for this recipe.
A tender and juicy turkey breast slowly roasted in the oven, filled with Mediterranean flavors like saffron, cumin, cloves, thyme, and bay leaves, with Moroccan touches like the delicious spice mix ras el hanout and the most incredible freshness added with fresh mint and cilantro. It's then served with a beautifully bright yellow sauce made of roasted garlic and saffron.
Don't get overwhelmed by the number of ingredients. As it's a roast is extremely easy to make, and it's one of those meals that look and taste very complex but are really easy to make. It's all about putting all the ingredients together and letting the oven do the work for you.
This turkey roast is inspired by the Mediterranean and Moroccan flavors and is all well combined in a symphony that sings of delicious memories shared over a table, with good company and conversations.
Because there's nothing more Mediterranean than sharing a good conversation over a feast of delicious plates after all!
WHAT IS RAS EL HANOUT?
In case you are wondering, ras el hanout is a lovely mixture of spices traditional from Morocco.
It has many different variations and different possibilities. Its name means "the best from the store", so it is a mixture of the "best spices".
Usually is made of spices like cumin, cardamom, ginger, turmeric, cilantro, pepper, cloves, nutmeg, cinnamon, cayenne pepper, paprika, and fennel seeds.
It can be used in many different dishes, from meat to fish dishes. If you cannot find a jar of this delicious spice mix you can do it yourself with said spices in powder.
You can buy ras al hanout or try making your own (find my recipe here)
INGREDIENTS NEEDED FOR THE ROASTED MEDITERRANEAN TURKEY BREAST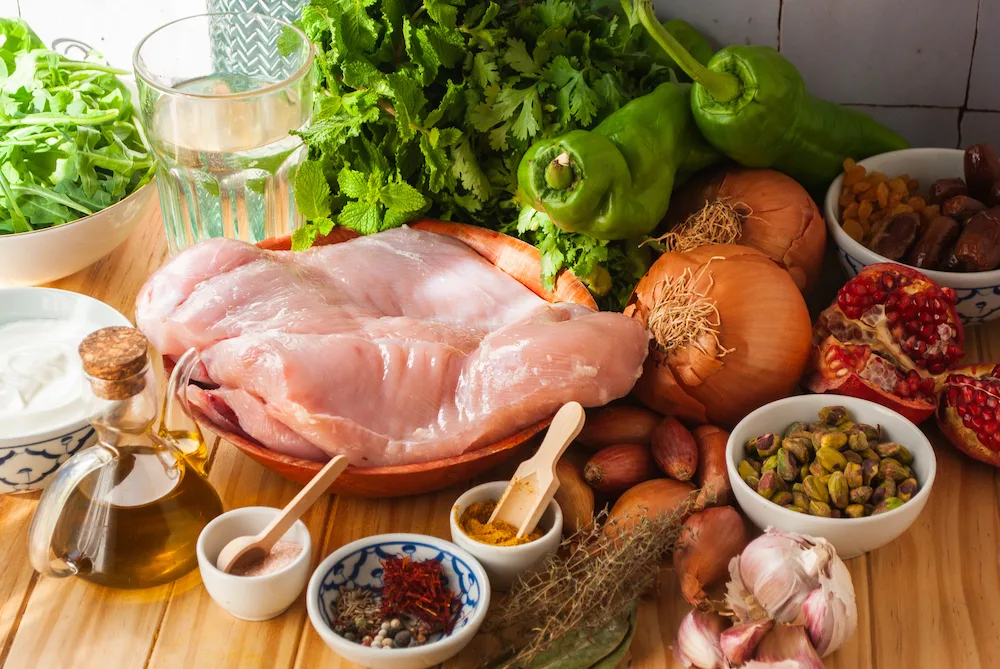 To create this incredibly delicious and wholesome turkey roast you are going to need a few ingredients, but, believe me, is going to be well worth it
Half turkey breast (deboned and without the skin)You can use half of the turkey breast or the entire breast (both sides), depending on how many people this recipe might be for. In this recipe I'm using only half, so have it mind to double the quantities of the rest of the ingredients as well when using a whole piece.
2 yellow onions: Feel free to use white young and sweet onions or red onions instead. It could be made as well with leeks.
4-5 shallots: Shallots are a lovely type of onions and have a very interesting profile flavor that is in between onion and garlic. Skip them if you don't have them, but in my opinion, they add depth to the flavor.
4 garlic cloves: A total must in Mediterranean cuisine, do I need to say more? Haha! Seriously, they add a kick of flavor that it's just much needed.
1 cup of pitted dates: A great ingredient to use in Moroccan and Middle Eastern dishes. They are great to add sweetness and a delicious creaminess. If you cannot find dates you can use dried prunes or raisins as well.
½ cup golden raisins: For the same reasons as the dates. I've chosen golden raisins because I love the contrast in color, but feel free to use regular brown raisins.
4 sprigs of thyme or 3 teaspoons of dried thyme: A lovely touch of Mediterranean flavor. If you don't have it in sprigs, feel free to use dried.
2 bay leaves: Like thyme, bay leaves are a must-have in the Mediterranean and Middle Eastern cuisines. A staple in the kitchen.
1 cup of fresh peppermint (stems discarded): Speaking of must-have ingredients in Moroccan and Middle Eastern dishes, fresh peppermint is used from drinks to roasts. It adds freshness and brightness to any dish.
½ cup of fresh cilantro (stems discarded): Cilantro is not only used in Mexican food or southeast Asian foods but also used in Moroccan cuisine. Like peppermint, it adds a touch of freshness that will brighten up the dish.
3 tablespoons of ras el hanout: A very versatile and well-loved mix of spices in Moroccan cuisine
1 ½ teaspoon salt (or to taste)
4 cloves
½ teaspoon cumin seeds
½ teaspoon black peppercorns
2 teaspoon salt
3 tablespoons olive oil: Another must-have ingredient in Mediterranean cuisine, preferably to use good quality olive oil, virgin or extra virgin if possible.
2-glasses of white wine: In order to achieve a juicy turkey breast, is best to have it roasting in a mixture of either wine and water or wine and vegetable stock. If you don't want to use wine, substitute it with more water or more vegetable stock.
2 glasses of water: For the same reason as the white wine, you can substitute it with good vegetable stock best unsalted or low in sodium, so you can control the final saltiness of the dish.
Pistachios: Chopped pistachios (roasted or raw) for garnish and extra crunch.
Pomegranate seeds: For garnish, color, and sweetness.
Arugula and watercress: To serve the final roast over a bed of fresh greens.
For the saffron and roasted garlic yogurt sauce:
Saffron (about 1 teaspoon powdered saffron/2 teaspoons strands: A very special spice that adds a floral and subtle earthy taste to any dish, and of course a lovely golden color. If you cannot find it you can substitute it with turmeric, it won't be the same but it will be good as well and you'll achieve the same color effect. In the case of using turmeric, use only ½ teaspoon.
The roasted garlic
Olive oil
Salt and pepper.
Plain yogurt: Preferably greek, since it's very rich and creamy. Of course, unsweetened and unflavored.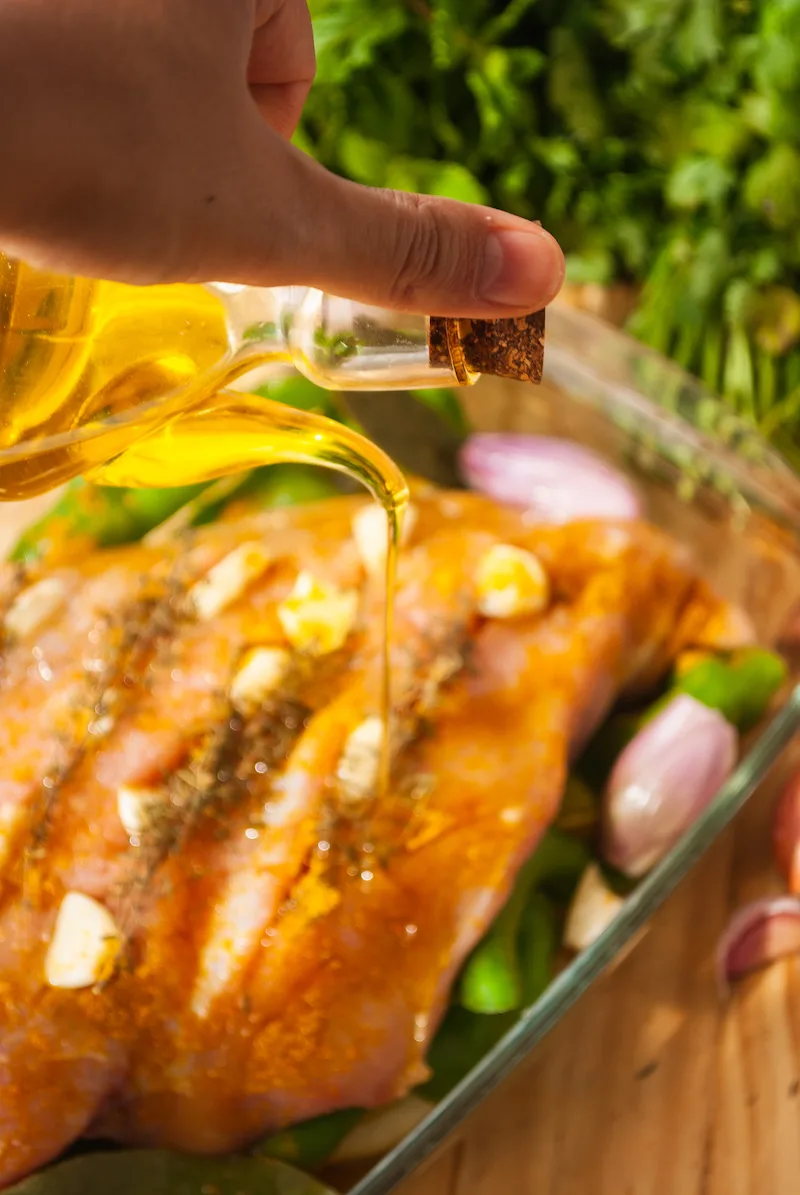 USEFUL TOOLS TO HAVE ON HAND
To make this delicious turkey breast roast, you might need :
2 oven racks.
A big and deep backing tray
A smaller baking tray
A knife
A cutting board
Oven
Mortar and pestle
A small pan
Measuring spoons and cups
A sauce spoon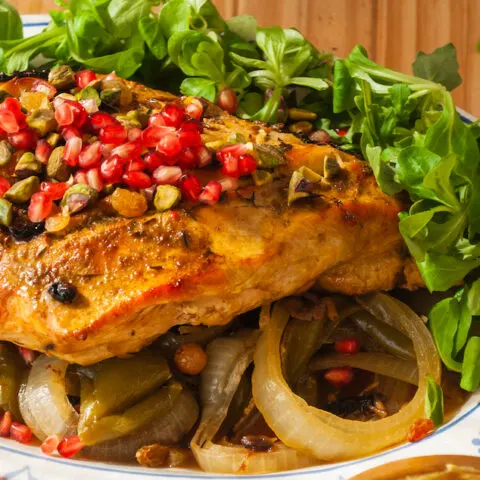 Yield:

4 servings
Roasted Mediterranean Turkey Breast with Saffron Yogurt Sauce
Cook Time:
1 hour
30 minutes
Total Time:
1 hour
45 minutes
A simple roast turkey that brings together the flavors of the Mediterrnean in a bright, bold way!
Ingredients
Half turkey breast (deboned and without the skin)
2 yellow onions
4-5 shallots
5 garlic cloves
2-3 green peppers
1 cup of pitted dates
½ cup golden raisins
4 sprigs of thyme or3 teaspoons of dried thyme
2 bay leaves
3 tablespoons olive oil
1 cup fresh peppermint (stems discarded)
½ cup of cilantro (stems discarded)
Around 3 tablespoons olive oil
2 teaspoon salt (or to taste)
4 cloves
½ teaspoon cumin
½ teaspoon black peppercorns
2-glasses of white wine
2 glasses of water
Around ½ Pistachios
Around ½ Pomegranate seeds
4 cups Arugula and watercress
For the saffron and roasted garlic yogourt sauce:
1 teaspoon Saffron powder or two teaspoons worth of saffron strands.
The roasted garlic cloves that were used previously.
Olive oil
Salt and pepper.
Instructions
Preheat the oven to 180ºC/ 350ºF
While the oven is heating prep the veggies as follows and set them aside:
- Peel the onions and cut them into rings.
- Peel the shallots.
- Peel the garlic cloves and cut them in half.
- Wash the green peppers and cut them in half removing the seeds.
- Pit and chop the dates.
On a baking tray put the green peppers, the onion rings, and the shallots as a bed for the turkey breast, as well as some of the peppermint and cilantro. Sprinkle some salt and pepper over them.
Make three cuts onto the turkey breast and put it in the baking tray.
Stuff the cuts with the garlic cloves, thyme sprigs and sprinkle the rest of the peppermint and cilantro.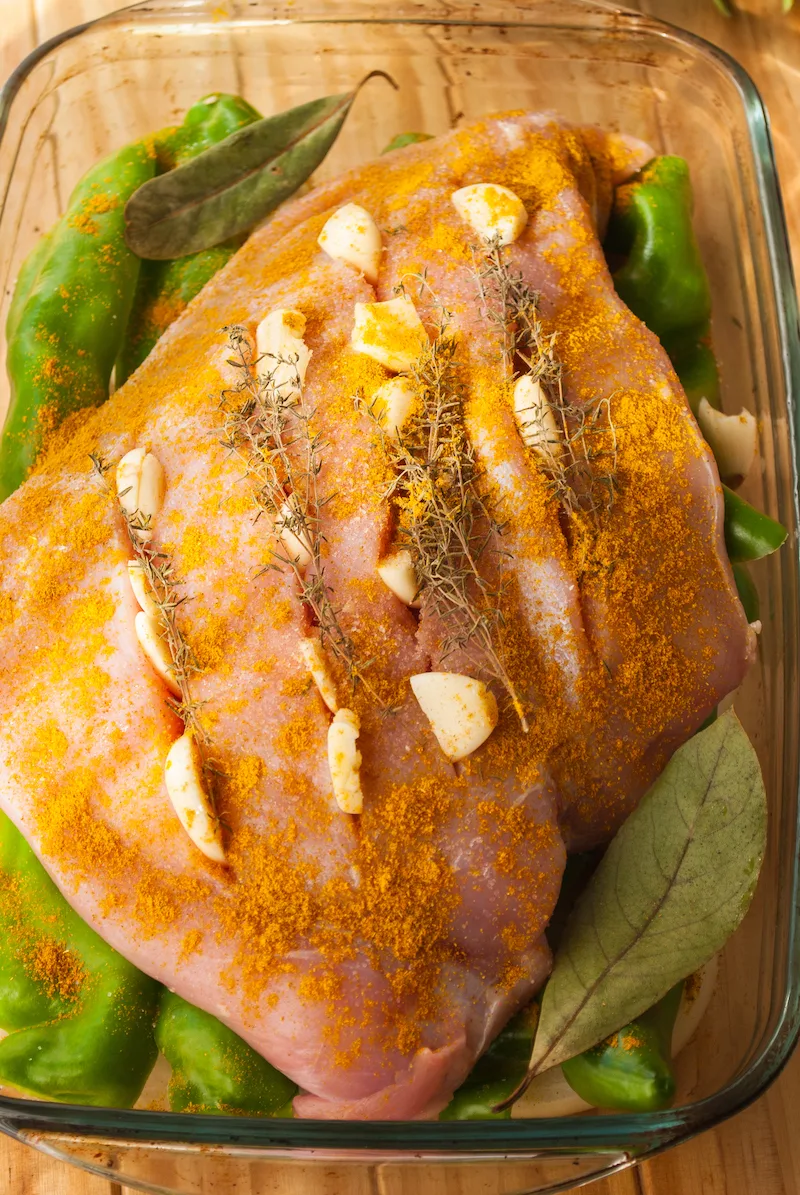 Sprinkle the Ras el hanout and salt on top of everything.
Drizzle well with olive oil.
Add the bay leaves, cloves, and cumin seeds.
Drizzle the golden raisins and chopped dates all over the baking tray.
Pour the wine and water until at least half of the turkey breast is covered, ideally ¾ (depending on how deep is your baking tray you'll need more liquid or less)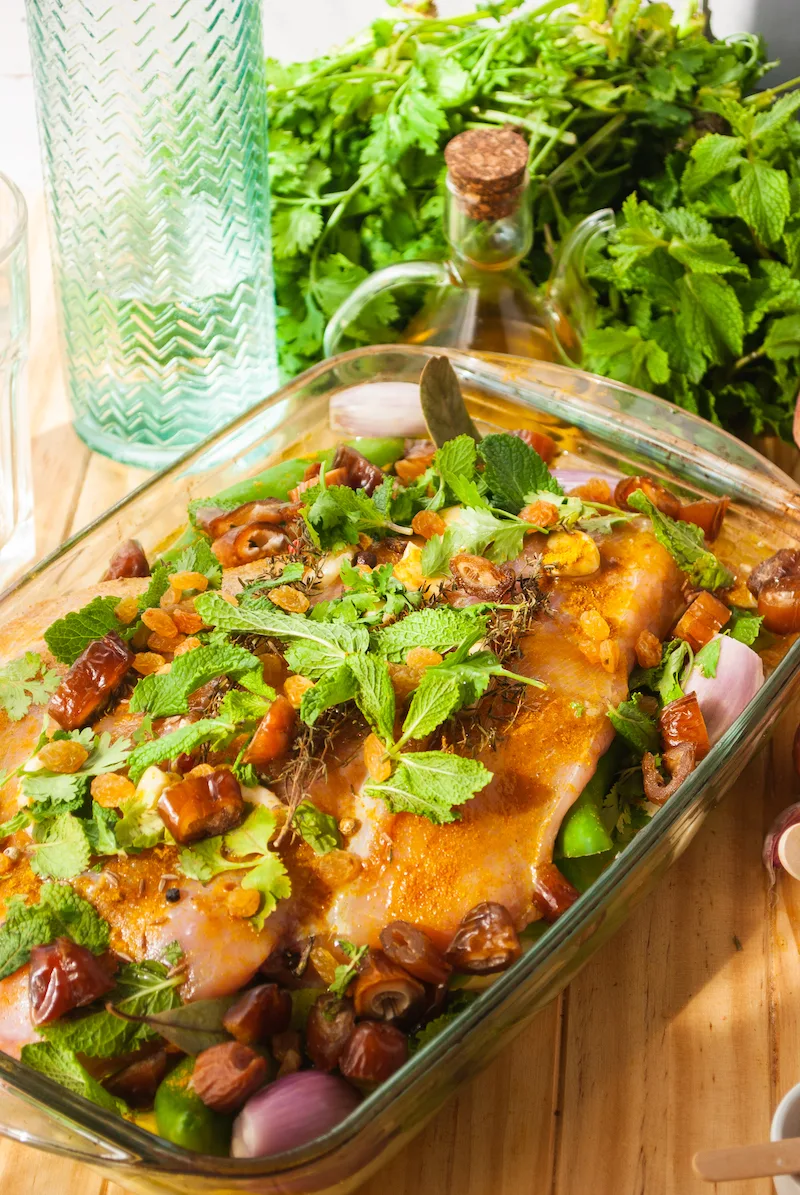 Bring it to the oven and let roast for 1 1/2 hours at 160º or 320F.
On a second oven rack put the smaller baking tray with water, this water will be evaporated with the heat into the oven, helping to prevent the turkey breast from getting dry.
Every half an hour or so, with a sauce spoon, drizzle some of the whine, water an and spices mix on top of the turkey breast.
Once the turkey breast is golden and done, take it out of the oven.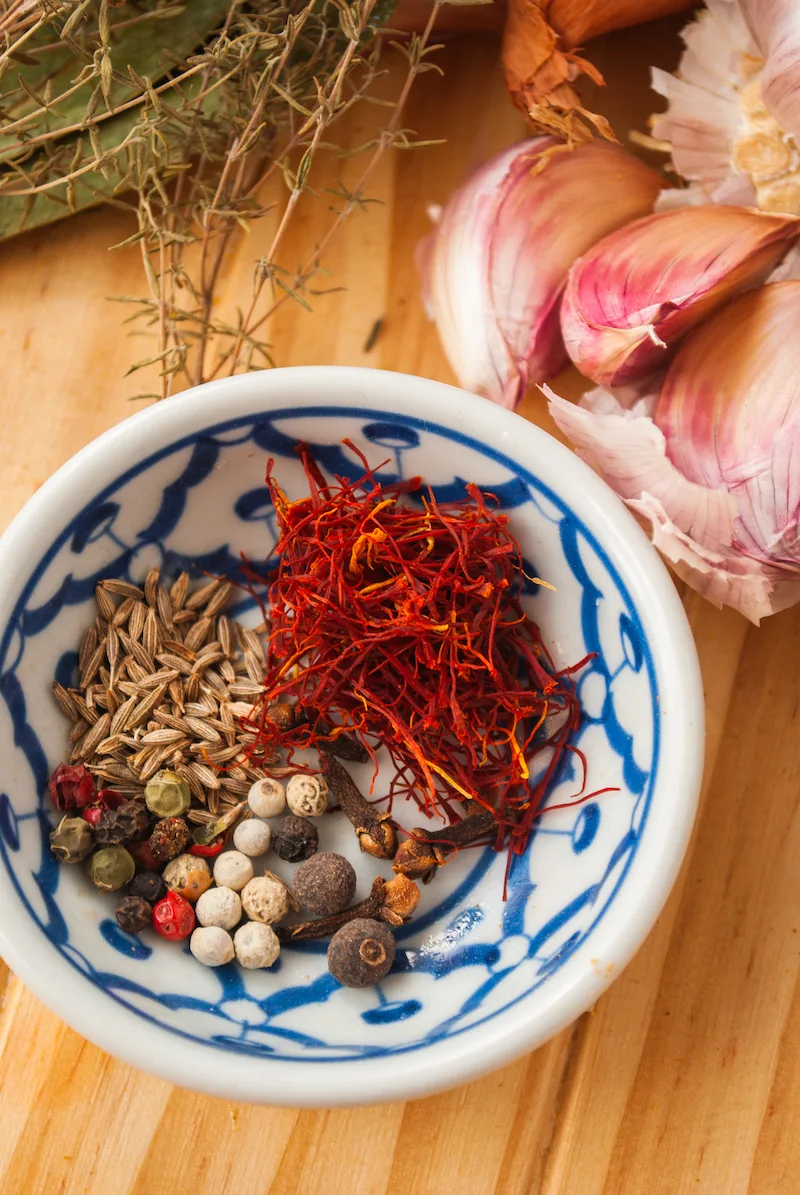 For the saffron yogurt sauce
Put a small pan on low heat and put the saffron threads to roast for a minute or so, constantly moving them around so they don't burn. Be very careful with this step. Once roasted, set aside.
On a mortar, add the roasted garlic cloves and the toasted saffron threads.
Add a pinch of salt and a small drizzle of olive oil and pestle everything until you get a fine paste.
In a bowl or in the mortar add the yogurt and mix with the garlic- saffron mixture.
Mix well until everything is well combined, taste and adjust salt or olive oil.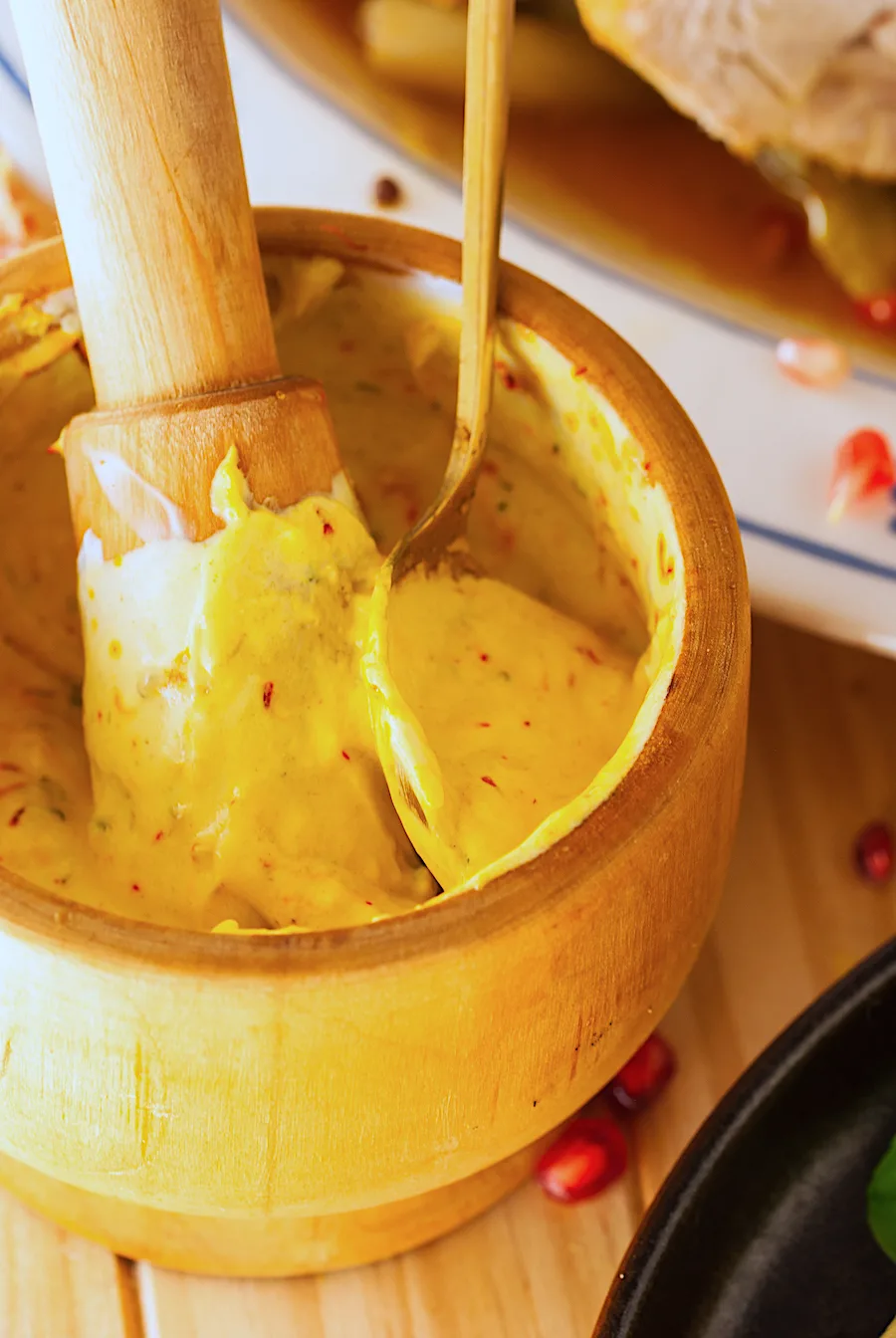 To serve the turkey breast:
On a big serving dish put the roasted green peppers, onions, and shallots as a base.
Put the roasted turkey breast on top removing any charred peppermint and cilantro leaves it might have.
Add the arugula and watercress on the side and drizzle with olive oil and a pinch of salt.
Garnish with chopped pistachios and some pomegranate seeds.
Serve with the saffron yogurt sauce on the side.
Notes
To serve it on each plate, cut the turkey breast in slices, with some of the roasted green peppers and onions and some of the arugula and watercress, sprinkle more pistachios, and pomegranate seeds, and enjoy!
The turkey breast can be stored for up to 5 days on an airtight container in the freezer. The roasted garlic and saffron sauce might need to be consumed at a maximum of 3 days.
Why toasting the saffron threads?
Toasting the saffron threads makes them release and amplify their flavor. In case you have saffron powder instead of threads, toasted on very low heat for only 20 seconds, moving it constantly with a spoon.