One of the special Moroccan desserts you can be served is mhncha. It's essentially a giant pastry cookie. The outside is made with warka pastry – a thicker version of phyllo. The interior is stuffed full of an almond paste similar to marzipan. It's coiled up and baked, then drizzled with honey. You'll find this served at parties or if you've been invited as a guest to someone's home. It's definitely not an everyday dessert.
This is not that mhncha. This is more like a savory dessert though if you added a honey drizzle over the top it would be a really delicious contrast! You could also easily serve it as a starter or appetizer. If you're planning a Moroccan Thanksgiving celebration, this would be a great addition!
Mhncha are never made with pumpkin, nor are they savory but that doesn't mean they couldn't be!
When fall rolls around I immediately dream of pumpkin patches and apple orchards. Maybe it's the Midwest in me but those things mean fall. So, why couldn't I add a savory pumpkin filling to make a savory mhncha? Guess what? It works!
This mhncha is all the things I love about fall + Morocco rolled into a single pastry. You can make them as one large pastry or smaller individual items. The choice is totally yours. Because the filling is cooked before you add it to the pastry, you only need to cook it long enough to brown the pastry.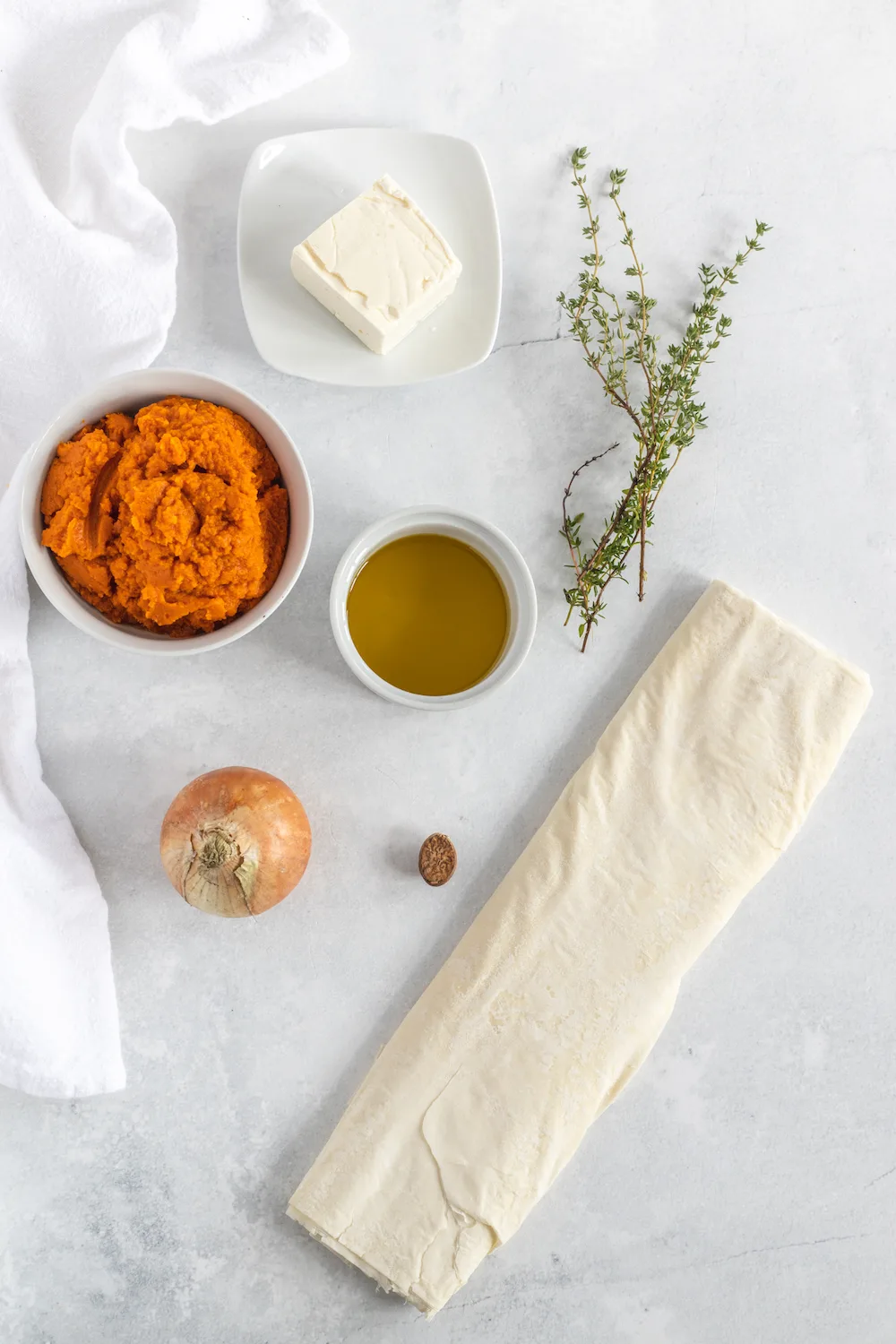 Yield:

6
Savory Pumpkin Filled Mhncha Rolls
Ingredients
1/2 cup olive divided or can also use ½ cup of melted butter
1 white onion diced
2 cups pumpkin purée (you can use homemade or store-bought)
1/8 tsp nutmeg
Salt and pepper to taste
12 phyllo sheets
6 oz feta cheese crumbled
Instructions
Preheat your oven to 350 ˚F
In a large skillet over medium heat add 2 tbsp olive oil, once hot add the diced onion, cook for 5 minutes or until translucent.
Add the pumpkin purée, the nutmeg, season to taste, and cook for another 5 minutes.
Remove from heat and let it cool.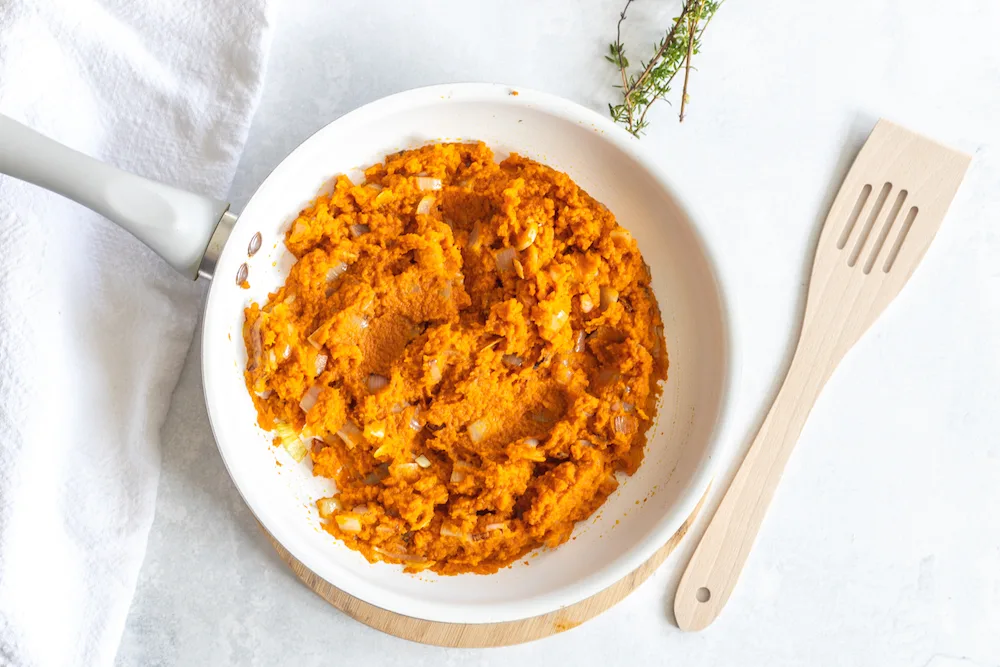 Remove the phyllo dough for the packaging, place it near your work surface and cover with a damp dishcloth. This will prevent the paste from drying.
Take a sheet of the phyllo dough and place it on your work surface, with the help of a brush, spread the olive oil all over the sheet.
Place a second sheet on top. Repeat the previous step and brush it with olive oil.
Spread ¼ cup of the filling at the bottom of the sheet on the horizontal side.
Add crumbled feta on top of the filling.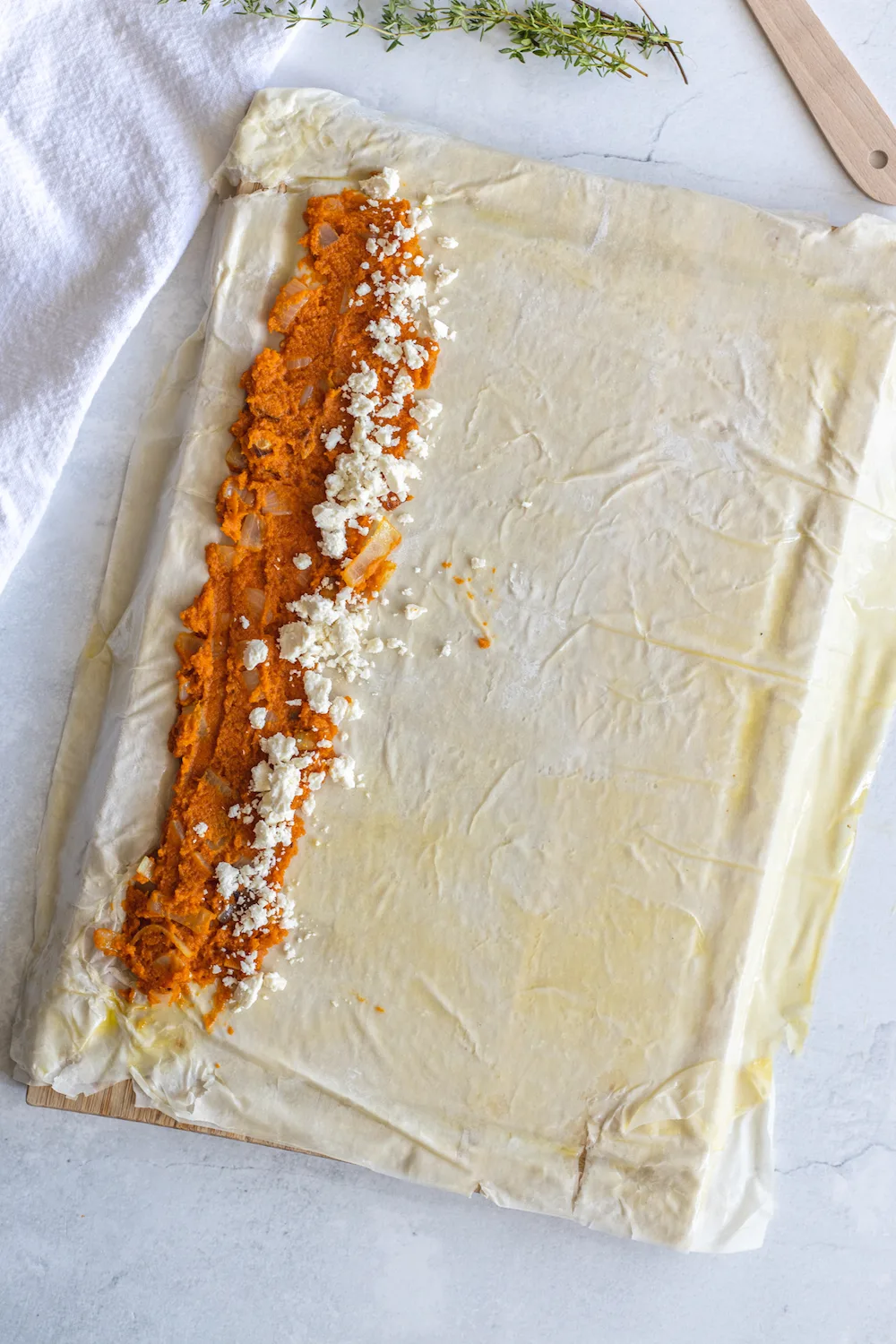 Roll the sheets into a log, twist the log into a roll, and place it on a lined baking sheet. Repeat this step with the remaining pastry and filling.
Brush finished rolls with oil, and place the rolls on a baking sheet, and cook in the oven for 30 minutes.
Remove from the oven and sprinkles with fresh thyme leave on top.
Serve immediately.
Notes
The rolls can be kept in the fridge in an airtight container for up to 4 days,
Do not microwave the pumpkin phyllo rolls as this will make them limp and soggy.
The phyllo pumpkin rolls can be frozen for up to two months. Do not thaw it will become soggy. Rather place in a preheated oven from frozen.
To thaw phyllo dough from the package, you have to be a little patient and give it time to thaw slowly. The best way to do this is to put it in the fridge and let it thaw overnight or for several hours until it is completely thawed.