My friend Chris first told me about sand bread. "When you go to Lahsen's Sahara camp you have to ask him about sand bread. You'll love it!" he told me. What? Sand bread? Chris wouldn't tell me anymore, only that he knew I would love the experience. So I did as I was told and begged to make sand bread when we stayed at ATTA. On our second night in the Sahara the guys started the fire to make the bread. I couldn't wait.
Bread is sacred in Morocco, holy even. It's never thrown in the garbage. Bread very simply equals life in a region where anything is possible. Every meal includes bread, and the price of bread staples is subsidized so even the poorest people can afford a loaf (it costs about $0.10). So how is it possible to make bread in the far reaches of the Sahara? Simple. In a natural oven – the sand.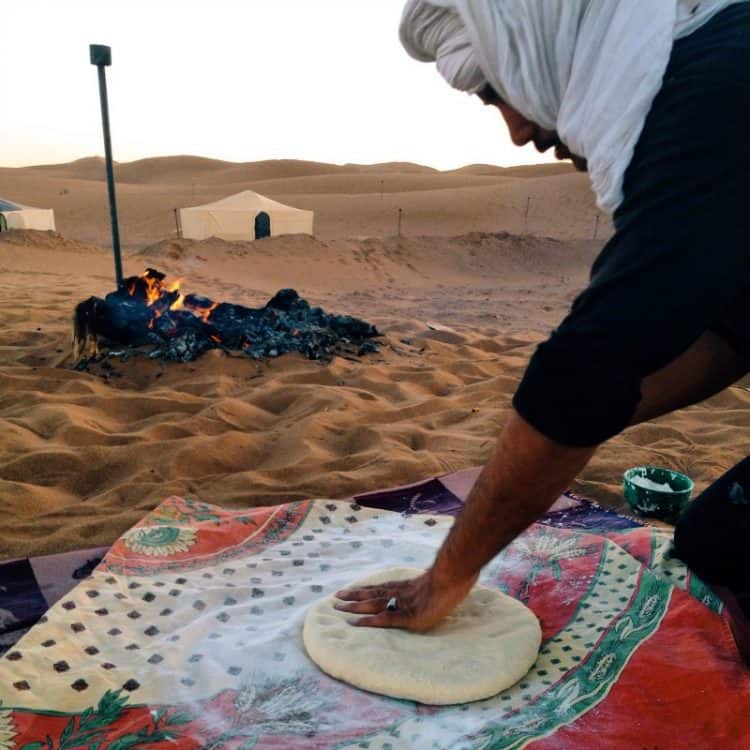 I thought that we would wait until the hottest part of the day, pop the dough on the blazing hot sand and tada it would cook. I was wrong. Instead a fire is built and burned down to charcoal. The coals must be extremely hot and it must burn long enough to heat the sand underneath. While the top of the sand is hot, just a few centimeters down it greatly reduces in temperature. While the fire burns down the dough is made – the same khobz recipe used for any other Moroccan bread. The main difference is this round ball is huge. You only get one shot when you're making the bread so making several small loafs won't work.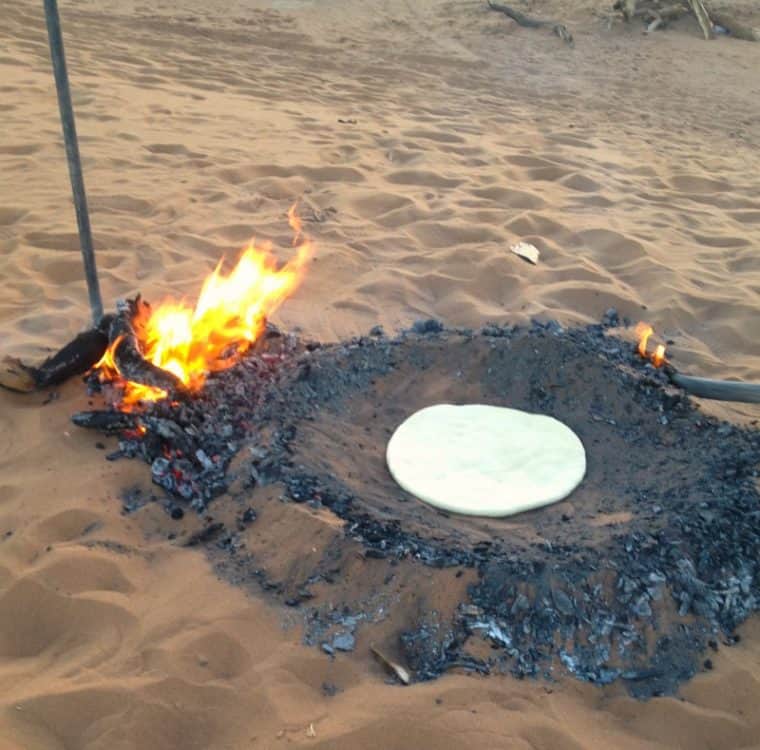 When the coals are ready and the bread has risen and been shaped it's time to bake. Using a shovel the coals are pushed into a circle. The dough is quickly placed in the center of the hot sand. Just as it is. No, there's no cooking pan or special wrap. This dough goes straight in the sand.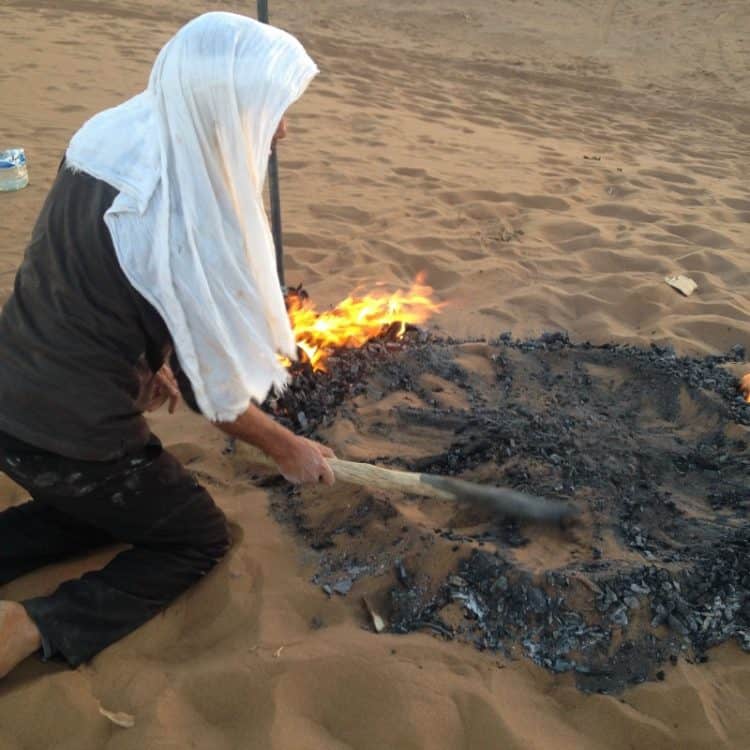 A stick is then used to cover the bread up with the coals. This process happens really fast so that the temperature doesn't drop too much. The temperature is so hot that the bread begins to bubble almost immediately underneath the sand and coals. Small bits of water are dropped on the spots that pop up to create something like a mud case in that spot. It's important to keep as much heat inside as possible.
Somehow they know when one side is ready – I have no idea how but am going to guess it's simply a matter of practice. This only took about 8 minutes. The coals and sand are then quickly pushed back to open the bread up and flip it over quickly. Then everything is put back on top to give this side of the dough a little time to cook further.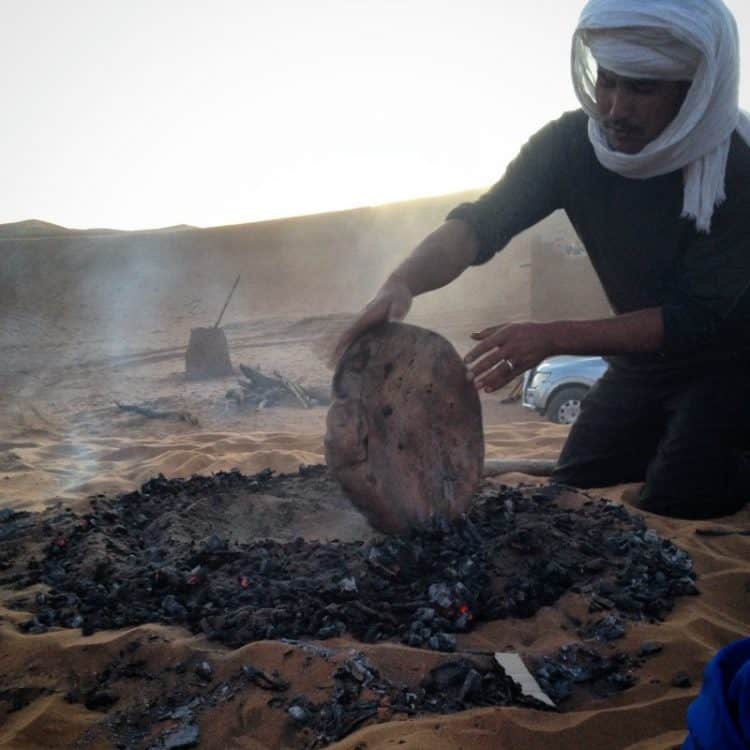 In under twenty minutes the bread was completely cooked. It emerged from the sand and coals looking well…sandy? It was at this point I started to worry. There was not much chance I was going to eat that black sandy mess. Why would someone? But, I didn't need to worry.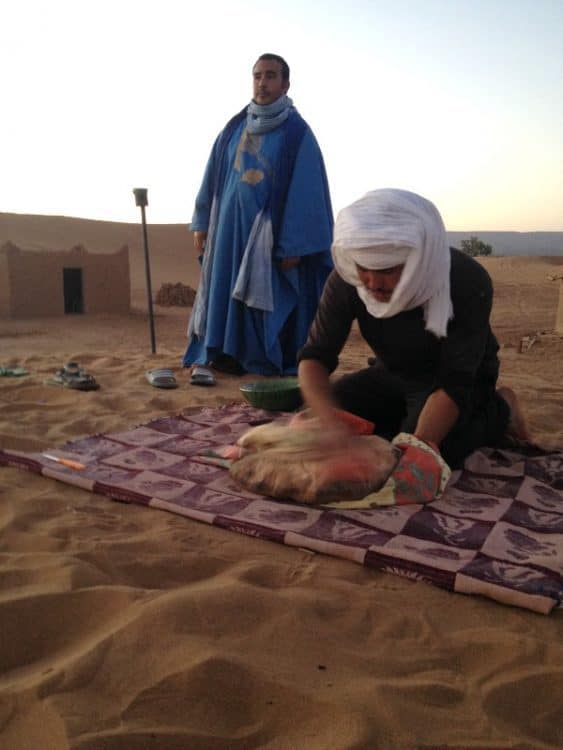 Using clean towels and a sharp knife the bread was expertly cleaned of all the charred edges and excess sand. It was pretty amazing to see just how the bread created it's own seal when plopped into sand. The time came to taste the bread and I was handed a chunk. The verdict? I loved it. Really it was delicious and we ate the remainder with dinner that night. There's something special about creating something so simple using very basic ingredients and cooking techniques.
I paired the bread and dinner that night with some wild desert arugula (rocket) that I picked earlier in the day. Oh wait you say, you didn't know things grew in the Sahara? There are so many things that do! This is just one example. The flavor was so much stronger than domesticated arugula – you really only need to use it as an accompaniment. Life exists in the Sahara – even though it seems much to harsh to sustain. Life is resilient.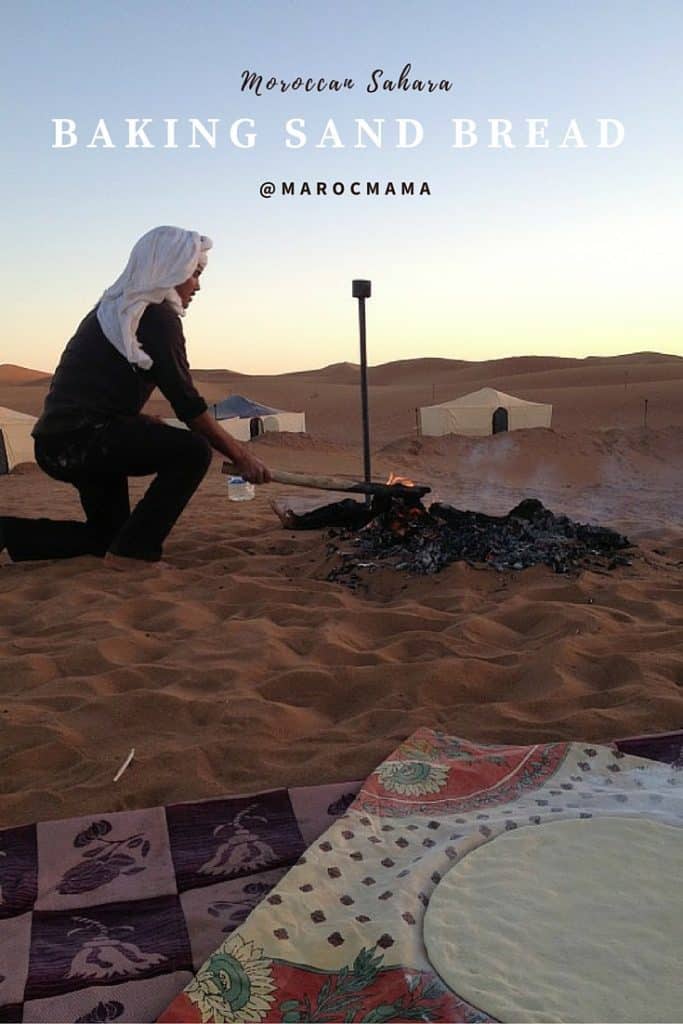 Our trip to the Sahara was with ATTA Desert Camp and Amazing Journey's Morocco. I can not recommend them more highly. Lahsen, Idir, and Said were the personification of gentlemen and no request was too big. They truly showed us Berber hospitality and are the definition of what true Moroccans are. Read more about our Sahara experience in this post on why luxury camping is the only way to see the Sahara.
Be a part of the MarocMama family!
Do you want access to all things MarocMama? Join our community of readers to get updates on new posts, inside information that won't go on the blog and so much more!
Sound good? Pop your email below and you're in!