When I first met MarocBaba and we were talking about where in the world he'd like to see someday three places came up; New York, Lisbon, and Venice. The first two we had checked off our list thanks to family in New York and Lisbon being only a 90 minute flight from Marrakech. Venice however kept being pushed off our list.
It wasn't because we didn't want to go – we did. But, I kept hearing over and over again how touristy the city was and frankly I was worried it would end up being like Paris. Lots of people love Paris, I'm not one of them. I have never understood the appeal and I didn't want how I imagined Venice to be ruined by what it really was.
But, when we planned our summer trip to Italy and were so close to Venice it only made sense to finally visit.
TL;DR There were a lot of tourists but it was more magical than I could have imagined.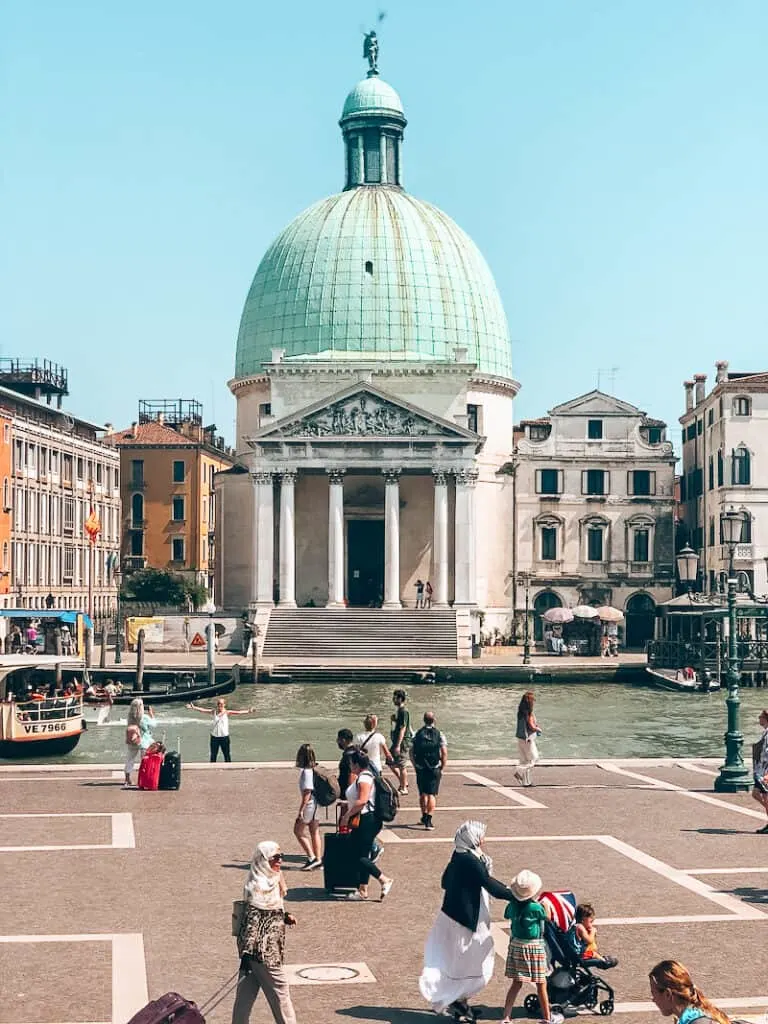 We took the train from Bologna to Venice. It was incredibly easy. When you exit the train station, you're standing on top of 15ish steps and this is the view looking out. While yes there's arguably a lot of touristy happenings going on it truly took my breath away.
Immediately we bought tickets for the vaporetto which is essentially a water bus. There is a ticket booth right outside the train station where you can purchase single passes or multi-day unlimited options. We went with a pass that would cover our full time in Venice. This was a great choice as we used the vaporetto a lot.
What to do in Venice
One of the things that was important to us was not be in a crush of tourists. We live with that nearly daily in Marrakech so we get our fair share of this, so when we go on vacation we try to find quiet spots to relax a little. The truth is there are a lot of tourists in Venice, and I don't blame them. It's gorgeous!
St. Mark's Square and Basilica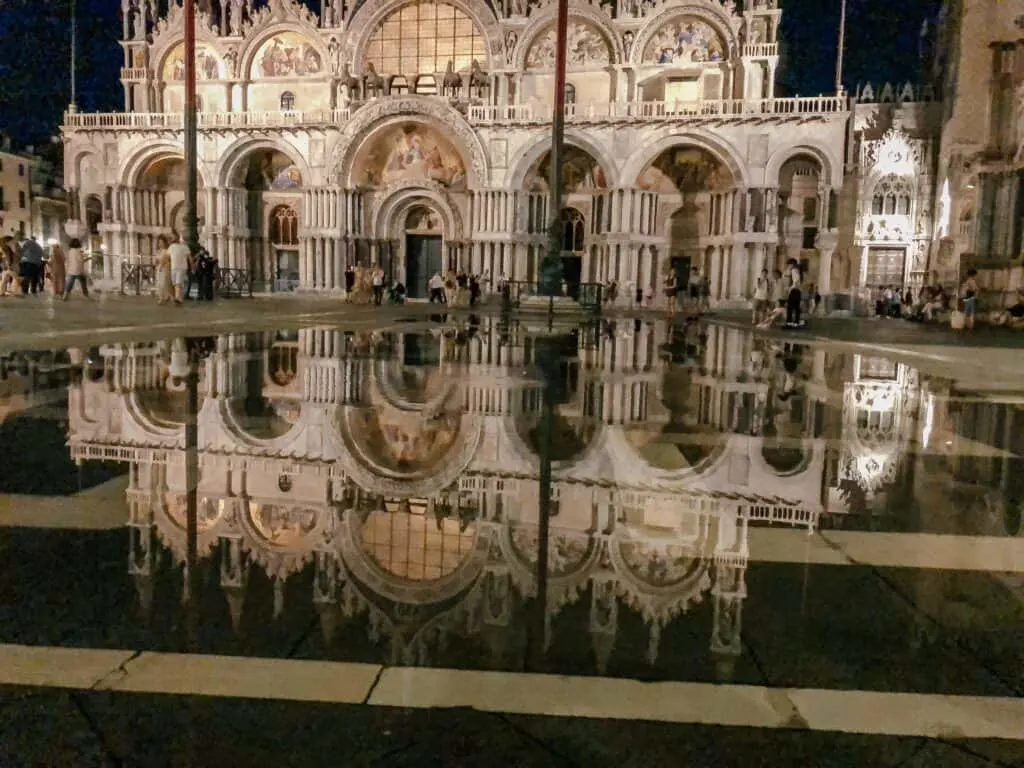 Disclaimer: We didn't go inside any of the "famous" sites of Venice. We're not exactly museum people. But for some these are a must see. Frankly when we walked through the square at around 11pm one night it was a really cool experience.
The crowds were gone gone, the basilica was lit up and the reflections were in the water that was pooling in the square. Pooling water happens because of the tides so it's not a guarantee – and can be a real headache if it's an aqua alta.
Come and see it in the day and see it at night for a contrast. During the day it is full of cruise visitors and crowded with tourists but by later in the evening they're mostly gone.
Doges Palace
We walked by the palace a few times but as mentioned, we're not museum people and it really wasn't worth it for either of us to spend the time and money to go in when we weren't all that interested. But if you really do want to see it, it's advisable to book a tour in advance.
Rialto Bridge
It's a bridge. It's also really pretty and if you take the vaporetto you will go right under it. But, you can also walk over the top. Take advantage of both views and experiences for the full effect.
There's also a decent grocery store right near the bridge that you can pop into and get some of the staples you may want. We did this to get some snacks and drinks to help save a bit of money for the larger meals we wanted to have.
Grand Canal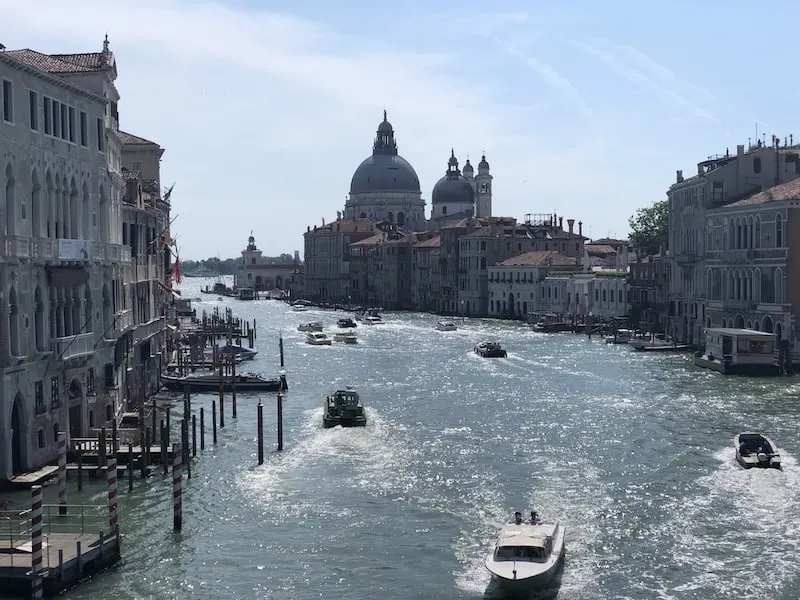 Of all the most famous streets in the world, the grand canal probably takes the cake. I'm being completely honest when I say there are few places in the world that have literally made me stop and think "wow this is really beautiful."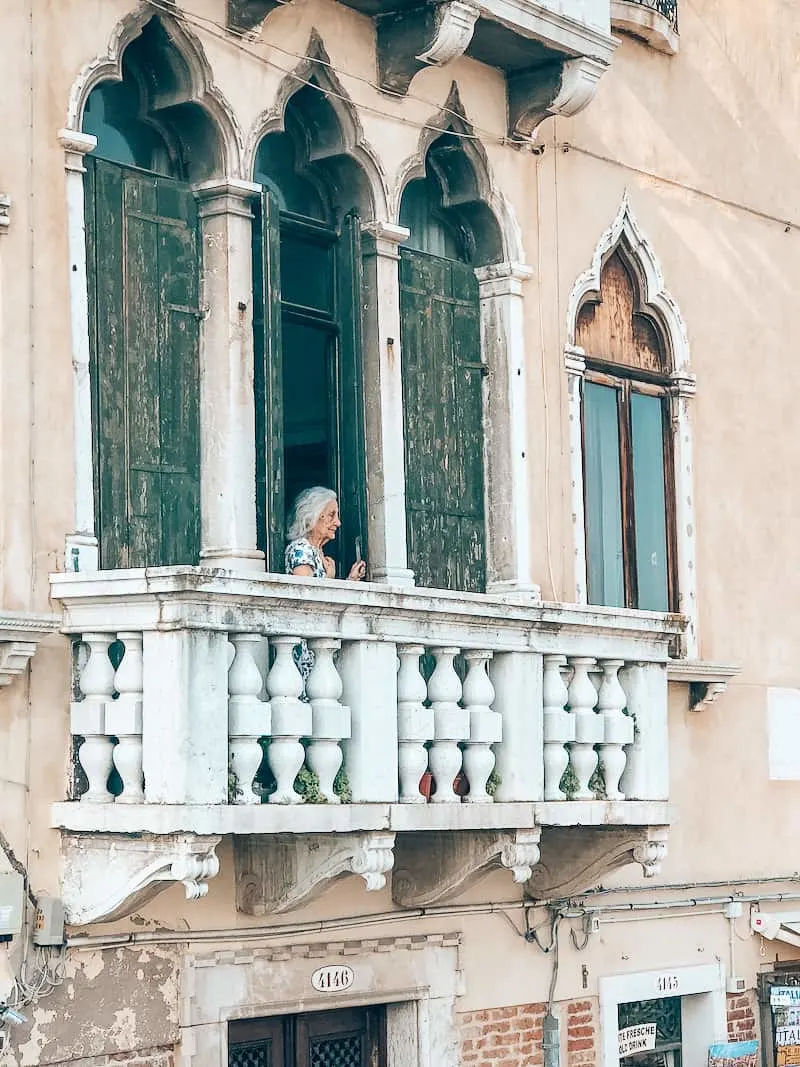 One of the perks of the unlimited vaparetto was that we could cruise around. We rode the canal a bunch of times. If you have limited time you should do the grand canal circuit once in the day and once at sunset into the evening. It's just beautiful. Try to sit near a window, on the outside if the weather is nice and just enjoy looking around.
Trust me, it's the cheapest way you'll see Venice and you can do it as often as you'd like.
Gondola Rides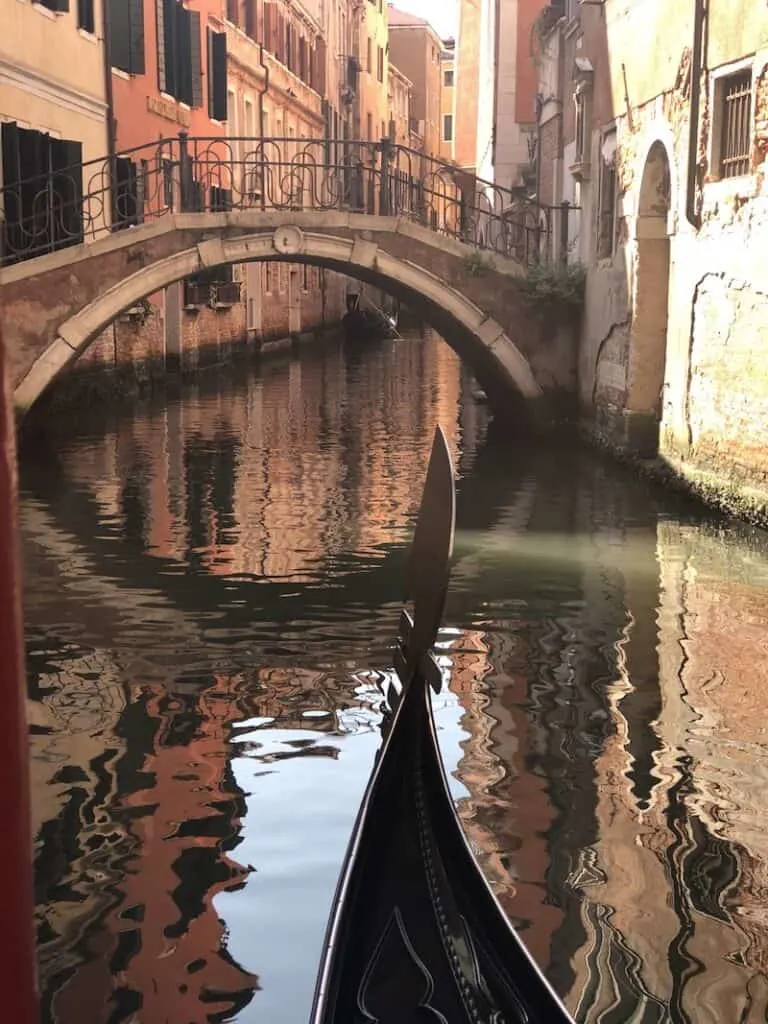 It's iconic and for no other reason than that it's something worth a try. It's also pretty pricy. A gondola can fit 6 people but 4 is probably the best if you want a less crowded boat. Split the fare among a group to get a more reasonable price.
We did a half hour ride with 2 of our friends who happened to be there the same time as us. Yes, it's cool but I really don't think it's as romantic as it's cracked up to be. It really depends a lot on your gondolier. While you can book this in advance I don't think you'll really have any issues finding one when you're there.
If you want to try something that's a little more engaging you can try kayaking the Venice canals or taking a gondola rowing lesson!
Venetian Arsenal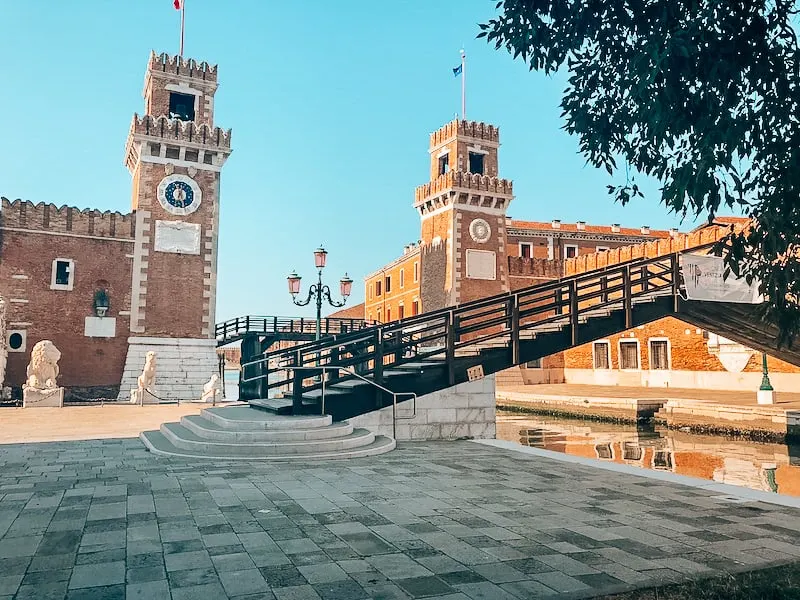 You can't access this site, and we just happened to stumble on it one day when we were out wandering around. I'm pointing it out because there was hardly anyone in the areas around here.
We spent a lot of time walking and wandering streets, crossing little bridges and basically getting lost until we were too tired and then found a stop for the vaparetto to take us home. But, that's what we do!
How do you avoid the tourist hot spots?
Walk away from them. Seriously the areas that line the canals and the major tourist sites are FULL of people but if you walk a few streets away you'll be surprised how quickly the streets empty.
It's the same in Marrakech and so we just trusted our gut and started wandering around away from where people were. SURPRISE! It thinned out almost immediately and we had many streets to ourselves.
So don't be afraid to go off the grid and discover other areas. You can't get too lost and you'll always find someone that can help point you in the right direction.
We do a food tour everywhere we go and of course Venice was going to be no different. Thankfully as we also run a food tour in Marrakech we've connected with a lot of different tour operators over the years. It was without hesitation that we signed up for this tour and it certainly ranked near the top of our favorite tours taken to date.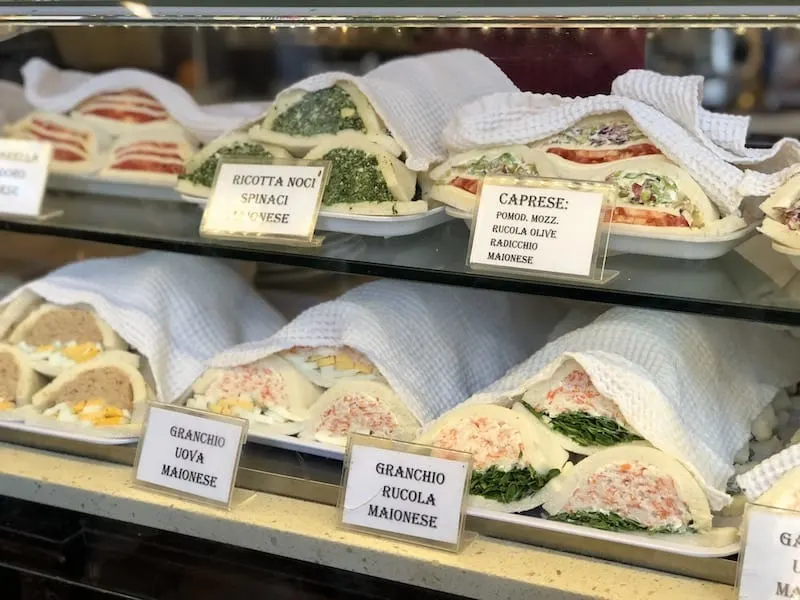 Not only did we learn a lot about Venice, things we never would have known but the food was fantastic and such a variety. One thing we really look for in food tours is finding foods that we wouldn't know about or find on our own and this was absolutely accomplished.
There was plenty of walking, exploring, cultural insights, and most of all great food that went beyond what you'd expect. Also while we don't eat pork or drink we were NEVER made to feel we were missing out and Mia and Adam went above and beyond to make sure there were always options for us.
Lido
One night, we rode the vaparetto to the end of the line. We often do this on public transportation when we go places. We see everything along the way and with a little research you can often find the specific routes that run very similar to where the major sites are.
Lido is at the end of the boat line. We jumped off and walked around to discover it's really like a small city. If you want to book a hotel somewhere that isn't in central Venice (and will cost you quite a bit less) but is still very accessible check out this area.
Burano
Burano has become pretty "insta-famous" because of it's brightly colored buildings. There was no shortage of people here. We took the water taxi to reach it (and it was included with our pass). There are tours that go here but we really didn't think that was needed. Plus this cost us way less.
If I'm honest it's cute but it's super touristy. A wander around was fun and of course we did take some pictures. But, the highlight was the black pizza we ate for lunch. The waiter kept trying to convince us to order it and we kept rebuffing him until finally I said ok bring it. I should have listened to him from the start.
Black pizza at Ristorante Al Campiero Principe – a favorite meal. It's not charcoal pizza, this dough is made from a special kind of wheat and isn't found everywhere, only in some parts of Italy. I would have totally walked past this place if we weren't starving and thankfully the pizza was fantastic.
Eating in and around Venice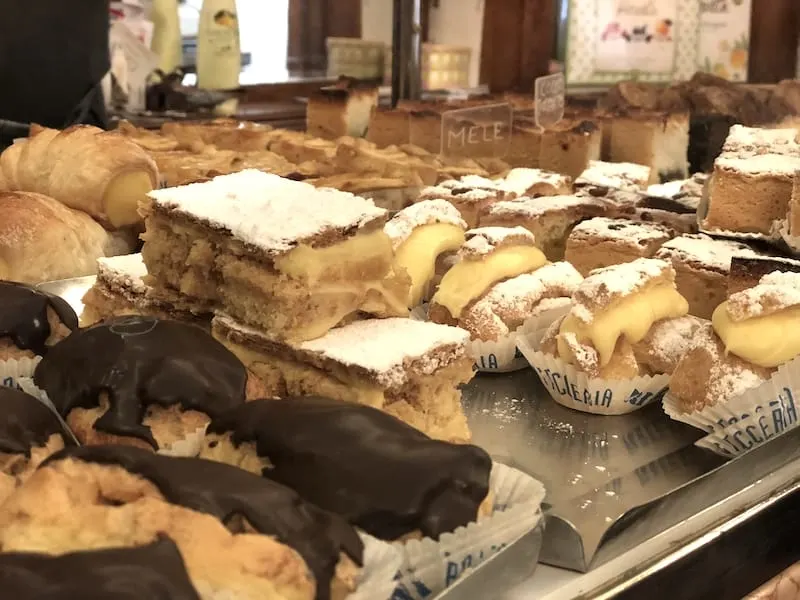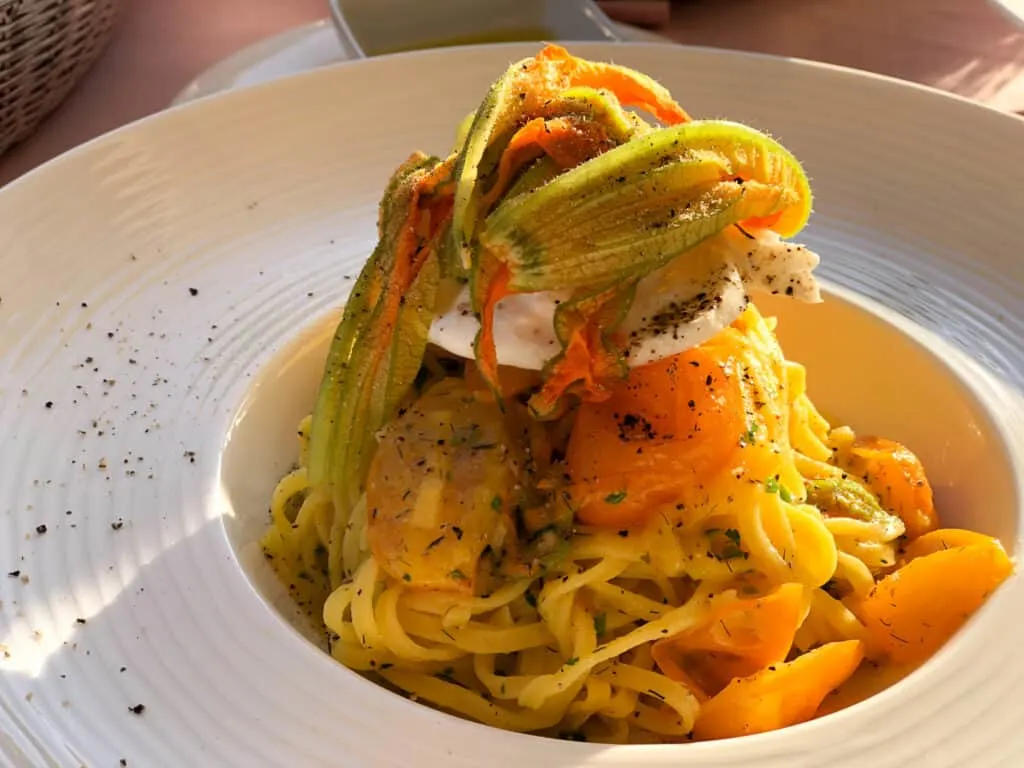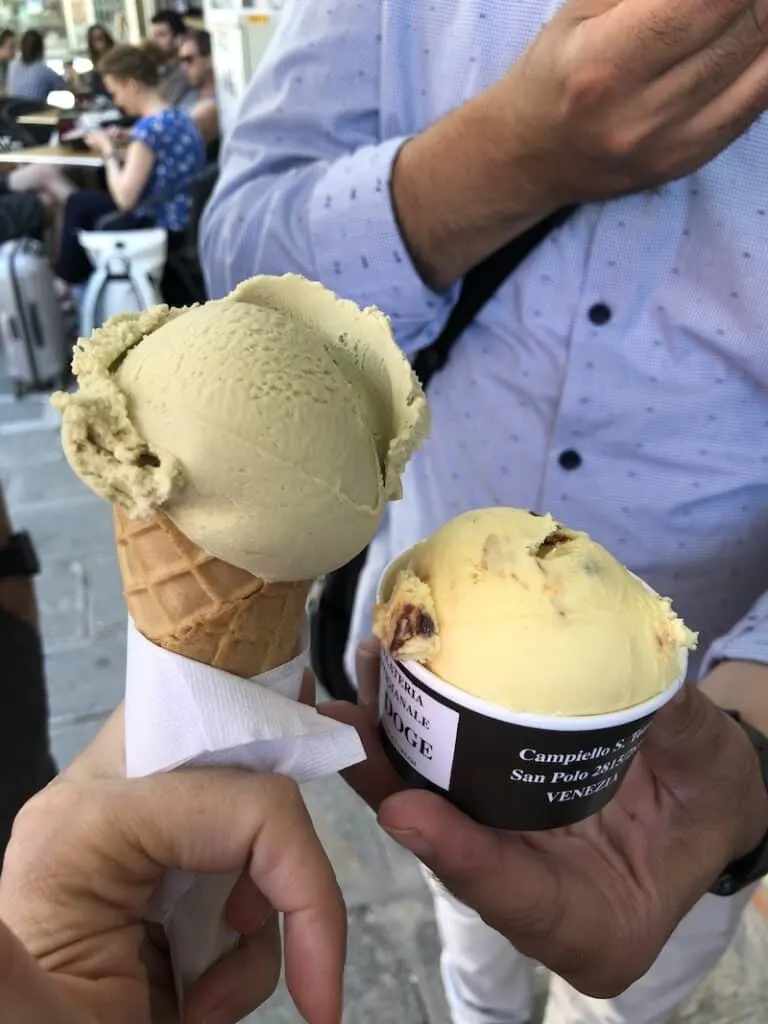 We splurged on one nice meal in the 3 days we were in Venice. You can of course go all out and make every meal special but with 2 weeks of travel to cover we tried to be a bit more cautious and make it count.
Ca' Sagredo – was our splurge meal. I booked one of the earliest meal times so it wasn't really busy at all and we didn't really care that we were eating alone. We're not 10pm dinner people so we were just happy to have a nice meal while the sun went down on the canal. The seating is canal side and I think dining at sunset was perfect! We had a starter to share, 2 mains, sodas and coffee and our bill was around €80.
La Zucca – Reviews of this restaurant can be hit or miss it seems but for us it was quite good as there was both vegetarian and gluten free options on the menu. Apparently it's pretty popular now so you'll want reservations. Here we each had a main and drinks and the bill was about €40.
Pasticceria Targa – A delicious pastry and coffee bar that's good for breakfast or really anytime of the day who am I trying to kid!
Venchi – I ate a lot of gelato in Italy on this trip so here are a few places that I liked and you probably will too. Whatever you get here will be great but a chocolate flavor is your best bet.
Gelato di Natura – San Giacomo dell'Orio – Not only was the gelato tasty there are vegan and gluten-free gelatos available. I'm an equal opportunity eater but it was nice to know there are places that are available for those with other eating needs.
Where to Stay in Venice
There are a lot of places to stay in Venice but we didn't want to spend a fortune. I also didn't want to be in an apartment as I just wanted a chance to relax and enjoy the city. This was the option I went with after spending far too long searching online.
Overall it was fine. It was not overly spectacular, though the view out our windows was nice. I'd say it's an average level and quality. The staff was nice and breakfast was included. We had a small fridge which was good to store drinks etc but not a lot more than that. There also was a coffee machine in the room.
With loads of other beautiful places you're spoiled for choice – for a midrange option this is pretty decent.
I hope that this helps you plan a trip to Venice and have an amazing time!