You've heard Europe is expensive I'm sure. It's not a big secret. If you're on a budget but want to experience European style, design, food, culture, and history then Portugal is the place to go. Compared to the rest of western Europe your euro will stretch the farthest here. I've now been to almost every country in western Europe and I've gotten more for my money here than anywhere else.
My post on what to eat in Lisbon touched on the fact that I had done little preparation before arriving in Lisbon. In the airport I happened to see a flyer on the Lisboa Card. I've seen similar packages in other cities and sometimes the price is worth it while others not so much. I hedged my bets and decided it was probably the latter. On a whim I looked up what was included and was pleasantly surprised. The next day we purchased a card and used it for sightseeing. We didn't do everything I'm including on this list, simply because I hadn't really planned it all out but here is how you can see Lisbon in a day and spend just 35 euros!
You'll need to buy a Lisboa Card first. The Lisboa Card is available at Turismo de Lisboa booths, located at Lisbon Airport – Arrival Hall, Palácio Foz (Praça dos Restauradores), Lisboa Welcome Center (Praça do comércio), Stª Apolónia International Railway Station or at Rua Augusta and Belém Kiosks. Your card isn't activated until the first time you use it. So if you buy it when you arrive but don't plan to use it until the third day of your stay it's not a problem. Once you swipe it you add the date and time to the back of the card.
One of the biggest advantages of the card is that it includes all public transportation; trams, buses, funniculars, and even the regional train from Cais de Sodre to Cascais. To make it worth your money I suggest just using it around Lisbon; however if you're staying in Cascais and coming into Lisbon it would also work well.
Planning Your Day
Get an early start. Lisbon is relatively small compared to most capital cities. Also keep in mind many museums and monuments are closed on Mondays. You can go from end to end rather quickly but don't forget about the hills. Hiking up and down the steep hills takes a toll and takes time. Belém is a great place to begin. It's one of the most popular areas of the city so get there early before it crowds up. Near the bus/tram stop for Belém you'll find the infamous Pasteis de Belém. Yes you should go in, take a seat, and have one for breakfast. (Just this once) A pasteis + a cup of cofffee will set you back about 3 Euro. Go out the front door and head right to visit the Monastery Jeronimos.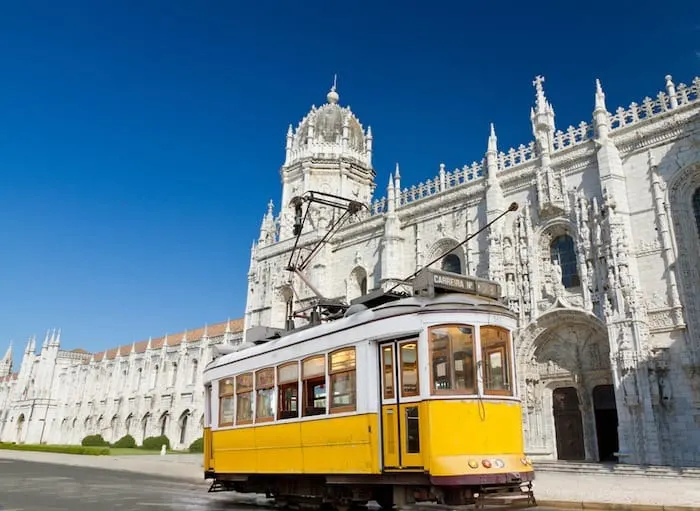 We stumbled across the monastery after visiting Belém for pasteis. It's a huge, and impressive building! There is a kiosk nearby which is where we picked up our access cards. For no other reason than it looked interesting, we went in. You'll likely find a long line but with the Lisbon Visit card you get to skip the line. Go straight up to the front check in desk, they'll print off a scannable receipt for you to present to the ticket taker. Line jumping is an added plus of the card! I am really glad we decided to go inside the monastery because it's one of my very favorite things we saw. The cloisters are full of carved marble in beautiful designs. There's also a church that's quite beautiful. Inside the church there are the tombs of many past Portuguese kings and royals. There's also the tomb of the explorer Vasco de Gama. I'm a history nerd and it was kind of amazing to be standing right next to the tomb of such a famous name from history!
Just a short walk away is the Museum of Modern Art where you'll find the artwork of artists such as Warhol, Dali, and Picasso. Near the street you'll find a stairway going down. Take this and follow the underground tunnel until you emerge on the other side. Here you can see the Discoveries Monument. A walk of about 15 minutes alongside the Targa River will put you at the Tower of Belém.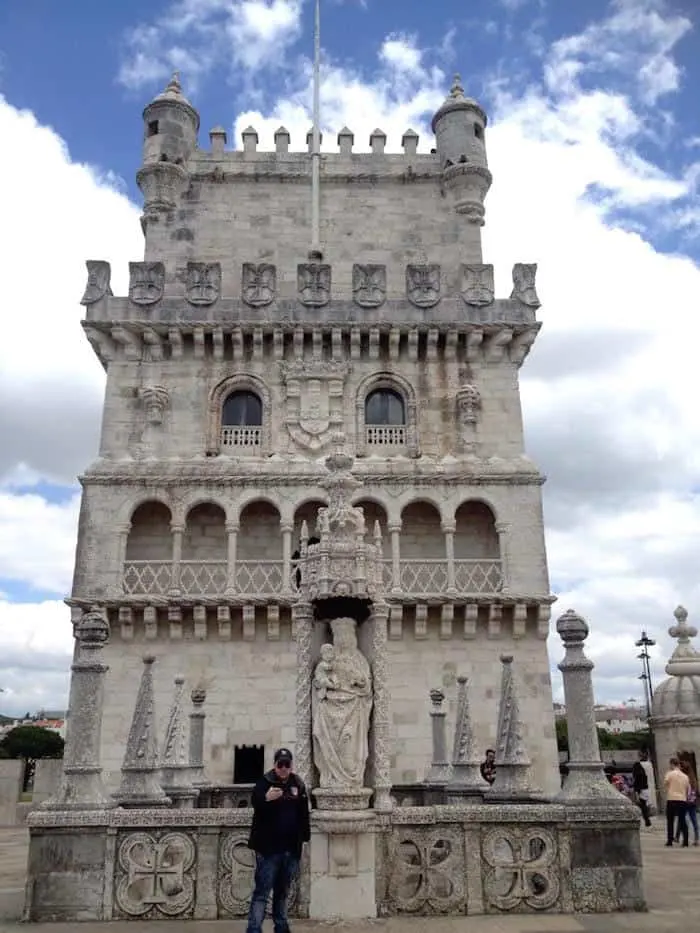 This is a fortified tower in the river and it was very similar to the Scala in Essaouaira, Morocco (which makes sense as they were both built by the Portuguese around the same time in history). You won't be able to skip the line here because it's a narrow entrance. We found it to be very crowded and even though we waited and climbed to the very top it was somewhat of a let down. If there were a really long line, I would admire it from the outside and skip waiting in line to go in.
Once you've walked and explored, you're likely to be hungry. There are many cafes and take away spots in Belem. We tried Pao Pao Queijo Queijo because it was close and had a big menu. We weren't disappointed! With huge sandwiches and drinks we were stuffed and spent only about 5 euro each. There's a mix of Portuguese style sandwiches and more Middle Eastern style as well. There is upstairs and outdoor seating or take your food to go and visit the park across the street.
Once you're done eating it's time to explore some more. Walk back towards the Belém tram stop. Along the way you'll pass the Presidential Palace and the Coaches Museum. Normally I'd say visiting a museum full of carriages is just about as much fun as watching paint dry but these are no ordinary carriages. A range of carriages from the 16th through the 19th century belonging to the royal family and nobles are on display.
Hop on the number 15 tram going towards Alges. When you get to the Praca Commercial get off and explore. There's some impressive architecture in the area. There is also the Lisbon City Museum where you can learn about the earthquake in 1755 which devastated the city. It was followed by a tsunami and many fires, the combination of which nearly wiped Lisbon off the map. Your Lisbon card won't get you free admission to this museum but does give a 2 euro discount. If you want to learn about the history of the city and Portugal itself this is a great place to stop. Normally these sites would be more visible but because we were there during the Champions League final there were lots of people, signs, and stages erected.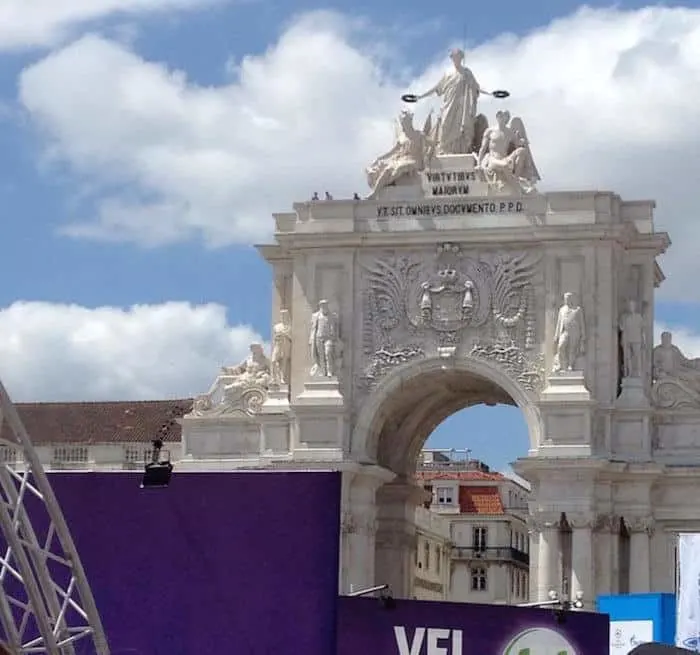 If you wander through the road that passes between the open gate you'll find the tram stop for the famous Tram 28. Ride it going towards Graca. This tram hits many of the major tourist areas but it's also just a great way to enjoy seeing the city. It can at times be very very full and you need to pay attention because pick pockets like to frequent the tram as well. When you arrive at Graca you'll have to get off as the train changes directions. At this hilltop stop there's a small flea market of sorts with cheese, preserves, artists and tents. If you enjoy outdoor markets it's fun to spend some time looking at what's available.
You can get back on the tram going in the other direction and ride it to Sao Miguel. It's at this stop that you'll find the Moorish castle or Castelo Sao Jorge. The castle was constructed from the 8th-9th century during the Muslim rule of Iberia. You'll see this area is very similar to the look and feel of an Arab city. The streets are small and windy. The front of the houses flat, plain, and unassuming. By the mid-12th century Portugal was conquered by Christian rulers and the castle was handed over. Be sure to visit while you still have the Lisboa Card because admission is 7,50E without it.
Once you're done walking around the castle ruins walk down to the Alfama neighborhood, pull up a chair at a cafe and order some dinner. A typical meal will cost between 8 and 10 Euro. To finish your evening you can get back on the 28 tram and ride it to the other end of the line. You'll again be forced off but don't fear, just get back in line for the next tram. Sure you're just riding but it's a great way to see Lisbon when your feet are sore!
Remember the Lisbon card lets you ride public transportation as much as you like so take advantage. You may want to try one of the funniculars that go up some of the steepest hills or the Elevador de Sta Justa just for fun. If you're still not ready to call it a night head to Chiado or Barrio Alto for drinks (even if it's just coffee) and enjoy Lisbon's nightlife.
Cost Breakdown
Lisboa Card 18E
Pasteis de Belem 1,25 E
Lunch 5E
Dinner 10E
TOTAL 34,25 Euros
You may end up spending a little bit more on drinks or snacks but for the budget traveler it's possible to have a great day, see some of the most interesting things in Lisbon! When you buy a Lisboa Card you get a guidebook that has some coupons as well as information about all of the discounts available. You can use the coupons on a different day than you use your card. For example there is a discount for one of the castles in Sintra you can use a different day when visiting.
If you're looking for more Lisbon inspiration check out this post from Drifter Planet with 11 Reasons to Fall in Love with Lisbon.