I've rarely heard people mention Bologna as a destination when talking about their Italy plans. Those people were making a big mistake.
We have been meaning to visit Bologna for ages. Youssef's (MarocBaba) sister lives about a 40 minute train ride from the city and has been asking us to come see them. It's never worked out for one reason or another. When I had a work trip and conference in Trento (northern Italy) we decided to extend the time in Italy and include Bologna.
In total we spent 3 days in Bologna and I could have stayed 30 more. Before I share more it's important to share we're the type of people that like to get to know a place by wandering around, bumping into places and most of all eating. In this 3 day Bologna itinerary I'll share what we did as well as suggestions at the end on where to eat.
How to get to Bologna
Both MarocBaba and I arrived here different ways. There is an airport in Bologna so it is an option to fly here directly (there's actually a direct flight from Marrakech). However, we both flew into Milan and took the train to Bologna. It's very simple and cost effective. You could also fly into Venice or Rome and take a train there.
There's also buses that run from most of the major airports to reach Bologna. Flixbus is a good option if you want a lower cost option. That being said I think the train is the best option.
Where to stay in Bologna
There were quite a few different options we looked at but ultimately we settled on an Airbnb. This is often the easiest when it's the two of us traveling. While we like to eat out in restaurants, we also like the option to have a kitchen especially as MarocBaba has celiac disease. He also is not a morning person so having a space that isn't just a bedroom like in a hotel makes it easier for both of us.
We chose this Airbnb that was on Via Pescherie Vecchie right in the market area of Bologna. We were VERY happy with this choice as it was super central, had what we needed and the vibe of this area we really enjoyed. It can be a bit loud at night but coming from Marrakech it really didn't bother us.
The exact apartment we stayed in is no longer listed however these two places are nearby and can be booked on Airbnb. This three bedroom option looks perfect for a family traveling together – it's what I'd book for my family! There's also one bedroom smaller option if you're a couple traveling together.
Our Three Day Bologna Itinerary
Day One
Time to get acclimated to the city! We try to hit the major sites on our first day and get a good feel for the city to decide what else we may want to do. The area we stayed in was really central and I'd suggest that if you have a short time in the city. A wander through Piazza del Nettuno and Piazza Maggiore are a good start. We also found the "whispering walls" of Palazzo Podestá.
When you stand diagonal from each other and talk into the wall the person on the other side can hear you clearly. The story of this was that it allowed lepers a way to make confession in the Middle Ages. We didn't believe that it really worked but were surprised!
In Piazza Maggiore
A visit to the neptune sculpture is something to do for a fun photo opp and the San Petronio Cathedral can't be missed. The exterior isn't very impressive but the inside is lovely. In this plaza there seems to always be events happening (there was an outdoor film festival when we were there).
Biblioteca Salaborsa
If you're into history – and beautiful spaces – take a walk through this library. There's an archeological dig that you can view through the crystal floor in the middle of the library.
Towers of Bologna
The two towers are known as the symbol of the city. In the 12th and 13th centuries there were a lot of tall towers in the city maybe as many as 180 towers. Some remain and have been reused in buildings but there are two towers that are historical sites now. One of which you can climb to the top of.
Teatro Anatomica
Bologna has always been a university town and so there are quite a few museums and education related activities. Granted this might be more obscure than normal spots tourists see it's interesting! It dates from the early 1600's and was used to perform dissections on humans and animals. It has a marble operating table in the middle but the rest of the room is carved wood.
Of course there has to be plenty of walking and eating in between the exploring so don't over do it!
Day Two
Morning Food Tour
Food is such an important part of how we explore a place we for sure wanted to take a food tour in Bologna. My friend Georgette of Girl in Florence suggested the La Grassa tour from Curious Appetite so we took her advice and signed up for this tour. We liked the small tour size and were excited to experience local food.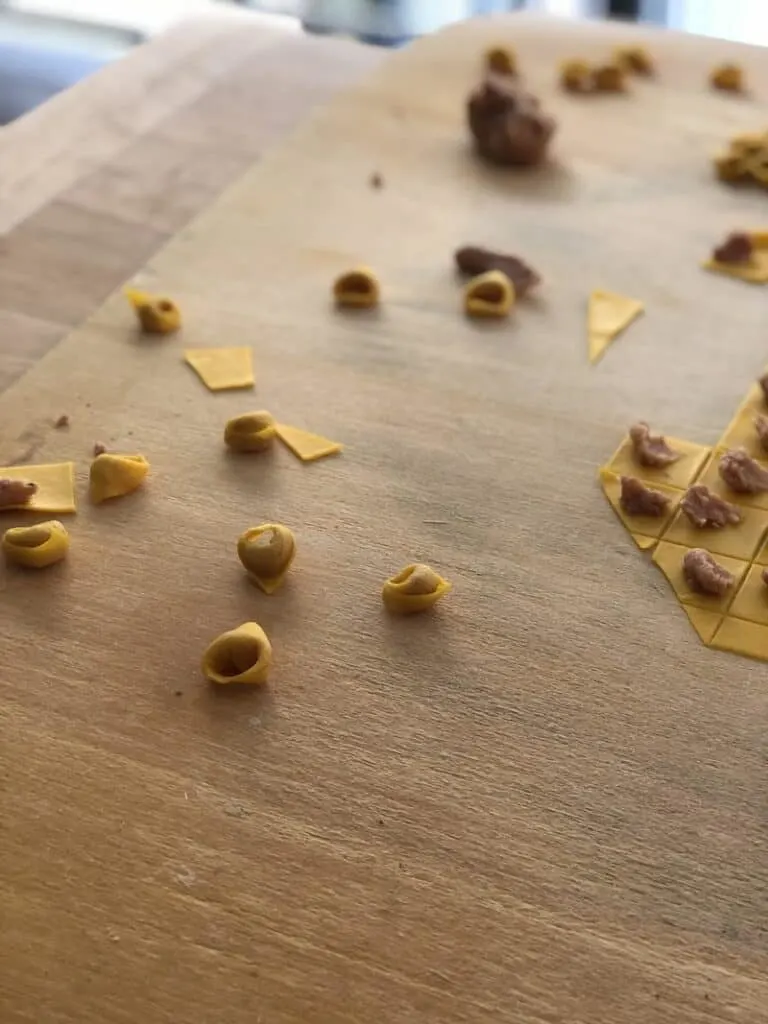 My favorite part was when we were able to get hands on and make tortellini. This is what bologna is best known for and any chance to make pasta I am there. On this tour we also learned about balsamic vinegar, how to navigate a coffee bar (and try a bunch of yummy sweets), and quite a few more stops.
We liked the tour however I would say for anyone that has dietary restrictions you may find it hard. For us it was a double whammy with MarocBaba not eating gluten and us not eating pork or drinking. We're very ok with this when we do tours and don't expect any special treatment but if you're like us you may not find as many options available to you.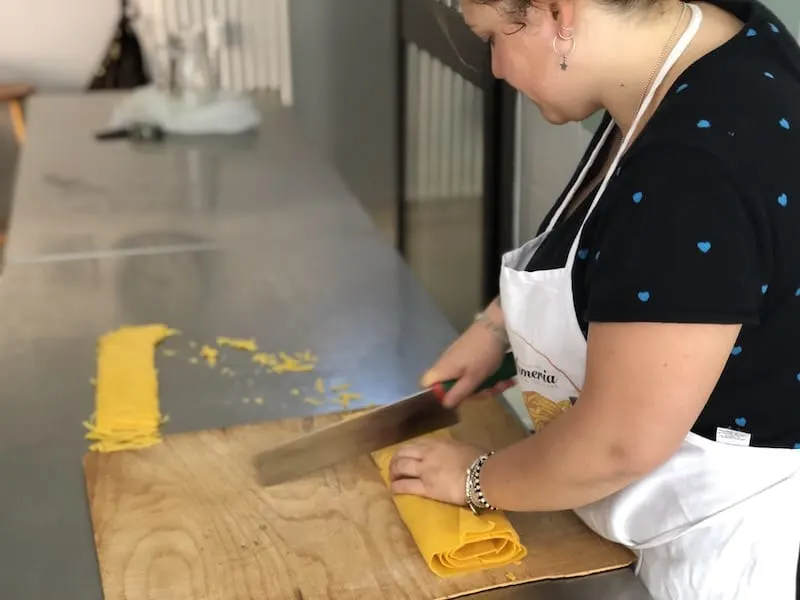 Bologna Canals
You might be surprised to learn Venice isn't the only Italian city known for its canals. They're not exactly hidden but they're also not open like Venice. You can catch them in different places, sometimes they disappear quickly underground. Finestrella on Via Piella might be one of the better viewing points.
Basilica di San Giacomo Maggiore
It will come as a surprise to no one that there are some pretty impressive churches and cathedrals here. We stumbled into this cathedral as we walked back from our afternoon explorations. Let me just say we spent a good 30 minutes wandering around inside, sitting on the benches and cooling down because mid-June is a little toasty in Italy. Some people find it strange that as Muslims we visit other houses of worship but I'm fascinated by them.
Evening
We're not night people so we keep our nights pretty tame. Mercato di Mezzo is a food market near our Airbnb. You can visit day or night but it's a fun food hopping experience in the evening. Likewise the streets in this general area are full of restaurants and bars with outdoor dining and seating. We really loved eating here. Scroll down to the food section and I'll have some of my favorites.
Day Three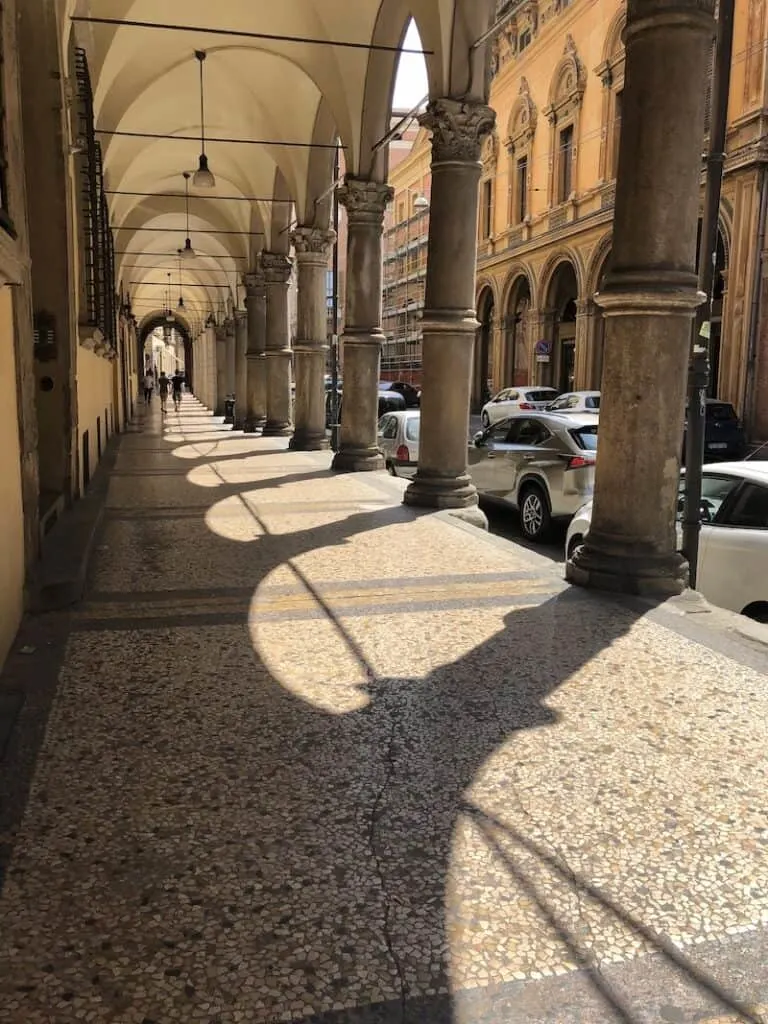 If you're up for a walk today is your day! There are arched porticos all over Bologna but the portico walkway to the Sanctuary of San Luca. It's covered the entire way up the hill and there are 15 chapels from the bottom to the top. Some people use it as a pilgrimage route, while others use it as their modern "workout" pilgrimage.
To walk start the route at the Piazza di Porta Saragozza where you locate the Bonaccorsi Arch and begin walking through the porticos.
If you'd rather not walk the hill you can take the San Luca Express tourist train that departs from Piazza Maggiore that does a loop of the major sites and does include an audio guide.
The city bus can also take you there. Take bus 20 from the city center to Villa Spada, and then bus 58 to the Basilica.
Two more fun facts – there's supposedly 666 arches that lead up and the rumor is the architect did it on purpose as a bit of a snub to the church (666 being the "devils number"). The basilica at the top holds the portrait of the virgin Mary believed to have been painted by St. Luke and brought to Europe in the 12th century.
This walk up and down will take you several hours so plan to spend a half a day on this activity if you choose it.
MAMBO
This is the Bologna Museum of Modern Art and a great stop for anyone that is into modern vs middle ages art! The museum covers Italian art from the end of the second World War until the present.
Go Shopping
We ended up spending quite a bit of time shopping in some of the stores and markets around Bologna. There is a wide range of goods from foods stuffs to gorgeous Italian leather shoes and everything in between.
Ferrari Museum + Food Tasting
I almost booked this tour but we didn't have enough time with catching the train to our next stop. The perfect combination of things my husband loves (fast cars) and I love (good fo0d) in a one day tour including lunch and food tastings – plus you can pay extra to do different experiences like drive Ferraris!
Eating in Bologna
This probably deserves its own post but I wanted you to to be able to find everything in one place. I'll warn you in advance, we tried to find places where we could eat but 100% of this is not halal. I'm sure there are halal restaurants in Bologna, but I was there to eat Italian food.
Gelato
I had challenged myself to eat at least one gelato a day while in Italy for 11 days and I did it – some days I ate two. Some of the best gelato however was in Bologna.
Gelato di Natura – San Giacomo dell'Orio – Loved this place even though it was the most expensive place we tried gelato.
Cremeria Santo Stefano – We came here on our food tour and the gelato was good but the staff was really pretty cranky. That was a shame.
Gelateria Galliera 49 – Not only does it have gelato but many Sicilian favorites like gelato brioche and granita. Many of their products are organic and fair trade.
Majori – We didn't seek out this place, it just appeared to us and I'm glad it did. The Torta di Riso was AMAZING – it's gelato that's got the rice pudding/cake of Bologna mixed in. I loved it.
Tortelloni, Tortellini, and Pasta
What's the difference? Tortelloni is cheese filled tortellini (which usually has pork). In Bologna it's typical to eat tortellini in a broth like a soup but the tortelloni are eaten with red sauce. I'm certain I could eat this every day of my life and be very happy!
Regina Sofia – This restaurant gets pretty good reviews. I went with a friend of mine that was visiting while MarocBaba went to a restaurant near our apartment. The menu is almost all pasta and he can't eat it but didn't want me to miss out enjoying it. The pasta was good but I wouldn't say great.
Tigelle
These little sandwiches are a Bologna specialty. We LOVED them and there's all kinds of varieties you can try.
Zerocinquantino (051) – This restaurant was literally out the window from our apartment so it felt like we should at least try it. Good choice! We had a mixture of 6 different tigelle. They have other foods too but it's a great spot for a drink and a small bite.
Meat and Cheese Plates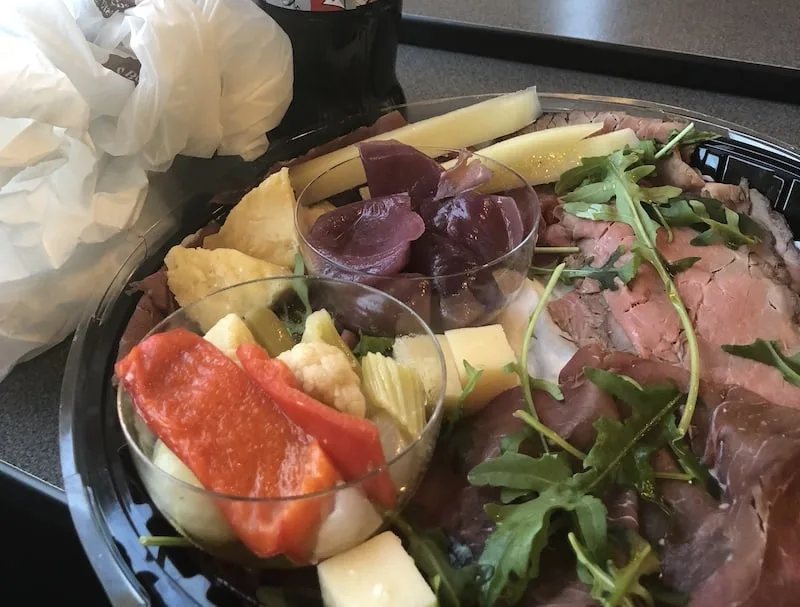 Is the charcuterie platter originally from Bologna? I'm not sure but what I do know is that they make them and I love them. Perfect for picnics, train rides, or dinner at your place pick one up! We got ours from Salumeria Simoni and were very happy! What impressed us the most was when we said we didn't eat pork it was a non-issue. This doesn't happen everywhere and we really appreciated that they had great meats that weren't pork for our tray.
Breakfast – or Dessert!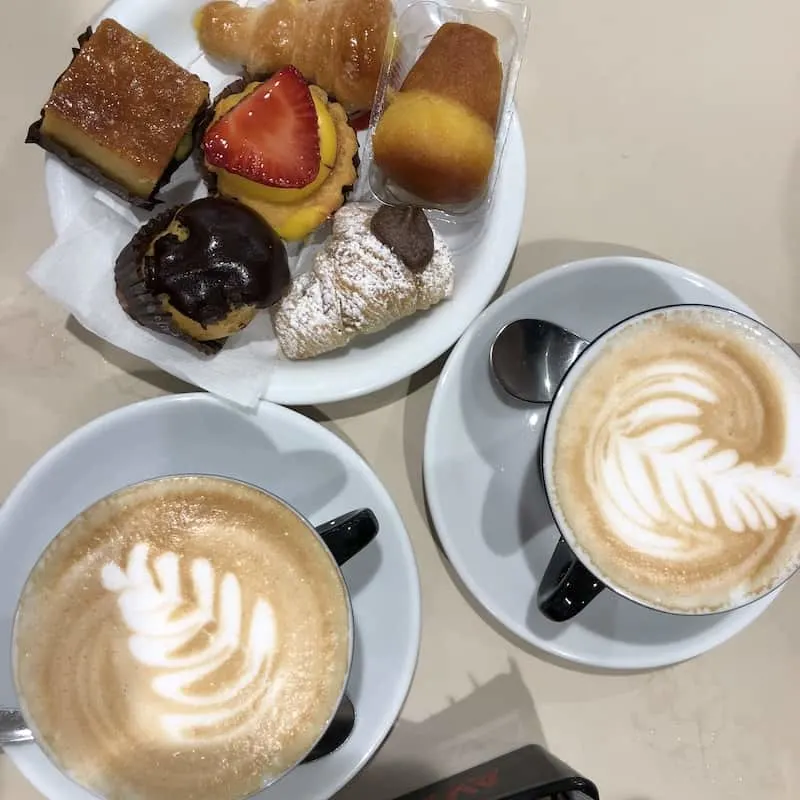 I can appreciate that Italians have a sweet breakfast with coffee. I can equally appreciate delicious patisserie treats. Seriously one reason I'm not sure I can live in the US ever again is that the patisserie culture doesn't exist.
Bar Pasticceria Santo Stefano was our go to after being shown it on our food tour and realizing it was a few blocks from our apartment. They have a lot of variety so just go with whatever looks good to you! Do be warned some items have liqueur in them so you may want to ask. It's VERY busy in the morning but if you go mid-morning it's a bit more manageable.
Gluten Free Bologna
Fiordaliso Caffetteria, Pasticceria e Ristorante – We walked well out of our way to find this little restaurant for MarocBaba and it was pretty good. I even had some of the pastries and was perfectly happy.
Trattoria Vecchio Mercato Bologna – The entire menu here is gluten-free so you won't have to pick through a menu to figure out what you can or can't eat. Go crazy!
I have a lot of favorite places in Italy but I have to admit Bologna may have stolen my heart and I can't wait to go back!