Persian food is some of my favorite in the world thanks to the use of different flavors and spices. This Iranian recipe is a lot easier to make than I thought it would be and it's a crowd pleaser. My kids and husband ate it up without hesitation and have already asked when I'll be making it again.
The one thing that we did notice when making this is that we would have liked it to be a bit spicier. But that issue was solved when we just add a spoonful of harissa to our bowls and mixed it up. If you love Persian food recipes, but want something easy this is a great option!
Yield:

6 servings
Iranian Estamboli Polo
This Iranian recipe is impressive enough to make for a party but easy enough for a weeknight dinner. You'll be fighting for the crispy potatoes at the bottom!
Ingredients
2 cups of dry rice
1 lb. of green beans
1 medium potato peeled and thinly sliced
1 lb. of ground beef
6 Tbsp. olive oil
1 small onion, diced
2 tsp. salt (1 tsp for meat and 1 tsp for rice)
2 tsp. pepper,
1 tsp turmeric
1/2 tsp cinnamon
2 Tbsp. tomato paste
pinch of saffron threads
harissa or hot sauce (optional)
Instructions
This recipe uses cooked rice. I cook mine separately by adding jasmine rice to a pot and rinsing 3-4 times. Then add enough water and 1 tsp salt to cover the rice and have an additional inch (3-4cm) of water above the rice.
Boil the water until the rice absorbs most of the water. You'll see small holes form in the rice. Turn off the heat, cover with a towel and lid of the pot and leave for 10-15 minutes.
Clean the beans and cut into equal sizes pieces. Fresh beans really work well but frozen is an option. Clean the potato and slice into thin round pieces and set aside.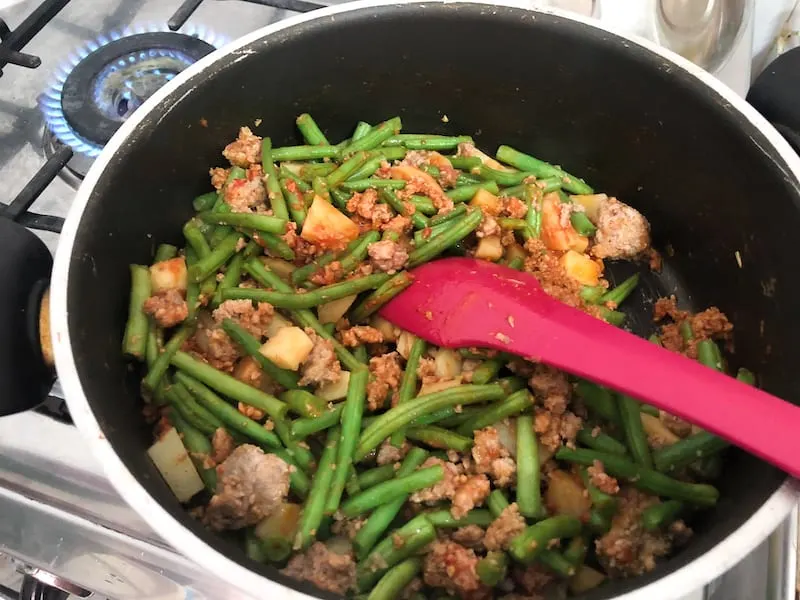 In a large pot, add olive oil and onion to the pan and saute until the onion is soft. Add the ground beef and begin to brown.
When it is halfway through cooking add the spices; salt, pepper, turmeric, cinnamon and tomato paste and stir.
Add the green beans now and mix. The pan will have some liquid but add a little additional if it looks dry to you.
Layering the Dish
Crush the saffron threads and place into a small bowl along with 3-4 Tbsp of warm water.
In a large pot, pour in 2 Tbsp. olive oil and arrange the sliced potato on the bottom. Turn the heat to medium.
Add a layer of rice and half of the saffron water. Next add a layer of the meat and beef. Repeat the process until everything is used up.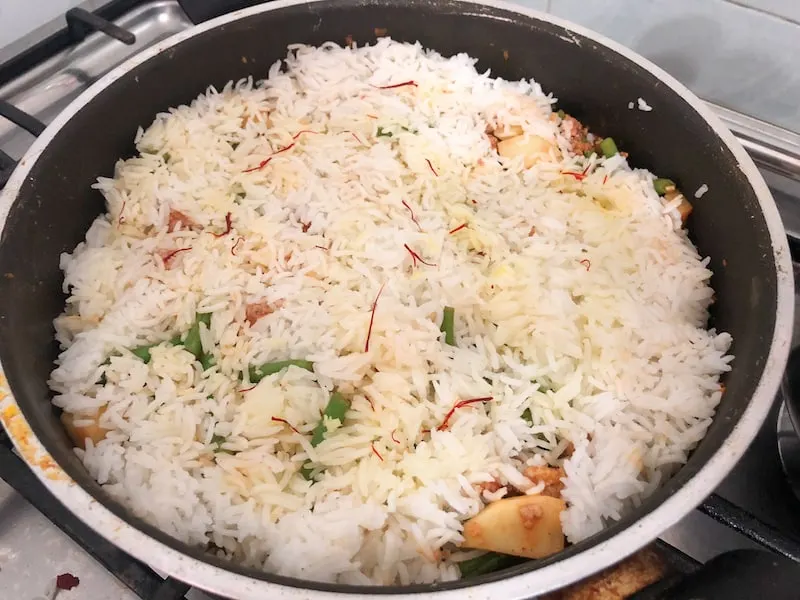 Cover the pot with a towel and the lid of the pot.
Cook for 25-30 minutes over low heat. The bottom of the potatoes will crisp up and may make a crackling noise but they shouldn't burn.
To serve, place a large plate over the pot and invert so that the potato portion is on top.
This makes a lot of food and could probably feed more than 6 people if you had additional food on the table. Iranian food is heavy on portion sizes so don't shy away! It's a perfect one-pot dish though and I know we will be making it regularly in our house.