This is a guest post from Marco Santos from Travel Boo.
It's no secret, the Portuguese love their food and pastries. This certainly shows in the few pounds I've gained since moving to Lisbon, Portugal permanently three years ago.
What I recall of Portuguese cuisine, harks back to my grandmother's kitchen (Portuguese grandmother that is) when I was growing up in South Africa. As I've come to explore some of Lisbon's culinary delights, the smells and flavours took me right back to my childhood with fond memories of me devouring just about anything my grandmother would cook.
Today, Lisbon's foodie scene is a melting pot of both traditional as well as modern interpretations of Portuguese cuisine. It's vibrant and certainly caters for any taste palette.
That's why I think Lisbon is any food lover's dream destination! Here are 5 reasons you should visit Lisbon if you love food!
The pastries are delightful
The Portuguese adore any type of pastry and dessert. These are often accompanied by an espresso shot in the local Padaria (bakery), that is somewhat of an institution in Portugal.
Undoubtedly, the most well-known of these pastries is the famous and much-loved Pastel de Nata, egg yolk custard tartlets. So popular are these scrumptious tartlets that it's not unusual to see throngs of visitors queueing outside the famous Pasteis de Belem bakery, who has been making the original Pastel de Nata since 1837 when they bought the secret recipe from the monks of the nearby Jeronimos Monastery.
Today though, there are a wide range of variants to the Pastel de Nata with other notable bakeries including Manteigaria and the Pastelaria Batalha in Chiado, being two of my favourites, also creating their own delicious version.
But Portugal's desserts and pastries go much further than the humble Pastel de Nata. Walk into any bakery or coffee shop and you may be overwhelmed by the choice of sweet delights. From the Bolo de Berlim (usually a favourite beach-time snack) to the Tarte de Amendoim (Almond tart) to the soft and sugary Guardanapos, there is a pastry for every taste and preference.
Get hands-on and learn to cook & bake like a local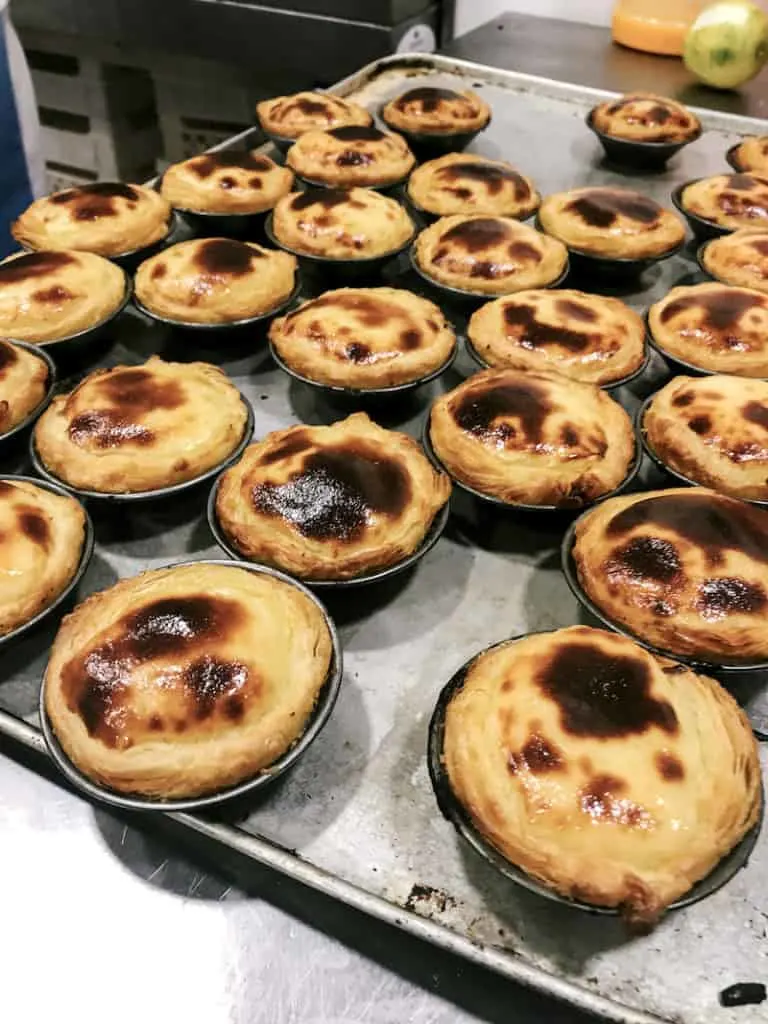 Want to expand your cooking range and really learn to cook like a local? Well, Lisbon is the perfect city to do just that!
Various different cooking schools and bakeries in Lisbon offer a host of different hands-on cooking and baking experiences, to teach you the secrets to cooking and baking delicious Portuguese fare.
Cooking Lisbon for instance, specializes in cooking classes that range from gourmet to traditional Portuguese cuisine. Here they'll take along a food market tour, teach you about the local produce used in Portuguese cuisine and then teach you how to cook some of Portugal's most traditional and iconic dishes. Of course, you get to savour all your hard work at the end of your experience too!
Another favourite of mine is to partake in a Pastel de Nata baking course that's hosted by João, the owner of Pastelaria de Batalha. João will teach you all his insider tips and tricks to help you replicate and bake the perfect Pastel de Nata at home, as well as teaching you about other Portuguese pastries and deserts along the way. What really stood out in this experience though was João's personal stories of this family-run bakery and sharing his absolute passion for the art of baking.
Both of these experiences are the perfect addition to any food lover's Lisbon Itinerary.
Eat like a local in a traditional family-run Tasca
Whenever visiting a new destination, it may seem overwhelming to decide on where to eat and Lisbon is no exception. With a staggering array of different restaurants to choose from, scattered all over the city, it may be hard to settle on the perfect dining spot.
What I've learnt since moving to Lisbon though, is that you sometimes need to steer away from the shiny boutique restaurants and eateries and ever so often pop into a truly traditional and family-run Tasca (local restaurant).
Tascas line just about every street corner and is the go-to place for many local Portuguese who want to simply enjoy a traditional home-cooked meal. Whilst many of these Tascas are not fancy at all, by way of interiors, what does stand out is the true sense of community and the incredible traditional Portuguese food that you'll get to enjoy here, some of the best I've had in all of Lisbon.
A bonus, of course, is that many Tascas are far more affordable than the more mainstream restaurants. You can easily pay under €10 for the main meal and drink when visiting a Tasca.
So, go ahead and support the local tascas when you next visit Lisbon and savour the true flavours of Portugal.
Visit Lisbon's vibrant food markets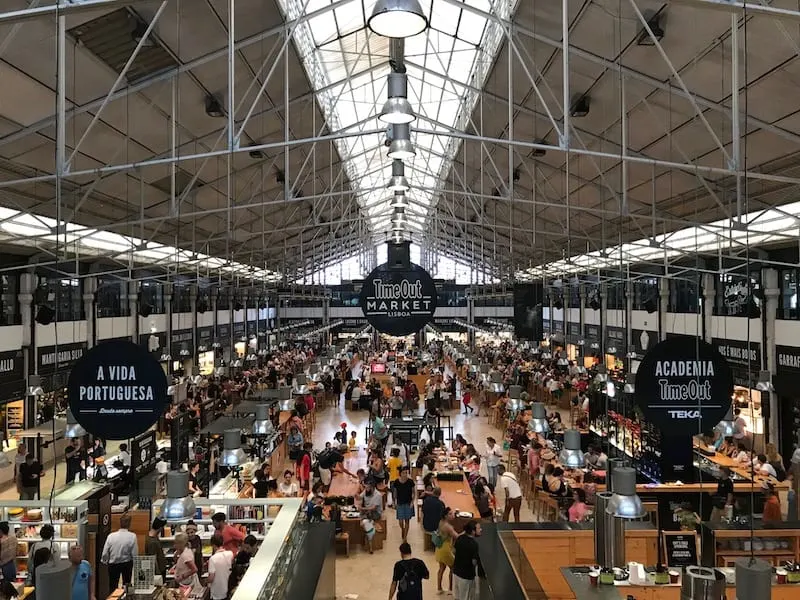 Where there's a bustling food scene, there's no doubt no shortage of equally vibrant and interesting food markets to explore. And this is exactly what Lisbon has in abundance.
Why not start by exploring a food market such as the Time Out Market in Cais do Sodré where you can sample a selection of different dishes sold by various restaurants and curated by some of the top chefs in Lisbon. This market (also known as the Mercado da Ribeira) is quite popular and can get completely overrun by tourists, in which case you can head to the similar but slightly smaller Mercado de Campo de Ourique, where you are likely to see more locals compared to tourists.
Are you fascinated by the traditional fish, meat and vegetable markets? Then Lisbon is absolutely the place to be. The 31 Janeiro Market, located close to the Saldanha and Arroios neighbourhoods is a prime example of a classic Portuguese market selling only the freshest produce. This market is so popular it's also where many top chefs and restaurants shop for the very best Portuguese produce.
Other popular markets include the Mercado de Arroios, or if you happen to be taking a day trip from Lisbon to Cascais then be sure to check out the Mercado da Vila in Cascais
Either way, a visit to one of Lisbon's many markets are sure to be an unforgettable experience as you explore the sights, sounds and flavours of Lisbon and Portugal!
Treat yourself to a Portuguese fine dining experience
Portugal has long since been known for its excellent and high standards of craftsmanship but its culinary scene is equally as impressive and gaining more and more acclaim globally.
This is in large part thanks to many top Portuguese chefs reinventing and elevating Portuguese cuisine to new heights. Chefs such as Alexandre Silva, José Avillez and Joachim Koerper, to name but a few, have all set up shop in Lisbon.
This has led to Lisbon being home to several top Michelin starred restaurants, including Alma (2 stars), Belcanto (2 stars), EPUR (1 star), Eleven (1 star), Feitoria (1 star), Fifty Seconds (1 star) and Loco (1 star).
What better way can there be, rounding out your perfect Lisbon visit, than to spoil yourself and indulge in a phenomenal fine dining experience, sampling some of Portugal's finest foods.
Having had the privilege of calling Lisbon my home for the past 3 years, I've come to realize that beautiful, sunny Lisboa is an absolute paradise for anyone interested in local gastronomy and wanting to explore the true flavors of Portugal.
About Marcos
Born and raised in South Africa, Marco Santos from Travel-Boo, together with his partner moved to sunny Lisbon over 2 years ago. With an absolute love for Europe, he is on a mission to rediscover his own Portuguese heritage along the way. Marco has set out to blog and share his passion for travelling through and exploring both Portugal, Spain and throughout Europe, through his blog Travel-Boo.