Let's be honest: choosing the right accommodation for you and your company can make or break a vacation. Visiting Marrakech during the summer means that you need to book a hotel in Marrakech with a pool!
If you aren't a fan of luxury accommodation or if you're traveling on a budget, you'll love to know that big hotels offer a day pass to access and enjoy their pools! Choosing where to stay in Marrakech doesn't have to be hard if you know what you're looking for.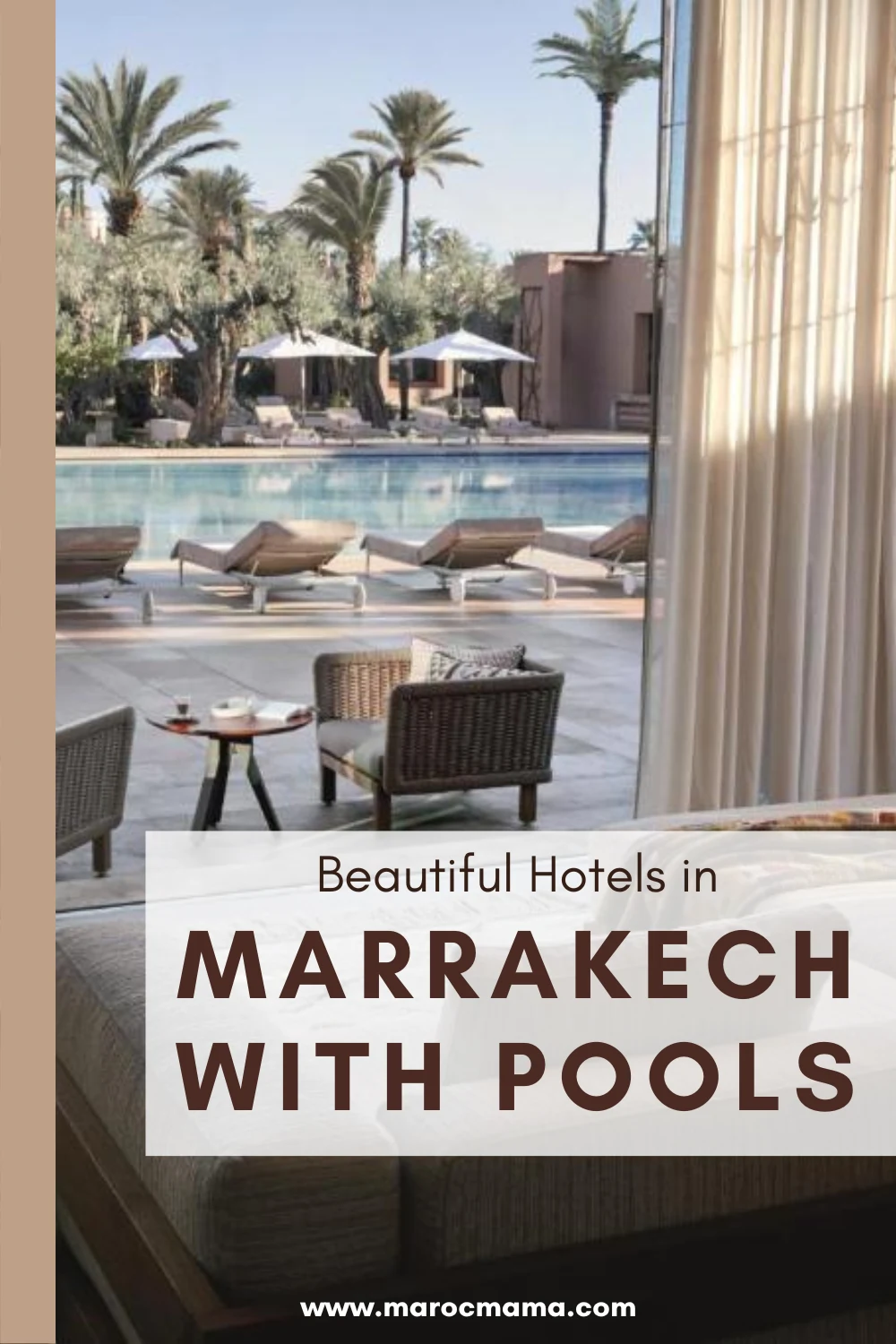 Here's my list of the best hotels in Marrakech with pools.
Luxury Marrakech Hotels with Pools
Royal Mansour Marrakech
Famous for being one of the best hotels with a pool in Marrakech, the Royal Mansour Marrakech is a 5-star hotel a few steps away from the central Jemaa El Fna Square. Staying in this hotel will make you feel like you're inside a medina. Each of the 53 rooms is private riads with one to four bedrooms and a plunge pool. Besides, the hotel's corridors are winding alleyways that give you the sensation of walking through the streets of Medina.
At the Royal Mansour Marrakech, you'll find everything you need for an exceptional stay: 4 different restaurants, a bar, a wellness center, and both an indoor and an outdoor pool.
You'll never want to leave after having spent a relaxing afternoon in the rooftop pool admiring the majestic peaks of the Atlas Mountains!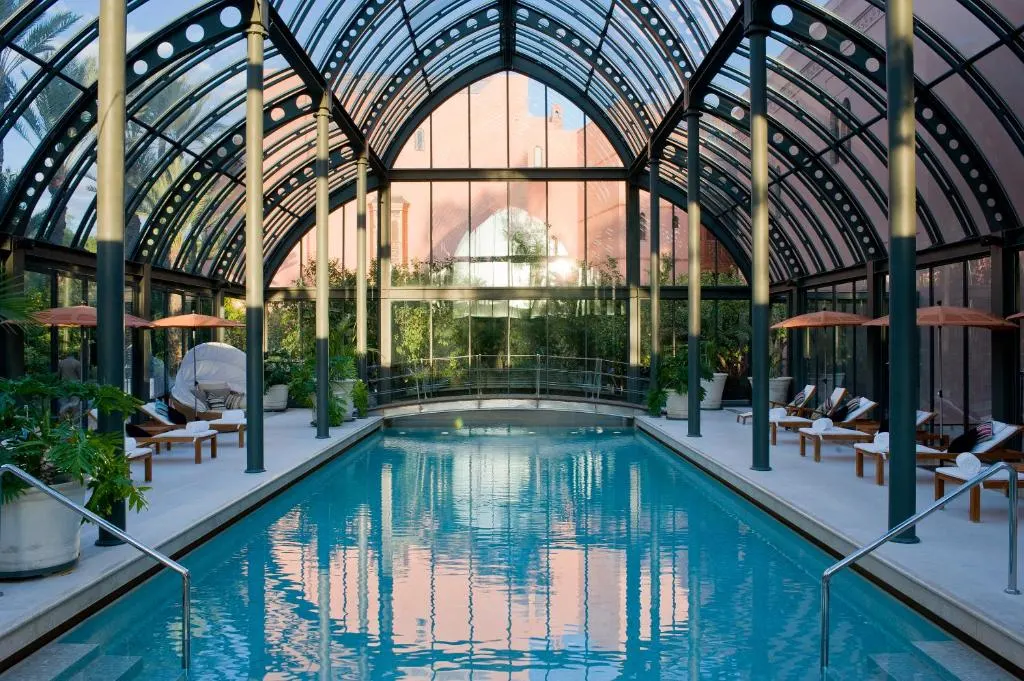 The Oberoi Marrakech
This fabulous Marrakech hotel with private pools is the perfect stay for you if you want total privacy. The Oberoi Marrakech is an authentic architecture inspired by the palaces of ancient Morocco, and it has spacious rooms and luxurious villas with private pools and gardens.
Besides the private ones, the Oberoi Marrakech has an outdoor swimming pool and an indoor one that all the guests can use. The onsite spa, immersed in olive trees and citrus orchards garden, is a wonderful place for relaxation and trying out Hammam rituals and aromatherapy.
This 5-star hotel offers an International restaurant, a poolside restaurant, and a specialty Moroccan restaurant where you can also reserve a private cooking class with the chef. If you are not too much into cooking, you can opt for other fun activities, such as a ride in a vintage sidecar or a private tour of the desert.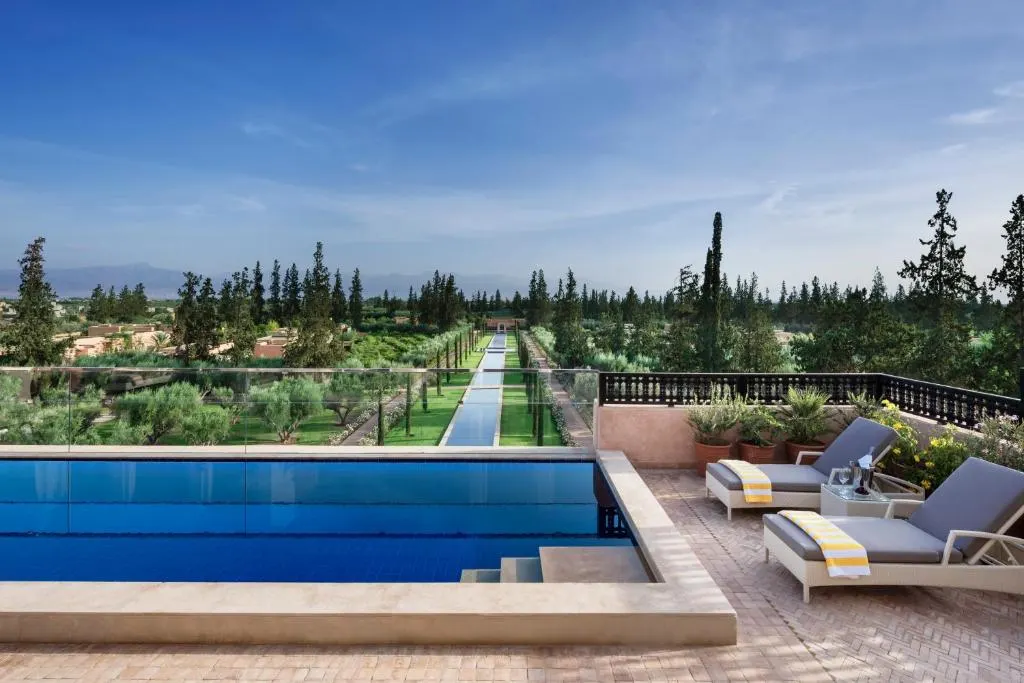 Mandarin Oriental
If you are looking for a luxury Marrakech hotel with private pools, the Mandarin Oriental is the place to be. Set in 20 hectares of landscaped garden, this hotel is located only a 10-minute drive from Jemaa El Fna Square.
At the Mandarin Oriental, you can choose between 9 suites, private villas, and an 8-bed suite penthouse. The suites have a rooftop plunge pool, while the 54 villas are decorated in modern Arabic style and have private swimming pools and hot tubs.
The hotel also features a huge outdoor swimming pool and 3 onsite restaurants. A wellness center with a hammam, massage areas, and an indoor pool completed the fantastic structure of the Mandarin Oriental in Marrakech.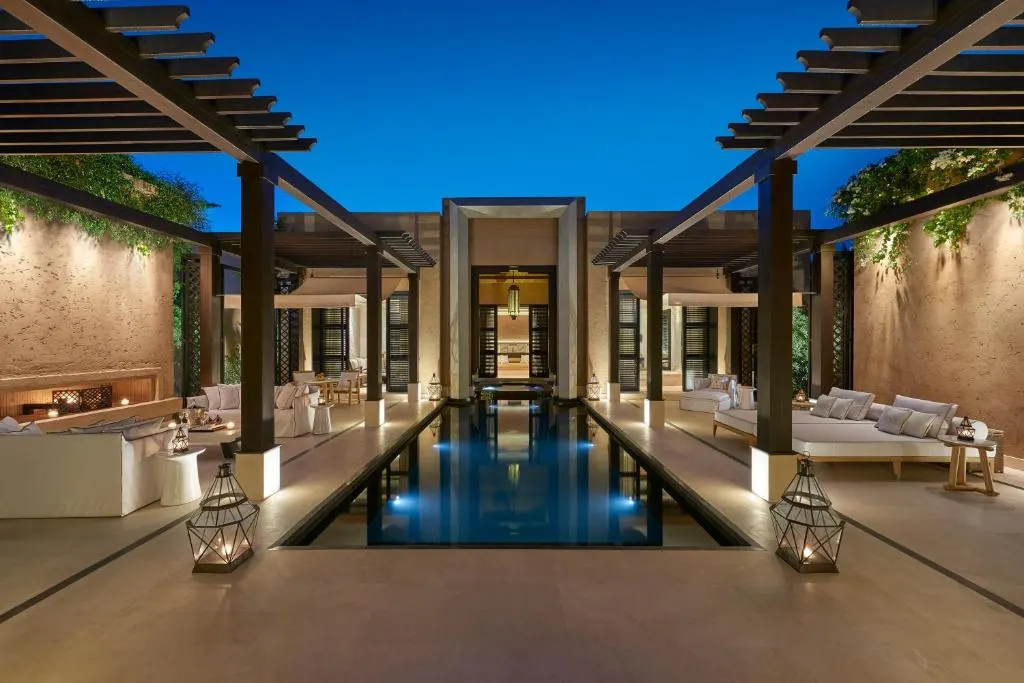 Les Cinq Djellabas
One of the best hotels with a pool in Marrakech, the Les Cinq Djellabas has a heated swimming pool in the garden, and they are special: 10 African-inspired eco-lodges. All the suites are located in the garden and have a lounge area and a fireplace.
The Les Cinq Djellabas has an onsite restaurant serving Moroccan cuisine, international dishes, and a traditional hammam.
You can book a wide range of activities at this hotel, from cooking classes to yoga lessons to horse riding at the bottom of Atlas Mountains: whatever your heart desires, the staff at Les Cinq Djellabas is there to make it happen!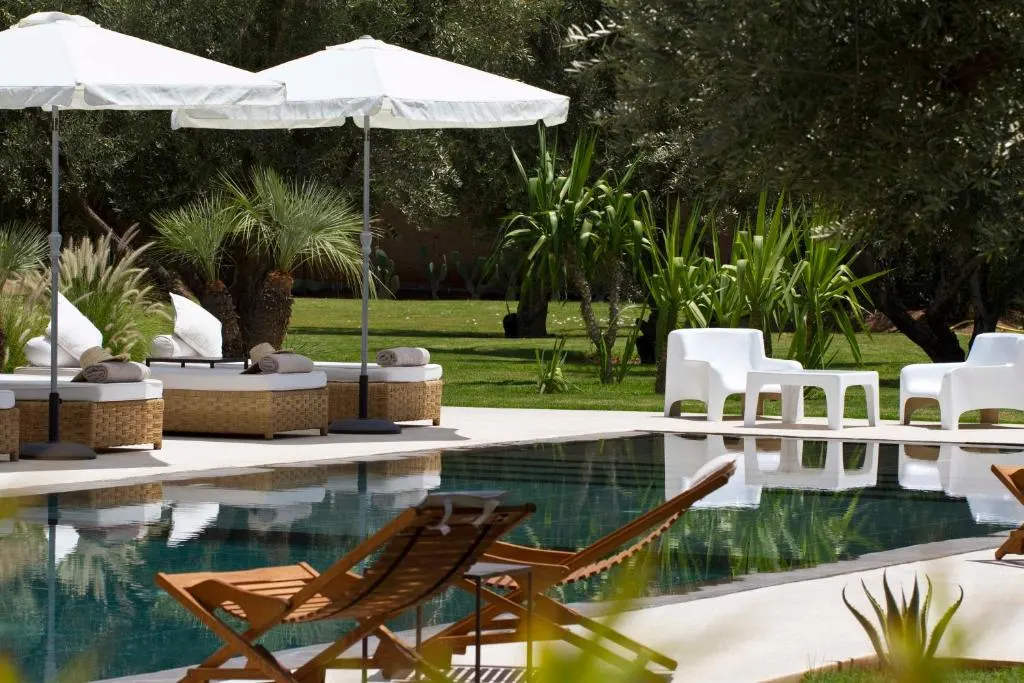 Les Jardins De La Koutoubia
This hotel with a rooftop pool in Marrakech is located in the heart of Medina. Les Jardins de la Koutoubia is a prestigious establishment; you'll love its service and the luxurious spa.
The hotel has 108 rooms and suites in contemporary style, equipped with all the comforts and open onto gorgeous patios.
Relax in the heated indoor and outdoor pools, in the spa, or inside the library. Les Jardins de la Koutoubia has 3 restaurants where you can taste Moroccan, Indian, and French cuisine.
Les Jardins de la Koutoubia are only 3 km away from the stunning Menara Gardens, one of the must-sees in Marrakech!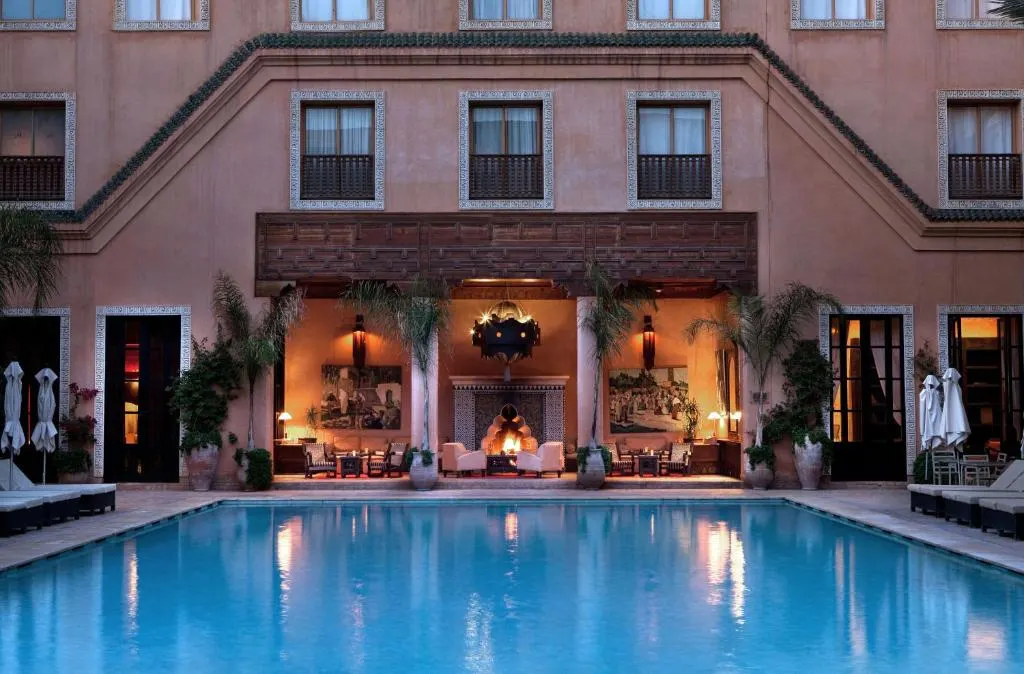 Affordable Marrakech Hotels with Pools
2Ciels Boutique Hotel
This stylish hotel is an urban oasis in the heart of Marrakech with a convenient location just steps from the Marrakech Plaza. It is more expensive than the other hotels featured in this section but affordable for those looking for luxury on a budget.
Rooms feature art deco design, highlighting Moroccan artisan work. Vibrant, spacious, and comfortable, you will feel pampered as you relax after a day of sightseeing.
3 onsite restaurants offer guests a variety of dining options, including a catch-of-the-day seafood restaurant, a small plates lounge overlooking the Atlas Mountains, and a bar with craft cocktails, cold-pressed juices, coffee, and small snacks.
The outdoor pool and sun terrace are guests' favorites, along with the spa and hammam treatments available upon request.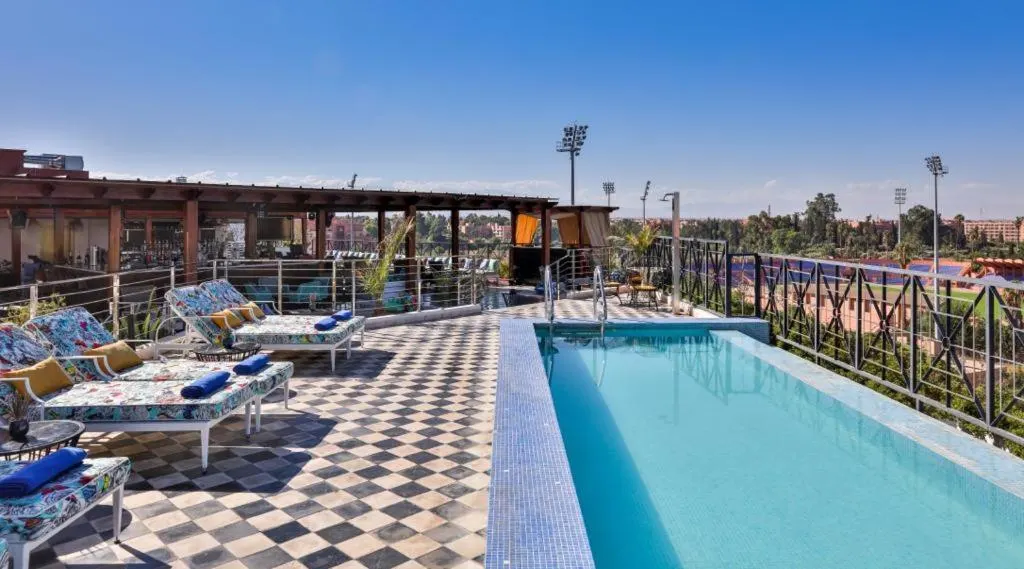 Sol Oasis Marrakech
Sol Oasis is perfect for those looking to find a little bit of budget luxury just outside of the main tourist areas of town. Located within 8 miles of the Majorelle Gardens and Yves Saint Laurent Museum, it's close to attractions without being on top of them. Free shuttle service to the city center makes staying a little further out no hassle at all!
Whether you are looking for standard or family rooms, this hotel offers many options, including family suites. Rooms are stylish, with a Moroccan flair and fun pops of color.
Three pools are featured at the hotel – a kid's pool, a large outdoor pool, and an indoor heated pool. Additionally, a kids club and daily entertainment are available, making this a great choice for families visiting Marrakech.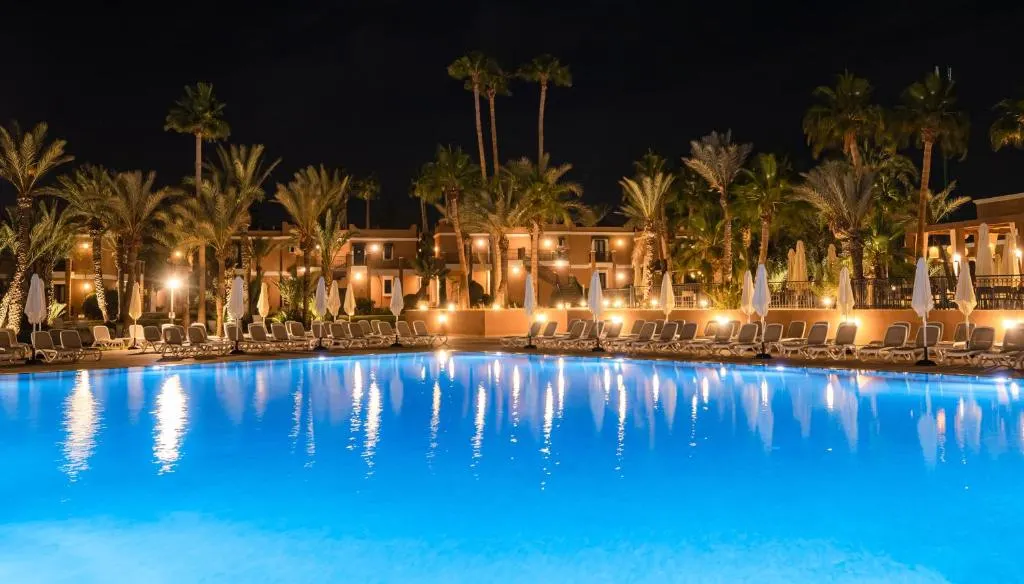 Le Pavillion de la Kasbah Marrakech
This 4-star boutique hotel is found at the entrance to the medina, yet you wouldn't know it with the tranquility offered once inside.
10 charming rooms will invite you to rest and relax from the bustle of the city streets. Decorated in soft colors and with plush linens, you will feel pampered and refreshed after a night of sleeping here.
The rooftop terrace features the hotel restaurant, which also serves elegant tea. On the rooftop, you will find both a bar for refreshing drinks and a beautiful outdoor pool.
For those in need of extra services, a spa, airport shuttle, and bike rentals are also available.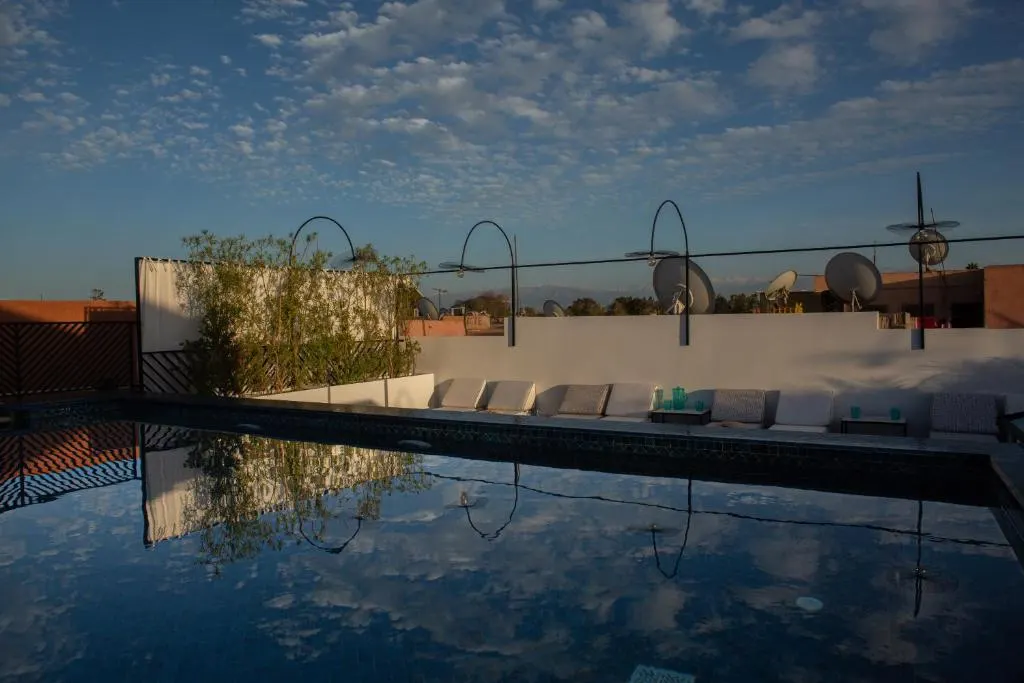 Hotel Ibn Batouta
With a central location near the Majorelle Gardens and Bahia Palace, this hotel features a variety of room sizes and amenities for travelers.
Rooms are spacious, with chic decor, and each room has its own private balcony or terrace.
The onsite restaurant serves food all day long, with a mixture of Moroccan, French, and Mediterranean cuisine on the menu. Guests can also enjoy beverages and snacks at the rooftop cafe near the terrace and pool. It's a great chance to soak up some sun, take a dip in the cool water and enjoy fresh juice.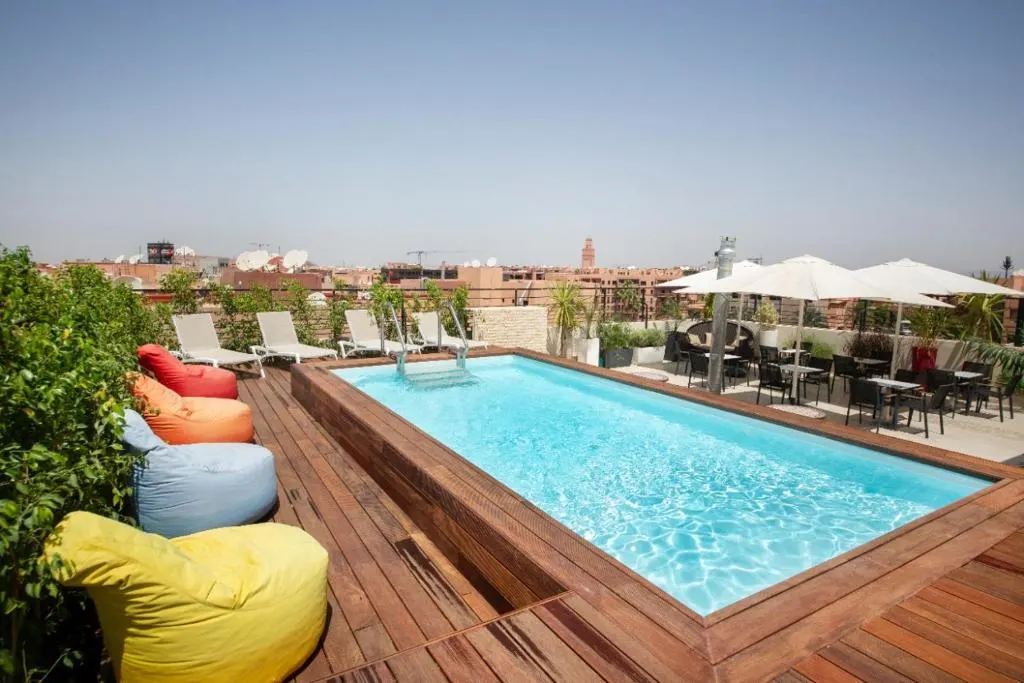 Upupa de l'Atlas
If you want a break from the Medina and busy Marrakech streets, this hotel is a gorgeous retreat with an affordable price tag. You will need a car or taxi to get here from the city's main tourist attractions, but once you set eyes on the pool and the gardens, your senses will be delighted!
The cozy rooms feature a bohemian design, and all include patios with views of the mountains.
A restaurant offering a delicious breakfast (included in your stay) and meals throughout the day uses fresh ingredients from the organic farm at the hotel and receives rave reviews from guests.
Outside, enjoy the large pool, loungers, and rooftop terrace, all with lush gardens or mountain views. It's truly a paradise on the edge of the city!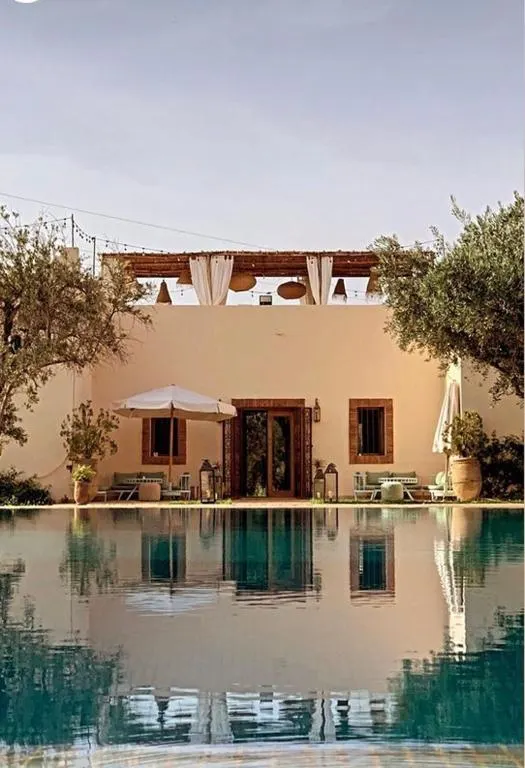 Hotels in Marrakech with a Pool Day Pass
JAAL Riad Resort Marrakech
One of the best adults-only hotels in Marrakech, the Jaal Riad Resort is the perfect stay if you are looking for celebrity treatment. The 5-star spa, the fitness center, and the huge swimming pool are the best assets of this hotel.
The rooms have a traditional Moroccan décor combined with modern features, and the onsite restaurant with Arabic décor serves traditional Moroccan cuisine.
The hotel has one of the best pools in Marrakech, which you can enjoy even if you aren't a guest. You can buy a pool day pass for 440 dirhams and swim in the huge pool from 11:00 am to 6:00 pm.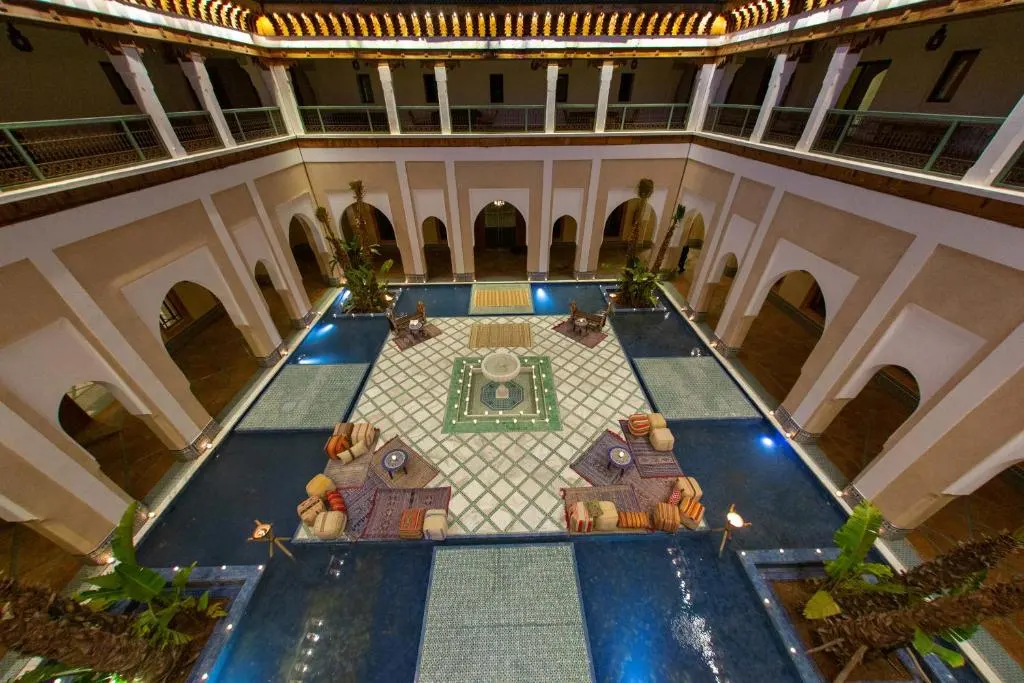 Palais Mirage D'Atlas
This luxury hotel is an oasis of peace located just 20 minutes from Marrakech's city center.
The Palais Mirage d'Atlas has suites and private villas finely decorated, which you'll surely enjoy alongside dining in the onsite restaurant that offers a mix of traditional Moroccan, French, and international cuisine.
During the day, you can pomp up your energy level at the onsite fitness center or relax in the heated outdoor swimming pool. The hotel also has a fantastic playground where your kids can play in all safety.
The Palais Mirage d'Atlas offers a pool day pass for those who want to spend the day at the pool. The pass will allow you to access the pool from 9:00 am to 6:00 pm and enjoy a full lunch course meal (with drinks not included). The pool day pass is 400 dh for adults and 200 dh for children aged 4-6. The big plus? Towels and sunbeds are provided free of charge!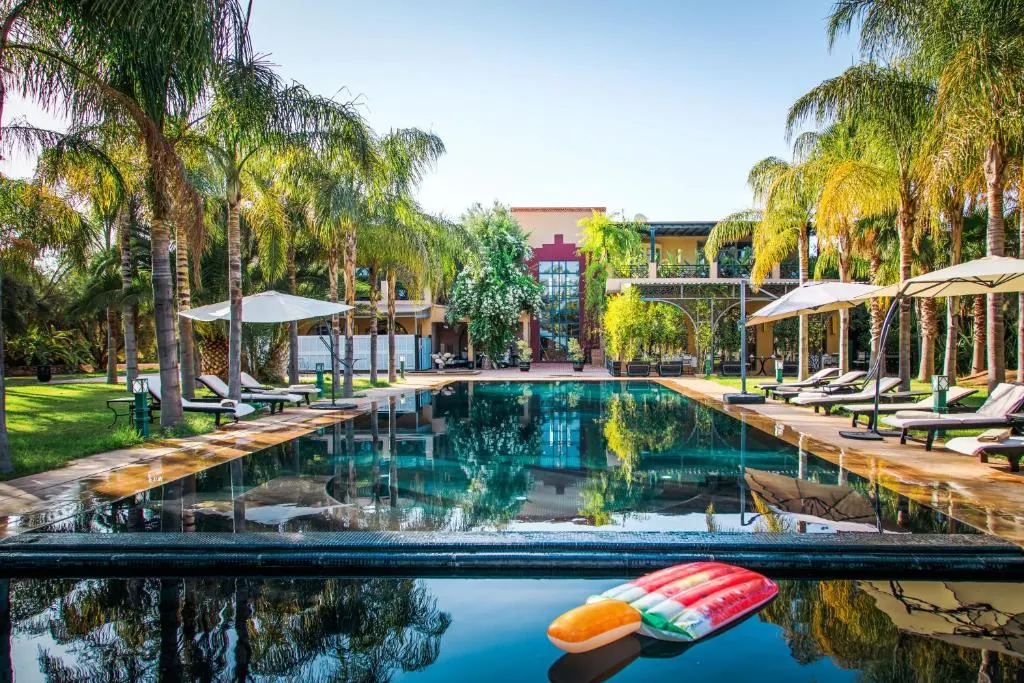 I hope these hotels have given you some great ideas of hotels with pools to spend your Marrakech vacation. Whether you're looking for a luxury experience or a more budget-friendly option, there is something to fit everyone's needs. As always, I recommend doing your research and reading reviews before booking any hotel. I wish you a wonderful stay in Marrakech.
More Ideas on Where to Stay in Marrakech
If these weren't quite what you were hoping for, here are some more ideas on where to stay in Marrakech.
Beautiful Marrakech Riads for Couples