If you're not sure where to stay in Marrakech, this article will give you a list of Marrakech riads with pools that you'll undoubtedly enjoy during your stay.
Morocco is a dream destination for any traveler, and each Marrakech riad with a pool has its own distinct setting and ambiance, making your vacation in the country even more memorable.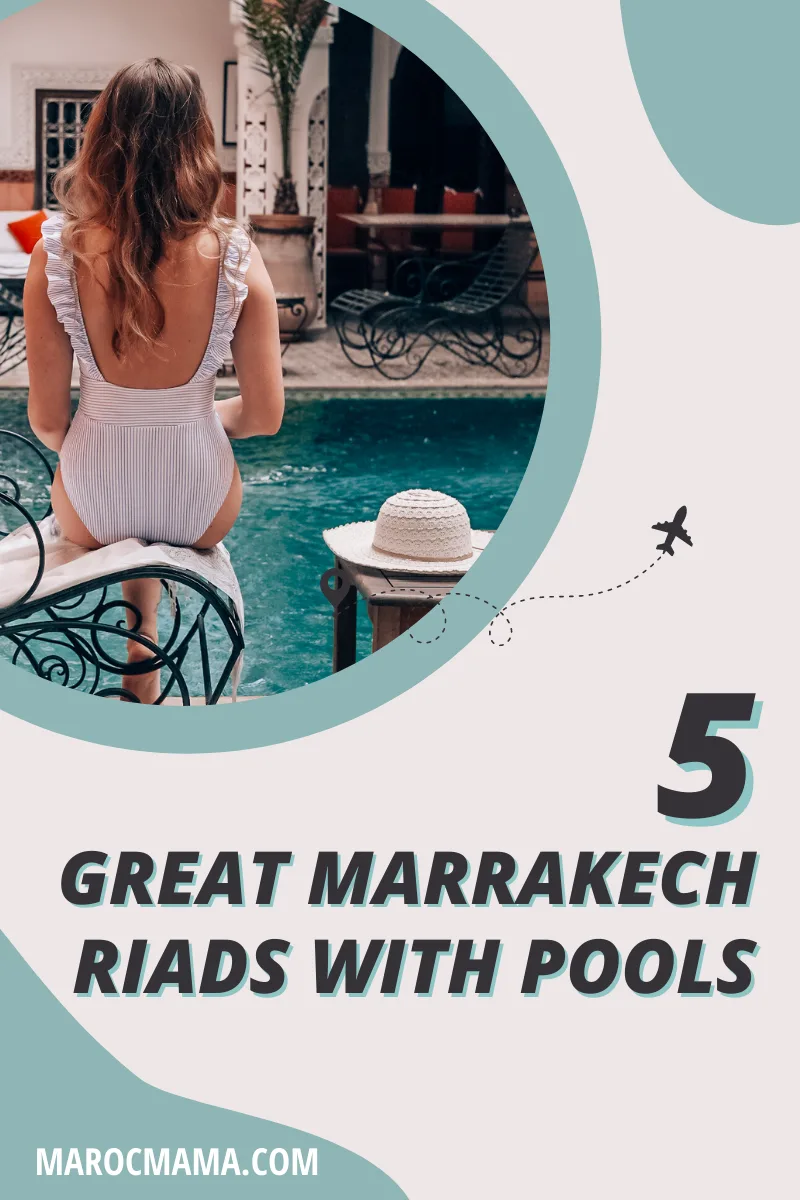 Are there any riads with heated pools in Marrakech?
There are some riads that have heated pools however they are few and far between. If you want a heated pool, you will really need to do some digging to find them. In most cases, plan on the pool being unheated.
Are there any riads with private pools in Marrakech?
In most cases, the riad pool will be open to any guests – unless you book a full rental. Most riads do have the option to book the entire property. This can be very cost-effective if you're a small group traveling together and gives you the privacy of a secluded pool space.
The majority of riads are between 4 and 5 rooms however there are even smaller 3 room riads that could work for even a larger family traveling together. This is your best option if you want a private pool in your riad.
Are there any family-friendly riads with pools in Marrakech?
Yes, there are many family-friendly riads with pools in Marrakech. Some popular options include Riad Tawargit, Riad Tarabel, and Riad Be Marrakech. These riads offer various amenities and activities for families, including pool access, family rooms, and child-friendly services. It is always a good idea to check with the riad directly to confirm their family-friendly offerings and policies.
What is a plunge pool?
Most riads in Marrakech have plunge pools instead of full-size pools. A plunge pool is typically a small, shallow pool that is designed for sitting or standing in rather than for swimming. These pools are perfect for cooling off on a hot day, but they are not large enough for full-on swimming. They are often found in courtyards and are designed to add a peaceful and tranquil element to the riad's surroundings.
A plunge pool is different from a full pool in many ways.
First, the size of the pool is significantly smaller than that of a full pool, which makes it more suitable for small spaces such as courtyards or rooftops.
Secondly, plunge pools are usually shallower than full-size pools and have a lower water volume, which makes them easier to clean and maintain. Additionally, because they are smaller, plunge pools can be heated more efficiently, which means they can be used all year round.
Finally, plunge pools tend to be less expensive to install and maintain than full-size pools, making them a popular choice for many riads in Marrakech.
You can unwind among beautiful gardens, sip mint tea while lying on a Moroccan chaise longue, read a book, and forget about your worries. There is also the added benefit of receiving world-class service that is available 24 hours a day, seven days a week.
1. Riad Spice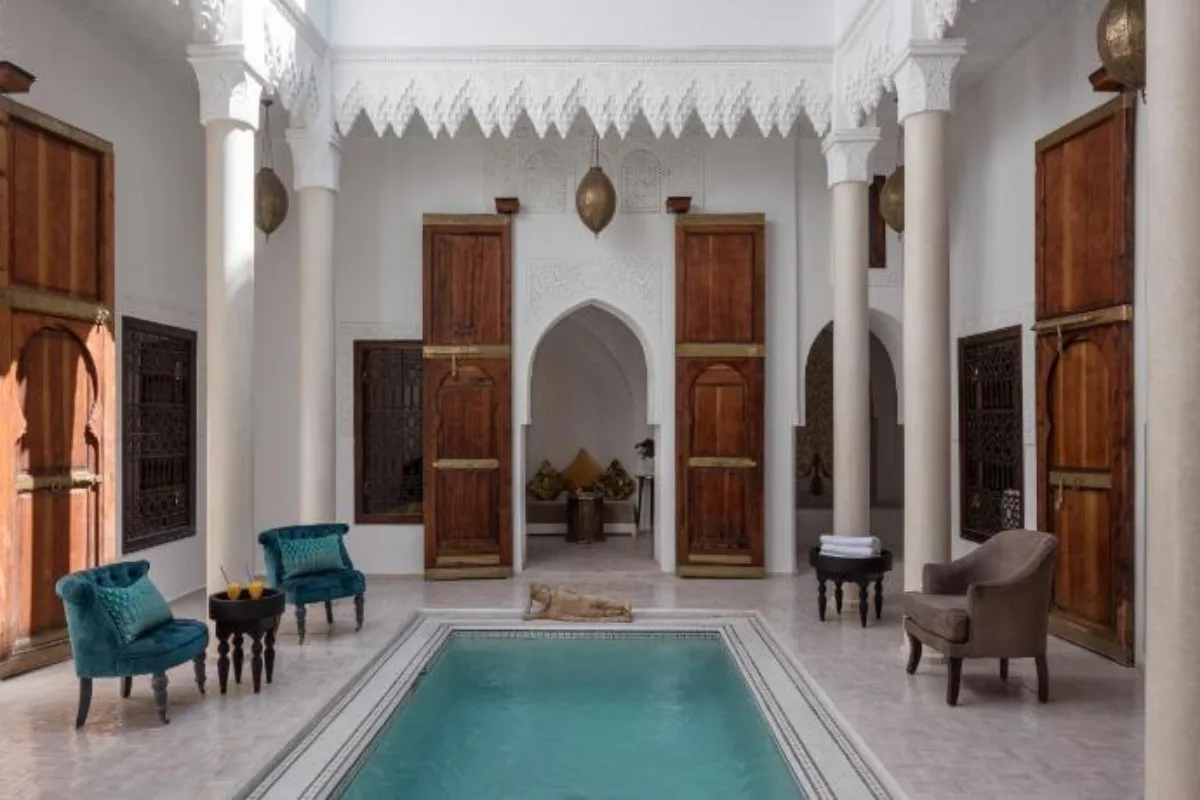 Riad Spice by Marrakech Riad is an oasis of relaxation in the heart of the Medina and one of the Marrakech riads with pools that offers a unique concept. Their restaurant serves traditional Moroccan cuisines as well as international cuisines.
The riad has seven rooms, each with its own unique style and charm. They have private bathrooms, toilets, and modern amenities.
In addition to the lovely rooms, there is a large rooftop terrace with stunning views of the city, as well as an outdoor pool for those who want to cool off from the heat of the day.
They also have a spa where you can enjoy a variety of beauty and relaxation treatments during your stay!
2. Riad Goloboy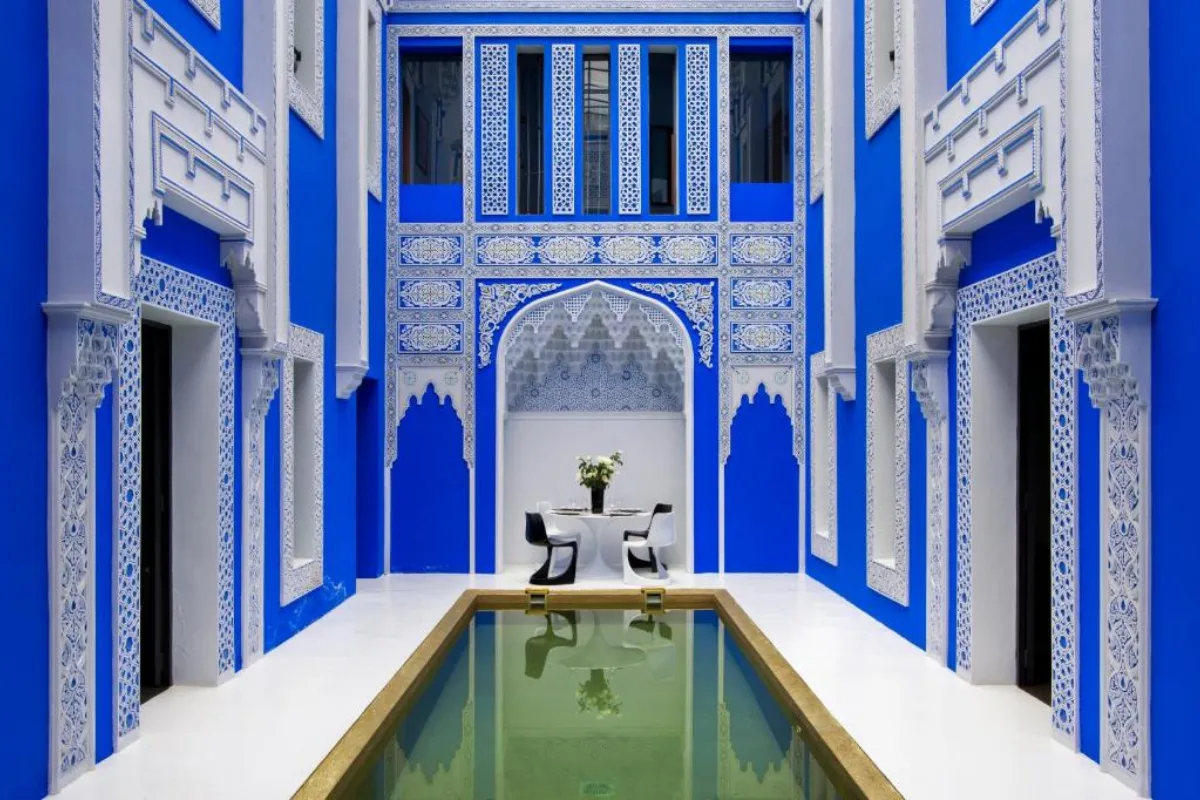 Built in the eighteenth century, the Riad Goloboy has preserved its traditional charm and style. The Riad is located on a narrow street, surrounded by a thick wall of cream-colored stone that retains the serenity and coolness, even during the hot summer days in Marrakech.
This Marrakech riad with a pool is located on a narrow street and is surrounded by a thick wall of cream-colored stone that maintains serenity and coolness even during Marrakech's hot summer days.
Antique furniture, oriental carpets, and traditional Moroccan lamps are used to decorate the rooms, making it more picture-perfect for your next Instagram post!
Enjoy the use of a swimming pool or relax on one of the terraces whilst enjoying a traditional meal or drink from the restaurant and bar. You'll also find the Spa where you can indulge in some pampering treatments.
Staying at this Marrakech riad with a pool includes a complimentary breakfast with a stunning view of the architecture both inside and outside your room. What more can you ask for?
3. Riad le Clos des Arts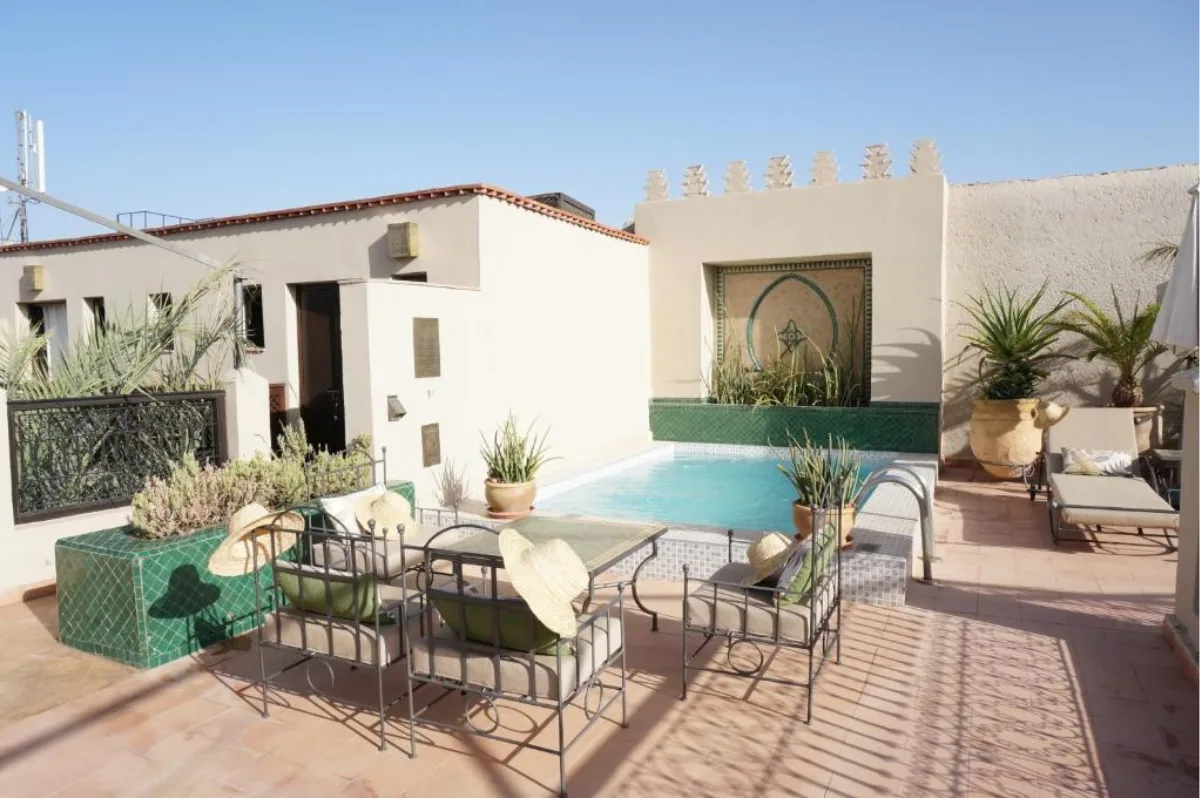 If you want to get away from it all, Riad le Clos des Arts in Marrakech might be the perfect oasis.

The riad is built around a traditional Moroccan courtyard with plants and a fountain, where you can relax under the sun. The rooftop terrace hosts a swimming pool with jacuzzi and solarium, offering a wonderful place to cool off on hot summer days.
All rooms are air-conditioned and have their own private bathroom. The decoration combines modern amenities with traditional Moroccan style, including handmade tiled floors and furniture that artisans made, especially for the Riad.
4. Riad Jemaa El Fna & Spa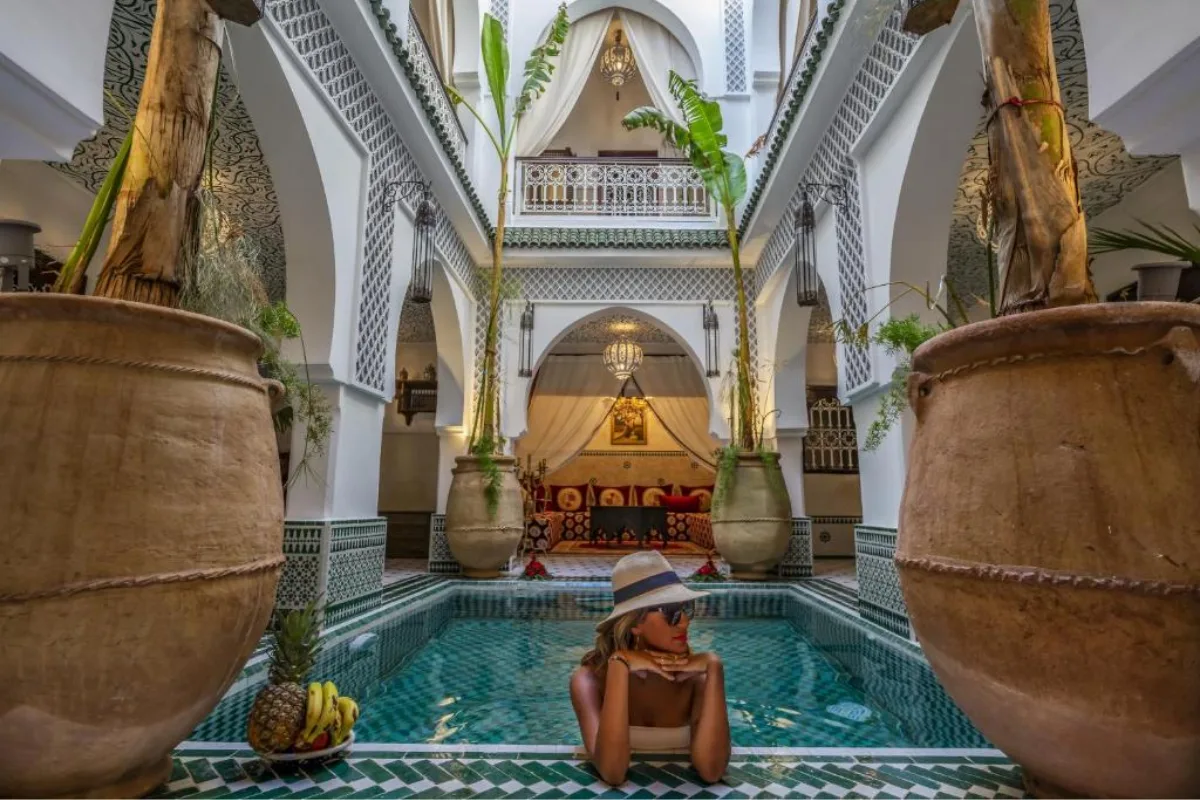 Riad Jemaa El Fna & Spa is one of the most sophisticated Marrakech riads with a pool.
Located just steps away from the famous Jemaa el-Fnaa square, it offers guests a luxurious experience that combines Moroccan history, culture, and tradition with all the comforts of home.
The pool area offers another tranquil setting for relaxation or exercise, as well as additional dining options. The Riad also features a full-service spa offering both traditional Moroccan treatments as well.
Guests can also enjoy their meals in the restaurant or on the rooftop terrace overlooking the medina!
5. Riad Kasbah & Spa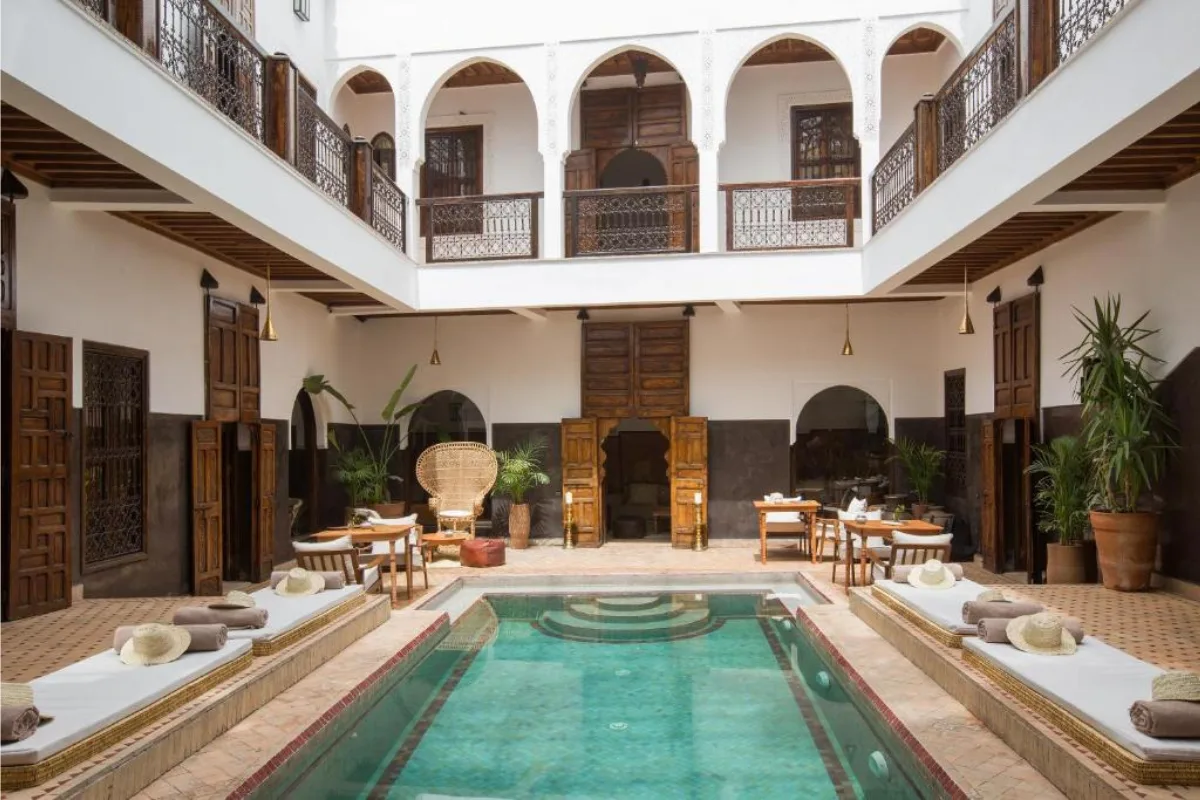 Riad Kasbah & Spa is the perfect place to relax and recharge. Most of the guests enjoy rooms with views of our garden, private balconies, and luxurious marble bathrooms.
Spend your days relaxing in the forest-like gardens, unwinding by the pool, or taking a dip in the hot tub. There's also a steam room to help you relax and cleanse your body after a day of exploring Morocco. The hotel offers free Wi-Fi, so you can stay connected with friends and family back home.
A hearty breakfast is served every morning at Kasbah & Spa, featuring fresh local ingredients like Moroccan pastries and freshly squeezed orange juice. The property also has its own restaurant, which serves delicious Moroccan meals like tagine and couscous.
Choose the Best Marrakech Riads with a Pool
Morocco is a place that will inspire you to discover new things, with the perfect destination to release your stress. The best way to discover such a great country is by booking a Riad with pools in Marrakech! And to help you with your booking for the best Riads with pools in Marrakech, here are the websites you can visit:
Creating a luxury travel experience is an art, given that you end up with a luxurious experience!