If you are planning a visit to the "Hollywood of Morocco", this list of great places to stay in Ouarzazate will help you find the right place for you and your family.
Where to Stay in Ouarzazate
Located approximately three-and-a-half hours Southeast of Marrakech, the city of Ouarzazate is a glistening gateway to the Sahara Desert. If you are heading out in search of a camel ride to your romantic desert camp under the stars, you'll most likely pass through Ouarzazate on your way. But this dusty desert city has some cool things to offer, as well.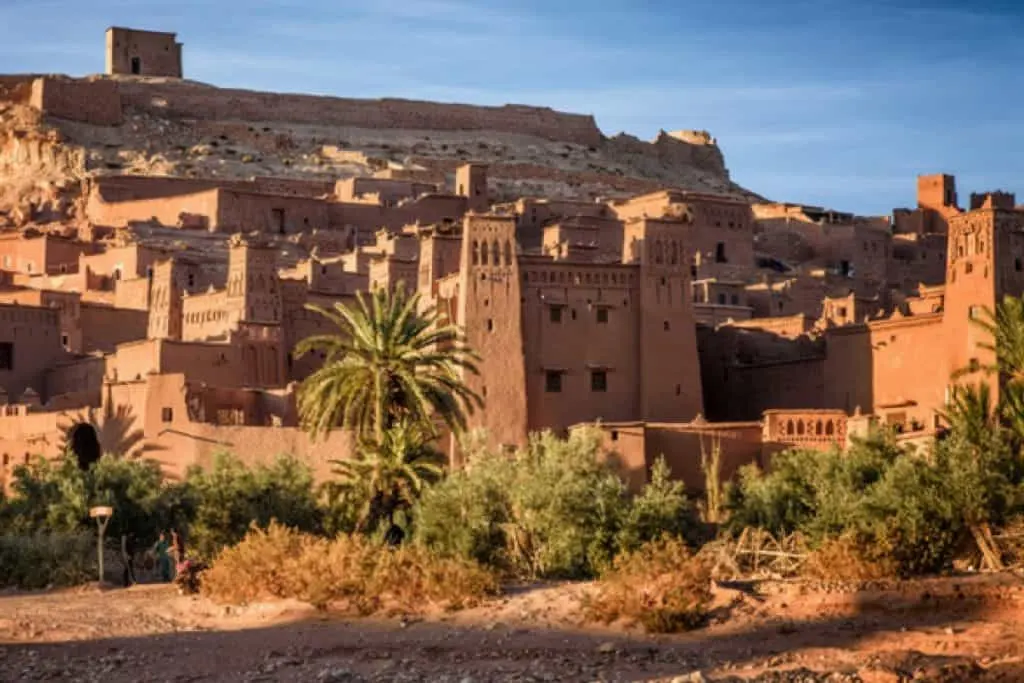 If you love movies and television shows, you may have already seen the beautiful Ait Ben Haddou – especially if you are a fan of Game of Thrones. In fact, Ouarzazate is the home of the famous Atlas Film Studios and CLA Studios, as well. If you prefer to wander in the great outdoors, there are a number of fun ways available in this friendly city.
So if you have time in your schedule, consider spending a day or two looking around. Here are some of the best places to stay in Ouarzazate.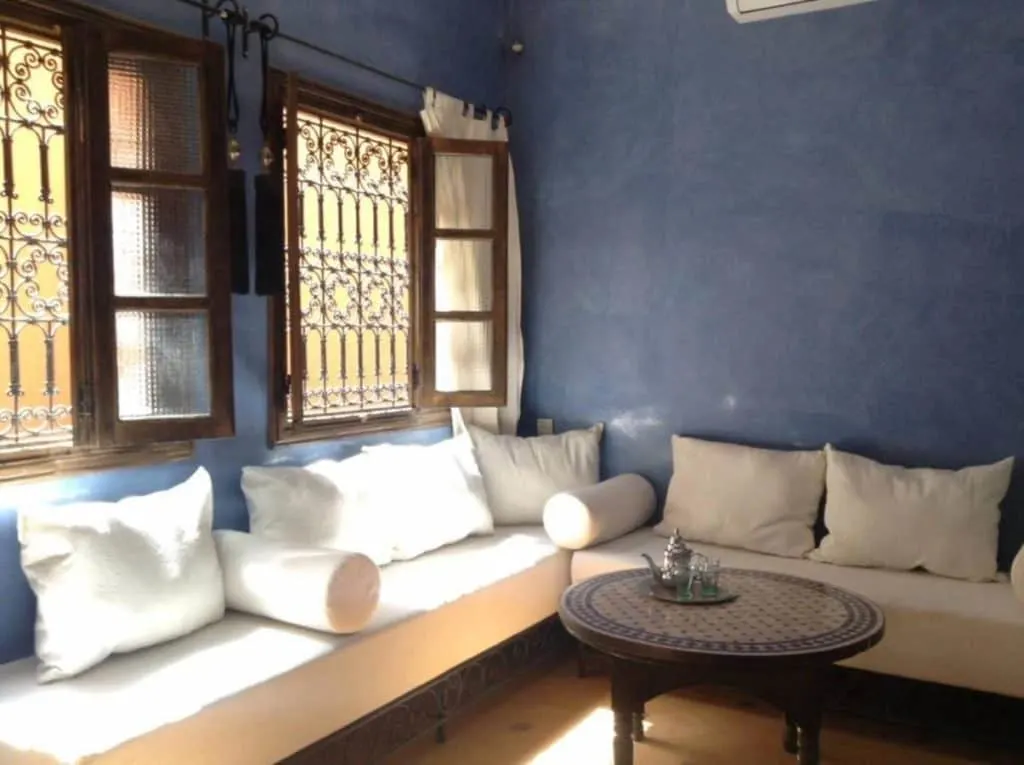 The lovely Dar Souflian riad offers you a comfortable stay in a traditional setting without stressing out your budget. Conveniently located in Ouarzazate near a number of restaurants and shops, this homey riad is a great place to rest your head when you take a break from seeing the sights.
Rooms feature either double beds or two twin beds. You'll enjoy heating and air conditioning, a private bathroom with a shower and toiletries, and free WiFi. They also offer a free continental breakfast each morning – fresh juice, eggs, fruit, pastries, and more! And when you're ready to head out for a new adventure, the staff is happy to help you find your way.
The Dar Souflian is simple and down to earth. When you relax on the terrace, you'll feel right at home – and that's a nice thing to feel when you're on vacation.
While you are visiting Ouarzazate, the Dar Widad bed and breakfast offers you beauty and comfort at a great price. The friendly staff has thought of everything to make your stay relaxing and enjoyable. There is an onsite restaurant and a nice garden and a terrace, too. They also offer free continental breakfast in the morning, to start your day off right.
There is a great variety of rooms available at the Dar Widad. Choose private rooms for one to four people, and for people who like to keep things simple, the multi-bed dormitory rooms might be just what you are looking for.
Rooms include spacious shared bathrooms with shower, toiletries, and a hairdryer. Your room includes all kinds of great extras, from microwave and fridge to electric blankets if you get cold. And there's free WiFi so you can connect with the folks back home and tell them all about your Moroccan adventures!
If you're coming to Ouarzazate to enjoy the "Hollywood of Morocco", the Oscar Hotel is one great choice. Located next to the Atlas Studios film studio and only 30 minutes from Ait Benhaddou, this lovely hotel offers you comfort and luxury at a fair price.
The Oscar hotel is decorated in traditional Moroccan decor and offers fine amenities to make your stay enjoyable. Relax on the shady outdoor terrace or enjoy an evening drink in the bar. The view of the lights reflecting on the outdoor swimming pool at night is nearly as magical as the blanket of stars in the sky. And when you get hungry, they have an onsite restaurant serving traditional cuisine. Wherever you choose to relax, you'll find free WiFi to help you keep in touch with the world.
There are several lovely rooms and suites to choose from at Hotel Oscar. All rooms include comfortable beds piled with pillows, air conditioning, TV, minibar, private bathroom with shower or bath, and many other perks. The Presidential and Them Prestige Suites also include a private balcony and seating area for extra comfort and enjoyment.
Located within easy reach of many fun activities, the staff at the Hotel Oscar is ready and available to help you find your way to art galleries, walking tours, and more. Motorbike rental is available right there on-site, too!
Dar Kamar is a stunningly beautiful guest house. Rustic and artistic, everywhere you look is a pleasure to the eyes. Conveniently located in Ouarzazate near the Atlas Film Studios and many other fun activities, the Dar Kamar offers up a lovely place to relax during your downtime.
Choose between a wide variety of cozy rooms and suites. Each one features a comfortable bed, air conditioning, and private bathroom with a bath or shower. Suites also include a lovely seating area.
The on-site restaurant offers a delicious buffet breakfast in the morning, and if you're in the mood for an evening cocktail, there is a bar ready to welcome you. And when you're ready to explore, be sure to stop by the tour desk where they'll be happy to help you get to where you would like to go!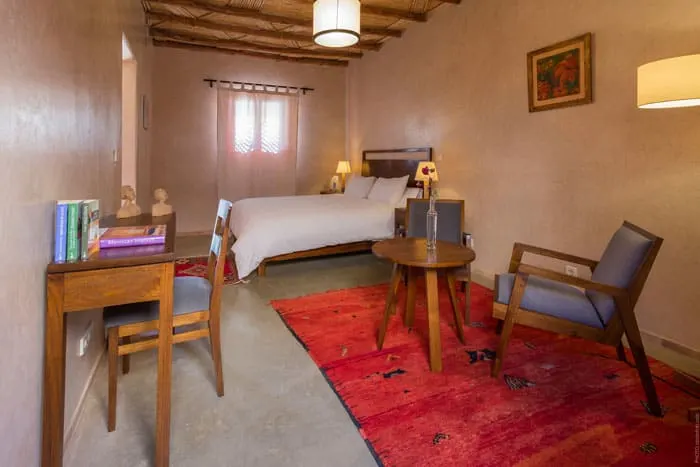 Located just far enough from the city center to provide an atmosphere of peace and relaxation, the Côté Sud bed and breakfast offers you an atmosphere of luxurious comfort when you are visiting Ouarzazate. The stylish and clean decor is accented with lovely Moroccan details, for an attractive look that makes you feel right at home.
Cozy and beautifully decorated rooms include comfortable beds, desks and seating areas, heating and air conditioning, minibar, refrigerator, and a private bathroom with bath or shower. When not relaxing in your room, there is a lovely garden, a terrace, and an outdoor pool with plenty of comfortable outdoor furniture. Free WiFi is accessible in all areas of the hotel.
The luxurious on-site restaurant offers a variety of local and international dishes and the bar has a nice selection of cocktails to choose from, too. In fact, you may find yourself so comfortable and relaxed at Côté Sud, you never want to leave.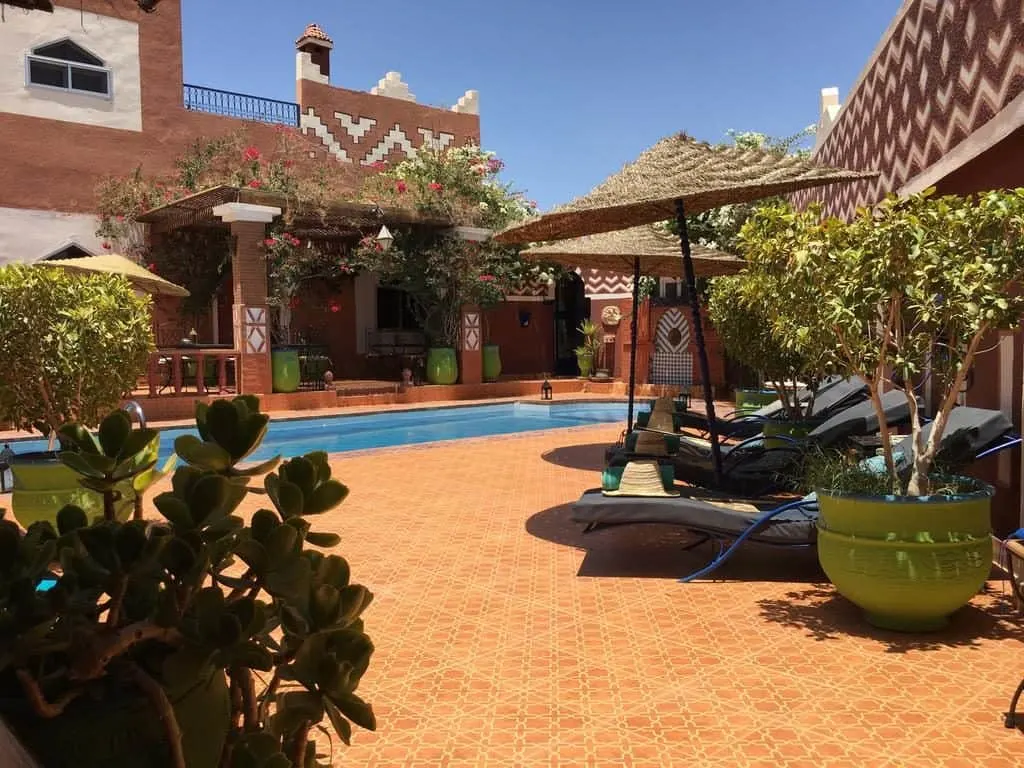 Conveniently located near the Ouarzazate airport and only 10 minutes from the famous Atlas Film Studios, the Le Petit Riad is a luxury Berber-style guesthouse. This enchanted riad is comfortable and charming, ensuring that you have a restful and enjoyable stay.
Beautifully decorated guest rooms feature lovely artistic touches, luxury linens, and captivating views of the mountains, pool, or patio. Rooms include heat and air conditioning. Everywhere you look is beauty – even the exquisite tilework in your private bathroom is a feast for the eyes. Your room rate includes a delicious continental breakfast that you may enjoy in the dining room or have delivered to your private room.
The staff at Le Petit Riad is happy to help you find your way to any activities you are interested in. Head out to do some sightseeing on your own, or book a local tour. Or if you prefer, spend the day at the riad relaxing in the garden on a shaded sun lounger near the pool or hanging out by the fireplace in the guest lounge. You can even take a cooking class while you're there. Or simply relax in the dining room with a delicious meal.
Tempted yet?
If you are looking for a luxurious stay while visiting Ouarzazate, the Maison d'hotes Dar Farhana is ready to make you feel as pampered as possible. This luxury bed and breakfast is stylish and contemporary with touches of exquisite Moroccan decor. Enjoy a delicious continental breakfast on the lovely rooftop terrace as you gaze at the stunning view of the Atlas Mountains.
Grab a seat near the fire pit for the evening and listen to the rhythmic beauty of the drums while you wonder just how many stars are up there in that dazzling night sky. Or simply relax on a Berber-style lounger in the beautiful garden while using the WiFi to let the people back home know exactly why they should be jealous.
Rooms at Maison d'hote Dar Farhana are spacious and comfortable and offer lovely views of the city, the mountains, or the garden and pool. Rooms offer comfortable beds, heat and air conditioning, a dining area and balcony, a private bathroom with a shower and free toiletries, and many other perks to make your stay more comfortable.
When it's time to explore, you are only 2 miles from the Taourirt Kasbah and around four miles from the Atlas Film Studios. But if you decide to just stay in and enjoy the blissful accommodations for the day, no one would blame you a bit.
Hotel Amlal
This simple guesthouse/hotel in Ouarzazate is a good place to stay if you're on a budget but what somewhere clean and comfortable to stay. Don't expect over the top luxury but do expect a good place to sleep and hospitality.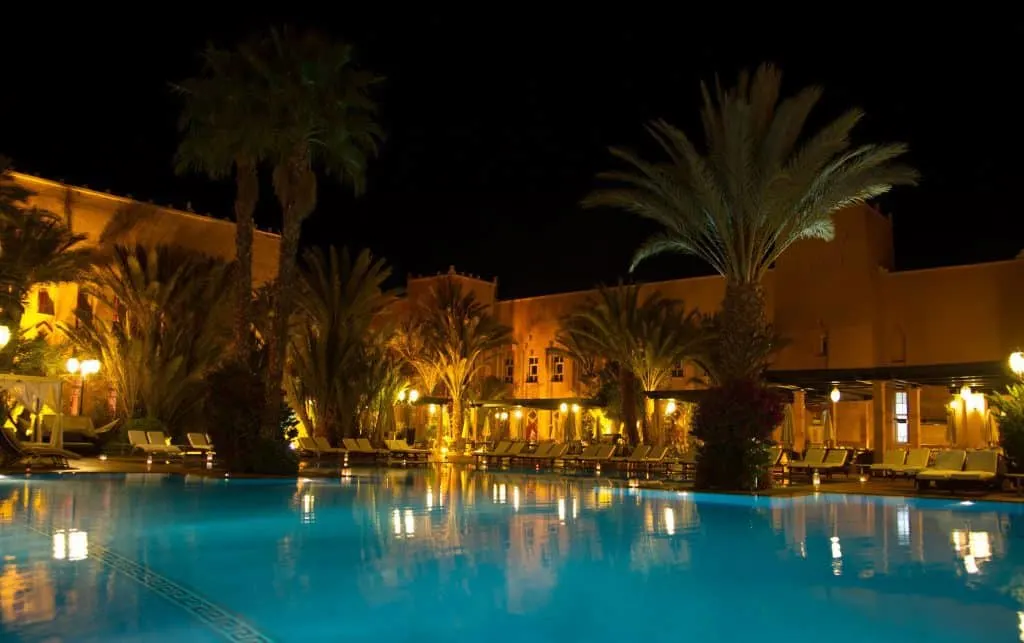 There aren't many five star accommodations in the area (or this side of the Atlas Mountains) so if you're looking for a more luxurious place to stay book here. There is a lovely pool area, free wifi, and spa available for guest use.
If you'd rather stay in nearby Skoura there are a few lovely places to spend the night. This also may be an option if rooms in Ouarzazate are booked up.
If you seek a small, welcoming guesthouse with space to relax by the pool in a palm grove you've found it! Simple luxury, great food and a peaceful retreat wait for you here.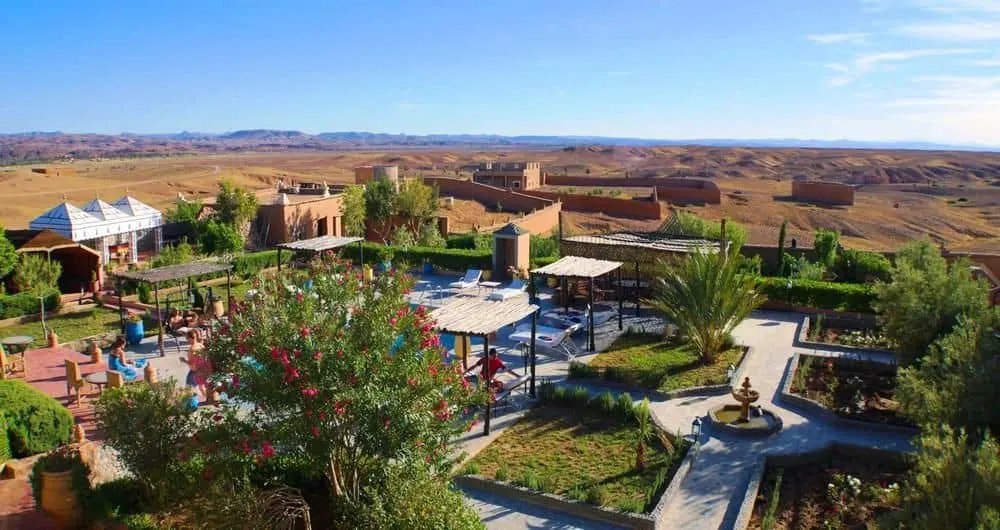 Overlooking the palm grove of Skoura and with amazing views of the High Atlas Mountains is Chez Talout. Simple design, good local food and affordable rates make it a good choice to consider in Skoura.
I seriously drool over this place! It's about as close as you can get to being right in the middle of a palm grove. Beautifully decorated rooms, common spaces and lush gardens cap off this hotel. Moroccan and Mediterranean dishes round out the menu made almost exclusively from produce grown on site or purchased locally.
The city of Ouarzazate is one of Morocco's best-kept secrets just waiting to be discovered. If you'd like to make this jewel of the desert a part of your Moroccan vacation, I hope this list of places to stay in Ouarzazate will get you dreaming about the Little Hollywood of Morocco.