It's a curious feeling to have just finished a book and to not have another one lined up and ready to read.
This never happened when we lived in a regular home in a regular city with several wonderful bookstores at our disposal. My nightstand would always have a stack of books waiting to be read like a pack of cigarettes ready to be chain-smoked one after another. Now I don't even have a nightstand, let alone ready access to books.
We usually plan a little better than this. Whenever we are in a city with even a whiff of a bookstore with books in English, we go there and browse. But somehow I managed to burn through all of them after a month in Morocco. Maybe it was the hours of hiding in the shade waiting for the Sahara to be less deadly. Or our days without internet or cell coverage while staying with a Berber family.
I read on long car rides from Merzouga to Marrakech and on long train rides from Marrakech to Fes. Whenever my eyes were burning from watching the endless and varied landscape of Morocco pass by, I would read.
For these reasons, I found myself bookless in Tangier. And, for these reasons, I found myself reluctantly snuggling up with a novel by Tahir Shah called "The Caliph's House: A Year in Casablanca
".
I spied a small selection of books in our hotel, and late one night I went to inspect what other travelers had left behind. It turns out that most travelers leave their guidebooks, so all I found were dozens of books on Morocco in as many languages. This tempted me, but being at the end of our trip, I feared it would only serve to make me wish we had done more. I wanted fiction. I began to despair.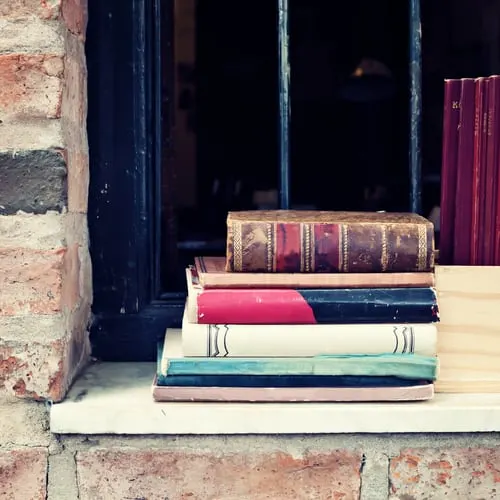 I went down in to the lobby and found a small seating area with a few board games and shelves of books. I only had two requirements. That the book was in English and it wasn't a guidebook about Morocco.
And there I found it in the corner between a Japanese and Portuguese guidebook on Morocco. A book in English.
It'll do.
I took it back to the terrace and started reading. While I was reading I was thinking about how I would never in a thousand years have chosen this novel. The cover didn't call to me and the teaser on the back didn't do it for me. It's literally a book about the time Shah spent moving his family to Casablanca and renovating an old house by the sea.
Given my choice in a bookstore, I would have considered this a beach read and blown right by it without a second thought.
But here I was.
Reading it out of desperation – and actually liking it.
It breezed along nicely, it had conflict and humor and some scenes I could recognize from having spent the last 4 weeks touring around Morocco. There are countless scenes in the novel where Shah describes doing things I had recently done. Sitting in smoke filled cafes drinking thick black coffee, navigating bumpy roads in search of an unknown thing, being invited to drink mint tea by strangers who call you friend. There are passages that speak to the fine and necessary art of haggling; of cool tile and citrus filled courtyards and of ancient ceremonies and beliefs in Jinn.
But beyond all the funny stories in the novel where Shah comes off as a total novice and outsider to Moroccan culture – which has it's own appeal to anybody who has visited – the main truth that floats the novel is the very same thing that keeps Morocco humming along as it does. The beating heart of the country is the people and their relationships with each other.
You don't need to go as far and buy a crumbling house as Shah did to find this truth. All you have to do is visit Morocco and open yourself up to the people and the experiences that are presented to you.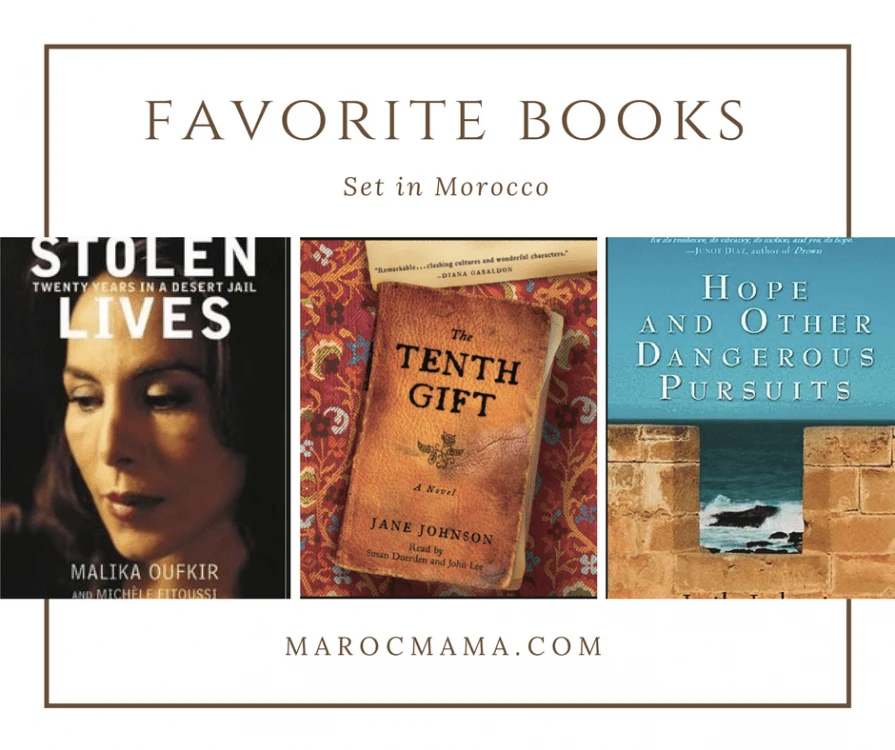 Finding myself without a novel in Tangier and our month in Morocco has taught me again to not judge a book, or country, by its cover.
MarocMama's Favorite Books Set in Morocco
Stolen Lives: Twenty Years in a Desert Jail. Malika Oufkir. This was the first book I ever read and the book that introduced me to Morocco. This is a true story.
Hope and Other Dangerous Pursuits. Laila Lalami. Lalami is one of my favorite Moroccan authors and this modern-day novel brings the challenges of life in Morocco today to light.
Sweetness in the Belly. Camilla Gibb. Only a small portion of this book is set in Morocco but the entire book is fantastic and really one of my favorite books ever.
The Tenth Gift. Jane Johnson. This book was interesting because of the passages through time and also because it brought to life a period of history in Morocco I had no idea about! I didn't love the ending but the rest of the book made up for it.
I'm a reader. I have always been a reader and make it a point to read all books about Morocco that I can get my hands on. When Zac of Visa Vis Travel suggested this guest post to me, I accepted immediately. Finding other readers is truly wonderful!
Zac Stafford and his wife became nomads in 2015 and have been traveling the world since. They write about their experiences (including Morocco!) on their travel blog visa-vis.com. This novel by Tahir Shah was left in Mexico as part of their ongoing project to read, review and leave books in public places for others to do the same. You can follow along at #visavisbooks.