Do you want to know a food blogger secret? OK so maybe it's not so "secret".
We have food.
Lots and lots of it.
It may seem like a really great problem to have, and don't get me wrong it is – most days. But, for example right now, I've got a cake that's 1/4 eaten, 2 dozen cookies, 1/2 a giant peanut butter egg, some more cookies, and that's just the sweets.
You can see how this can quickly become troublesome for my waistline.
So why not share the goodies? That's what we've taken to doing. I can't eat everything so we spread the food love around.
I have been wanting to make more Moroccan cookies. Many of them are intricate and delicate. They're bite size and MUST be made to perfection – at least if you were to ask. Uniformity is a requirement.
Cookies like ka'ab gazelle must all be made to size and baked so that they're just barely brown.
My other gluten free recipes for ghriba are equally delicate. You have to follow the recipe or else they really won't turn out right.
But when you're working with gluten free baking I've found uniformity is much much more difficult to accomplish. The dough just doesn't hold together the same way. It isn't as pliable as a wheat dough.
These cookies, known as halwa dyal makina (roughly translates to sweets/cookies of the machine) seemed like a good cookie to give a go. The best part is that they actually are forgiving, but a uniform size will help make sure they all bake evenly.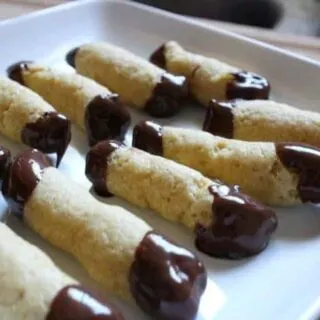 Yield:

48-60 cookies
Gluten-Free Moroccan Piped Cookies
Ingredients
3 cups Gluten-Free Blend flour
3/4 cup sugar
1/2 tsp salt
2 tsp xanthan gum
1/2 cup vegetable oil
3 eggs
1 Tbsp vanilla
1/4 cup whole milk
1/2 cup dark or semi-sweet chocolate for dipping
Instructions
In the bowl of a stand mixer combine 3 cups gluten-free blend flour, 3/4 cup sugar, a 1/2 tsp salt, and 2 tsp xanthan gum. Mix using a paddle attachment.
Crack 3 eggs into a bowl and slowly add to the flour. Stream in 1/2 cup vegetable oil and 1 Tbsp vanilla.
The cookie mix should be crumbly at this point. Slowly add the milk to bring together the mixture.
The dough you will be left with should not be a liquid and should be soft enough to push through a cookie press.
Either grease a cookie sheet or place a sheet of parchment paper down. Preheat your oven to 350F.
If you have a piping bag with a fluted tip you can fill the bag and push out the cookies, about 2" in length and 1/2" in diameter. If not, add the dough to a ziploc bag and cut off one of the corners. You will then be able to squeeze the dough out of the bag. You won't have a pretty design but will get the shape.
Pipe the cookies. They won't spread so you can place them somewhat close to each other.
Bake for 10-12 minutes at 350F. You want them to become just a very light brown. Take care not to over bake them or they will be rock hard.
Remove from the oven and allow to cool.
Melt the chocolate in a double boiler or carefully in the microwave if you're short on time. To melt in the microwave I place the chips in a bowl and heat for 30 seconds at a time, stirring after each time, until the chocolate is completely melted.
Dip each of the ends in chocolate and set on a piece of parchment to harden.
Serve with Moroccan Mint Tea