What do you do when an email lands in your inbox promising 20€ flights to Seville?
Why, you book them of course!
I never turn down a chance to visit this city and know there will always be something else to explore. This was however our first trip when MarocBaba was eating strictly gluten-free (he'd wavered on other trips) and we took it upon ourselves to find some of the best places to eat and create a gluten-free guide to Seville!
Further complicating our plan is that we don't eat pork or drink alcohol, which takes away quite a few options in Spain. I previously wrote on how to eat in Seville when you don't eat pork. It might seem like you'll starve but rest assured you won't. Even with the food challenges we had it didn't end up being a problem at all – and with over 2,000 restaurants in the city that may not be such a surprise. When you're planning your Seville culinary travel adventure, and you really must, here's how to eat happy and stay healthy.
Bar Alfalfa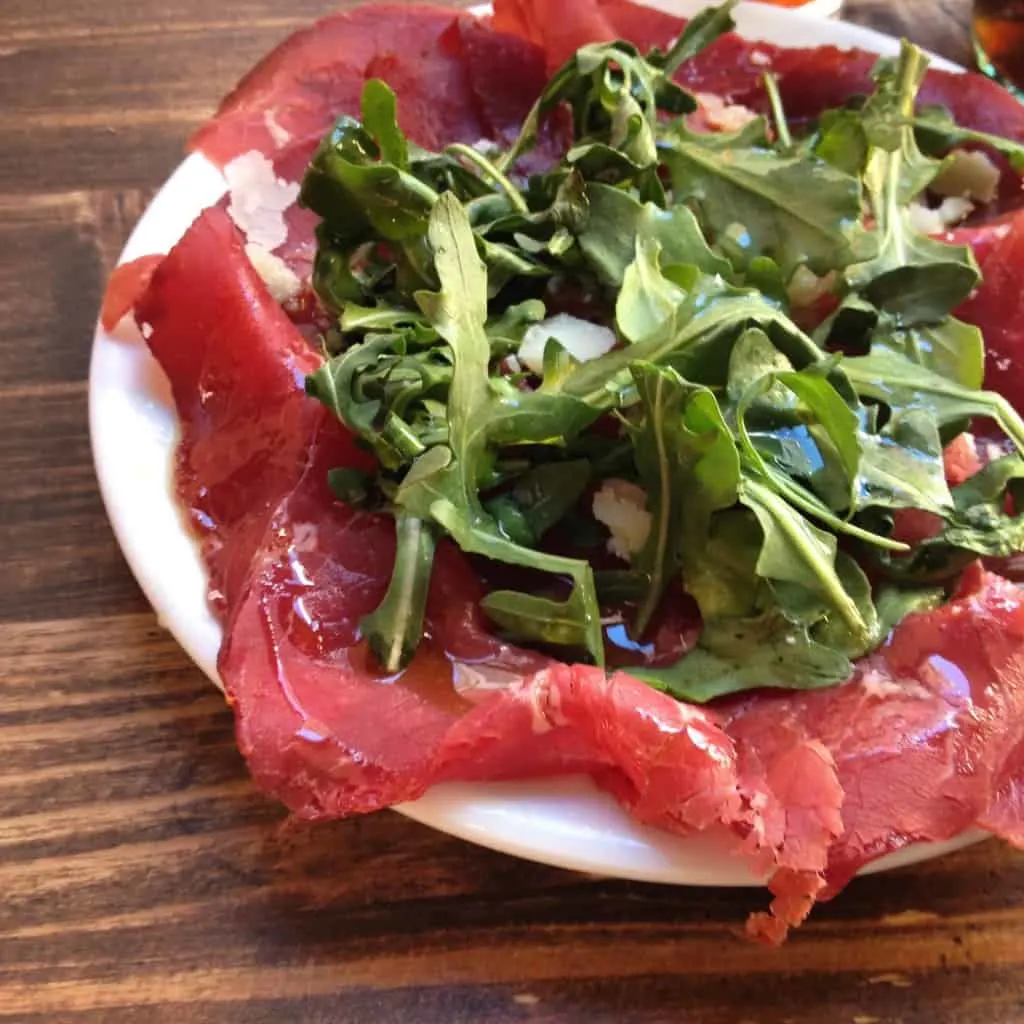 We lucked out because this place was right around the corner from where we were staying. Yes, it can feel strange as a woman in a headscarf to walk into a "bar" but I try to take these things in stride. Here, I was so glad I did. We popped in for a late lunch and ordered 4 different things, each one was great. The staff didn't speak much English but we got through on a mix of Spanish and English. They knew and advised us on what was and wasn't gluten free, made swaps where needed and had a smile on their face the entire time. The food was also excellent.
Calle Regina
This isn't a restaurant but a street in Seville. It's right behind the infamous parasol and we found it purely by chance. There are several small specialty groceries and shops selling a range of organic, whole food, gluten free and other specialty diet foods. We stumbled on it at night and many places were closed. Go early for a better selection.
Zarabanda
We took a food tour with Devour Seville, and Cyra who manages the operations was particularly helpful making suggestions for where to eat that are gluten-free as she also is. We met her one evening to have dinner at Zarabanda and were really happy. The food was excellent and everything was safe for MarocBaba which always makes things more enjoyable.
Orfeo Cafe Bar
This cafe is also owned by the same team that own Zarabanda. They have a lot of baked goods that are nearly all gluten free. They also have a nice coffee bar, chill atmosphere and WIFI. It was here I finally tried a cafe bonbon – coffee made with condensed milk. It won me over. Best coffee drink in Spain.
Al Solito Posto
Another recommendation from Cyra and we were very happy. They really understand gluten free eating and are strict about it. Even having different placemats so that staff always knows who is gluten free and who to serve what as well as having a separate gluten free kitchen. We sat outside with a great view of the Roman ruins in the park in front of the restaurant. MarocBaba was so happy with his pizza that he's been planning a trip back to Seville just to eat more.
La Azotea
This restaurant has a few locations and offers a gluten free menu. We stopped in mostly because there was a Moroccan waiter and we were curious what the gluten-free menu was about plus we were hungry and it was close. The food was ok. We weren't thrilled only because without also eating pork there weren't as many options available. We also found it a bit more expensive than some of the other places we went.
Eating in Traditional Locations
Not all places really understand the gluten-free thing. They're getting there. A few places we went didn't have separate menus so we simply had to sift our way through the options.
Our very favorite spot is Bianca Paloma in the Triana neighborhood. The food is really affordable and delicious. Go for an early lunch as it gets crowded around 1 and it's pretty busy on weekends too. If you grab a seat, you'll want to order your drinks from the bar, make your choice and let the barman know your order and then they'll bring it out. There is also a more "restaurant" portion of this place but it felt like it was only used in the evenings. Our favorite menu item is the shrimp in olive oil with garlic.
Where to Get Gluten Free Breads/Products
When we're not sure what restaurants will available we try to bring bread for MarocBaba, because he MUST have bread to eat (he is Moroccan after all). Finding bakeries or shops that have gluten free bread is usually our first task in a new city. Thankfully in Seville it was and is super easy. Most El Corte Ingles have gluten free products in their food sections. Also the shops on Calle Regina had a selection too. You won't have any issue if you need to find gluten-free grocery.