My first trip to Berlin was when I was 17 years old. It was 1999 and the ten year anniversary of the Berlin Wall coming down. Unlike many kids my age, I knew a lot about the tumultuous history of the city and was riveted. Germany was a place I had wanted to visit for as long as i could remember.You can spend much longer than three days in the city however it felt like just the right amount of time for us.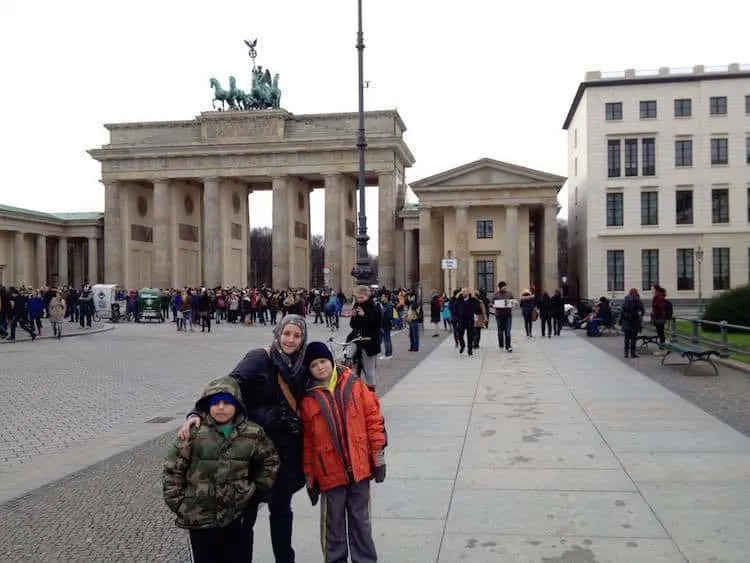 Much of Berlin's history is somber. Many of the sites may seem "doom and gloom" especially for children however we think it's important to expose our children to history. These recommendations are made for children over 8 but may be appropriate for younger children.
10 Tips for Visiting Berlin with Kids
Tip 1: Dress for the Weather
Going from sunny Marrakech to wintertime Berlin we knew the weather would be very different. It certainly was cold but we were prepared for worse. The boys and I both had winter boots that we wore on the plane, and as we flew a budget airline we each only had one carry on item for the trip. There was no snow in Berlin so we never wore the boots. We could have used some extra mittens and warmer pants. Don't worry we all drank plenty of hot cocoa to stay warm!
Likewise Berlin gets pretty warm in the summer so you'll really want to check the weather ahead of your visit so that you're prepared!
Tip 2: Make a Plan
I had been to Berlin once before and have long loved Germany and German history so I knew what I wanted to see. But, going with kids and a husband who aren't as equally enamored as me meant I had to compromise. I made a rough idea of one or two things to do each day. Then we sat down at night to talk about what they wanted to do the next day. We tried to balance what they wanted to do with what we wanted to do. We got these awesome kid maps of Berlin from visitBERLIN, you can find their offices throughout the city and conveniently located in the Hauptbahnhof train station that was our main transit hub. They are incredibly helpful and have lots of information available for all types of travelers.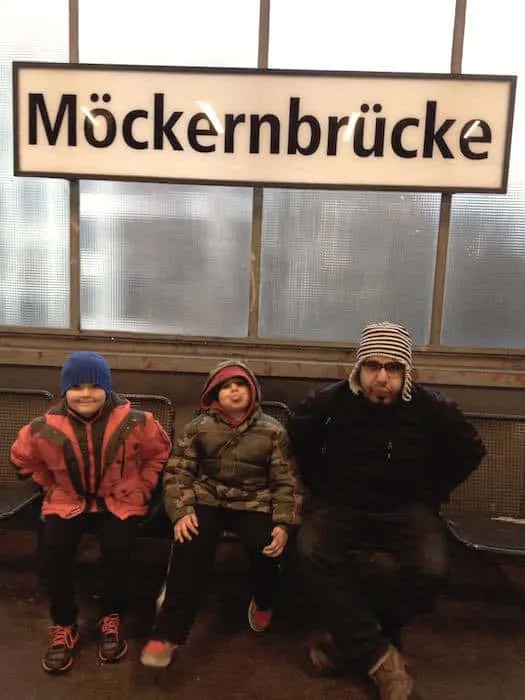 Tip 3: Use Public Transportation
Most of Europe has good public transportation. Germany has exceptionally good public transportation. We were able to use it from the airport and throughout our entire stay. Wherever we wanted to go there was an easy to find connection. Combined with a little bit of walking I am not sure why anyone would need to rent a car when visiting.
You can get a Berlin WelcomeCard from visitBERLIN for your stay and along with free public transportation you also get 200 discounts on tours, food, shopping and more. Customize it depending on the number of days you're visiting. This is a great deal for traveling families – opt for Berlin ABC – Berlin + Potsdam ticket where one adult ticket includes up to 3 children between 6 and 14 (kids under 6 are free).
Tip 4: Stay in an Apartment or Hostel
The first time I stayed in a hostel was last year and I was sooo skeptical. But our stay in Lisbon was wonderful! When I started to look for a place to stay in Berlin it was a little discouraging. In Europe it's common to find rooms for 3 people but, if you have two kids, it's almost impossible to find rooms for 4. I randomly came across A&O Hostel and while I was a bit unsure how it would go with the kids, I booked a private, family room. The hostel is not far from the Hauptbahnhof and was pretty easy to find.
While there were certainly your typical hostel go'ers, there were also older people and we saw a few families. When we got to our room I panicked a little. There was one large bed and then there were 3 other bunk beds. I was afraid we might not be alone but after checking we determined that it was a private room. The kids had free reign and no fights ensued over who got the top bunk.
We had a private bathroom and shower in the room. It was clean, the heat worked, there was copious hot water – we were happy! Breakfast was not included but we ended up grabbing pastries and cocoa at the nearby corner store where the boys enjoyed practicing a few words of German with the lady behind the counter.
Another option we like when traveling is to rent an apartment. Only-apartments has a wide variety of spaces in Berlin that are affordable and in actual neighborhoods. We really like to get a sense of local flavor when we travel, and also find it's much cheaper. Renting an apartment gives us access to things like a kitchen and a space to relax that isn't a hotel room. For longer term trips this is our preferred option. If you're a family with more than one child and in Europe it will also save you money. Most hotels only are for 2 adults + 1 child meaning you need 2 rooms. Apartments have much more flexibility.
Tip 5: Prepare for Heavy History
I purposely tried to avoid some of the more hard to digest historical sites that I didn't think my kids were ready for (more on that in the next point) but some of it we couldn't avoid. When we were walking from the Reichstag to the Brandenburg Gate we were along the Spree River and saw these crosses. The kids wanted to know why they were there. This led to a conversation about Berlin being divided, why, and that many people died trying to get to the west. M having known some of the history took it in stride but I could see it was more troubling to K, he later admitted he was worried something would happen to US now if we crossed the river. After some reassurance all was well and we continued on our way.
Tip 6: Visit Historical Sites That are Easier to Digest
I struggled with what my kids were old enough to experience. We want them to be aware of history and want them to know what has happened in the world. I especially want them as Muslim children to know about the things other religious groups faced. In the beginning I thought we would visit Sachsenhausen concentration camp outside of Berlin. I did diligent research to see if it was advisable with children.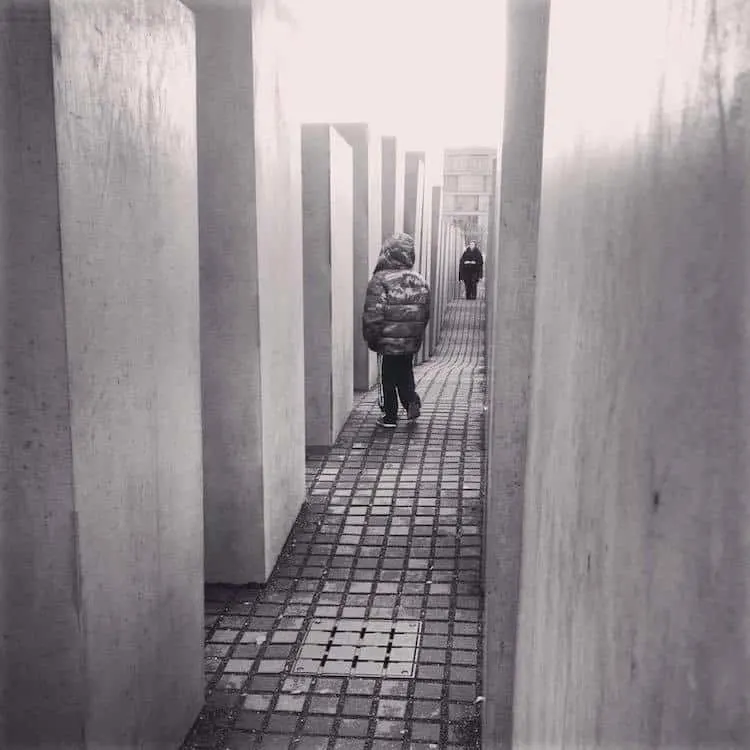 Ultimately we decided they were too young and after seeing K's reaction above I knew we made the right choice. Instead we visited the Memorial to the Murdered Jews of Europe. It's a pretty loaded title for the site. There are 2,711 concrete pillars of differing heights designed in a grid on ground that slopes and climbs. Before getting there I talked to them about what the memorial represented and what happened – in the very simplest and basic terms possible.
We also talked about being respectful as this was a memorial for people who were killed. But, like so many other children discover, this turns out to be a natural playground. While part of me was worried, another part of me thought there was no better memorial than children laughing and playing. Older visitors can enter the information center where there is more on the history and experiences of those who endured the Holocaust.
Tip 7: Walk the Wall
One thing our boys loved (though we chose the coldest day of our stay to do it) was walking the Berlin Wall. The historical significance was lost on them but they liked all the pictures. We walked a long way and they wanted their picture taken with nearly every picture. This was our favorite because they really loved the east German crossing men. On our way back to the S-bahn from the East Side Gallery we ducked into a Turkish pita shop, where we gorged ourselves for under 25 euro. Such a steal and the food was delicious.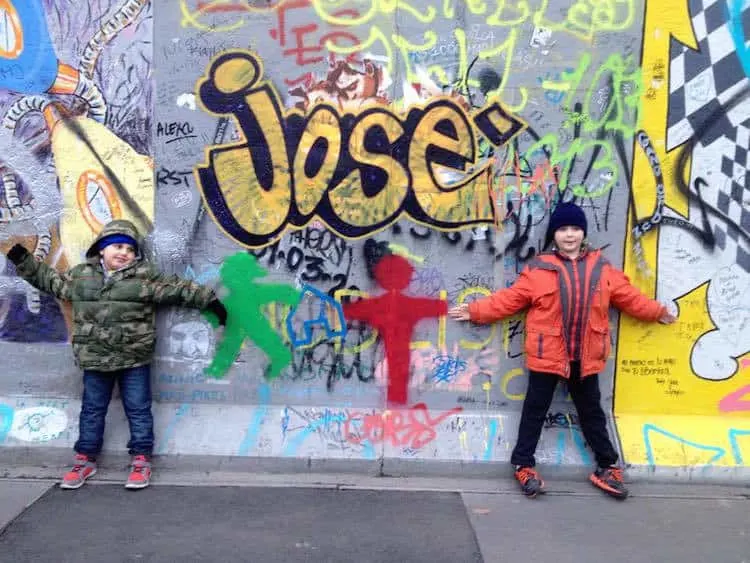 Tip 8: Take in Traditional Winter Fun
When I was researching for our trip, a lot of suggestions for things to do with kids simply weren't going to cut it in winter. Things like; take a bike ride, go for a walk in the park, visit the zoo, have a picnic, etc. etc. Not happening. I would have to be a brave soul to get my kids on bikes in the city when the temperatures were warm let alone attempt it in winter gear with the wind blowing in our faces. Instead I wanted typical winter fun and we found it. In December the Christmas Markets are in full swing and many have activities for kids like ice skating.
My kids had never ice skated even though we lived in the cold Midwest for most of their lives. So what to do? Mom laced up some skates along with the boys and taught them to ice skate! The first 30 minutes were nothing short of a disaster but then they started to catch on. My back was shot that night but all they wanted to do the rest of our vacation was ice skate, and so we went again. It's cheap fun and for kids that live where there is no winter, and no ice skating, something really special. I'll admit, teaching them to skate was a mom highlight for me too.
Tip 9: Visit the Berlin Cathedral
This wasn't on our planned list of things to see but we happened on it when going to visit the DDR Museum. As we rounded a corner the church came into view and we all let out a collective gasp. It really is an amazing sight. The history of this cathedral dates back to the mid 1400's when it was a Catholic church. After the Reformation it became a Lutheran church. During World War Two the church was devastated when the dome was hit with an incendiary bomb causing most of it to burn.
It wasn't until 1953 that the dome was restored. In 2002 the final pieces of the restoration were complete returning the church to its original glory. Many of the original pieces were used to rebuild, hence why you see dark and light colored stones. Guided tours are available and there's even an app available on iTunes and Google Play for a Treasure Hunt children and families can do while visiting.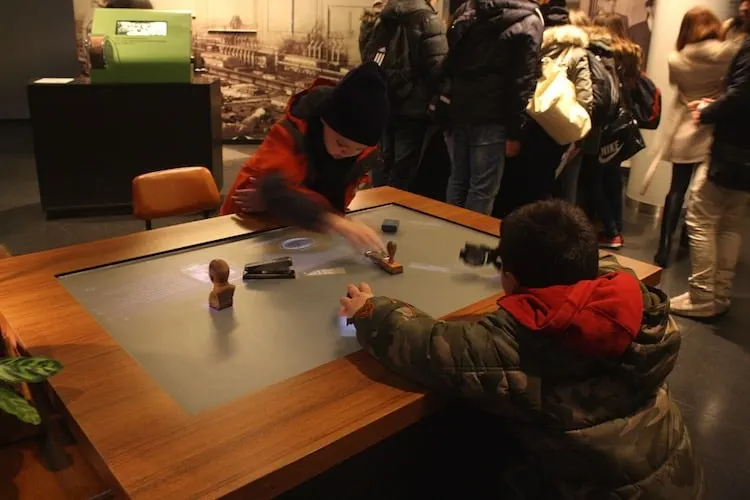 Tip 10: Interactive Learning and Playing at the DDR Museum
I try not to drag my kids through museums. I've learned most of the time they don't like it and then it's really not enjoyable for anyone else, especially me. But, when I heard about the DDR Museum I thought it might be different. Last summer they loved the Minnesota Science Museum and my hope was this would be equally interesting to them.
The Berlin Wall fell when I was five years old and the only reason I really knew about East and West Germany was because of my love of history. The boys had no idea, and MarocBaba didn't know much about it either. This museum is completely hands-on, making it interesting for them.
Every part of life in the DDR (East Germany) was covered. From the lives of children, to jobs, healthcare, vacations, money, military, really you name it and it's there. I was curious if it would be all one-sided but honestly think it was really balanced. There was no agenda. It certainly showed that there were positive things about life in the DDR, and there were also plenty of unpleasant things as well.
The boys liked looking at everything related to kids. They especially liked the part where you could try writing in Russian and playing in the office. We really enjoyed this though it was quite busy and crowded making it difficult to enjoy or spend as much time looking and reading. Children younger than ours may be too young to understand and enjoy the museum
Itinerary Ideas for Three Days in Berlin with Kids
Day One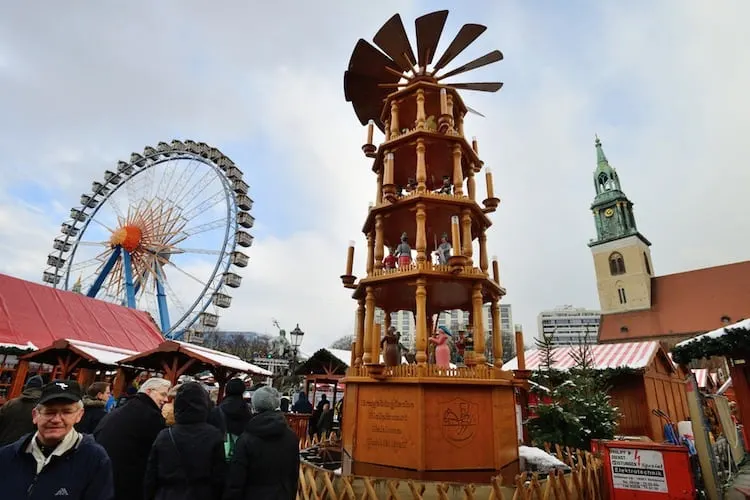 Get your bearings in Berlin without hitting the big sights from the get go.
In the winter Alexanderplatz was our go to spot. Ice skating and plenty of outdoor activities are surrounded by shopping and food. If the weather is bad you can head indoors to Loxx Miniature World where the city is brought to life in miniature!
Head to Potsdamer Platz and hit up Legoland Berlin or stop at the Berlin Zoo. The zoo not only has a wide array of animals but also activity days and photo strolls, as well as many other special events. If the weather is nice a walk through the Tiergarten, Berlin's largest park. Rent a bike, take a walk, or let the kids run to burn off some steam! On the edge of the Tiergarten you'll find the Brandenberg Gate, a must stop for an iconic picture.
Day Two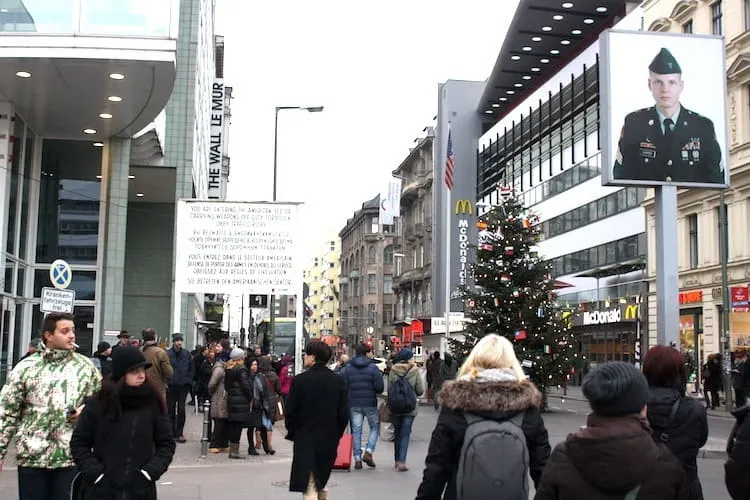 Dig into Berlin's history on your second day. You'll want to tailor your experiences based on the age of your kids. Begin at the Reichstag, the German parliament building. You can book a ticket There are family tours you can book when parliament isn't in session for kids to learn about how the German government functions. You also can climb to the top of the dome for a great view of Berlin.
The Checkpoint Charlie Museum is another popular stop. You can arrange for guided tours with docents that are trained to lead groups of all ages including school children. Outside you can take a picture at the famous checkpoint. Afterward jump on the S Bahn and head to the Berlin Wall. While many sections have been removed, a long stretch remains as a memorial.
If you'd like a more guided experience, we love using Context Tours whenever we travel. They have multiple tours based on a variety of interests that are always led by professionals who are experts in their field.
Day Three
I'll admit I wasn't sure what to think when we decided to visit the DDR Museum but our kids had a great time and learned so much. We recommend going early in the morning before groups start arriving. It is almost all hands on and has a variety of learning and visual displays.
Right across the river is the Berlin Cathedral, the building that awed me. It is the largest cathedral in the city and was In 1944 the church was hit by an incendiary bomb and the entire dome burned and collapsed. The falling debris spread the fire all the way to the crypt. It wasn't until 1975 that reconstruction began in earnest and the doors reopened to the public in 1993. The church is open to the public for tours and services.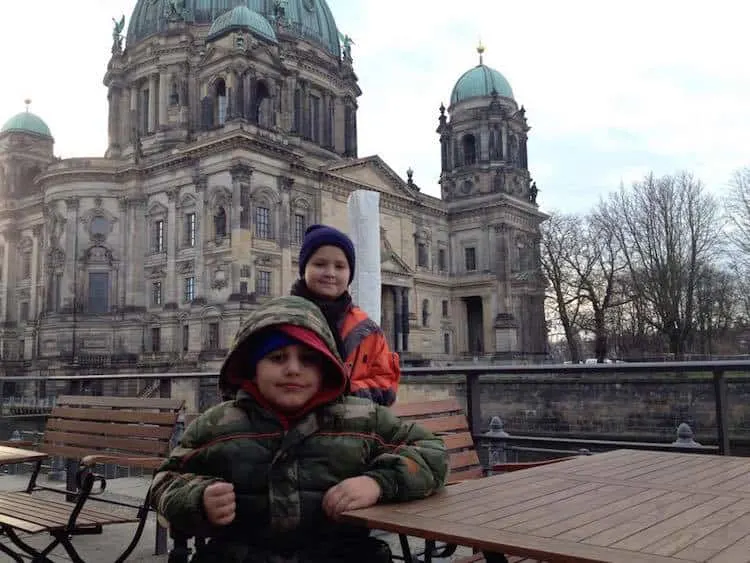 If you want one last glimpse of the city then book a Trabi safari. Trabi (or Traubants) are the name of the infamous East German cars. Today there are still thousands in use. This company has taken the cars and uses them as tour vehicles! Drive your own piece of history and see the city.
Other Fun Kid Activities in Berlin
Toy Stores
Germany has great toy history and traditions. Of all the European countries we've visited (which is almost all of them!) Germany by far had the most options and best prices. It may be worth it to get a good quality toy as a souvenir instead of something junkie that will be cast off.
Food Tours
We didn't have enough time to take a food tour but it's something that I would go back and do. There are several companies that offer tours. Berlin Food Tour and Bite Berlin are two examples. If you love food like we do, check them out!
Christmas Markets
We were in Berlin the first time in December; the season for Christmas markets. Check out our post on visiting the markets with kids. We loved it! Throughout the winter season you'll find skating rinks in Berlin as well as other outdoor winter activities.
| | |
| --- | --- |
| | Berlin Christmas Markets Walking Tour – $13.30Get into the spirit of the season by visiting three of Berlin's Christmas markets on a walking tour. A dazzling array of handcrafted goods, traditional food and drinks teem from the popular spots on this Berlin Christmas tour. Purchase a 'Glühwein' — the hot mulled wine that is a staple of the markets — that will have you feeling warm and cozy in no time. Your guide shares German Christmas traditions and the history of nearby sights such as Schloss Charlottenburg (Charlottenburg Palace), the Olympiastadion (Olympic Stadium) and the Kaiser Wilhelm Memorial Church. |
Day Trips from Berlin
Charlottenberg Palace
This is the oldest and most beautiful old Prussian castle that still exists in Berlin. Tour the castle and gardens by yourself or rent an audio guide. Free tours by foot also offers a complimentary walking tour of the castle – pay what you like for the service.
Sachsenhaus Concentration Camp Memorial
There are many more sites and memorials in Berlin and nearby that reference the events that happened World War II. The Sachsenhaus concentration camp is just outside Berlin and there is also a holocaust museum in Berlin proper. I had visited Terezin near the German/Czech border and decided these sites would not be appropriate yet for our children. Perhaps if they were teenagers I may have planned a visit. I was impressed that at all museums that may have difficult subject matter there were warnings well ahead of time alerting visitors.
Where to Stay in Berlin with Kids
Europe with two kids is tough. Most hotel rooms are not designed for more than three people and booking two rooms can be cost prohibitive. We have had great luck staying in apartments. I recently was in Berlin for a conference and stayed in an apartment in the Schöneberg neighborhood with Only-apartments. The location, while out of the city center was accessible to Berlin's excellent public transportation. It had all you would need, a small kitchen, room for adults and kids and in a local neighborhood. I loved that there were grocery shops and restaurants nearby. This wasn't their only property (they have over 300 in Berlin alone), and I highly recommend looking into this option when you visit.
Getting Around in Berlin with Kids
Berlin has amazing public transportation and investing in a Berlin Welcome Card is well worth it. Kids under 5 ride for free on all public transportation and kids 5-14 ride on a reduced tariff. It's also possible to rent bikes, though I might reserve this option for spring and summertime. Berlin is a very walkable city as well. It's mostly flat so you won't be dragging your kids up hills, driving regulations are respected and pedestrians are common.
| | |
| --- | --- |
| | Berlin WelcomeCard – $21.62The Berlin WelcomeCard is the perfect explorer pass for Berlin visitors with 25% to 50% discounts on normal prices from about 200 partners. Enjoy also various tour suggestions within the extensive travel guide and helpful insider tips to discover the German capital the best way possible! The official tourist ticket enables free traveling with all public transport services and includes outstanding discounts for Berlin's major attractions and most popular sightseeing activities. |
The first time we went we used public transportation to get from the airport but the second time I booked a car with Blacklane and I was so impressed. I am usually skeptical of taxis and I've never used an Uber but having a car waiting at the airport to get me and bring me back saved so much time and really was not too expensive (it was under 40€ each way), if my family would have been with it would have made even more sense cost-wise. I was to the apartment from the airport in well under an hour. They don't just do airport pick up and drop off but most point to point destinations.
Foodie Favorite Stops
Boussi Falafel – love love love this place!
Berlin Burrito Company
Turkish Restaurants – There are SO many in Berlin!
Holy Everest – Nepalese food. Slightly more expensive and for more adventurous kid eaters.
Yarok – a good spot to get Syrian food at a reasonable price.
Umami – possibly my favorite restaurant in all of Berlin. Asian flavors with lots of options (vegan and vegetarian friendly)
Takumi'9 Sapporo – Japanese food including great ramen with vegetarian options.
kastanientörtchen – a really cool place where you can make your own cakes; choose the flavors and layers. So good!
We struggled a little to find restaurants that had options that didn't include pork on our first visit however, on subsequent trips have changed our tune! Search for vegetarian, vegan and kosher restaurants as they would be inline with dietary guidelines for not having pork. It is a bit difficult to find authentic German food that does not have pork – just be aware.
Disclaimer: I was provided an apartment by only-apartments to test their services. I also worked with Visit Berlin and Blacklane on this trip. All opinions are my own.