[vc_row][vc_column][vc_column_text]If you love culinary travel, you have to go to Seville. At the risk of sounding like a broken record, because I realize at this point I probably am, Seville is amazing. Sure, I'm biased and completely in love with this city but I think you will be too. So where to begin your foodie adventures? I'll share our experiences to get started.
I really didn't know much about Seville when I booked our flights and hotel so I just took a good guess at where to stay. We were visiting for a couples getaway so I wanted something nice. We stayed at the Hotel Inglaterra in Plaza Nueva near the Seville Cathedral and it was the perfect location!
There are lots of apartments for rent and when we go back I have a feeling we'll do this and stay longer but for this trip I wanted someone to make my bed and prepare my breakfast so a hotel it was. Having traveled in Spain I have seen that the "rating" system is hit or miss but this hotel really was excellent. The one downside was that WIFI wasn't free, BUT at check-in if we signed up for the hotel newsletter we could have free WIFI for our stay. Perfect.
Spanish breakfasts are basic but we opted for the hotel breakfast buffet each morning. It was easy, had a lot of variety and was included if you booked via the hotel website instead of a third-party site. The offerings were an international mix with a Spanish twist and there was a never ending coffee machine making drinks however you wanted. Honestly, the rest of our stay consisted of eating tapas after tapas for lunch, dinner and snacks! (The one exception was a dinner we had at a "Mexican" restaurant -we really should have known better but it was so tempting!)
Our first day we wandered through the streets to the Santa Cruz neighborhood. It was pretty clear this was a touristy area but it was mid afternoon, we were hungry and there weren't many people around. On a back street we spotted a restaurant (Meson los Venerables) that had an interesting sign out front and decided why not. There was a lady outside who was a local and encouraged us to give it a try. I often do this when we're eating and a tourist comes across in Marrakech so I trusted her. It was a good decision.
We worried what we would eat here knowing how heavy Spanish food is in the pork department. However, southern Spain is less "porky" than other places. Score! Now I'll treat you to our pork-free tapas eating extravaganza!
What We Ate:
Spanish Tortilla
Russian Salad (rice, carrots, tuna in a mayonaise sauce)
Chickpeas and Spinach
Bacalou Fritters – fried salt cod fritters
Patatas Bravas – because they will always be my favorite tapas!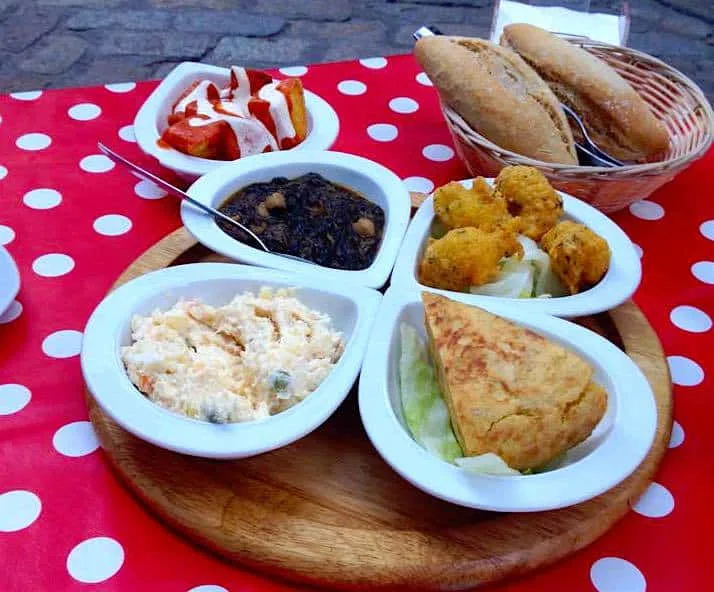 In the Arenal neighborhood, near our hotel there are bars, restaurants and shops everywhere. You can't turn a corner without finding something to eat. Pure heaven. Our motto was to try one or two things and move on. It's really progressive eating at its best. On our way back to the hotel we needed some water. Most shops were closed but we found a bakery and guessed we might find something there. We didn't, but we found dessert.
I love dessert and finding local bakeries is one of my favorite things. We faced a communication barrier in Spain. Not many people speak English, and my Spanish is so-so but not really good enough to ask or grasp a full list of ingredients so I did the obvious thing. I just pointed at a bunch of things and hoped for the best. The best here were the egg tarts on the far left of the picture. They were pretty similar to pasteis de nata in Portugal but the Portuguese version is much better. The chocolate cake was ok. The other two pastries weren't good. The middle one was way too floral flavored for me and the one that's left, no just no. I'll stick to flan I think.
The next day we took a boat ride and food tour of Seville's Triana neighborhood. I can always use more research to discover the best food tours in the world! We of course are fans of the food tour concept and know it's an excellent way to taste what locals eat. We booked our tour with Not Just a Tourist and met our guide on the Isabel II bridge. Points for a very easy to find meeting place! We were in for a battle though as it was Palm Sunday and tens of thousands of people were in the streets of Seville. Our tour was in the Triana neighborhood, a very residential area.
Stop One: Altozano Gourmet Abaceria – Mercado de Triana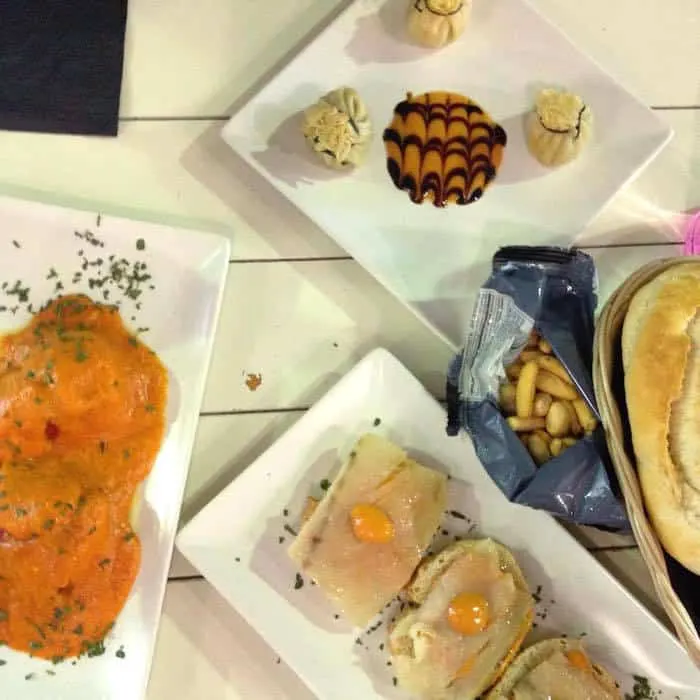 This stop was in the Mercado de Triana, a very cool indoor market that we unfortunately didn't get to visit while in operation. The perils of visiting over a holiday. But some of the restaurants were open inside. We liked this place so much we went back again another day on our own.
Our favorite thing here? The bacalao sandwiches.
What we ate:
Toasts with bacalao
Red peppers stuffed with tuna and coated in
Vegetable bundles
Stop Two: Los Golondrinas
This was a tiny bar that was so crowded with people. When we saw the size of the kitchen we were that so much food was coming from this small space! We tried two vegetable dishes and one seafood option here. The mushrooms were seriously amazing, I loooooved them – and ate MarocBaba's too. The carrots reminded me a lot of Moroccan carrot salad (minus the vinegar and with a lot more olive oil). The squid, nah didn't work for me.
Our favorite thing here? The mushrooms!
What we ate:
mushrooms with a delicious green sauce
grilled squid with a garlic, parsley sauce
cooked carrots in olive oil and parsley
Stop Three: Blanca Paloma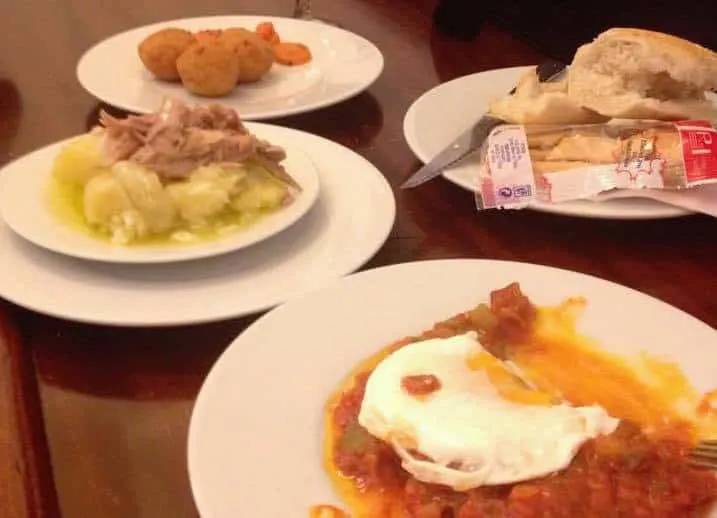 This was another of our favorites spots to eat. The space was much bigger and felt a bit more modern. While tapas were on the menu we saw more people eating full rations of menu items here. When we finally wedged into a space we got down to business. MarocBaba loved the seafood croquettes, and hunted them down the rest of our trip. He also was a big fan of the potatoes, though I didn't care for the raw onions with them. He didn't care for the egg and pistou but that was my favorite.
Our favorite? All of it.
What we ate:
Fried egg on pistou
potatoes with onions, tuna and doused in olive oil
Seafood croquettes
Stop Four: Dessert Stop
I completely missed the name of this restaurant but it was fabulous. They had tons of desserts that were much better than what I found in the bakery. One of these cakes was an almond based cake and it was alright. The other was so good (chocolate, biscuits, and some other heavenly deliciousness) and even though I was full I ate nearly all of it myself along with a strong cup of espresso.
We barely touched the surface of Seville's food culture. That means just one thing – we have to go back!
[/vc_column_text][/vc_column][/vc_row]