When it comes to fig desserts there's nothing better than a cake topped with loads of fresh figs – in the season of course. Across the Mediterranean region, figs are one of the staple summer fruits. These tasty morsels need lots of sun to ripen and become as sweet as candy, something these countries have in common.
For this easy fig dessert you'll need plenty of fresh figs. Go with the best you can find because it will really make or break the dish. No, dried figs will not be the same. If you don't have access to fresh figs, I suggest bypassing this recipe. Maybe try my orange and cinnamon crumb cake instead.
While this makes for. a very impressive end-of-meal dessert, you could easily use it for tea time or even for breakfast – promise I won't tell!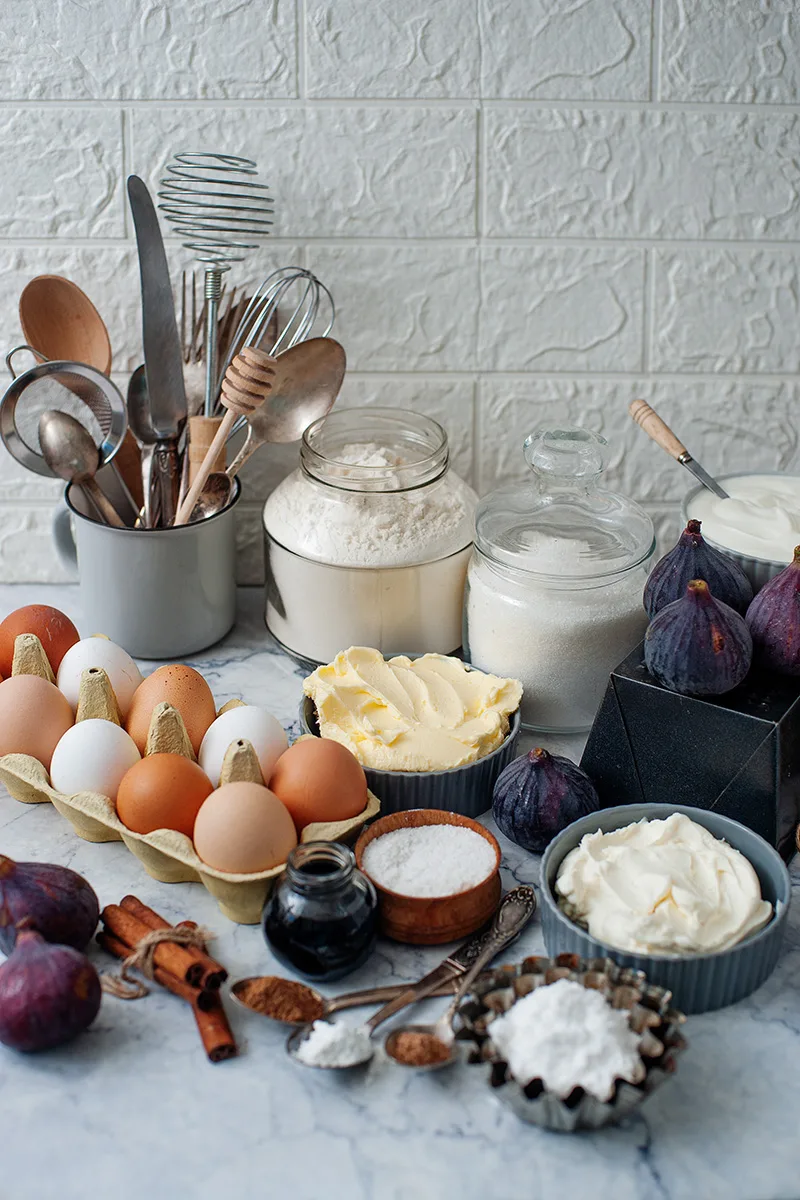 How to Make This Fig Cake
While this really looks very impressive on a table, it's very easy to make.
The base of the cake is a simple cake mix that you can whip up in no time.
For the frosting I'm using a fairly standard cream cheese frosting. It will give ou that creamy look as well as the tanginess of the cheese playing off the sweet notes of the figs.
Finally the figs themselves, we want to use the prettiest and also tastiest figs you can find. As mentioned if you don't have fresh figs, it's probably not the recipe for you. This recipe uses black figs (Mission) but if you have green figs (Adriatic or Calimyras) they would work too.
Finish off the recipe with some toasted walnuts and a drizzle of honey and you're all set!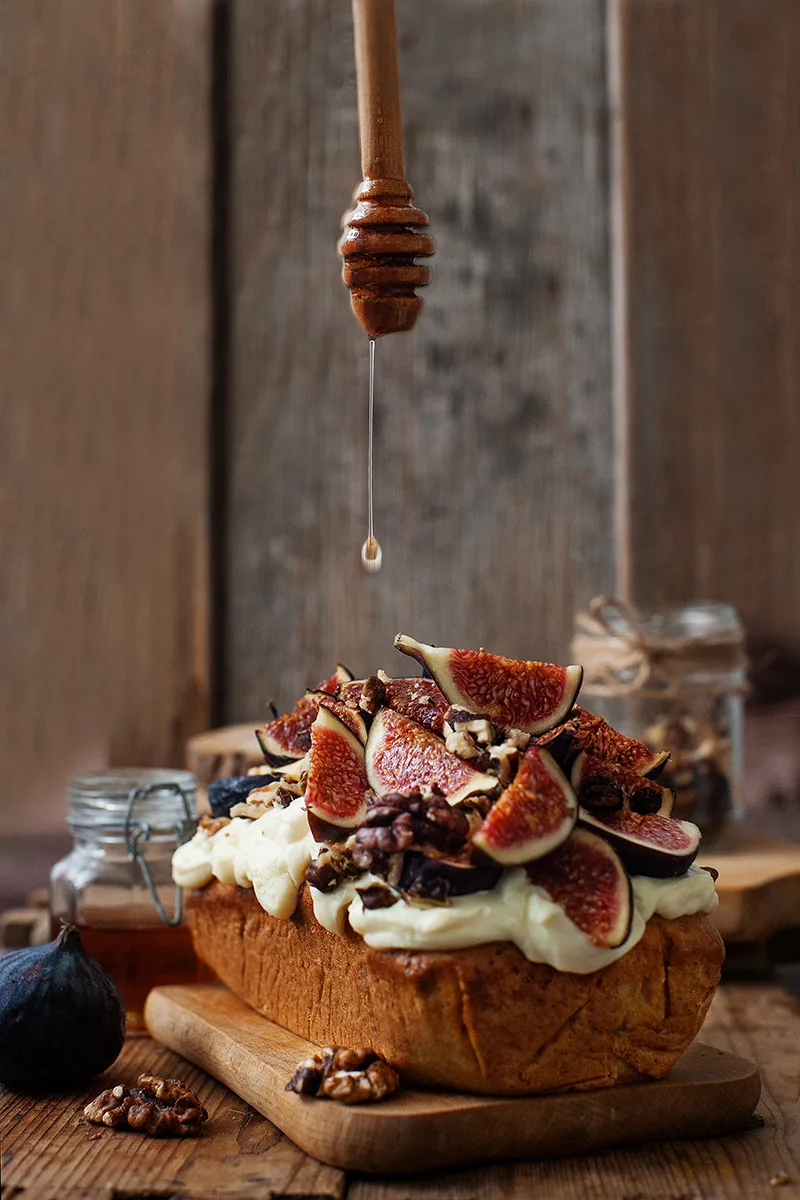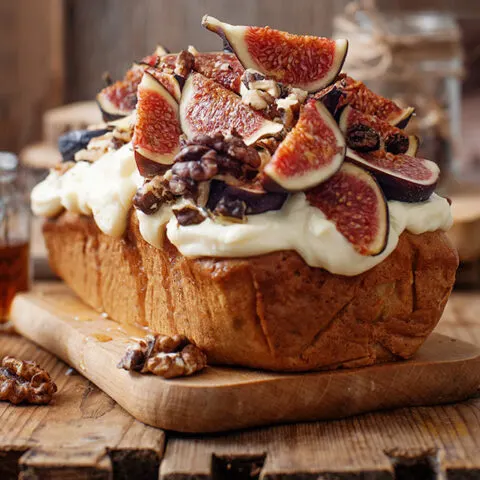 Yield:

8 slices
Fresh Fig Cake with Walnuts and Honey
This is a very simple fig cake made with fresh figs, walnuts, and a delicious cream cheese frosting.
Ingredients
Cake Ingredients
1 3/4 cups all-purpose flour
2 tsp baking powder
3/4 cup sugar
3/4 cup unsalted butter, softened at room temperature
1/2 cup sour cream
3 room temperature eggs
2 tsp vanilla extract
1 tsp cinnamon
1/2 tsp nutmeg
1/2 tsp salt
Frosting Ingredients
1/2 cup powdered sugar
1/4 cup sour cream at room temperature
1/2 cup unsalted butter, softened at room temperature
8 oz cream cheese
For the Cake Top
Instructions
Preheat the oven to 350 degrees F (176 C) and line a standard-sized loaf pan with parchment paper. Set aside.
In a large bowl, combine the dry ingredients and combine the flour, sugar, baking powder, and spices.
In another bowl, whisk together the wet ingredients; butter, sour cream, vanilla extract, and eggs.
Combine the two bowls and stir everything well until you have a thick batter.
Pour the batter into your prepared loaf pan and smooth the surface. Bake in the preheated oven for 45-55 minutes or until browned and a skewer comes out clean from the center of the cake.
Remove the loaf from the oven and let it cool for about 1 hour.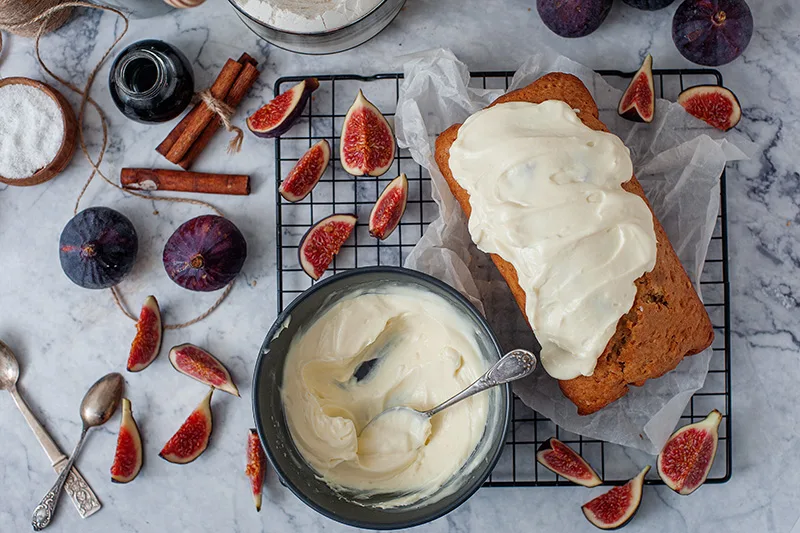 Prepare the cream cheese frosting. In a bowl mix the cream cheese, butter, powdered sugar, and sour cream with a handheld blender until smooth.
Spread the desired amount of frosting on top using a spatula. There may be some extra leftover.
Garnish with fresh fig slices, chopped walnuts, and a drizzle of honey.
Notes
Optional: you can include a little honey in the batter if you like also. Mix ¼ cup honey diluted in a splash or two of boiling water and combine with batter.