This fried eggplant recipe is not the idea you might have in mind, but is a true delicacy. This recipe is based on the Andalusian Spanish classic fried eggplant with honey sauce, but made with a Moroccan twist.
I first tried these eggplants when we were in Grenada, Spain and took a tapas tasting tour. It was something I was very skeptical about but was quickly in love with them. After eating them I remembered many, many years ago we had also tasted them at Jose Andreas, Jaleo restaurant in Washington DC
I did quite a bit of research to learn as much as I could about this recipe. I learned in the Sephardic community this is often eaten as one of the dishes to break a fast. Fried eggplant with honey sauce is a classic "ración" dish, (very similar to tapas but bigger and meant to be shared between people), very popular in the Andalusian region of Spain where the Arabic influence runs strong. It's sweet and savory, crunchy, and also deliciously creamy. I love eggplant so of course, I had to try and do a version for myself.
This dish is one that is well-loved by Sephardic Spanish Jews and you'll love it too once you try it! In this recipe, I've come with the perfect way to achieve perfectly crunchy slices of eggplant, with a special butter and Moroccan touches that enhance the eggplant flavor. This, combined with a very aromatic honey sauce results in one of the very best ways to eat eggplant!
Ingredients Needed to Make Fried Eggplant with Honey:
For this recipe you will need:
Eggplants, you can use the classic deep violet ones or the ones that have a bit of white on their skin. Or the white kind, or even Indian eggplants (the thin and long ones), it really doesn't matter.
Flour, simple regular white flour for the batter.
Honey, the better the quality, the better the results. If possible choose organic ones. In this recipe you'll see me using rosemary honey, which means the bees have been fed with rosemary flowers, resulting in an aromatic and flowery honey, perfect for this recipe. It has a slight rosemary aroma and it is not overpowering at all.
Milk, a key ingredient to prep the eggplant, to make the slices soft and also take out a bit of their bitterness. Also, you are going to use it for the batter.
Olive oil, for the sauce.
Vegetable oil: while you can fry the eggplant in olive oil, the flavor (and cost!) is much intense, so it's better to use a good quality but neutral-tasting oil to fry them, like canola, sunflower seed, ore even avocado oil.
Spices and aromas:
salt to taste
turmeric for color
cumin and cilantro seeds for flavor.
orange blossom water for the perfect final touch of Moroccan flavor.
Fresh cilantro, for garnish.
Optional cayenne flakes for garnish. It adds a nice kick to balance the sweetness.
Useful Equipment
A cutting board and knife
A mortar and pestle to grind the whole spices
A couple of medium-sized bowls
A small bowl
Measuring spoons
A big frying pan
A skimmer
A cooling rack with paper towels to dry the excess oil
This eggplant dish is best eaten right after it's been made, otherwise, the crispiness of the fried slices turns much softer, which is not bad, but it's just better when it's hot and fresh! You really want to have the contrast between crisp borders and creamy interiors.
Do not worry about the batter being a bit too salty, have in mind you want to make the fried eggplant salty enough to have a nice contrast with the sweetness of the sauce.
Make sure to fry the slices when the oil is hot. You can make sure by dropping a bit of the batter into the oil. If the oil is not hot enough the eggplant slices will absorb a lot of the oil and become soggy and too greasy.
You can also make them in the air fryer, so they will be a bit healthier
Yield:

2 servings
Fried Eggplant with Honey
Additional Time:
30 minutes
A delicious take on the classic fried eggplant with honey sauce, with Moroccan touches to elevate the classic to something a little extra special.
Ingredients
Ingredients
1 eggplant for every 2 people
2 1/2 cups of milk (500mL)
Fresh cilantro leaves and cayenne flakes (optional) for garnish.
Batter Ingredients
1 cup flour (around 120 gr/4 oz)
½ cup milk (around 100 ml/ 3 oz)
1 1/2 tsp salt
1 teaspoon turmeric.
1 Tbsp cumin seeds
1 tablespoon cilantro seeds
Honey Sauce Ingredients
5 tablespoons honey
2 Tbsp olive oil
2 Tbsp orange blossom water
1/2 tsp salt
Instructions
Cut the eggplant as thin as possible in circle-shaped slices. Do not cut it lengthwise or in thick strips, because they become a bit mushy and not crispy.

In one of the medium-sized bowls, add 2 ½ cups of milk and submerge the eggplant slices. If there's not enough liquid to cover them, add a bit of water or more milk. Let rest for ½ hour.

While the eggplant is resting in the milk, prepare the batter and the honey sauce.

Prepare the Batter

Toast the cumin and cilantro seeds on a pan until they become fragrant, ground them using a mortar until a fine powder is achieved.

In the second medium-sized bowl combine the flour, the grounded spices, the turmeric, and salt and mix well.

Add the ½ cup milk and mix well until a thin batter is achieved.
Prepare the Honey Sauce

Place the honey into a small bowl, add the olive oil, orange blossom water, and salt and mix well until a runnier texture is achieved.

If your kitchen is cold your honey might be crystalized, to make it smoother and runnier, you can put it in the microwave for 10 seconds before mixing it with the rest of the ingredients.

Take the eggplant slices out of the milk and submerge them into the batter, making sure to cover them well.
On the frying pan, on medium heat, put enough oil to fry the eggplant slices.
Transfer one by one the eggplant slices covered in the batter to the hot oil. Form single layers, so they can fry evenly and not stick together.
Fry them until golden and crispy, flipping the slices through the process.
Take out of the frying pan using the skimmer and let sit on the cooling rack that you've covered with kitchen paper, this will absorb the excess oil.
Plate them stacking the fried slices forming a tower, and drizzle with the honey and orange blossom water sauce, garnish with some chopped cilantro and a pinch of cayenne pepper for the final kick.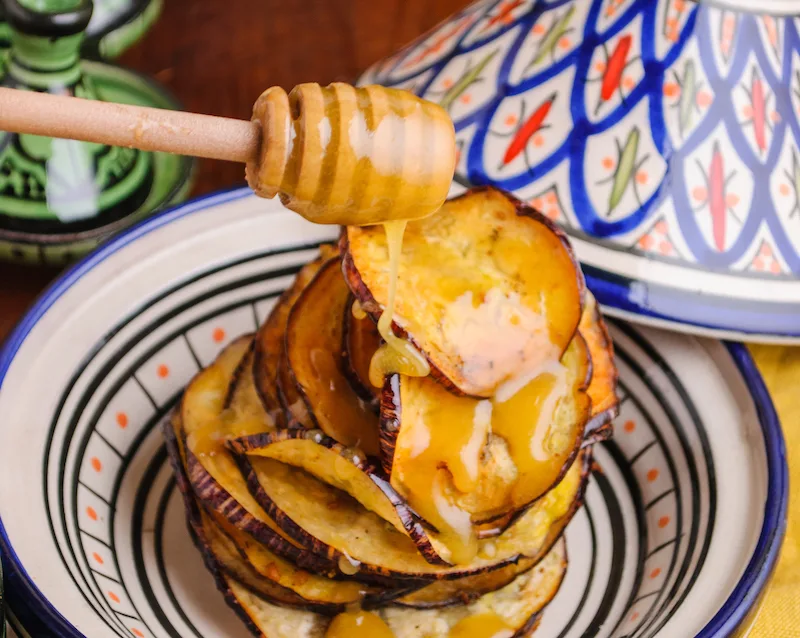 Recommended Products
As an Amazon Associate and member of other affiliate programs, I earn from qualifying purchases.