Boulfaf is a simple dish of grilled lamb liver made in Morocco every year for Eid al Adha. While I have only tried it once, I do prepare it and can never escape it. When a sheep is slaughtered every single piece of the animal is either used or eaten. The order of things eaten is based on what will spoil the quickest so organs are usually the first meal.
This also includes the heart and kidneys. The rest of the sheep is hung up so that the meat partially dries. The dish that everyone waits and looks forward to is boulfaf. L'faf in Moroccan means "to roll with something inside," which is exactly what boulfaf is. The liver is cut into cubes and then wrapped in pieces of caul fat. The recipe is very simple but Eid just wouldn't be the same without it.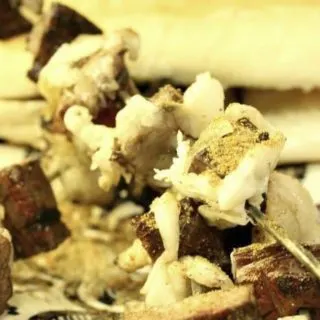 Boulfaf – Grilled Lamb Liver
Ingredients
2 tsp cumin
½ tsp paprika (use cayenne pepper if you like heat)
1 tsp salt
1 tsp pepper
1 lamb liver
Strips of caul fat
Instructions
Place the liver in a grill basket and place it on a hot grill. Leave the liver for 10 to 15 – it should be cooked through. In some parts of Morocco they boil the liver until cooked. The reason for this is to remove the metallic taste from the organ.
The caul fat is the lacy fat that surrounds some of the interior organs. This is used to wrap the cooked liver. To prepare the caul fat it is removed from the sheep. A clean white sheet is hung on a clothes line and the the fat is draped and clipped – just like hanging up clothes. It is then left for several hours to stiffen. Once removed the strips are rolled like a cigar and ½ pieces are cut.
Mix all of the spices together. Cut the liver into bite-size cubes and sprinkle with the spice mixture, then wrap each with a piece of the fat. Slide onto a metal skewer.
When all of the liver has been used, place the skewers back on the grill. DO NOT do this inside of the house (such as in a grill pan). The melting fat will cause smoke – sometimes a lot of smoke. This should only take a few minutes to melt some of the fat.
Serve hot with the same spice mixture as a condiment. Guests can add more depending on their preference. Moroccans eat boulfaf with pieces of Moroccan bread.
In Morocco every family shares skewers of their boulfaf with neighbors to share part of their sheep. In the Moroccan spirit of hospitality for every skewer you give, chances are good you'll get two in return!