The first time I went to Essaouira I had only been in the physical presence of my then-fiance 5 days. It was on my second trip to Morocco (the first having been when we met). It was in March and I was on spring break from college. I remember the weather being cold as the city sits on the Atlantic ocean. I also remember there was no way I was eating fish or seafood, although he told me that was why people went to Essaouira. Not this girl. Fast forward six years and my affection for seafood has grown leaps and bounds. I was ready to rock the seafood scene.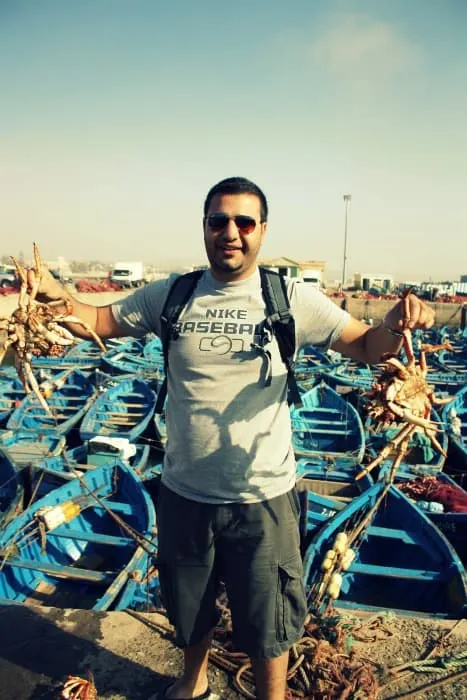 Clearly, MarocBaba was ready to rock the seafood scene too. Here he is with the one thing I wanted the most – fresh crab! I have to tell you, we did not opt for the tourist fare. I have a "slight" advantage in MarocBaba, he knows what he's doing, where to go, and what price to pay. Normally I would have been appalled at this hodge podge meal that we procured but I was just in awe at all that was going on and snapping pictures like crazy. If you go to Essaouira you'll find stalls with tables right off of the main courtyard in the medina. Great seafood (but that's for another post). If you continue to walk towards the fishing boats to the port or skala you will find the freshest fish. These crabs were alive in a net dangling off the edge. They were pulled in only a few hours earlier.
Added to our three crabs was 1 kilo of fresh shrimp (in the plastic bag) and 13 fresh salt-packed sardines. My mother in law had some shrimp in Marrakech earlier in the week and they were the best shrimp I've ever tasted. Much different from what I've had in North America (even when we've eaten at places on the coasts that have great reputations). The meat was almost sweet, very tender and moist. It did take more work as it's still in the shell and heads are attached.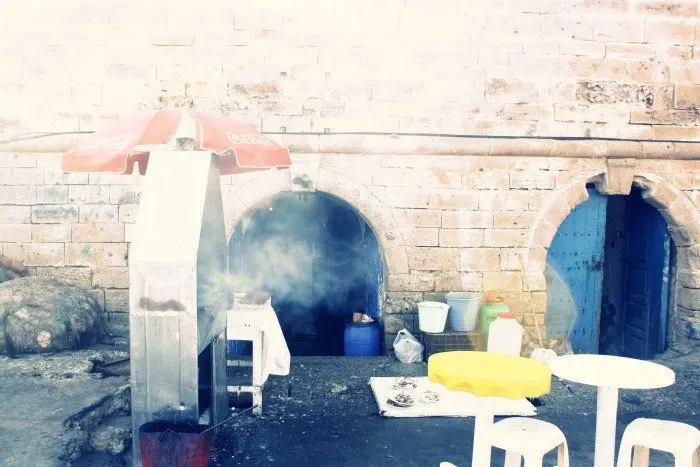 No, that's not a prison. It's a restaurant! Well kind of. Behind me, from where I was taking this picture is a walkway and then fishing boats. These little cut-outs were once used by fishermen but have now been converted to eating areas. It's not glamorous…AT ALL. See that blue rain barrel – yea it's water for washing your hands. In fact I did think twice before walking down the stairs but figured what did I have to lose. Besides it was all locals eating here – to me that's a sign of great food. The small smoking tin thing – that's the grill where our cache would be cooked.
This is where our seafood met their final demise. We cozied up inside the cave and began our wait for what was to be a great meal.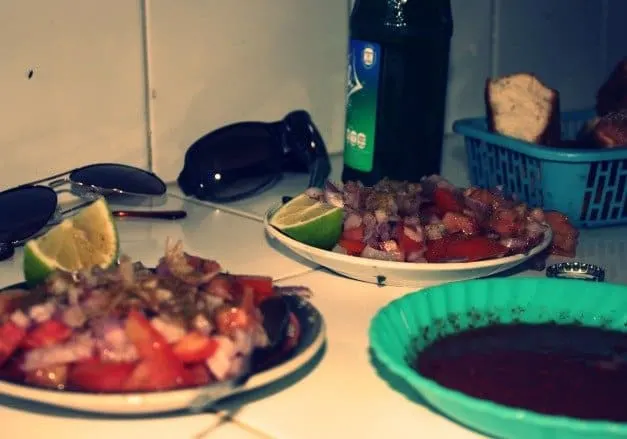 The counters and walls are covered in white tiles and at the end of the "cave" (I'm going to call it cave affectionately) is a counter where drinks, salads and bread can be found. We each got these salads and a plate of a harissa sauce, basket of bread as well as sodas. Then it was time to dig in…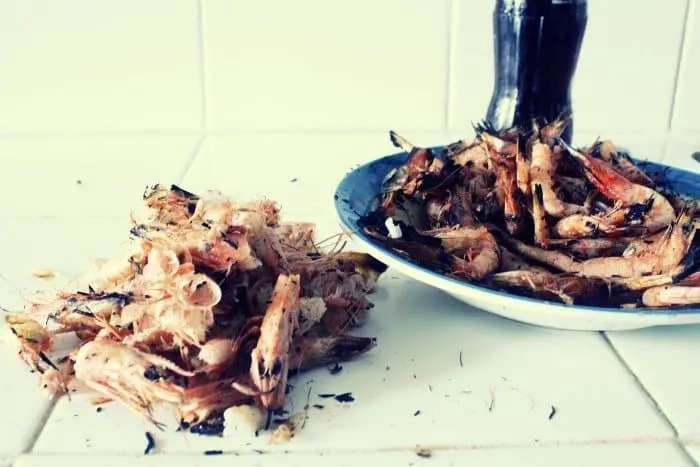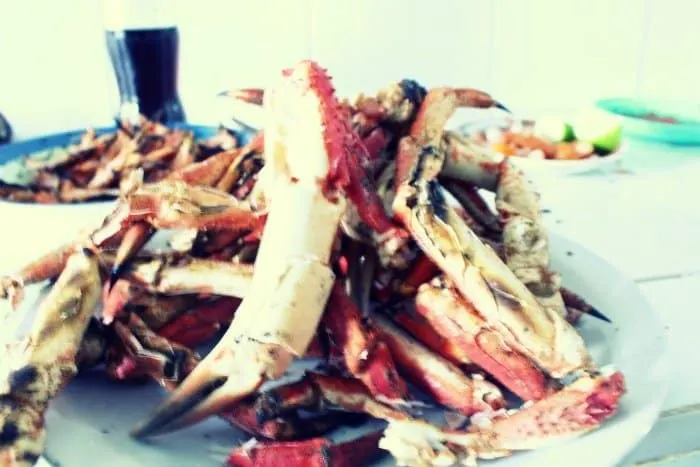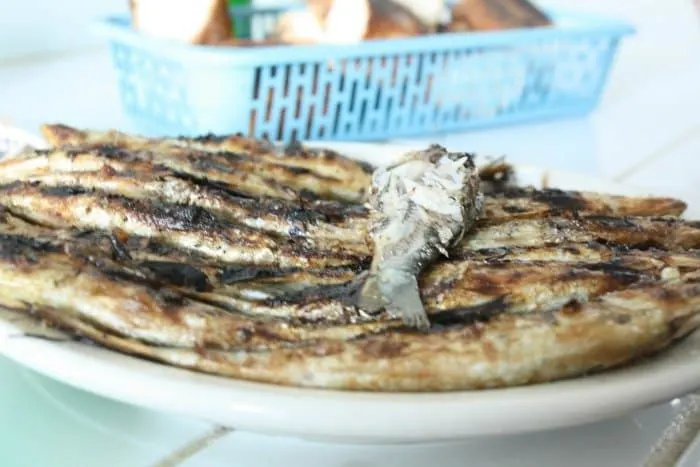 To me…the shrimp and crab were a little overcooked. I shouldn't have been too surprised as Moroccans really like to cook things a bit too well. They were also a lot of work to clean before eating. I felt like by the time I was done cleaning the piece I was eating I would have burned all the calories consumed making it a never ending meal to feel full! The one big surprise was the sardines. I've always avoided them big time. However my only exposure to a sardine was the kind in a can, slimy, and packed in oil. MarocBaba begged me to try these and I really resisted.
But then I decided to just go for it. I didn't hate it. It was a much better taste than what I was expecting. I even ended up eating an entire fish. The downside however was the tiny bones. I can't do bones and fussed with picking them out. This was met with much clicking of the tongue and pushing to "just eat them". After buying the fish, having them cooked and paying for our extras our total came out somewhere around $25 US. Where we live, we couldn't even get 1 lb of fresh crab for that price.
If you go to Essaouira and are adventurous try eating this way. I think you'll really appreciate the experience.