Azrou, which means 'rock' in the Amazigh language, is a Moroccan destination that is a must-add to your Moroccan travel itinerary. The town is surrounded by rolling hills populated by pine and cedar forests, open meadows, and wildflowers.
When traveling through Morocco, Azrou is a place to visit if you want to do outdoor activities in a beautiful mountainous region. This destination guide will inform you all about Azrou, activities you can get up to, and where to stay during your visit.
After reading this destination guide to Azrou, you'll be prepped for a truly Moroccan experience you won't forget about anytime soon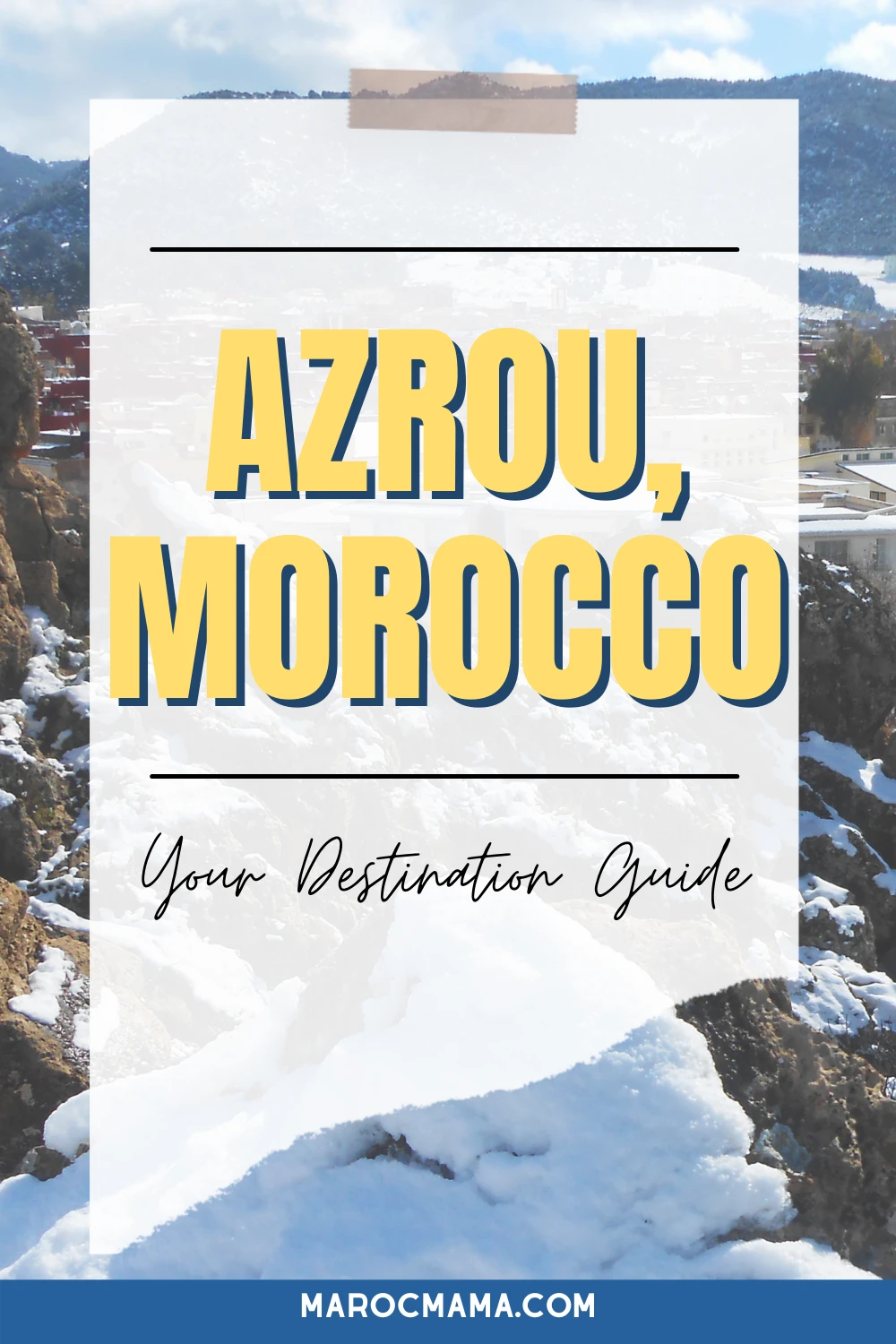 All About Azrou
Azrou is the region's primary location for trade and social life. Villagers from the surrounding areas come to Azrou for their weekly food sources and supplies. Making the town the perfect place for anyone who wants to immerse themselves in Moroccan culture.
Larger than the neighboring town of Ifrane (another lovely Moroccan Alpine village you should visit), Azrou gets its name from the large volcanic rock quarry found in the town's center. Like Ifrane, Azrou's architecture is unique and one of the only Moroccan towns where you'll see buildings with slanted roofs. The design of the roofs is meant to accommodate for heavy snowfall in the winter months.
Adding to the town's unique look are the green tiles that line the roofs, which creates a beautiful contrast to the town's creamy-white color scheme. In Azrou's center, you'll find many shops where you can try local cuisine before choosing between the many outdoor activities on offer
Where is Azrou?
Azrou is home to over 200 000 people and lies at an elevation of 3,950 feet. About eleven miles to the southwest of Ifrane, the town is tucked away within the beautiful Middle Atlas Mountains – famous for its forests and butterflies.
What to do in Azrou
When visiting Azrou, you'll have plenty of outdoor activities to keep yourself busy with during your stay. Continue reading to discover activities to get up to when in Azrou.
Attend the Weekly Souk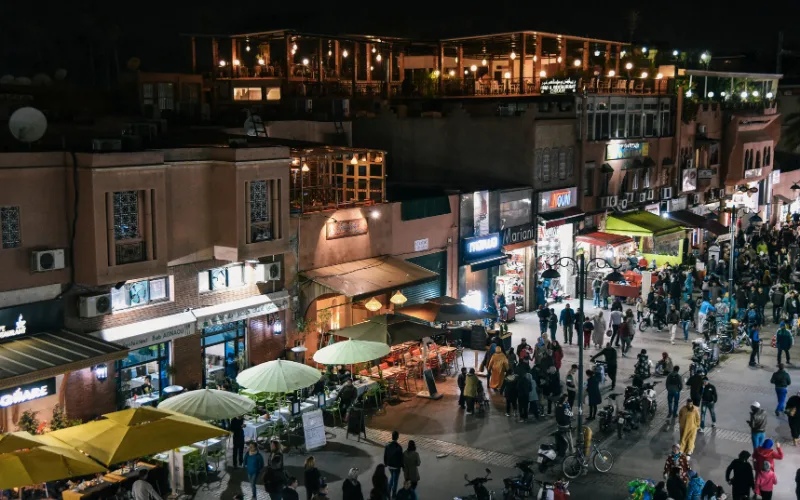 Azrou's weekly souk (market) attracts thousands of local people from the surrounding areas and is truly a sight to see. If you arrive before 10 am, you'll be able to witness the locals buy and sell goats, sheep, and cows.
The souk happens year-round, allowing you to try local produce and cuisine. You can also purchase wonderful Berber carpets and other garments.
It's here that you'll be able to buy some souvenirs to take home. Locals sell a wide assortment of hand-made souvenirs that will always remind you of this unique Moroccan gem. However, remember to utilize your bargaining skills to get the best price for your purchases!
See the Monkeys
A popular activity is going to see the monkeys within the surrounding Cedre Gouraud forest. The Barbary Macaque monkeys are an endangered primate species that are very used to the presence of humans. Here, you'll be able to walk in the forest with monkeys and see the mountains that look down on Azrou.
When in the forest with the monkeys, the guides will educate you on the survey techniques used to calculate the monkey population. You can learn more about the monkeys' behavior whilst they roam around your feet. All the proceeds support the local communities, staff, and conservation efforts of the Barbary macaque monkey population.
Planned Hiking and Camping Trips
Another popular attraction in trekking in Morocco. A host of independent tour operators plan private day hikes and multi-day hikes through the middle Atlas mountains. They know all hiking routes very well, so there's bound to be a route to suit your fitness level.
When on these guided hiking trips, you won't have to worry about getting lost and can turn your attention to the fantastic views that include the vast forest areas, flowers (in spring), and the many different types of butterflies.
You can further immerse yourself in the Middle Atlas mountains by attending guided hiking tours with camping options. This will give you a mix of hiking during the day while sleeping under the stars at night. At night, the views of the Milky Way from the camping sites in the mountains are spectacular.
Where to stay in Azrou
Below you'll find three excellent places to stay whilst on your visit to Azrou. Each offers something different, so you're bound to find an option that suits you.
Le Palais des Cerisiers
Located just 2.5 miles from Azrou, Le Palais des Cerisiers can organize an airport shuttle for guests to transport you to this fantastic hotel. It has an outdoor swimming pool, spa, sauna, hammam, and massage room.
You'll wake up to incredible views of the cedar forest from your room and be served breakfast that also features local cuisine. On warm, sunny days, you can relax on the terrace as you sip drinks from the bar while enjoying the surrounding views.
Les Jardins d'Azrou
Only 2.5 miles from Azrou's city center, Les Jardins d'Azrou has a restaurant, shared lounge, garden, and free wifi. The guesthouse offers guests amazing views of the mountainside, and each room has all the necessities you'll need. It is the perfect accommodation for solo travelers seeking a tranquil place to stay.
There is also a shuttle service that organizes your arrival and departure from Azrou, along with many other activities like horse riding, bike tours, and walking tours around the area.
Riad Azrou
For those who want to stay in the heart of Azrou, Riad Azrou is the place for you. Each room has a patio that lets you soak in Azrou's vibrant atmosphere, along with free WiFi and a restaurant.
You also have activities like cycling, fishing, and hiking tours that Riad Azrou can organize for guests. It is also a popular choice of accommodation for traveling couples, as it has received a 9.1 rating for a two-person stay.
Final Thoughts on Visiting Azrou
So there you have it, your guide to visiting Azrou, Morocco. Suppose you're after a genuine Moroccan experience where you'll immerse yourself in the local culture within the town and experience unique outdoor activities. In that case, Azrou is a Moroccan destination you should place on your travel bucket list.
There are accommodation options for all types of travelers, whether you're traveling with kids, traveling alone, or with your significant other, Azrou has it all. Visiting Azrou will give you an experience you'll never forget.