If there was one decade I was looking forward to writing about it was this one. I'm sorry I missed it last week but I wanted to do it justice and just didn't have the time. The decade that Morocco entered the minds of most Americans was the 1940's. It's surprising to be me when I meet older Americans that they know exactly where Morocco is and can tell me things about it.
If I meet someone between oh say fifteen and fifty they have a VERY limited concept of the country. Of course this isn't everyone but a generalization. To most Americans Morocco = the infamous movie Casablanca set in the 1940's in a fictional Moroccan cafe.
Now for a bit of history through this decade.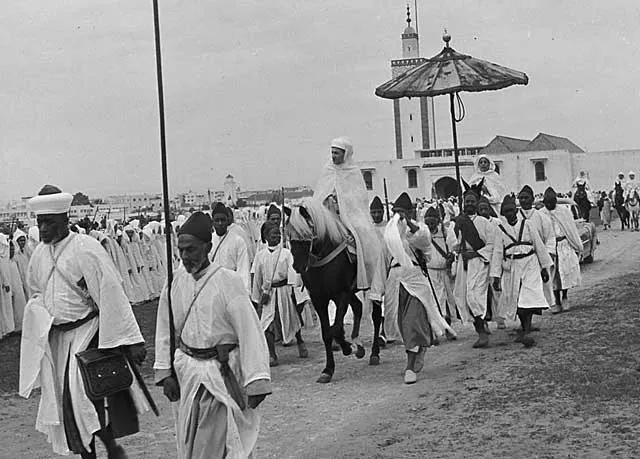 During the 1940's Morocco was under control of France and from 1940-1944 the Vichy government aligned with Nazi Germany. King Mohamed V (seen above) remained the ceremonial head of state and did whatever he could in his power to protect all of the citizens of Morocco. At this time Morocco had more Jewish citizens than any other Muslim majority country, totaling over 300,000. The Vichy/Nazis government had demanded from the sultan a list of all of the Jews in the country and his response was, "We have no Jews in Morocco, only Moroccan citizens."
An excerpt from "Among the Righteous: Lost Stories from the Holocaust's Long Reach Into Arab Lands" by Robert Satloff reveals the kings attempts to keep all of Morocco's citizens, and especially the Jewish citizens safe;
When French authorities ordered a census of all Jewish-owned property in the country, the Jewish leadership feared this was the precursor to a general confiscation. Secretly, the sultan arranged for a group of prominent Jews to sneak into the palace, hidden in a covered wagon so he could meet them away from the prying eyes of the French. According to one of those present, he promised the Jews that he would protect them and assured them that the census was not the first step in a plan to seize their goods and property. (After the Anglo-American invasion of Morocco, the sultan arranged for the destruction of the census documents.)

As important as these private statements were, public statements the sultan made on behalf on his Jewish subjects burnished his reputation even more. At the annual Throne Day ceremony, with the elite of Moroccan and Vichy officialdom gathered at the royal palace, the sultan made a point of welcoming the leaders of the Jewish community in attendance. "I must inform you that, just as in the past, the Israelites will remain under my protection," he said in a voice loud enough for Vichy officers and at least one French journalist to get the message. "I refuse to make any distinction between my subjects."
There is a great series of photos and background information on the Jewish population of Morocco from Vincent Elkaim – really worth a look. King Mohamed V could only do so much because to some degree he was in place at the mercy of the French controllers. Measures did pass that restricted Jewish citizens and deported some to work camps in the Sahara. All Moroccans were mitigated in some way during this time and seen as second class citizens (in their own country!)
By 1942 the American and British forces were preparing to launch the North African campaign. Their first foray into the region was Operation Torch. This was also the Americans first battle in World War Two. The plan was to land forces in Morocco via Casablanca and Algeria to cut off the Germans that had been chased across Libya towards Tunisia by the British 8th Army. After eliminating the Germans from North Africa it would open up the Mediterranean for further invasions in coming months without having to worry about German forces.
If you like visuals here is a good video detailing what Operation Torch was about. Ultimately the Americans and British won, giving Germany her first defeat in the Second World War. This also opened up Morocco, creating the atmosphere it was best known for during WWII. In 1943 the Casablanca Conference brought together allied leaders to strategize for the coming battles.
There was a reception held when Churchill and Roosevelt came to Casablanca to meet (ahead of the conference). Information about the meeting got to Hitler but due to a translation issue he assumed they were meeting at the White House (Casablanca translated from Spanish = white house). After the diplomatic business was complete Churchill wanted to show Roosevelt the beauty of the Atlas mountains and the famous visit to the legendary Mamounia Hotel in Marrakech took place. This image was shot during that trip.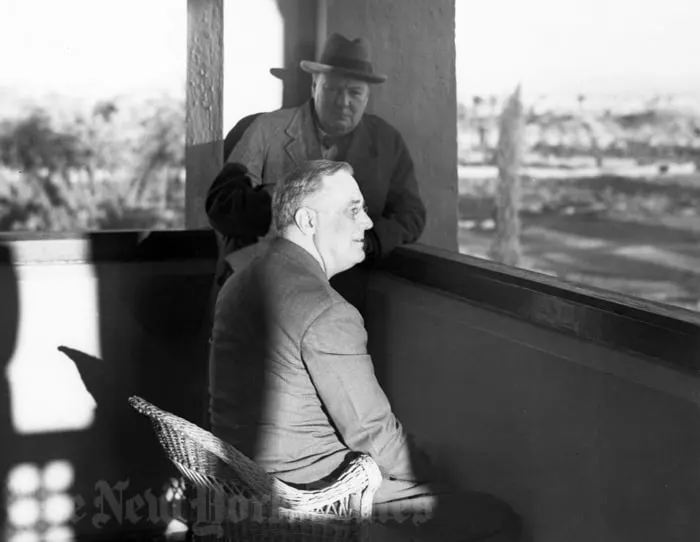 Churchill was a gifted artist who came back many times to Marrakech to paint the landscape that has captivated so many.
As the WWII drew to a close Morocco remained a protectorate of France, however President Roosevelt before his death had confided in King Mohamed V to pursue independence for the Kingdom. The next decade however would be anything but smooth.
I imagine food during this time to be rationed like much of the world. Unfortunately I haven't been able to find much to validate this opinion however with shipping tied up and most of the world under a crunch for resources there is reason to suggest Morocco would be no different. In her book about harem life in the 1940's Fatima Mernissi mentions pastilla (or b'stila) – in the pigeon version she states;
"at once a pastry and a meal, pastilla is sweet and salty, made of pigeon meat and nuts, sugar and cinnamon. Oh! Pastilla crunches when you munch on it, and you have to eat it with delicate gestures, no rushing please or else you get sugar and cinnamon all over your face. Pastilla takes days to prepare because it is made of layers of sheer, almost transparent crust, stuffed with roasted and slightly crushed almonds, along with a lot of surprises."
[easyazon_infoblock align="center" identifier="0201489376″ key="image" locale="US" nw="y" nf="y" tag="maro0a-20″]
Suffice to say I've never made the pigeon version. If you have access to pigeons who have a healthy diet and not one of soggy french fries I encourage you to swap out the chicken for pigeon in this recipe!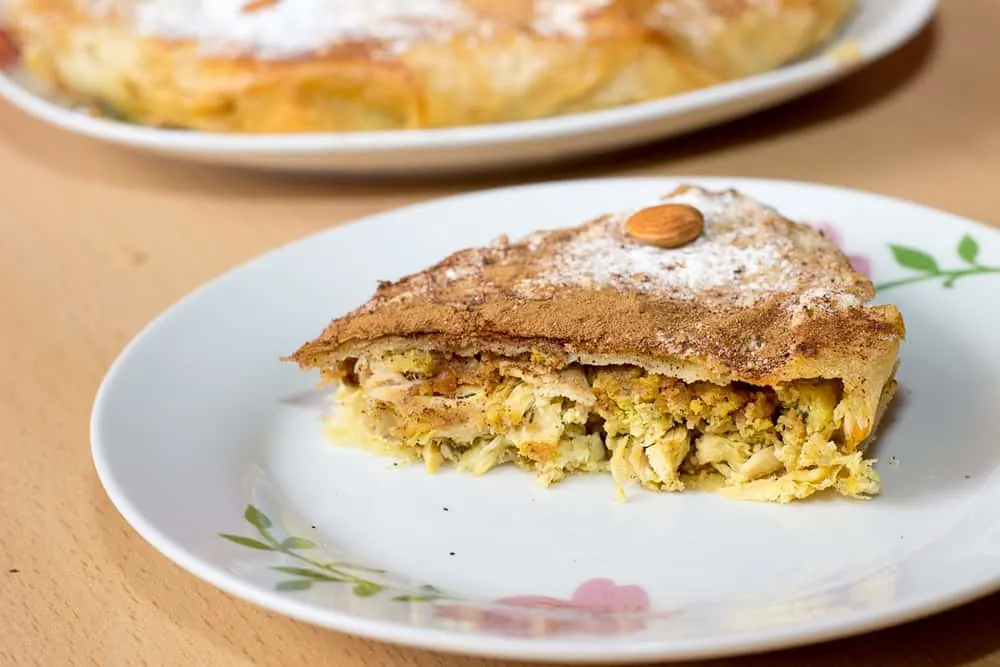 Want to make Chicken B'stilla? Find my recipe by clicking here.
If you've missed the other posts in this series please stop by and visit the 1910's, 1920's and 1930's
Recommended Reading about WWII and Morocco
Books about Morocco in World War II
If you're interested in WWII and how it affected North Africa then you may want to check out these books.