The South of Spain is a land sodden with history and legends, old customs, and culinary traditions. It is one of the most fascinating regions to visit in Europe, especially for cultural travelers such as ourselves, who relish a region's heritage and folklore as well as its rich history.
Following our recent Andalusia road trip with a toddler, we have put together below a list that ranks the five best places to visit with kids in Andalusia.
Seville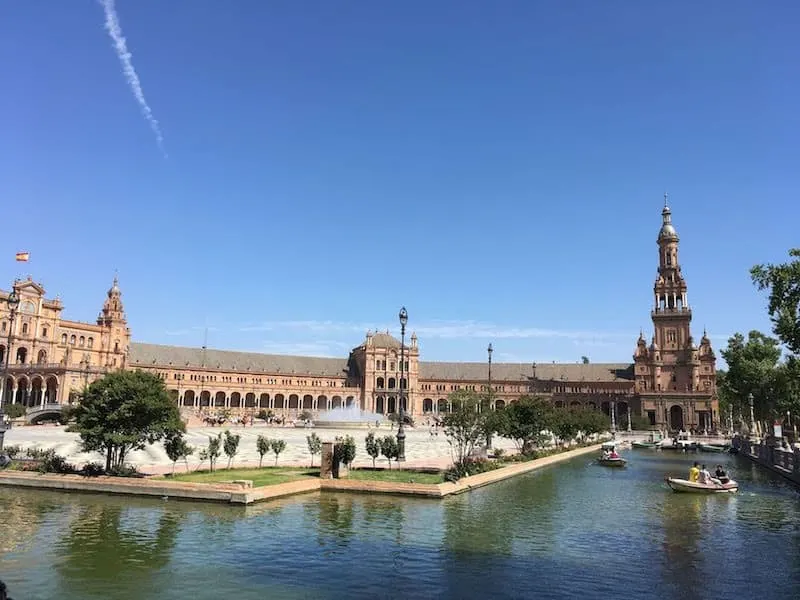 The regions' capital is undoubtedly the best place to start exploring Andalusia and a good bet if you can only visit one place here. Elegant and mysterious, enveloped by the spirit of flamenco and bullfighting, it reminds best the days of the colonial Spanish empire.
Any visit to the city will take you to the world's largest gothic cathedral right in the city center and its iconic bell tower, LA GIRALDA. If your kids already know their history, the tomb of Christopher Columbus is inside the cathedral. Toddlers are free to roam the shaded orange garden and try on their new sunglasses (like ours did).
Whether or not you climbed to the top of the bell tower, you and your little ones should still spoil yourselves with the city's best pastries at Cafeteria Pasteleria La Canasta just around the corner.
While an evening stroll through the city center and the atmospheric Santa Cruz neighborhood will be enjoyed by the entire family, mornings are best spent on the Plaza de Espana, followed by an afternoon stroll through Parque Maria Luisa.
The Plaza de Espana complex is a huge half-circle with buildings continually running around its edges. Along the entire perimeter of the plaza, there is a canal which can be travelled by boat, to the delight of little visitors.
They will also enjoy running around and playing hide and seek in the many tiled alcoves, each representing one region of Spain. Once they tire of this activity, you can go for a horse-drawn carriage ride and an ice cream in the shaded Parque Maria Luisa nearby.
For stays longer than a couple of days, there are several family-friendly activities in Seville. A boat tour on the Guadalquivir river, a visit to the Aquarium (themed on the travels of Spanish explorer Ferdinand Magellan), a climb to the top of Metropol Parasol, the world's largest wooden structure, or a day of fun at the many aquaparks (Aquopolis, Isla Magica and Agua Magica).
We do not recommend visits with children at the Plaza de Toros de la Maestranza and the Real Alcazar of Seville. The former is the famous bullfighting arena of the city. While learning about this tradition is an integral part of Seville's cultural landscape, children might find the information and weapons on display troublesome. The bullring is also an open area, thus it is not advisable to visit it with kids on sunny days.
Many families write that they enjoyed exploring the centuries-old Alcazar palace, with its beautiful Moorish architecture and gardens. Like with many sites, we were put off by the long waiting lines and the generally over touristic atmosphere of the place (groups being led around by guides holding a pole, crowds, overpricing). We found that booking guided tours of such sites does not improve the experience, as these simply take too long and kids get utterly bored.
What we particularly enjoyed in Seville was spending time in the authentic neighborhood of Triana, across the river. Our toddler's schedule did not agree with the late-night dinner time that is customary in Spain.
Thus, we found it easier to shop at the fresh produce market and eat at local restaurants close to our hotel, where they were happy to provide something for the little one outside of the kitchen's operating hours. It also gave us the opportunity to mingle with locals at the playground and practice our non-existent Spanish at the supermarket. All in all, a very pleasant stay.
Malaga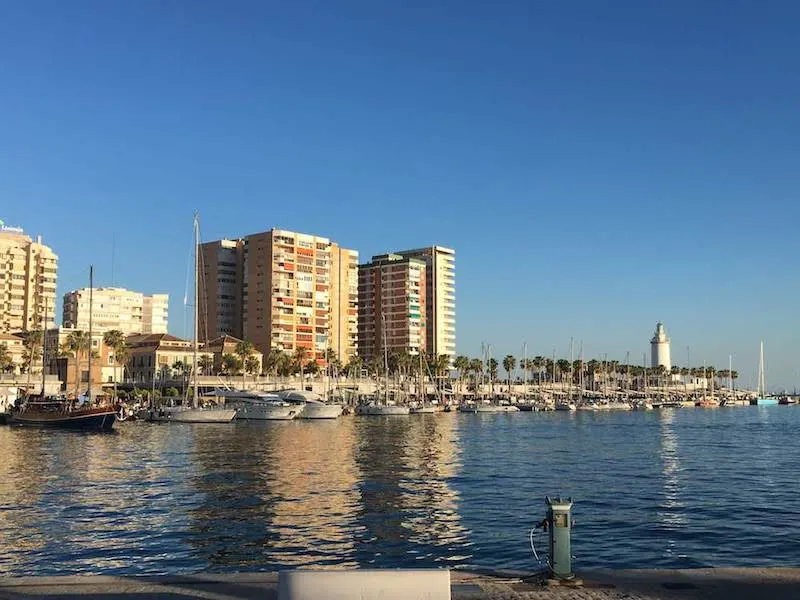 Malaga is the city that most often gets overlooked in Andalusia itineraries. We have found it to be an excellent alternative to more touristic places, with its laid-back atmosphere and rich palette of kid-friendly activities. While we only had one and a half days to spend in Malaga, we thoroughly enjoyed a visit to the port, where the toddler played on the waterside promenade and watched the ships come and leave.
There is also the option to do a one-hour boat ride from there. One evening, we took the elevator up to the Alcazaba fortress (yes, with the stroller) and enjoyed playing around in the Moorish gardens and rooms. We had the entire place almost to ourselves, which was a welcome change to other crowded Moorish sites in the region.
A visit to the Gibralfaro medieval castle can be equally rewarding, followed by a stroll in the city's main park, right in the center. Older kids are spoiled for choice in Malaga. The interactive Airport Museum, the Selwo Marina Delfinarium, the Bioparc Fuengirola, or the Tivoli World Amusement Park are all viable options to be explored.
Especially worth a visit is the Sea Life Benalmadena, where children can experience the ocean and get a lesson in conservation. There are touch pools, a mini-golf area, as well as the option to go on a boat trip out to the sea.
Under no circumstances, however, should one miss out on the opportunity to enjoy the many excellent sand beaches around the city. If you are looking for a place to spend a few lazy days at the beach with your family, this is it. Your kids will thank you for it!
(Check my guide to Malaga too!)
Granada
I have had mixed feelings about adding Granada to our road trip itinerary with a toddler. I have an entire list of books on Andalusia that I read in preparation for this trip and the culture addict in me did not want to miss out on seeing it. It came out to be a great city, vibrant and authentic, with many options for entertainment.
We had booked a private tour of the Alhambra, which proved to be too much for our toddler. The guide took more than one hour going through the Nasrid palaces and we found out the complex does not really offer options to get a snack or take a break other than some overprized poorly serviced vending machines. Add to that the long walk up and you can understand why we aborted mid-tour.
I have since read a lot of positive accounts of visits to the Alhambra with children and there are even special-themed tours designed for them. Thus, my advice is to research ahead and give it a try. I would have regretted not having done so.
During our stay we enjoyed an evening walk in the Albayzin quarter, an afternoon spent at the Nevada Shopping Center (they do have a playroom), and a morning stroll through the city center by the Cathedral.
Older kids might be amazed by the interactive Science Park Museum that features exhibitions on health and the environment, a butterfly house, a maze, and an astronomy garden. In the Cave Museum of Sacromonte, kids can explore how it's actually like to live in a cave, while the water park Aquaola and the Parque Federico Garcia Lorca are other great options to consider.
Cordoba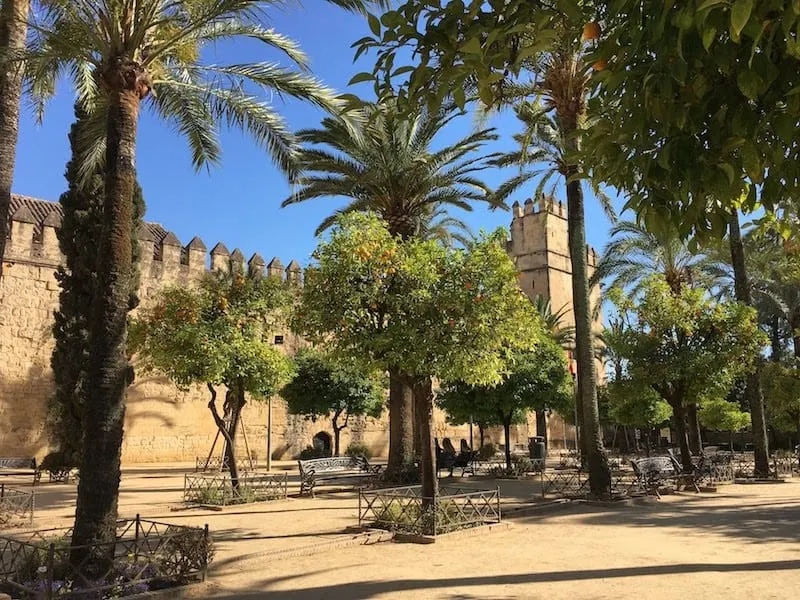 We had limited time to explore Cordoba as we took some time to relax at the kids-friendly Hotel Abetos del Maestre Escuela outside the city center. In the afternoon that we did spend in the city, our toddler enjoyed running around in the Mezquita while her parents marveled at the interplay of architectural styles. This is a great monument to visit with kids as there are no waiting lines and the temperature inside is pleasant at any time of the day.
There is an open-air inner courtyard called the Patio de los Naranjos (Patio of the orange trees), which we loved so much we even stopped for an ice cream break there. Cordoba is synonymous with narrow streets with white-washed patio houses and flower pots.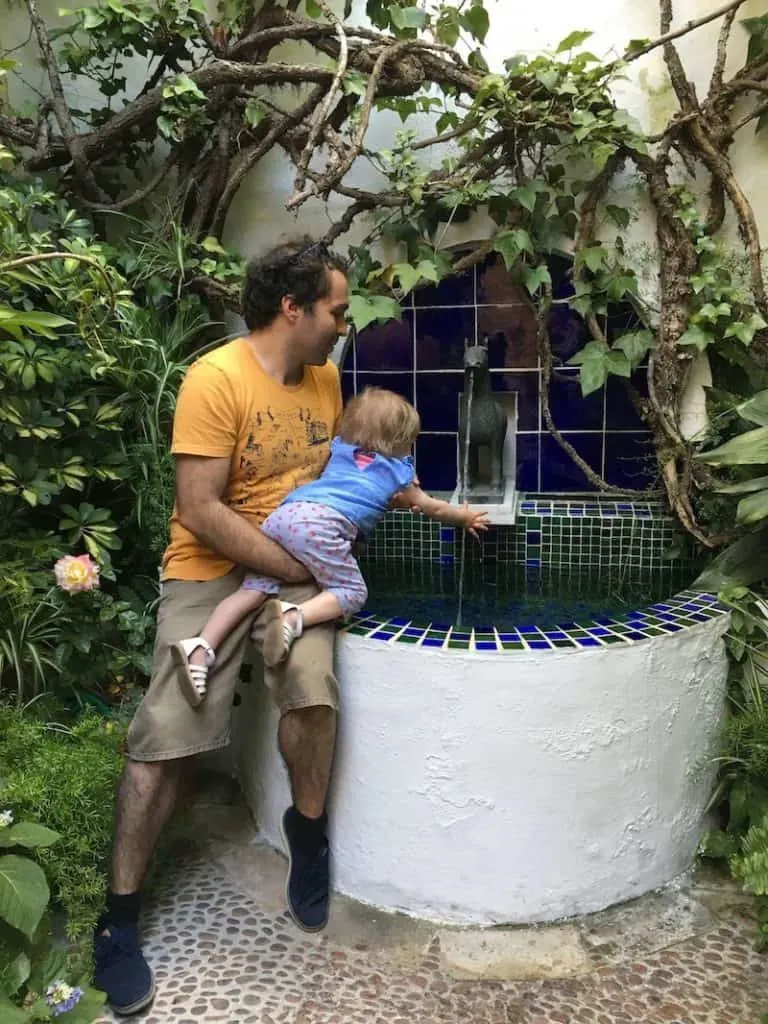 Casa Andalusi is a typical such patio house turned into an unforgettable small museum. It recreates a typical 12th-century Andalusian house with its furniture and decorations. It also houses an Islamic paper factory. The cool patios with water fountains and lush vegetation were thoroughly enjoyed by our toddlers during the visit.
If you have more time on your hands, be sure to check out the combiticket that allows access to the Botanical Gardens, the Cordoba Zoo, and the Children's City entertainment center.
Cadiz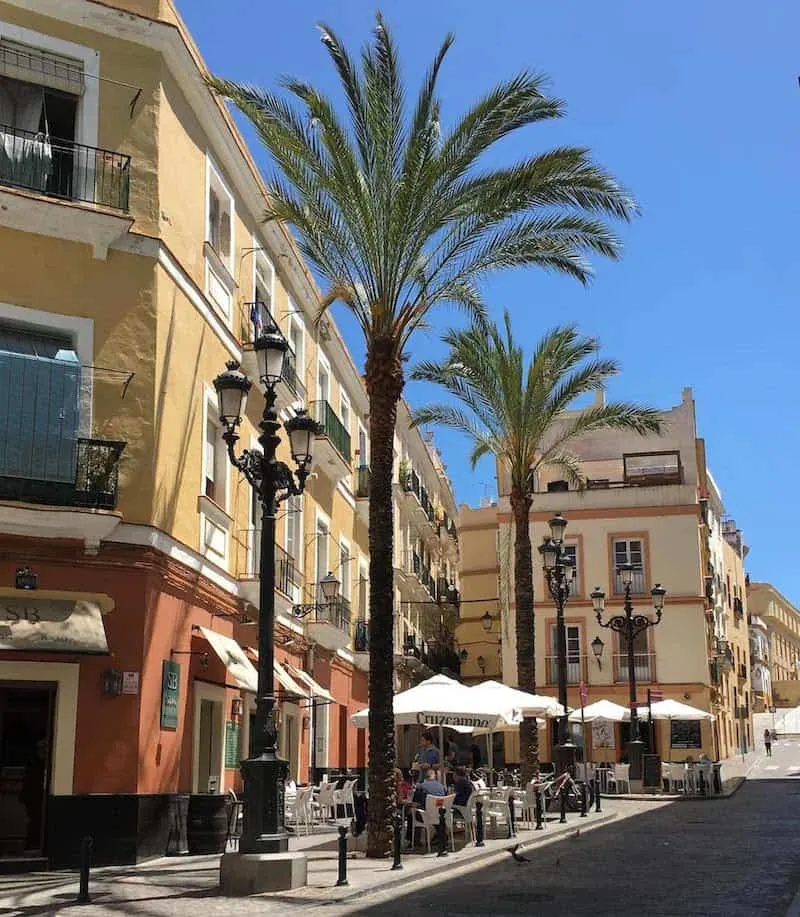 A small ocean-side city with a rich history and unforgettable character, Cadiz is ideal as a one-day family trip destination. Its two castles (Castillo de Santa Catalina and Castillo de San Sebastian) make for good exploration start points, while the beaches are the delight of little humans (Playa de la Caleta, Playa Santa Maria del Mar, Playa de la Victoria).
Parque Genoves with its shaped big trees and playground is another popular destination in the city. An indoors alternative is the Puppet Museum (Museo del Titere) that boasts one of the best collections in the world, is free of charge, and does allow visitors to touch some of the exhibits. To make sure your little ones are exhausted at the end of the day, you can always climb to the top of the Tavira Tower, the city's highest observation point.
While many might regard Andalusia as a region best explored kids-free, we are very happy to have had the chance to see it as a family. Our toddler's schedule was a good incentive to slow down and enjoy the atmosphere more.
Locals are extremely helpful and open to welcoming families and we did get the best possible services anywhere we went. We can only hope our experience will convince other parents to consider the South of Spain as a family holiday destination.
This is a guest post from Anca of Vienna Book and Travel.
About Anca: We are an international couple based in Vienna, Austria, with a passion for planning personalized travel itineraries for both ourselves and our readers. Two years ago, we became the proud parents of a baby girl and this has prompted us to adjust the style of our travels and itineraries to such a degree that our blog is now almost exclusively about cultural family travel.